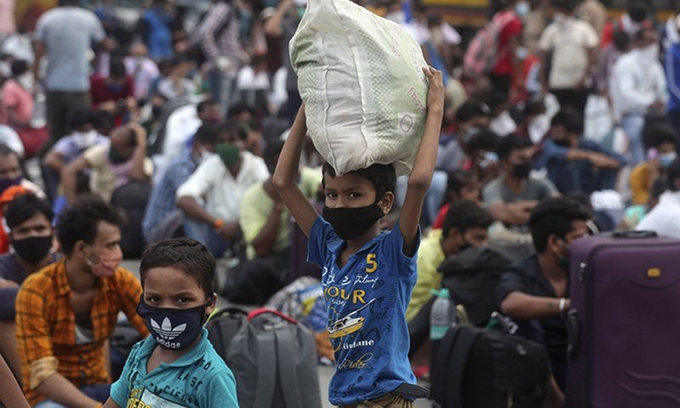 India is now the largest epicenter in Asia (Photo: AP)
India cross China in COVID-19 tally, becoming Asia's biggest epicenter
The number of confirmed novel Coronavirus cases in India overtook that of China on Friday night as states began to report their new numbers for the day.
Maharashtra reported 1576 new cases on Friday, while Tamil Nadu discovered 385 and Gujarat 340. That was enough for India, which had 81,970 cases on Thursday, to go past China's figure of 84,032.
All the states in India were yet to report their final numbers for the day. Some states like Delhi and Odisha reveal their numbers only the next morning.
China's numbers have been rising at a snail's pace for over two months now. New infections have all but stopped. The total infections in China had crossed 80,000 almost three months ago but further spread was controlled, almost overnight.
The cases in India, on the other hand, still seem far from their peak. For the last few days, India has been reporting almost 4,000 cases every day.
There are now only ten countries which have more cases than India — the United States, Russia, the United Kingdom, Spain, Italy, Brazil, France, Germany, Turkey and Iran, Idian Express reported.
Slovenia becomes the first European country to officially declare free of coronavirus
Slovenia on May 15 declared an end to its coronavirus epidemic and announced that all indicators point to a slowdown in the spread of COVID-19 throughout the country's population, according to News Week.
The nation also said it will open up certain land border crossings, allowing some European Union nationals to enter the from neighboring countries
Slovenia registered its first coronavirus case on March 4. It imposed emergency measures just over a week later, on March 12.
The National Institute for Public Health reported 35 cases of coronavirus had been recorded in the last 14 days. It also noted a reproductive rate below one.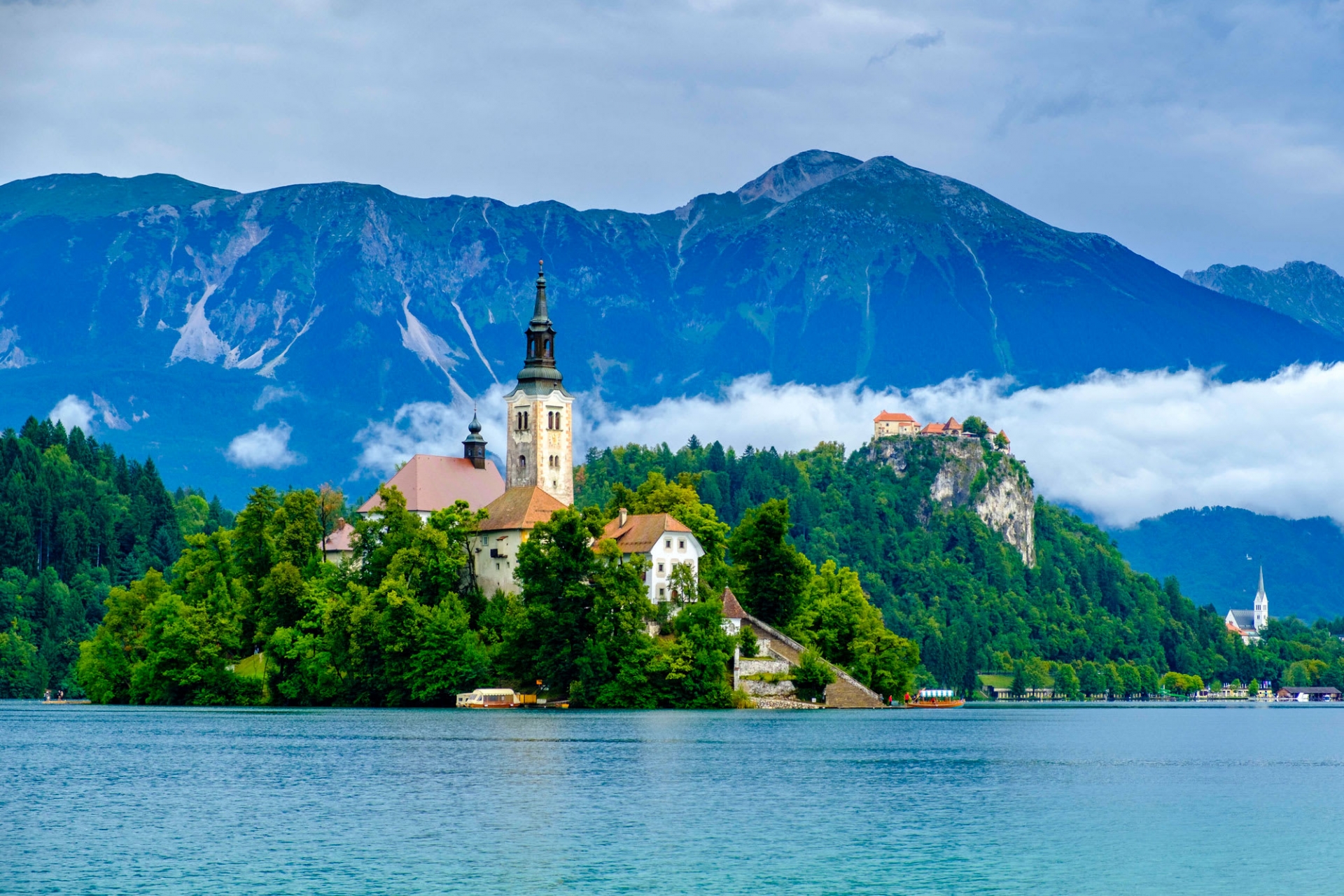 (Photo:CNBC)
The nation, with a population of around 2 million, suffered 1,465 coronavirus cases in total and 103 deaths linked to COVID-19 as of May 14, according to data from its National Institute for Public Health.
Despite the announcement, many measures implemented to slow the virus from spreading will remain. Some of those restrictions will continue through the end of the month.
U.S House approves $3 trillion Covid aid bill that includes another stimulus check for Americans
Following a direct check of US$1,200 to millions of Americans impacted by the coronavirus pandemic, the Trump administration has recently unveiled a US$3 trillion relief package called Health and Economic Recovery Omnibus Emergency Solutions Act or HEROES Act earlier this week that is slated to hand over adults, children and the disabled. The payments would be capped at $6,000 per household.
According to Fox News, Republicans have not yet released a relief bill, but Senate Majority Leader Mitch McConnell said Tuesday it could include enhanced medical malpractice protections for health care providers on COVID-19 cases and new legal protections for businesses, nonprofits and government agencies.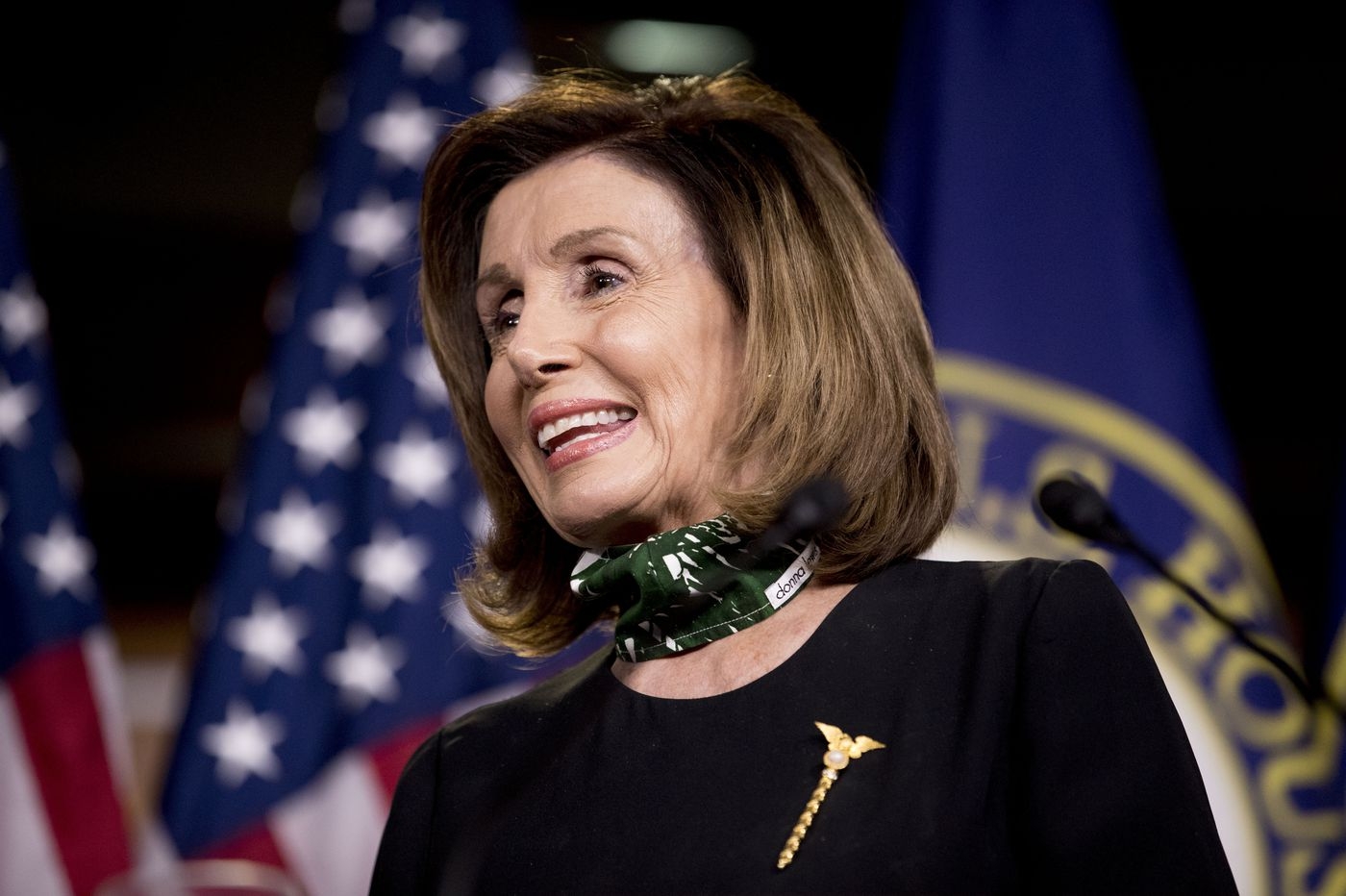 According to Business Insider, McConnell and other Republicans have expressed disapproval for the bill. At the bill's release on Thursday, McConnell said it was a "big laundry list of pet priorities" and that it has "no chance of becoming law." They want to pause and allow the nearly $3 trillion in spending already approved to begin trickling through the economy before passing additional aid.
On Wednesday, Federal Reserve Chairman Jerome Powell, a Republican, issued a stark warning about the state of the U.S. economy, warning the recession could become "prolonged" if the federal government does not pass additional policy measures. He did not specify which policies should be considered.
Gold price eyes 7-year high on second virus wave fears
Gold is headed for a fourth consecutive day of gains, reaching a three-week high Friday as fears grow over a second wave of covid-19 outbreak as global economies begin to reopen.
China and South Korea are on alert once again as they face a rising number of new infections. In the US, the state of Texas recorded its largest daily increase in cases and deaths Thursday since the start of outbreak, the Texas Tribune reported.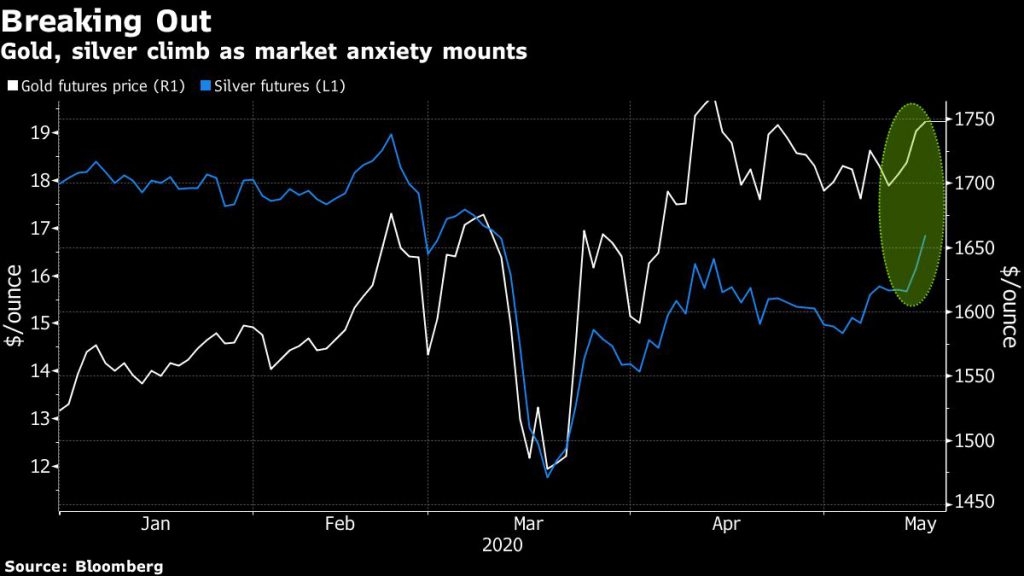 (Illustration: Bloomberg)
The potential of another surge in covid-19 cases, combined with weak economic data coming from major markets like the US, raises more uncertainties for a near-term recovery, making safe-haven assets like gold more attractive to investors.
Bullion rose 0.9% to $1,747.94 an ounce as of 1:30 p.m. EST, approaching its peak in April when the price was at a seven-year high. Gold futures for June delivery traded 1.1% higher at $1,759.50 an ounce on the Comex in New York.
The silver market also rallied to its highest in two months, up 4.8% to $16.66 an ounce, as reported by Mining.com.
Olympian Darya Klishina reveals she received a huge offer to become an escort
Russian long jumper Darya Klishina has sensationally revealed she was offered $AUD300,000-a-month to become an escort.
World Championships silver medallist Klishina, 29, who currently lives in Atlanta in the US, made the shock claim in an interview with Russian media outlet sports.ru, The Sun reports.
Klishina said: "I was offered to be an escort. The message came from an unknown person from the US, in a direct message.
"It was several months ago ... I was not expecting something like this. "He just wrote a direct message to me on Instagram.
"I'm not somebody who swears at people and just answered him back with, 'Sorry but I am not interested in this offer'.
"He then got back to me saying, 'Wait, don't you refuse straight away. You don't even know the conditions and the amount I'm offering'.
"The sum was big, very big. It was $300,000 per month.
"I then thought, 'Do I really look like a woman who would agree to something like this?'"
(Photo: The Sun)
Klishina finished second at the World Championships in London in 2017.
She competed as an "authorised neutral athlete" after the Russian doping scandal saw athletes banned from competing under the country's flag.
Klishina was also the sole track and field from Russia allowed to compete at the 2016 Olympics in Rio de Janeiro. She won a last-minute verdict by the Court of Arbitration for Sport (CAS) to compete, helped in part by her having lived in America for the three years prior to the Games as Russia was accused of a systematic, state-run doping program.
In her interview with sports.ru, Klishina also talked about a revealing photo-shoot early in her career where she was made to feel uncomfortable.
She said: "I'm happy with my body, I have nothing to be ashamed of, but that photo session was a little bit too much for me."
Klishina went on to say that when asked to take some her clothes off she "felt uncomfortable", Fox Sports reported.
Jasmine Le