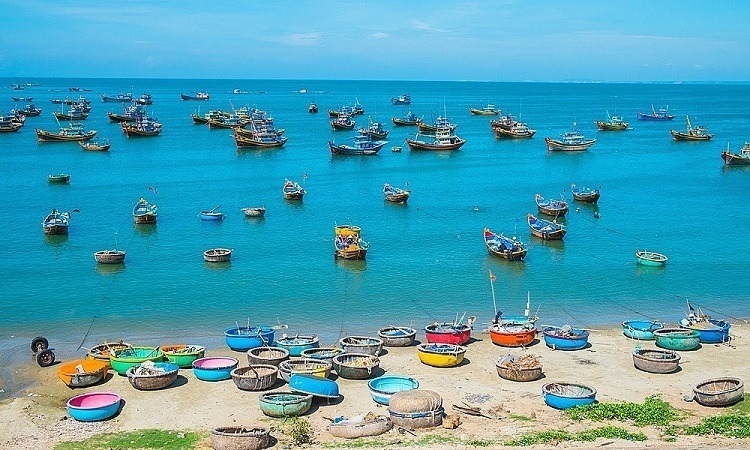 Mui Ne beach, a tourist attraction in Phan Thiet Town, south central Vietnam. (Photo: Shutterstock)
Of these, 54.1 percent planned to visit popular tourist destinations this summer while 31.9 percent said they would travel at a different time this year and 14.1 percent said have no plans to do so this year.
They survey on post Covid-19 travel trends, carried out by VnExpress, polled 1,700 Vietnamese respondents.
Nearly 50 percent of the respondents said they intend to make short trips of two to three days while 37.6 percent planned longer trips of four days to a week. Just 2.4 percent favored a one-day trip while 10.7 percent were looking at trips of more than a week.
The survey found 60.5 percent of the respondents wanting to travel with their family, 29.1 percent with friends and 4.4 percent with their colleagues. Six percent preferred to travel alone.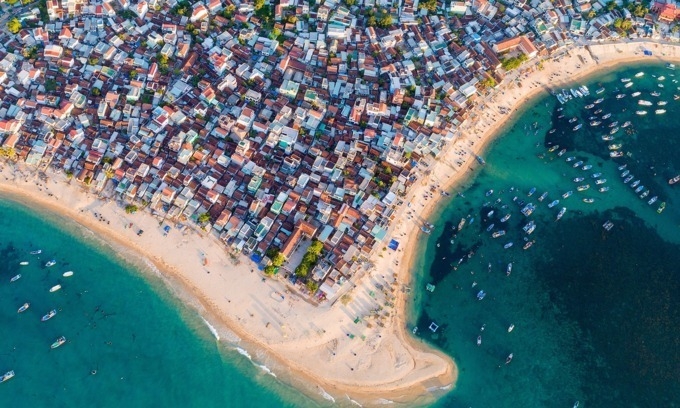 An aerial shot captures the beauty of a beach in Quy Nhon Town (Photo: VnExpress)
A dominant 67.2 percent said they would like to travel to coastal areas while 35.6 percent said they would choose popular tourist destinations. Resorts in mountainous areas found favor with 30.8 percent; 25 percent said eco-tourism sites; and 16 percent wanted to spend their vacation in major cities. Only 13.5 percent wished to travel at tourist attractions near homes.
Nearly 80 percent of respondents said safety from the Covid-19 pandemic would be a leading decision making factor in choosing a holiday destination.
Over 50 percent said they wanted to travel by plane, 20 percent planned to use their personal cars and 18 percent would hire cars. Just 2.2 percent were considering trains, according to VnExpress.
Vietnam has just been voted as the top destination in the world by the magazine Travel + Leisure (USA). The reason for Vietnam to be in the top is the advantage of beautiful natural scenery, reasonable prices and good control of the epidemic situation.
"What we have done makes the image of Vietnam as well as tourism in Vietnam associated with safety, friendliness and beauty. International audience has also acknowledged that, "said Mr. Nguyen Trung Khanh, General Director of Vietnam National Administration of Tourism.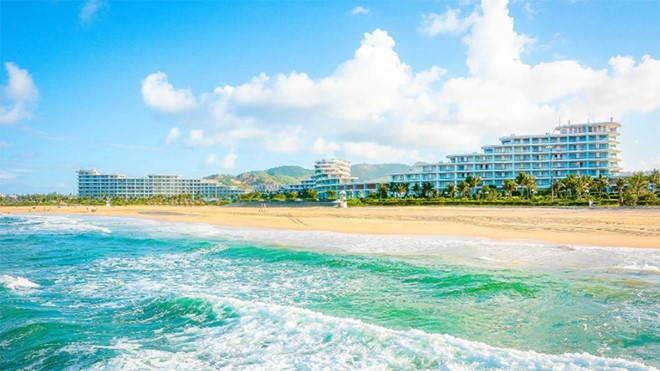 This is a golden time to stimulate tourism (Photo: Thanh Nien)
Also according to Mr. Khanh, the most remarkable thing at this time is that domestic tourism businesses have been very active in building the stimulus program "Vietnamese people travel to Vietnam".
On May 16, the Vietnam Tourism Association cooperated with Vietnam Airlines and launched the national domestic tourism stimulus program in 2020. The launching ceremony goal is to restart the industry, with many attractive stimulus programs focusing on the domestic market.
The tourism stimulus program is implemented in two stages: Phase 1 from May 15 to July 15, Phase 2 from July 15 to the end of 2020 with a nationwide scope of implementation to ensure safety. for tourists, provide discounts but not reduce service quality, maintain prices but increase service for tourists, according to Labor.
Mr. Nguyen Trung Khanh shared about the current stimulus for Vietnamese tourism: "This is a golden time to stimulate tourism in Vietnam. This is also a golden time for us to stimulate demand with lower prices while the quality does not decrease. This is the long-term commitment of the tourism industry to domestic tourists. "
Vietnam has eased its social distancing restrictions since April 23 and its popular tourist destinations have reopened after a prolonged shutdown. The government has also allowed "non-essential" services except karaoke parlors and discos to resume operation.
Saturday morning marked the 30th day that Vietnam has gone without recording any Covid-19 infection caused by community transmission. No deaths have been reported so far.
The Health Ministry confirmed one new coronavirus patient Saturday morning, raising the number of active cases to 54. The woman flew from Russia to Vietnam and was quarantined on arrival.
The Covid-19 pandemic has affected 213 countries and territories, claiming over 308,100 lives.
Candy Lee