World news today: UN General Assembly will be held online for the first time
World news today June 11: First ever virtual US General Assembly, Russia's invitation of U.S. defense secretary to Red Square military parade, China reaches 'positive consensus' with India over border tensions, France's ending of Coronavirus emergency health powers, gold prices are making headlines today (June 11).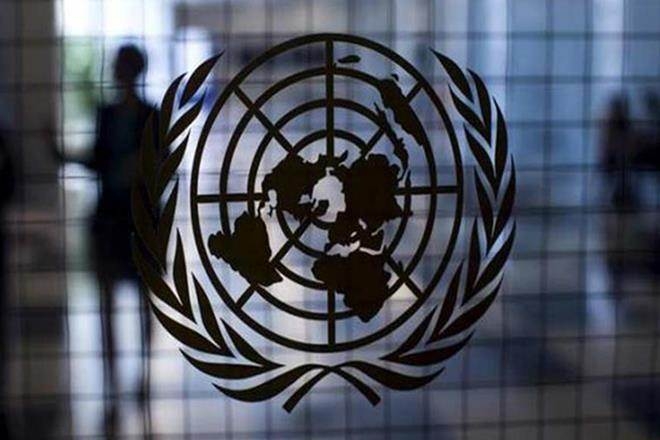 (Photo: Financial Express)
UN General Assembly will be held online for the first time
This year's UN General Assembly will be held virtually for the first time in history because of the coronavirus pandemic, its president announced Wednesday.
The meeting is still scheduled for September 22-29 but will be carried out with previously recorded speeches by world leaders, Tijjani Muhammad-Bande, who is from Nigeria, said in a letter to UN member countries.
"I surmise that the limitations on international travel and convening of large in-person meetings as a result of the coronavirus disease (COVID-19) pandemic, may, in varying degrees, still be in effect in September 2020," Muhammad-Bande wrote.
Member states must send the UN an embargoed speech of up to 15 minutes by their president, prime minister, some government minister or UN ambassador at least five days before the assembly, he said.
And a diplomat from each mission can attend a real life session during which the speeches will be broadcast or read aloud from the podium of the UN assembly hall.
Last month UN Secretary General Antonio Guterres said it was unlikely that world leaders could meet in September as planned, because of the global health crisis.
The General Assembly is the world's largest diplomatic gathering, and entails hundreds of side events and bilateral or multilateral meetings of world leaders.
It has never been canceled since the United Nations was founded in 1945.
But it has been postponed twice: in 2001 because of the September 11 attacks in the United States, and in 1964 because of a financial crisis, Arab News reported.
Russia invites U.S. defense secretary to Red Square military parade
Russian Defence Minister Sergei Shoigu, in a phone call with U.S. Defense Secretary Mark Esper, invited him to a military parade in Moscow's Red Square on June 24, the ministry said on Tuesday, Reuters reported.
The parade is to mark the 75th anniversary of the Soviet victory over Nazi Germany in World War Two. It was postponed from the actual anniversary on May 9 over the coronavirus outbreak that is still triggering thousands of new infections each day.
Shoigu's ministry did not say whether Ester had accepted the invite. U.S.-Russian relations remain strained over a range of issues including the conflicts in Syria and Ukraine.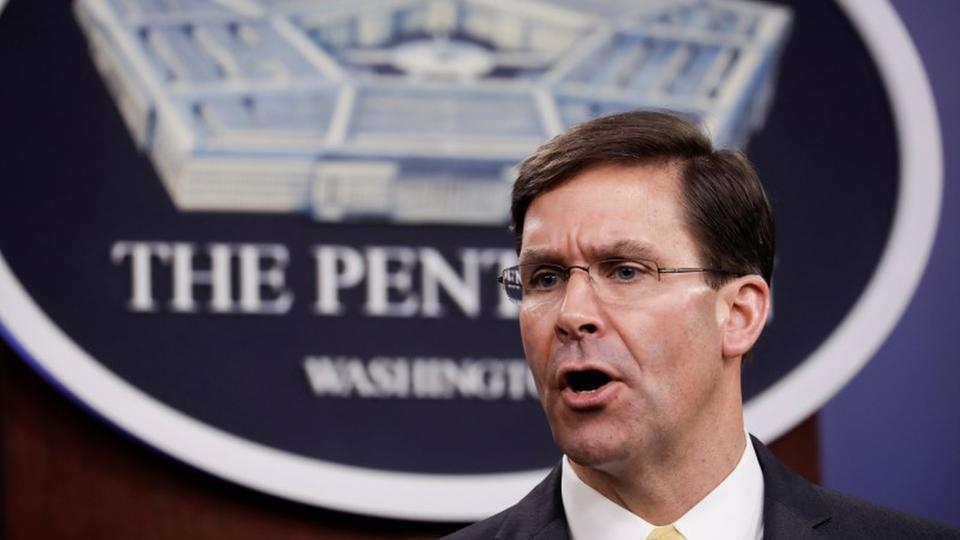 (Photo: News Break)
During their phone call, Shoigu and Esper also discussed arms control and cooperation to fight the coronavirus outbreak, the Russian defence ministry said.The annual Red Square display of military strength and patriotism has become a hallmark of President Vladimir Putin's long rule.
Shoigu and Esper further discussed measures to "de-conflict and stabilise the situation in Syria, as well as to ensure the security of military contingents in Afghanistan and other regions of the world", it added.
China reaches 'positive consensus' with India over border tensions
A "positive consensus" on resolving the latest border issue was achieved following "effective communication" through diplomatic and military channels, said foreign ministry spokeswoman Hua Chunying was quoted by Daily Sabah at a press briefing.
New Delhi said on Sunday that the two countries had agreed to "peacefully resolve" the border flare-up after a high-level meeting between army commanders.
India said the commanders agreed an "early resolution" was "essential" for relations between the world's two most populous nations.
In a statement, India's foreign ministry said the two sides would "continue the military and diplomatic engagements to resolve the situation and to ensure peace and tranquillity in the border areas."
Sources and Indian news reports suggest that India appears to have effectively ceded to China areas that the People's Liberation Army occupied in recent weeks, notably parts of the northern side of the Pangong Tso lake and part of the strategically important Galwan river valley.
Press reports say that further talks are expected this week.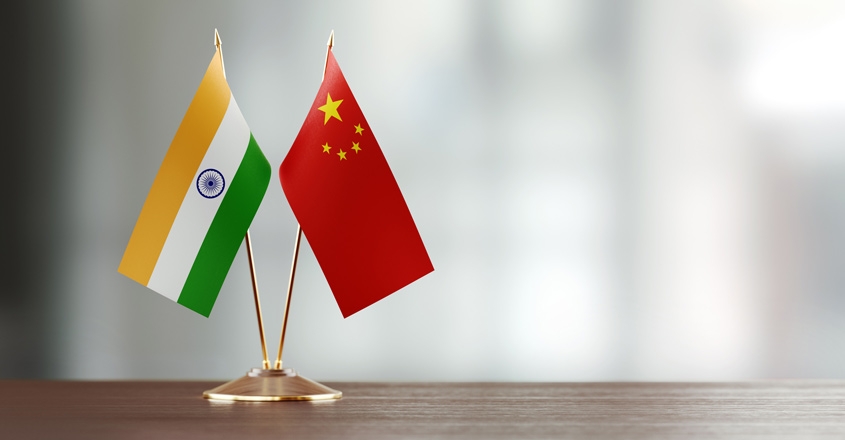 (Photo: The Dispatch)
Indian officials said that within days, Chinese troops encroached over the demarcation line in the Ladakh region, further to the west, and India then moved in extra troops to positions opposite.
India's Prime Minister Narendra Modi and Chinese leader Xi Jinping have sought to ease the tensions at summits over the past two years when they agreed to boost border communications between their militaries.
France Will End Coronavirus Emergency Health Powers on July 10
France will end special government powers brought in to deal with the coronavirus pandemic on July 10 though it will retain the ability to curb gatherings and freedom of movement for four months, the prime minister's office said.
As coronavirus infections spiralled out of control in March, France passed "state of health emergency" legislation which gave the government the power to restrict civil liberties by decree without parliamentary approval.
With data showing the virus may be fading and the number of people in intensive care continuing to steadily decline since the government lifted its lockdown on May 11, France is now confident it can also end the emergency legislation.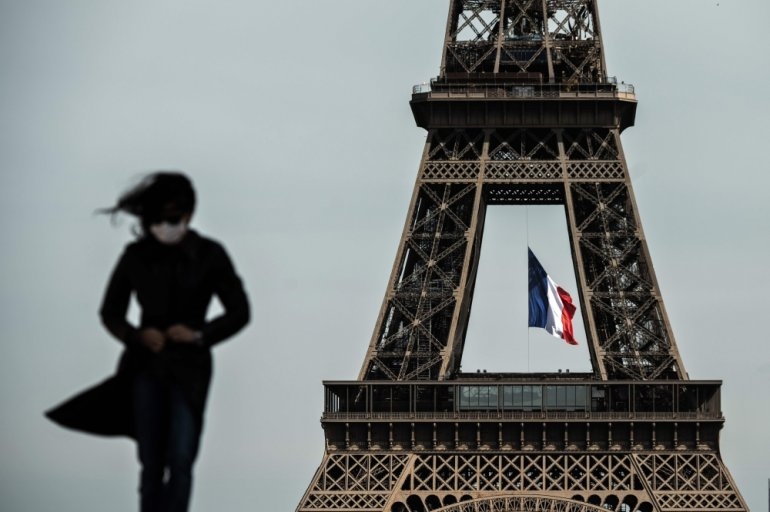 (Photo: The Penisular Quatar)
"In view of the positive evolution of the health situation at this stage, the government wishes to put an end to the state of health emergency, which must remain an exceptional case," Prime Minister Edouard Philippe's office said.
However, the cabinet will approve on Wednesday a new bill that will allow the government to restrict freedom of movement, make face masks compulsory on public transport, shut businesses and ban gatherings for another four months, his office said.
France, which has the third highest COVID-19 death toll in Europe after the United Kingdom and Italy, has eased many of its strict lockdown measures with shops, holiday resorts and tourist attractions slowly reopening.
Nevertheless, people are still being encouraged to wear face masks when outside and stay at least one metre apart while most employees are continuing to work from home.
France's coronavirus death toll stands at 29,296, the fifth-highest in the world. On Tuesday, the number of people in intensive care fell below 1,000 for the first time since March 19, New York Times reported.
Gold price shoots up as Fed keeps rates unchanged, forecasts no rate hikes through 2022
As reported by Kitco news, Gold prices climbed following the announcement with August Comex gold futures last trading at $1,727.50, up 0.33% on the day.
The statement, released on Wednesday afternoon, reiterated that the Fed is ready and committed "to use its full range of tools" to support the U.S. economy.
The central bank noted improved financial conditions but projected hard times ahead for the U.S. economy despite surprisingly strong job numbers last month.
The Fed also released its first quarterly forecasts since December, including a dot plot of its rate projections. This comes after the central bank decided to suspend its forecast back in March due to all the uncertainty surrounding the coronavirus.
In the latest interest rate projections, the central bank's median forecast is for interest rates to remain at current levels through 2022.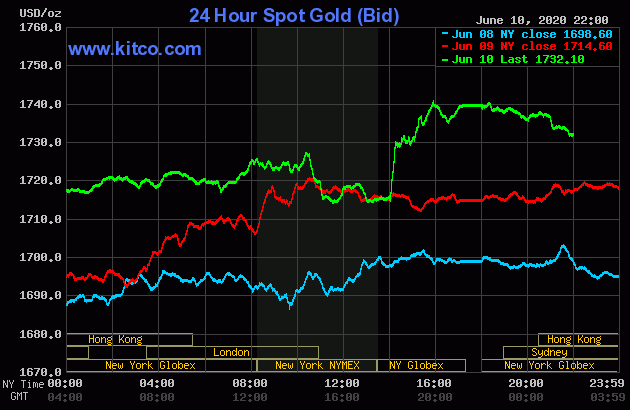 (Photo: Kitco)
Looking at growth, the Federal Reserve expects U.S. GDP to contract by 6.5% this year, down from December's estimates of 2.0% growth. The U.S. economic activity is expected to grow 5% in 2021 and then 3.5% in 2022.
The U.S. unemployment rate is projected to be around 9.3% this year, followed by a recovery to 6.5% in 2021 and to 5.5% in 2022.
The U.S. central bank also expects price pressures to be weak with projections showing inflation at 0.8% this year, 1.6% in 2021, and 1.7% in 2022.
Core inflation expectations, which strip out volatile food and energy prices, are at 1% this year.
The Fed also promised to maintain bond purchases at least at the current pace of around $80 billion per month in Treasuries and $40 billion per month in agency and mortgage-backed securities.
Following the Fed statement, Chairman Jerome Powell said that the use of yield-curve control is still an open question after noting that the central bank reviewed the use of official forward guidance, asset purchases as well as targeting the yield curve during the monetary policy meeting. "The Fed will continue discussions at upcoming meetings," Powell said.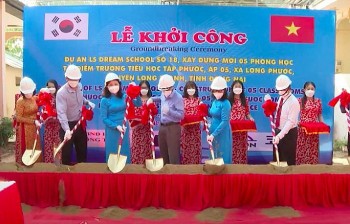 Friendship
The Union of Friendship Organizations of Dong Nai Province and COPION (Co-operation & Participation In Overseas NGOs) kicked off another LS Dream School project in the southern province.