'Worst flooding event' since 2010 in Nashville: At least 4 people killed as water keeps rising
Nashville has declared a state of emergency after flash flooding overnight Saturday killed at least four people in the area.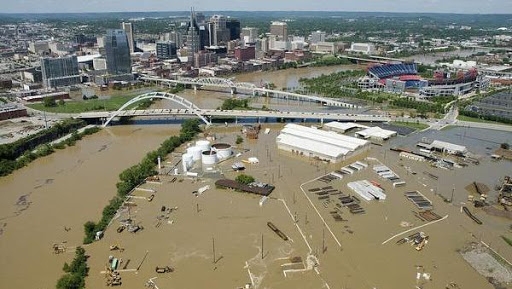 Flash flooding caused by record-setting rains swamped roads, flooded homes and killed at least four people in Nashville as emergency crews​ scrambled to rescue people from houses and vehicles. Photo: The Tennessee Tribune
Unrelenting rainfall in Nashville turned roads to rapids, sweeping vehicles off the streets and drowning a motorist who was carried away, one of at least four people killed during a storm that continued to threaten the city on Sunday
Four people were killed and 130 rescued, said on Sunday
Authorities in Nashville, Tenn., said four people were killed and 130 rescued after near-record levels of rainfall caused significant flooding across the region, said NPR.
The Nashville Office of Emergency Management said in a Sunday morning update that emergency responders were continuing to make rescues in the aftermath of the storm, which drenched the area in a total of 7 inches of rain.
"Even though it looks beautiful outside, we still want people to be cautious and stay aware, stay alert, stay alive," Nashville Fire Department Director William Swann said at an early afternoon press conference.
Some 1,700 customers remain without power as of early Sunday afternoon, down from 4,600 earlier in the morning, Nashville Mayor John Cooper said. He added that first responders are still asking residents to avoid certain areas, and road closures and other conditions can be monitored on an emergency response website.
The Metro Nashville Police Department said they have found the remains of four people believed to have been killed in the floods. One man was recovered from a sedan submerged by water overflowing from a creek; a second man was found deceased on a golf course and is believed to have been "swept away by high waters after getting out of a car that ran off the road into a culvert."
Police later said they had discovered the bodies of a man and a woman near a homeless camp, in a wooded area that was impacted by flooding from a nearby creek.
"Worst flooding event" since 2010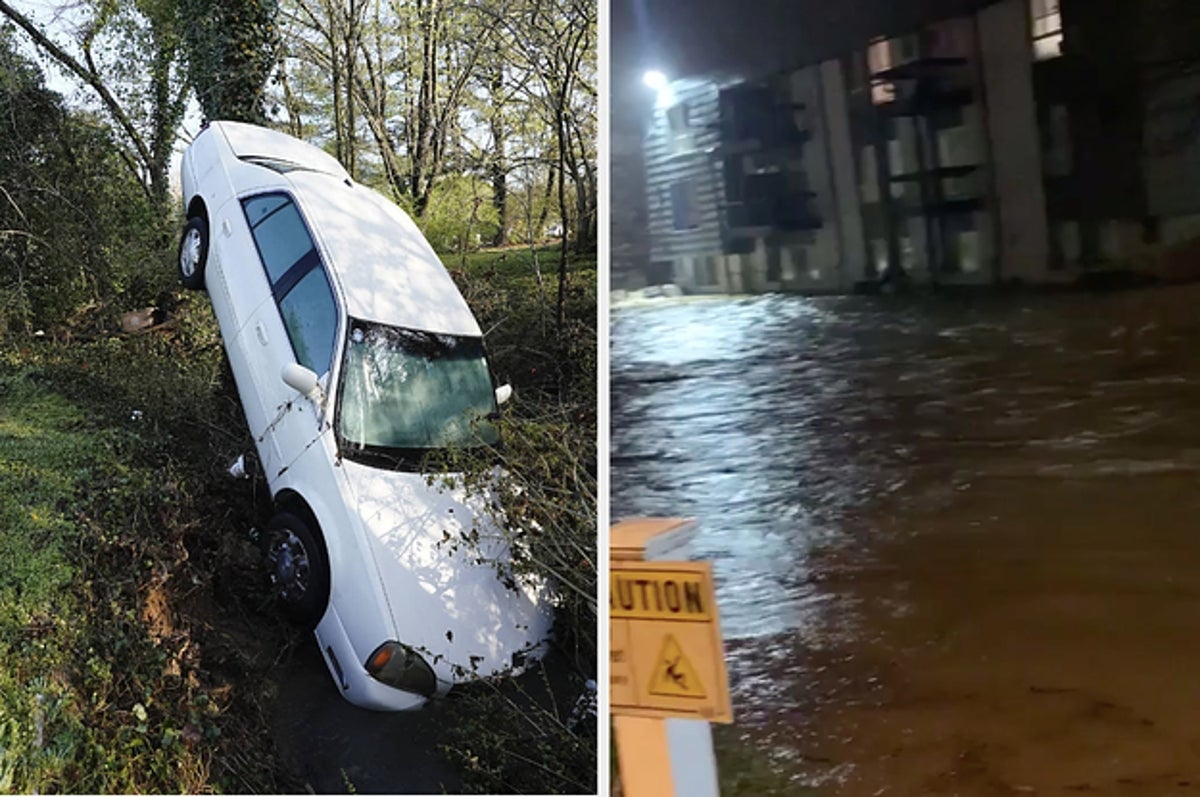 Photo: Photo: BuzzFeed News
Unrelenting rainfall in Nashville turned roads to rapids, sweeping vehicles off the streets and drowning a motorist who was carried away, one of at least four people killed during a storm that continued to threaten the city on Sunday, the authorities said.
The water also gushed through neighborhoods, flooding houses and stranding dozens of people who needed to be rescued. And even after the rain stopped, officials urged residents to remain vigilant, as the rivers and creeks coursing through Nashville continued to rise and were not expected to crest until late Sunday or early Monday, according to NY Times.
"We're not out of the woods yet," Chief John Drake of the Nashville Police Department said during a news conference on Sunday. "We still have to pay attention to it."
Flash flood warnings continued into Sunday for a stretch of Middle Tennessee after just over seven inches of rain had fallen in some parts of the region. It was the second-highest two-day rainfall in Nashville's recorded history.
As of Sunday morning, many smaller creek basins that had risen to flood levels overnight were beginning to return to more normal flows, the metro water services said.
But two larger creek basins, Mill Creek and Whites Creek have crested "at levels above minor flood and moderate flood stages," the department said.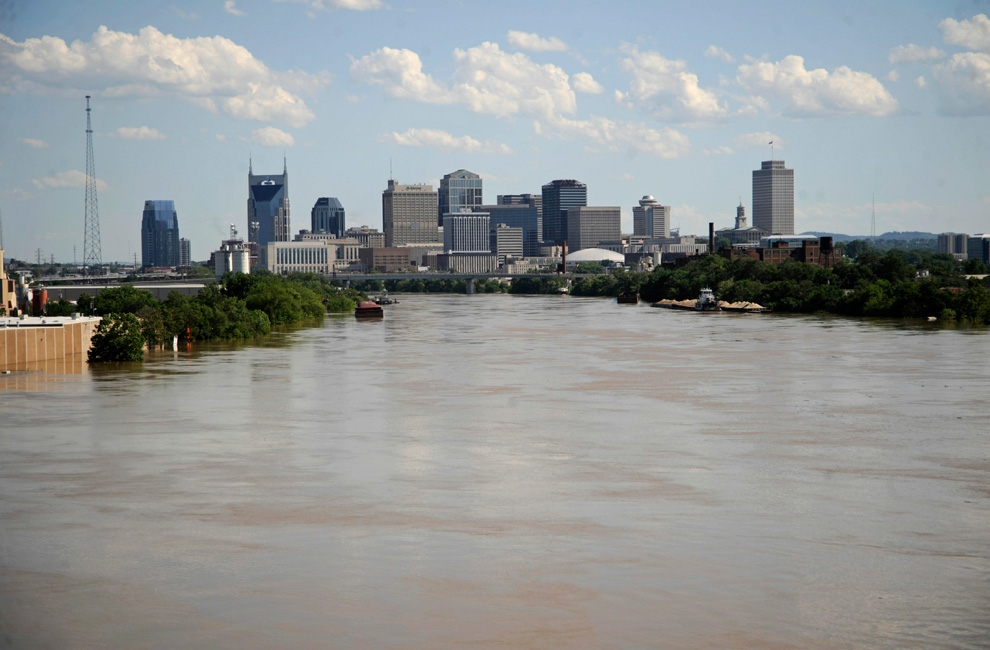 The Cumberland River floods outside of its banks Tuesday on May 4, 2010, in Nashville, Tennessee. More than 13 inches of rain fell over two days, more than doubling the previous record of 6.68 inches and leaving as many as 18 dead in Tennessee, including nine in Nashville. Photo: Boston
"The water level in those Creeks is dropping, will continue to drop as we enter the morning hours and the storm system has passed," they said in a statement.
Nashville's water services also said that parts of the Harpeth River south of the city had been "significantly impacted" and that it might still rise.
"Because of the sheer size of the Harpeth River basin, there is a massive amount of water that must make its way from smaller tributaries and rivers into the main stem of the Harpeth, so we will be watching the river to more accurately determine the flood potential for those vulnerable areas," the department said.
Between 12 and 18 homes have been evacuated along Harpeth River Drive, the agency said. Evacuations also took place in the Meadowgreen Acres Subdivision and along Old Harding Road and Del Rio Pike, reported by Tennessean.
Brentwood Fire and Rescue crews helped more than 50 people and at one point went door to door along Harpeth Drive, the Brentwood Police Department

In Williamson County, the rainfall has swelled the Harpeth River. The river is forecast to rise to 34.8 feet Sunday night, which would make it the third-highest flood stage on record, the National Weather Service said.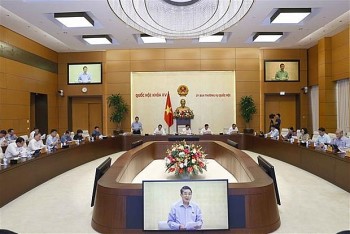 National
The National Assembly (NA) Standing Committee examined the draft revised Law on Protection of Consumer Rights on August 15 as part of its monthly session.