15 killed in tragic bus accident in central Vietnam
A school reunion trip carrying 40 alumni in Quang Binh province took a fatal turn as it lost control, crashed and flipped over at a bend on the highway.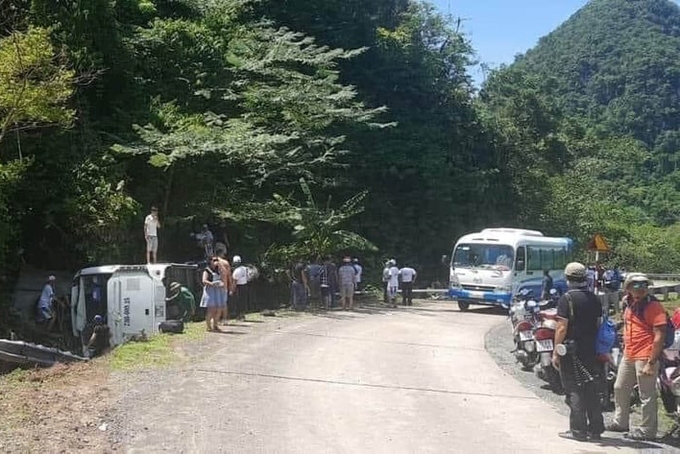 The bus on its side in a gutter by the asphalt road (Photo: VNE)
9 passengers died on the spot, 6 others took the last breath while being rushed to hospital, and many more injured.
All 25 remaining injured patients are sent to Vietnam – Cuba Dong Hoi hospital. As of Sunday afternoon, 4 were still in critical health condition, 13 have been discharged from the hospital. Health officials are enlisting the help of doctors from Hanoi's Viet Duc hospital – a big hospital in the north – for further support.
The 27-year-old driver who is treated at the emergency unit was earlier taken blood tests for alcohol content. Rapid drug test came out negative.
"People on the coach said that when the coach was traveling down the slope, there were signs the brakes were broken", Tuoi Tre reported.
Images shared on news websites showed a bus on its side in a gutter by the asphalt road, with bystanders looking on as rescuers tended to the injured.
(Video: VNE)
Ho Chi Minh Road on the west side is adjacent to limestone mountain with a number of sharp bend. The eastern side is home to several running streams, resorts, homestays and restaurants. The area's traffic is not too crowded, with local's motorbikes and tourist cars are the main vehicles milling about. This route leads to famous tourist destinations such as Thien Duong cave, Ozo park, Mooc spring, Dark cave, Phong Nha - Ke Bang, VNE reported.
According to the World Health Organization, traveling on Vietnam's roads can be a hazardous affair. Traffic accident injuries are the leading cause of death for those aged 15-29.
In the first six months of 2020, the country has reported over 3,200 deaths.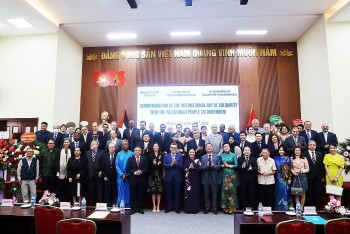 Focus
The Vietnamese people support the righteous struggle of the people of Palestine for independence and freedom.