Reasons why Tan Hiep Phat chooses tea for its drink
People have less time to make tea themselves, and their increasing concern about health are among the reasons behind the growing values of tea on the drinking market.
Tan Hiep Phat's Deputy CEO Phuong Uyen Tran
This fed into a very important trend. Everyone loves drinking tea, but as Vietnam gets richer and more urbanized, people have less time and inclination to make it themselves. This is particularly true of the young urban professionals who are the main target market for the product.
Second, by the middle of the first decade of the twenty-first century, awareness about health and well-being began to grow. Consumers began to move away from fizzy and sugar-laden carbonated drinks in favor of something offering greater health benefits. Tea is well known for its antioxidant properties.
Parents thought it would be good for their children, and today, many Vietnamese children go to school with a bottle of Zero Degree Green Tea in their lunch boxes. Urban professionals like it because it offers a more refreshing pick-me-up than water and a healthier alternative to fizzy drinks.
Tea is a very social, communal drink for my people. In fact, the expression "Tra chanh" has a double meaning. Its literal translation is "tea with fresh lemon," but it also now means to "hang out." Many young Vietnamese enjoy gathering together to drink tea over a plate of fresh roasted sunflower seeds.
In Vietnam, tea is typically drunk before or after meals, since most dishes, like pho, are very soup based. You will often see gaggles of friends or office workers drinking Zero Degree Green Tea together at lunchtime or after work.
My father thought he was onto a winner, and his trips to China and Japan had already shown him that similar products were working there. His customer insight meant he knew they would work in Vietnam too.
Zero Degree's marketing and branding reflects this. The bottles are colorful (green and yellow) and so are the advertisements. Until 2017, commercials were fronted by Vietnam's biggest pop star, Son Tung. They featured a lot of singing and dancing with large numbers of young people. The vibe was fast, modern, and joyful—just as the consumers are.
That same year, we embarked on a new campaign, and it has proved to be very successful. We decided to take Zero Degree back to its roots so consumers could understand its DNA. The ads are shot in the tea fields where the product is plucked; they emphasize its natural origins, but they still feature lots of young people. As consumers' incomes rise, it has become common for young people to start traveling more, getting out of the city for the weekend with a group of friends. Driving around the tea fields is very popular.
Younger people are also far less interested in collective action than their elders, and they are no longer automatically deferential to them, either. They rate individuality.
This is one of the reasons why they are such big admirers of Western values. Zero Degree Green Tea speaks to their belief in feeling good about themselves. It tells them its cooling effects will restore inner harmony and balance to their hectic modern lives.
Chinese smartphone provider Oppo has also been very clever with its advertising campaigns targeting this demographic. Its adver-tisements highlight, often in very amusing ways, the generational divide between parents living in rural locations desperately trying to stay in touch with children who have moved to the cities.
About author Phuong Uyen Tran
For the first time history, women in Vietnam and throughout Asia have the opportunity to pursue their dreams. Your dream might be to be a career woman, a stay-at-home mother, or someone who tries to juggle both. At a time when many young middle-class women have grown up in Vietnam and then studied abroad—or who have grown up abroad and then returned to Vietnam, Phương offers business insight and guidance to these global citizens. She is someone who will always be Vietnamese in her heart, but feels equally at home wherever she is in the world.
Drawing from this global perspective, Phương provides us with both a global and local mindset, a huge advantage in business today. She is helping women to throw off the shackles history has heaped on them and achieve their highest dreams.
Second-generation Asian businesswomen, Phương Uyên Trần, serves as Deputy CEO of Tan Hiep Phat (THP) group, a company started by her parents in 1994. Today, it is Vietnam's leading beverage company. In addition to running Number 1 Chu Lai plant, she is responsible for THP's procurement, domestic and international marketing, public relations, and corporate social responsibility programs. Phương is an executive of the Beverage Association of Vietnam and also sits on the executive committee of the Young Presidents' Organization (YPO) Vietnam chapter.
She is passionate about family-owned businesses, as well as women in business. She is keen to share her knowledge and regularly speaks about managing family-owned businesses at global conferences.
Read More:a prominent female millionaire and an emotional author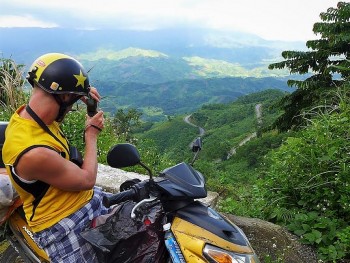 Viet's Home
Written with such love and care for Vietnam, the brilliant travel guides of Tom Divers inspire expats and foreign tourists to explore the wild, remote corners of the nation.