240 returned passengers from Singapore test negative for COVID-19
All 240 air passengers, mostly Vietnamese citizens, returning from Singapore on July 11 have tested negative for the novel coronavirus (COVID-19) according to the Center for Diseases Control in Da Nang.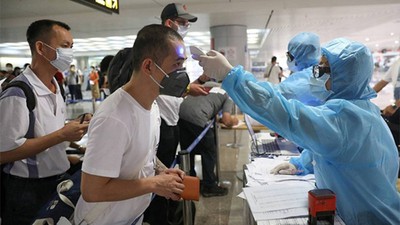 Measuring body temperature at the airport. Source: VOV
They were on board a VietJet Air plane to repatriate Vietnamese citizens stranded in Singapore due to COVID-19 and bring foreign experts to work in Vietnam.
Upon touching down at Da Nang International Airport, all crew members and passengers underwent medical check-ups and were placed into quarantine in line with regulations.
Their samples were subsequently taken with the results of the tests coming back negative for the COVID-19 three days later.
Among the group were 228 Vietnamese citizens who have now been put into quarantine at a military camp in Quang Nam province, central Vietnam.
A total of six foreign experts have been put into a self-paid isolation area in two hotels in Da Nang.
Elsewhere, two Vietnamese citizens suffering from illness are currently in the Da Nang Lung and Respiratory Diseases Hospital where their health is now in stable condition.
The National Steering Committee for COVID-19 Prevention and Control reported on July 15 morning that Vietnam has gone through 90 straight days without any infections in community.
There are currently over 12,000 people under quarantine nationwide.
According to the steering committee's Treatment Sub-Committee, 352 patients have recovered and no fatalities have been recorded.
Among the remaining patients, four have tested negative for SARS-CoV-2 once and two negative at least twice./.