5 must-visit places in Southwest Vietnam
Minh Diep, an avid travel blogger travels to Tien Giang, Ben Tre, Can Tho when the areas are at their most beautiful, with fruit-laden trees and a peaceful ambiance. Let's follow her lead to virtually experience the top must-visit places in the Western land of Vietnam.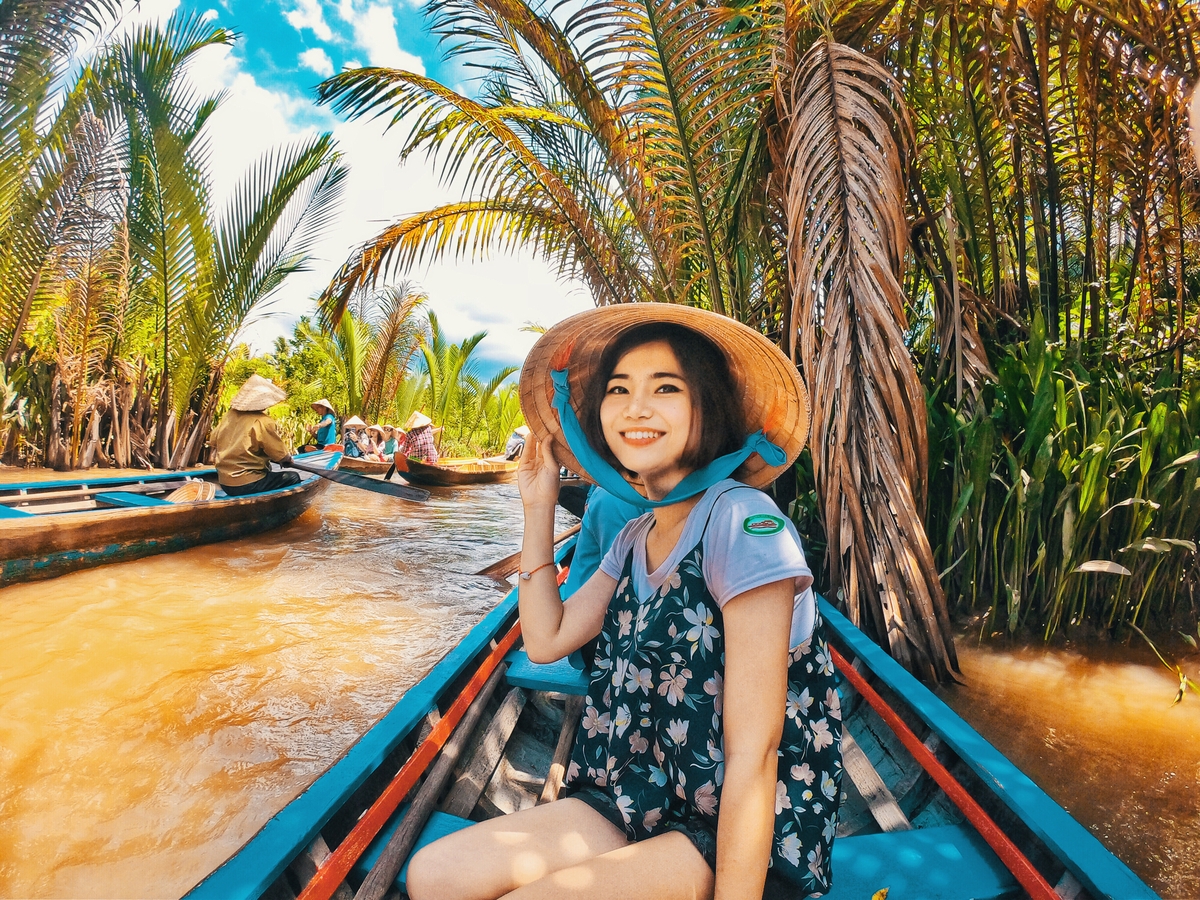 Minh Diep's wearing the iconic conical hat of Vietnamese women (Photo: VNE)
During her visit to the West, Minh Diep and her family spent two weeks exploring Con Thoi Son in Tien Giang, the "coconut city" Ben Tre, and Rang floating market in Can Tho. These are all outstanding destinations in the hometown of Tien and Hau rivers. During June, July, and August, Western Vietnam is home to heaven of fruits, including durian, rambutan, longan, mangosteen, etc.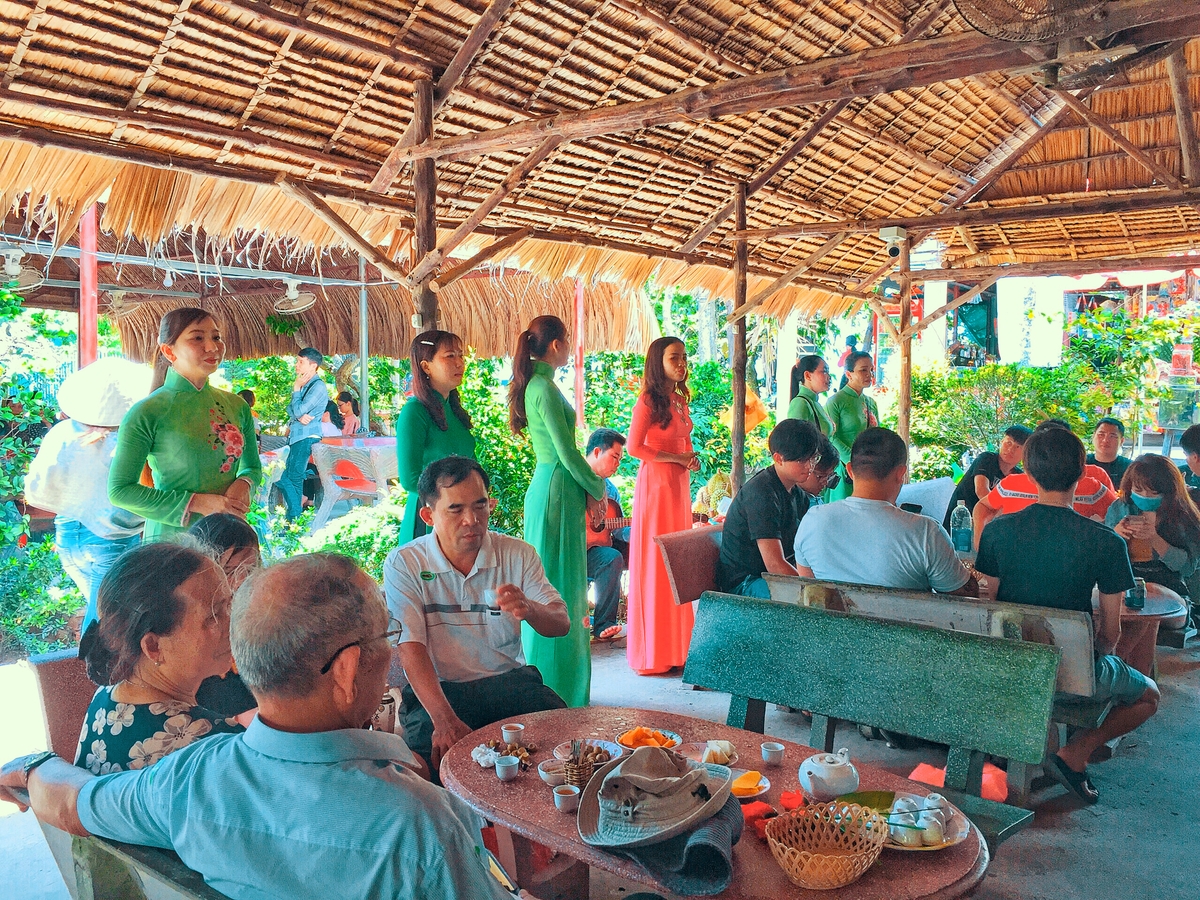 Domestic and foreign tourists are very interested in the deep melody of the farmers (Photo: VNE)
To learn more about the local culture, the young mother stopped to enjoy in a music ward which often put on musical performances to serve local people and tourists as well. Domestic and foreign tourists are very interested in the deep melody of the farmers that stick their lives to gardens and waters all year round.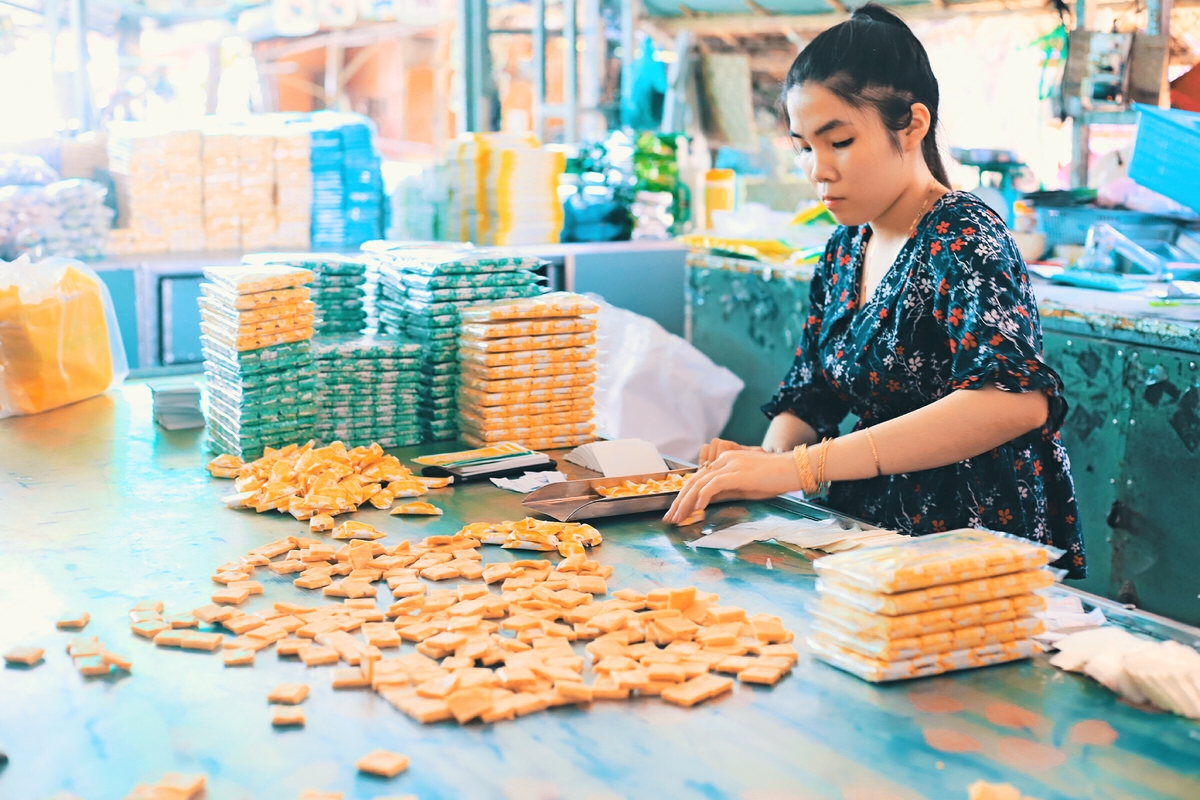 A local making coconut candies (Photo: VNE)
Diep was really into the coconut candy factory in Ben Tre. There, her family has the opportunity to watch how the coconut candies, hailed the local delicacy, are hand-made from scratch. On top of that, visitors can sample and buy home some bags of candies.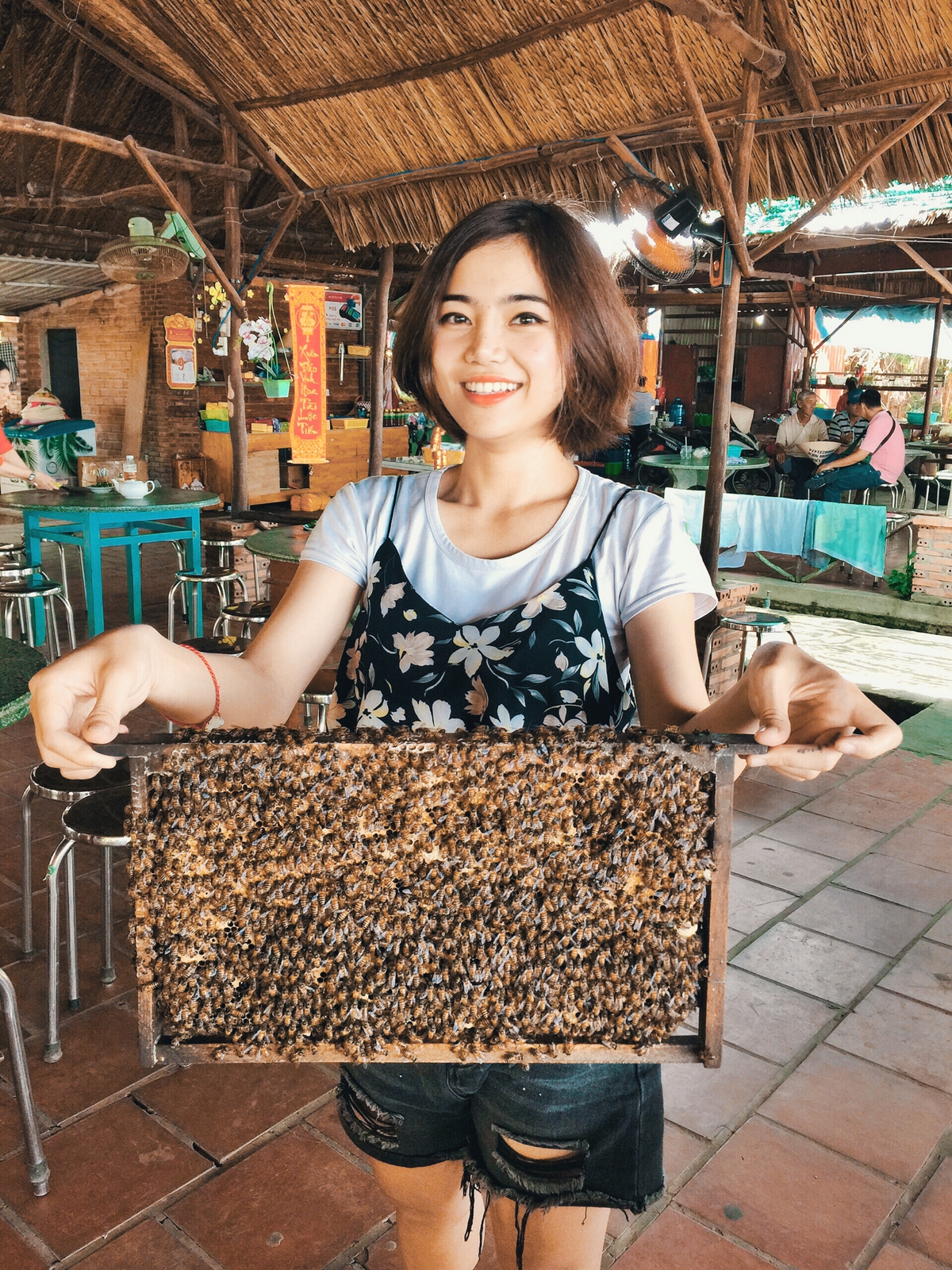 Diep at a honey-making facility in Ben Tre (Photo: VNE)
In Ben Tre, don't miss out on the chance to visit the bee-keeping and honey-making facilities of local people. The honey in Ben Tre is deliciously handcrafted, making it an ideal gifts to buy home for relatives and friends.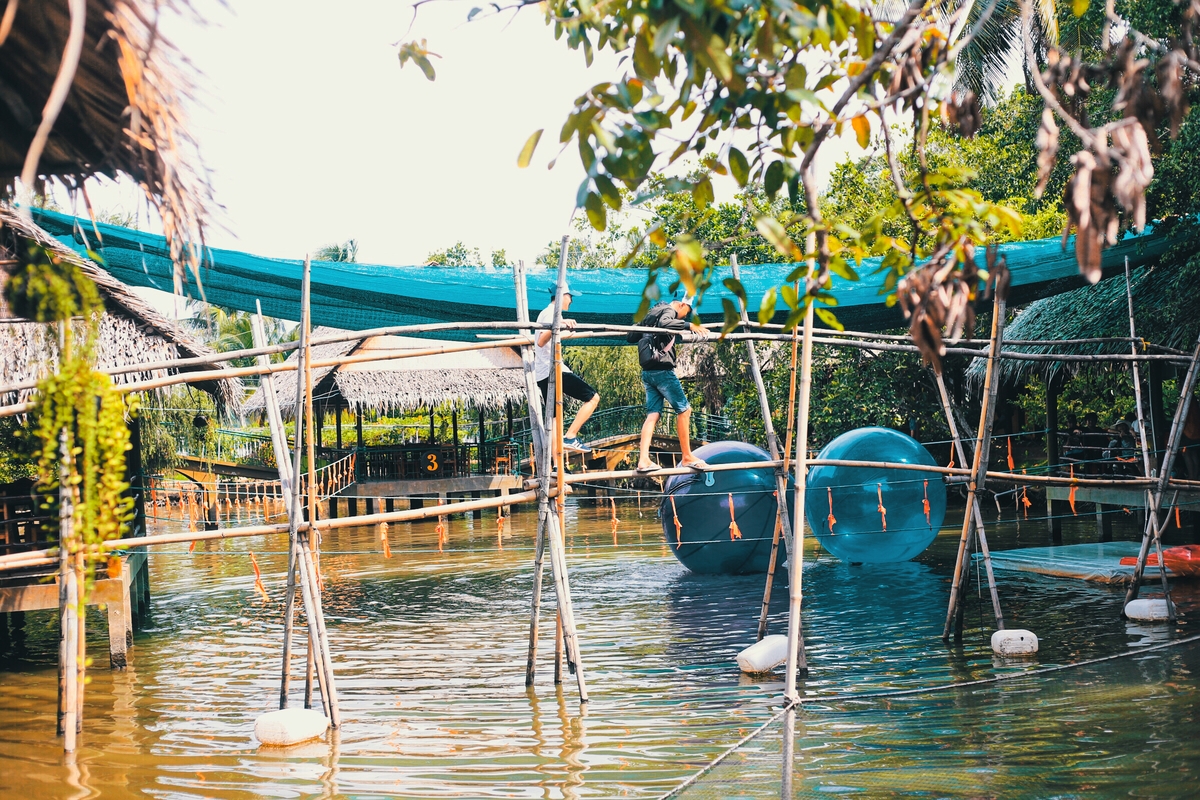 Monkey bridge (Photo: VNE)
Bamboo bridges (called monkey bridges) are a special feature of the western region. "It requires a lot of dexterity to go pass the monkey bridge. If you are not skillful enough, you might fall into the water anytime", the travel blogger told VNE.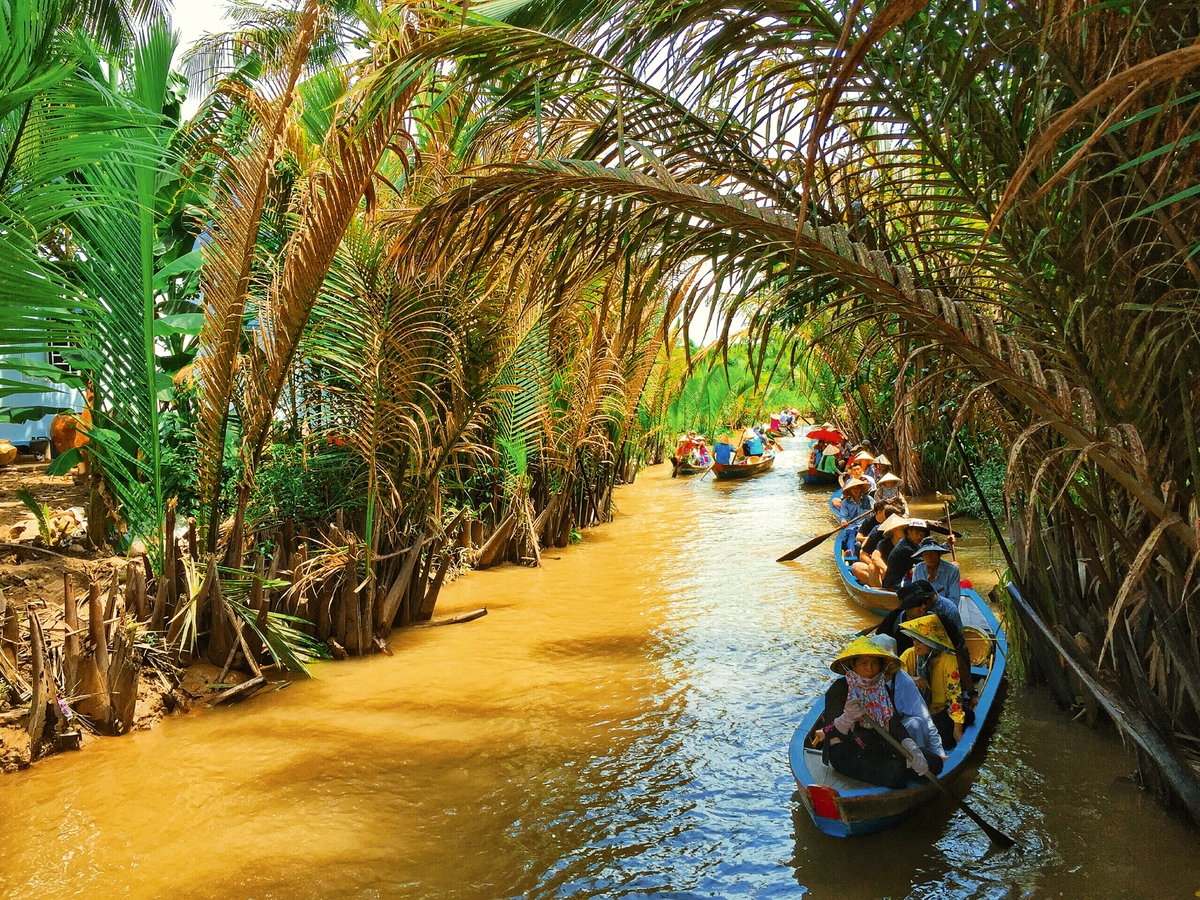 To experience dinghy, a typical means of transportation that Western people use to travel on waterways (Photo: VNE)
Minh Diep family chooses to experience dinghy, a typical means of transportation that Western people use to travel on waterways. The boatman skilfully ducked through zigzag creeks, flanked by rows of green coconut trees growing close together.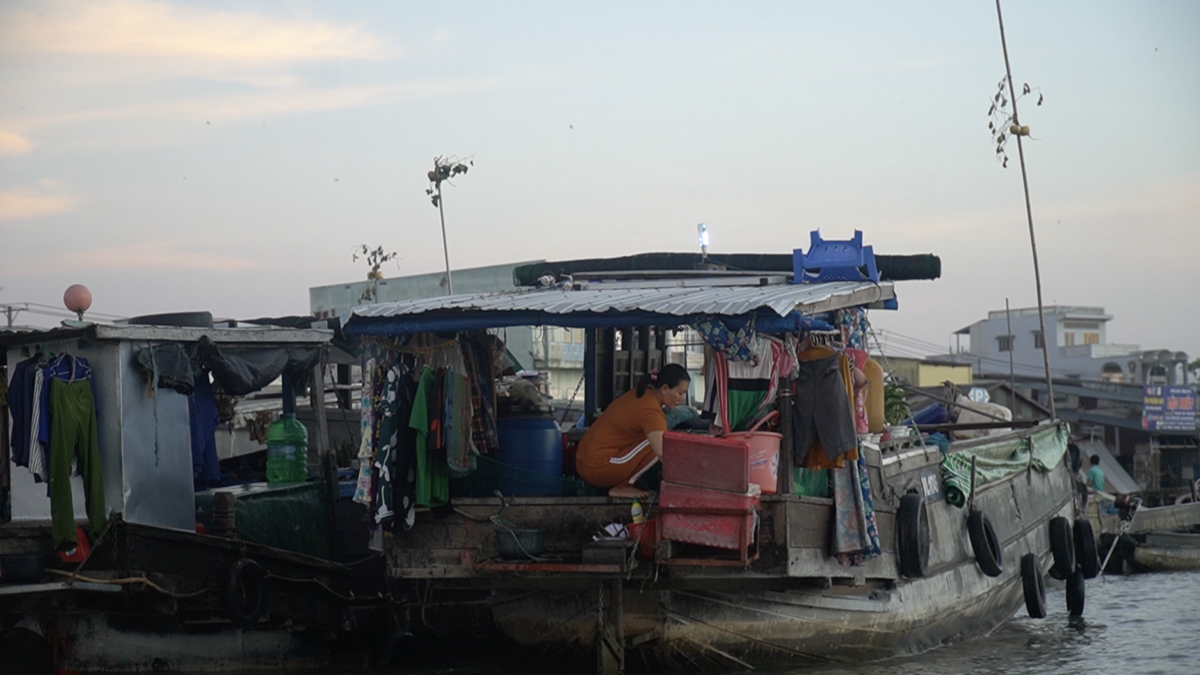 Many households live afloat (Photo: VNE)
At Cai Rang floating market, the travel blogger is mostly impressed by the vibrant scene of locals leading their daily life, trading, and dining afloat on their boats. The market opens at 5 am every day, therefore, you might have to wake up a little earlier to fully experience the frenzy atmosphere of the place.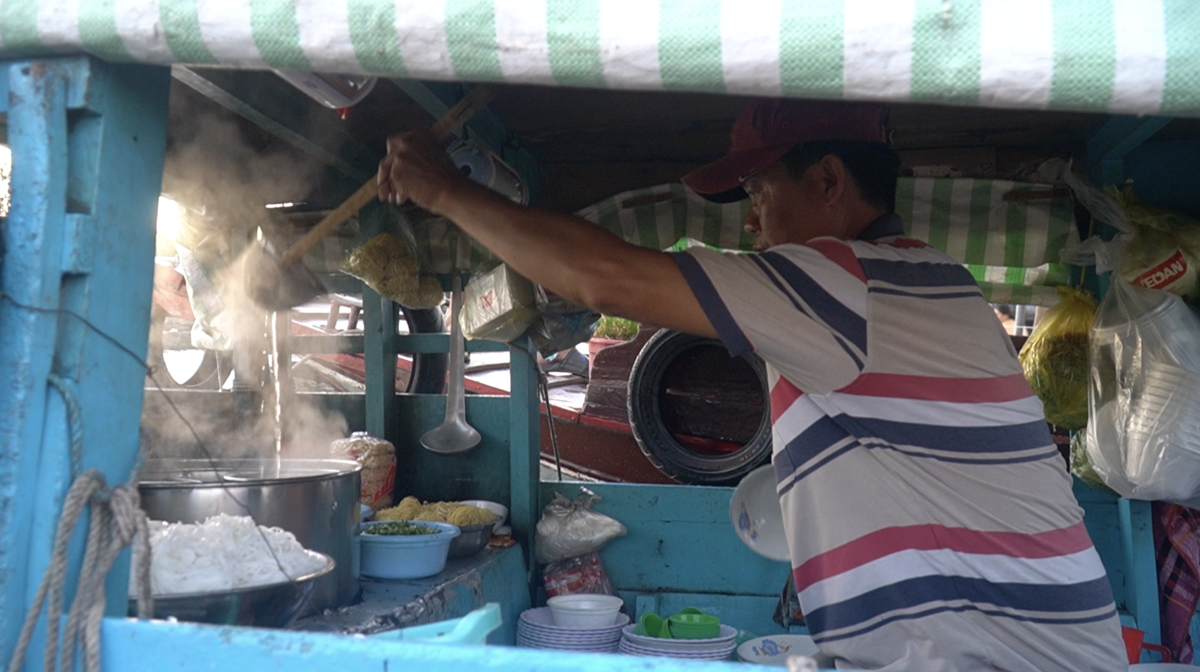 Meals are also cooked inside a floating market (Photo: VNE)
"My family really enjoyed eating crab noodles, you know, while staying afloat on the water. It's kind of unfamiliar at first as the boat was shaky sometimes. But as we get used to it, it's really an amazing experience to start a new day", Diep recalled.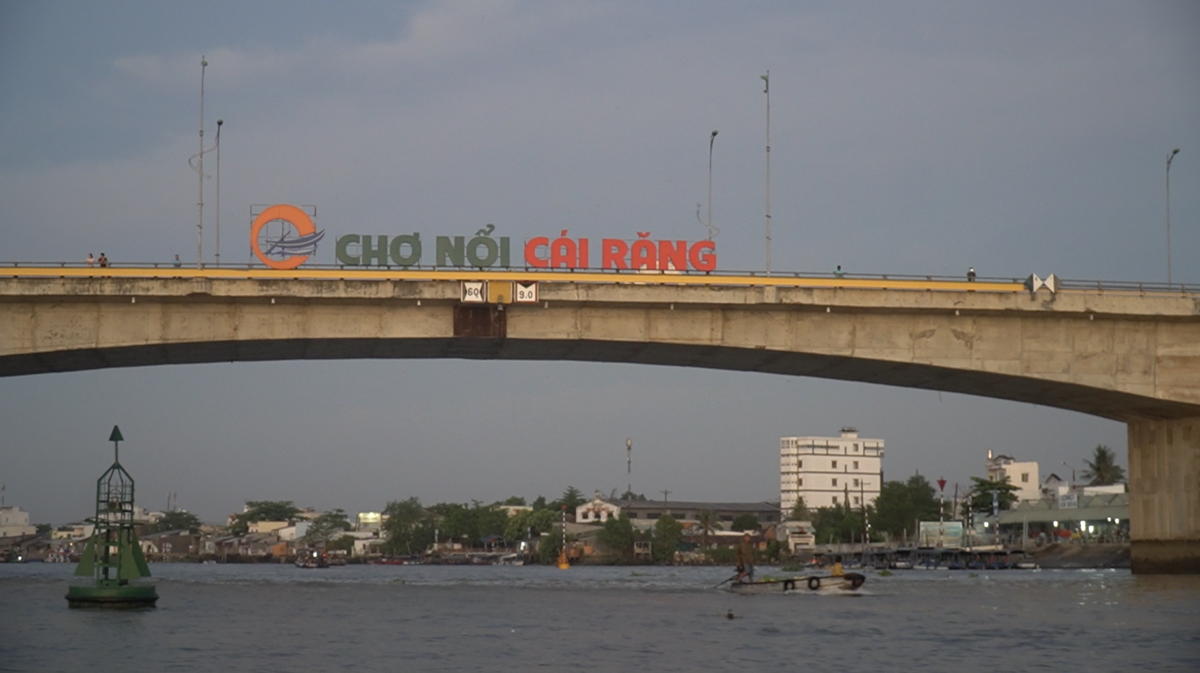 Cai Rang floating market (Photo: VNE)
Along with the iconic floating market, Can Tho is also home to a long list of delicious foods, honest and sociable people. Diep's family is very satisfied after the visit.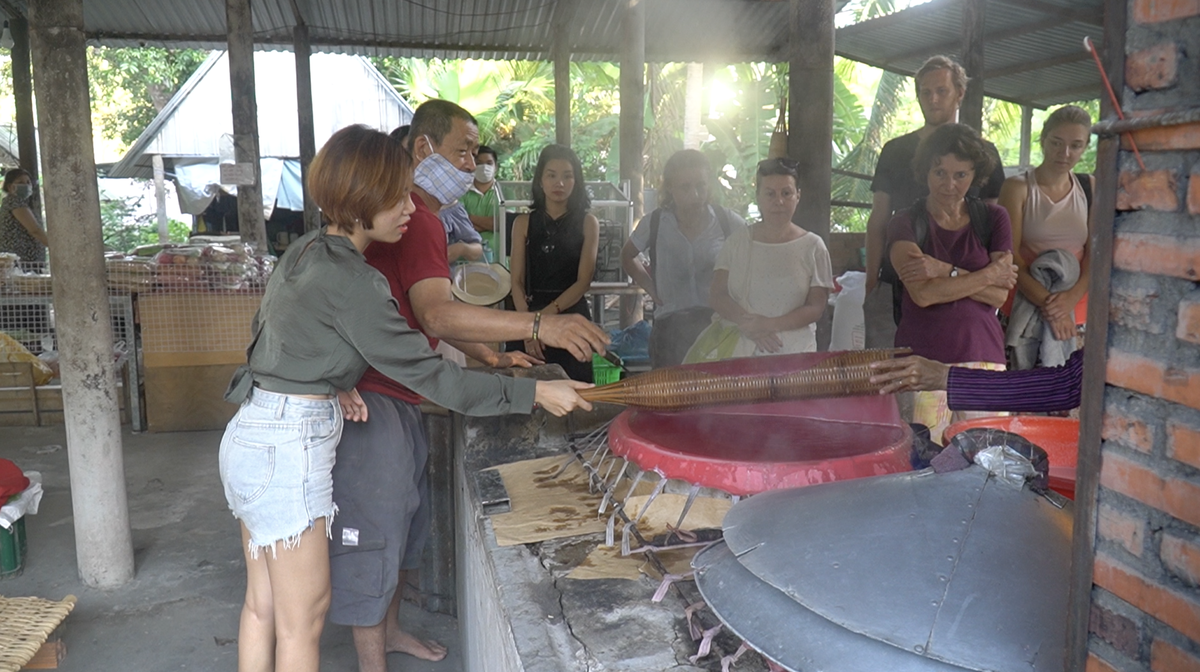 Visitors can experience firsthand in making local foods (Photo: VNE)
There are also gardens where visitors can try making local specialties themselves. Minh Diep chose to visit the noodle-making factory. It costs her only VND 250.000 (USD 10) to travel on boat from Ben Ninh Kieu to Cai Rang floating market in Can Tho and through the fruit garden in 3 hours.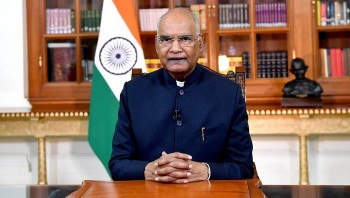 World
Shri Ram Nath Kovind was sworn in as the 14th President of India on 25 July 2017. A lawyer by profession, he had been the Governor of the State of Bihar before he took over the highest constitutional office.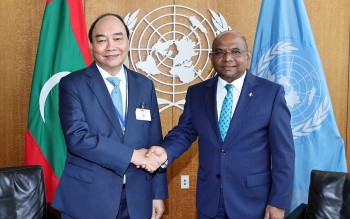 National
State President Nguyen Xuan Phuc attended a high-level general debate of the UN General Assembly (UNGA)'s 76th session opening in New York on September 21 and has implemented activities during his work in the United States.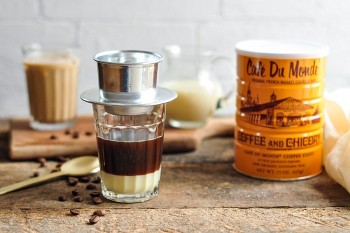 Economy
The American Vietnamese roasts have caught on at a younger generation of Vietnamese cafes and restaurants, whether Sandwich Hag in Dallas or Phinista in Boston.