6 volunteers receiving 2nd Vietnam home-grown Covid-19 vaccine in stable health condition
The first six volunteers receiving Covivac, the second Made-in-Vietnam Covid-19 vaccine as part of the phase one human trial on March 15 are all in stable health condition.
According to Vu Dinh Thiem, Director of the Center for Clinical Trials under the National Institute of Hygiene and Epidemiology, only a few cases showed mild post-injection symptoms within 30 minutes to 60 minutes of the injection, such as a headache or muscle pain around the injection site, VOV reported.
The volunteers will self-monitor their health and note their medical records before returning to the hospital on March 22 for samples to be taken.
One hundred twenty volunteers, aged 18-59 and all Vietnamese, are set to participate in the first phase of trials for Covivac.
It will see 20 of the 120 get a placebo while the rest will get shots of varying doses: 1 mcg, 3 mcg, and 10 mcg.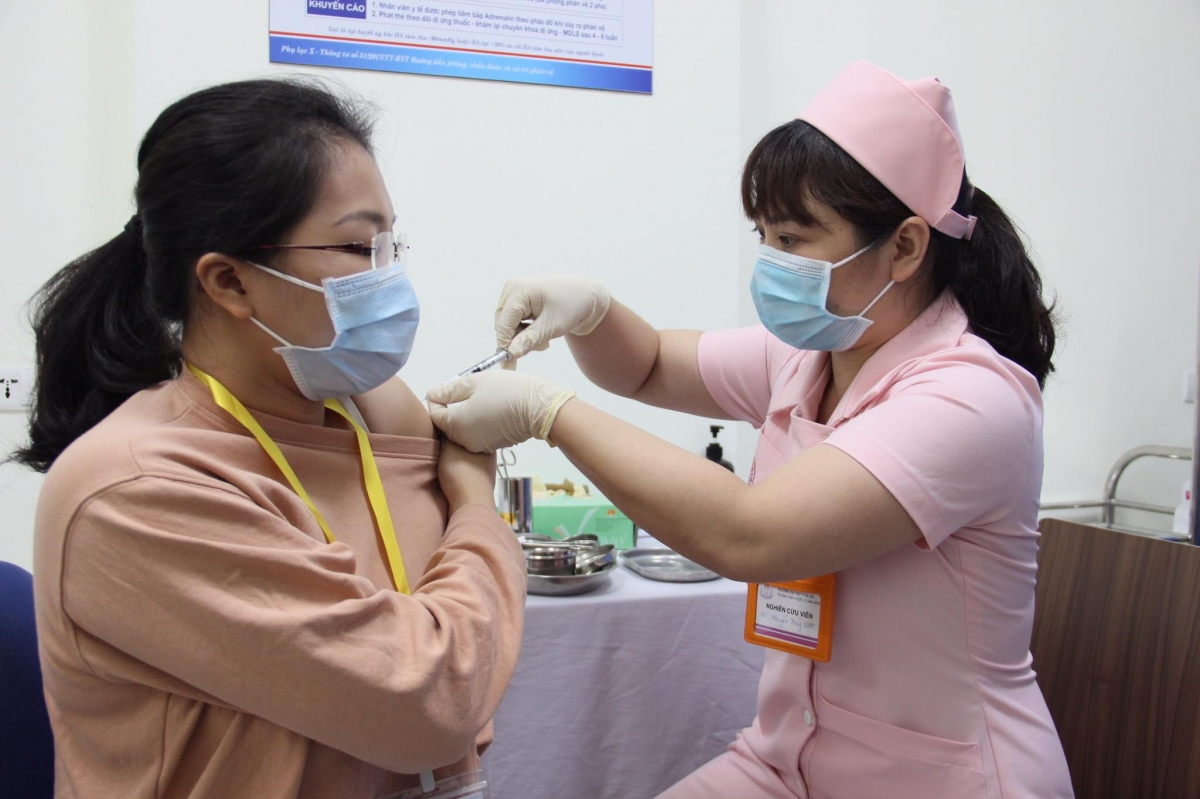 A volunteer is given the Covivac vaccine shot. Photo: VOV
The other 114 volunteers will get them at upcoming sessions, with 12-18 getting shots each time. The sessions will be spaced eight days apart and go on until April 20.
All will get two jabs, 28 days apart, and they will receive health checks eight days after the injections, with researchers monitoring them over the phone and doing further checks throughout the trials to evaluate the vaccine's immunogenicity.
A mid-term report of the first phase is expected to be completed in July, according to Vnexpress.
Once developed, Covivac will be a liquid vaccine with or without adjuvants, without preservatives, and making use of production technology of the Newcastle vector vaccine which is based on production technology that uses chicken eggs with embryos. This technology is also used in order to produce seasonal flu vaccines in Vietnam.
Nguyen Ngo Quang, deputy head of the Ministry of Health's Administration of Science Technology and Training, said the total insurance cover for the volunteers is around VND40 billion ($1.7 million).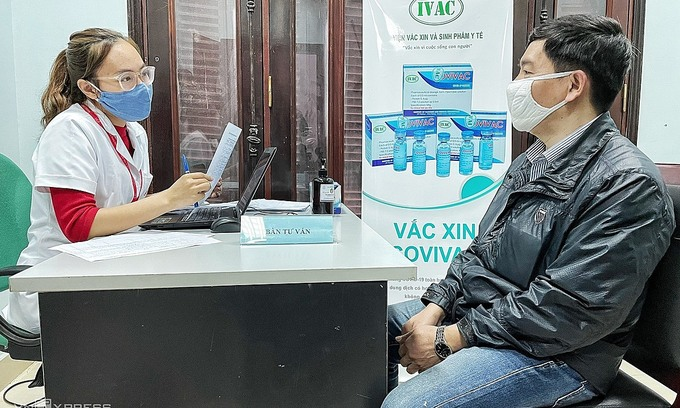 A researcher (L) informs a volunteer about the Covivac vaccine trials at the Hanoi Medical University. Photo: VnExpress.
Through pre-clinical assessments conducted in India, the U.S, and Vietnam, the Covivac vaccine has recorded a strong immunological effect on laboratory animals and has so far proved to be safe.
According to Dr. Duong Huu Thai, Director of the Institute of Vaccines and Medical Biologicals (IVAC), the research project on the vaccine has been running since May 2020, with the co-operation of scientists from universities, research institutes, and international organizations, adding that it has been produced from embryonic egg production technology, which is safe for animals.
The Covivac vaccine was also proved to be effective against the new SARS-CoV strain detected in both the UK and South Africa, Dr. Thai said.
The IVAC plans to offer the Covivac vaccine at a price of VND 60,000 (USD 2.6) per dose.
Meanwhile, the first locally-produced COVID-19 vaccine, Nanocovax, made by Nanogen Pharmaceutical Biotechnology JSC, entered its second phase of human trials on February 26.
Results of the trial will be announced in May 2021 before preparing for the third-stage trial during which only one single shot of the vaccine will be administered to 10,000-15,000 people from both domestic and foreign pandemic-hit regions, said Lieutenant-General Do Quyet, Director of the Military Medical University.
Vietnam has two other COVID-19 candidate vaccines being developed, which are VABIOTECH by the Company for Vaccine and Biological Production No 1, and POLYVAC by the Centre for Research and Production of Vaccines and Biologicals.
On March 15, more 4.260 people in Vietnam were administered the Covid-19 vaccine, raising the tally of recipients to 15.865.
The vaccine has been given to people in 12 provinces and cities including Hai Duong, Hanoi, Hung Yen, Bac Ninh, Bac Giang, Hai Phong, Ho Chi Minh City, Gia Lai, Long An, Da Nang, Hoa Binh, and Khanh Hoa, Vnexpress reported.
The prioritized groups receiving the vaccine are medical workers directly treating Covid-19 patients, those involve in taking samples, testing, contact tracing, members of Covid-19 community groups, and members of the Steering Committees for disease prevention and control.
Vietnam documented two new COVID-19 cases in the northern province of Hai Duong in the past 12 hours to 6 am on March 16, bringing the national tally to 2,559, the Ministry of Health announced.
The patients were detected in Kim Dinh commune of the province's Kim Thanh district. Both of them had been previously put under quarantine and are now treated at a COVID-19 treatment hospital in Hai Duong.
The country has recorded 1,596 domestically-transmitted infections, including 903 cases since the latest outbreak hit Hai Duong province and some other northern localities on January 27.
As many as 39,613 people who came in close contact with COVID-19 patients or arrived from pandemic-hit areas are under quarantine nationwide, including 503 in hospitals, 16,056 in other quarantine sites, and 23,054 at their residences.
The Treatment Sub-committee under the National Steering Committee for COVID-19 Prevention and Control said that 2,115 patients have been declared to be clear of the coronavirus SARS-CoV-2 so far.
Among the patients under treatment, 42 have tested negative for the virus once, 22 twice, and 110 thrice.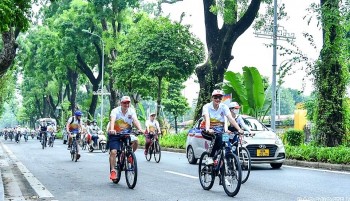 World
Staff of the embassies of ASEAN member states in Hanoi and their families joined a host of activities in Hanoi on August 13 within the framework of ASEAN Family Day 2022