Nearly 16.000 Vietnamese frontliners injected with Covid-19 vaccine
On March 15, more 4.260 people in Vietnam were administered the Covid-19 vaccine, raising the tally of recipients to 15.865.
The vaccine has been given to people in 12 provinces and cities including Hai Duong, Hanoi, Hung Yen, Bac Ninh, Bac Giang, Hai Phong, Ho Chi Minh City, Gia Lai, Long An, Da Nang, Hoa Binh, and Khanh Hoa, Vnexpress reported.
The prioritized groups receiving the vaccine are medical workers directly treating Covid-19 patients, those involve in taking samples, testing, contact tracing, members of Covid-19 community groups, and members of the Steering Committees for disease prevention and control.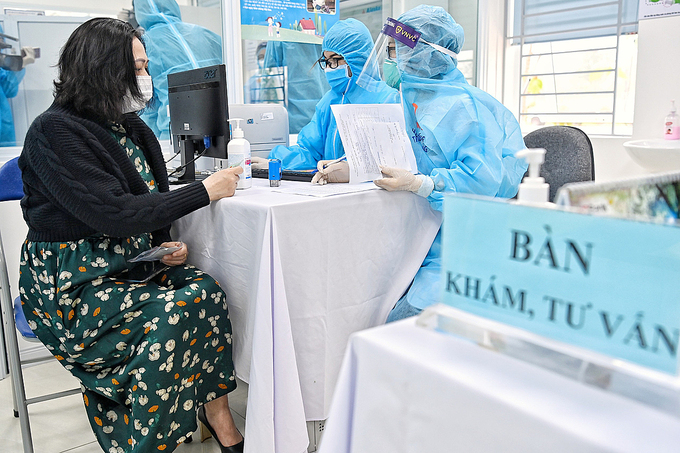 A person is consulted before inoculation. Photo: Vnexpress
On March 15, the vaccination sites only recorded cases with common post-vaccination reactions such as fever, swelling and pain at the injection site, rash, muscle pain, headache, diarrhea, etc.
Dang Duc Anh, Director of the National Institute of Hygiene and Epidemiology earlier on Monday said that around 26 percent of those vaccinated against Covid-19 globally experience normal side effects and that around 0.7 percent would experience severe reactions. In Vietnam, the rate of people with severe side effects is about 0.1 percent.
"There is always a certain chance of suffering the side effects following the injection. That chance is within the expected level as determined by vaccine producers, World Health Organization (WHO) and other relevant entities," he stressed.
The vaccine used in the ongoing vaccination rollout in Vietnam is developed and manufactured by the British-Swedish firm AstraZeneca in collaboration with Oxford University. The first batch of 117,600 vaccine doses arrived in Vietnam on February 24. An additional 5 million doses from global vaccine access mechanism Covax, UNICEF, and Vietnam Vaccine Joint Stock Company's purchasing contract are expected to arrive in March and April.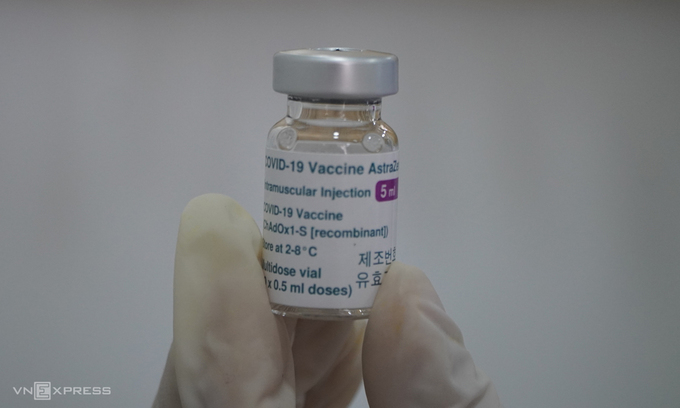 A vial containing a Covid-19 vaccine by AstraZeneca is ready for use in Gia Lai Province in Vietnam's Central Highlands. Photo: VnExpress.
AstraZeneca vaccine has been approved for use in more than 70 countries and territories. At least 10 countries including Denmark, Iceland, and Norway to temporarily suspend the use of the vaccine following reports of severe cases of blood clots in people who have been injected with it.
There has not been a single case of blood clots reported in Vietnam; hence, it will continue its vaccine rollout.
AstraZeneca and European Medicines Agency have said there has been no evidence to prove the vaccine caused blood clots and stressed its benefits far outweigh the risk of contracting Covid-19.
According to AstraZeneca, the vaccine is 76 percent effective, increasing to 81 percent after the second shot.
Vietnam documented two new COVID-19 cases in the northern province of Hai Duong in the past 12 hours to 6 am on March 16, bringing the national tally to 2,559, the Ministry of Health announced.
The patients were detected in Kim Dinh commune of the province's Kim Thanh district. Both of them had been previously put under quarantine and are now treated at a COVID-19 treatment hospital in Hai Duong.
The country has recorded 1,596 domestically-transmitted infections, including 903 cases since the latest outbreak hit Hai Duong province and some other northern localities on January 27.
As many as 39,613 people who came in close contact with COVID-19 patients or arrived from pandemic-hit areas are under quarantine nationwide, including 503 in hospitals, 16,056 in other quarantine sites, and 23,054 at their residences.
The Treatment Sub-committee under the National Steering Committee for COVID-19 Prevention and Control said that 2,115 patients have been declared to be clear of the coronavirus SARS-CoV-2 so far.
Among the patients under treatment, 42 have tested negative for the virus once, 22 twice, and 110 thrice.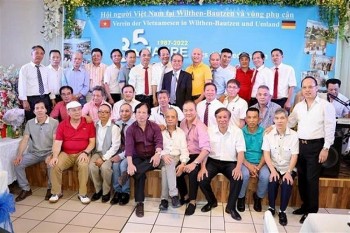 Economy
The Overseas Vietnamese Association in Wilthen - Bautzen and surrounding areas in Germany held a get-together on the occasion of the 35th anniversary of Vietnam - Germany labour cooperation.