A Young, Vietnamese Talent in the British Embassy
At 21 years old, Nguyen Hoang Tram Anh is the youngest female employee of the British Embassy in Vietnam. The hardworking professional is currently assistanting with the COP 26 Climate Change Conference.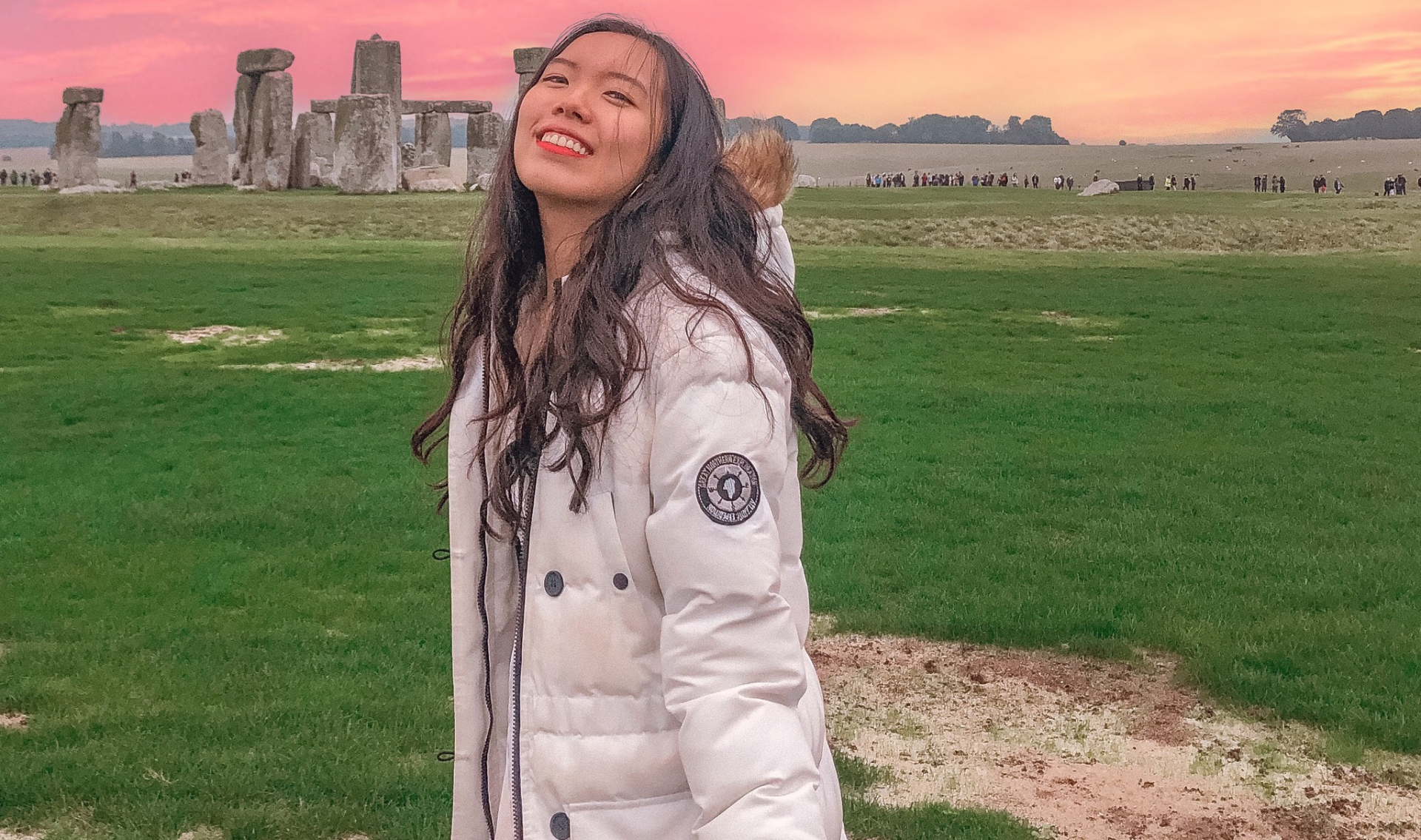 Nguyen Hoang Tram Anh. Photo: ThanhNien
Becoming a UN Conference Assistant while completing university
Tram Anh was born and raised in Hanoi, attended high school at Hanoi Amsterdam High School for the Gifted, then graduated in Applied Foreign Languages (English - French and Spanish) at Paris Diderot University, France.
In 2020, while attending a master's course in Journalism - Communication at Goldsmiths University (UK), the Covid-19 virus broke out in Europe. The pandemic caused her to return home but she was undaunted. She continued her online studies and looked for job opportunities in Vietnam.
Tram Anh studied for a master's degree in Journalism and Communication at Goldsmiths University. Photo: ThanhNien
After the application process, she has been working at the British Embassy in Vietnam as a media trainee since January. Only 6 months later, with efforts, she became a full-time employee, serving as an assistant to the 26th United Nations Conference on Climate Change (COP 26) hosted by the United Kingdom, taking place at Glasglow in November of this year.
"Since I was a child, I have dreamed of working at the Embassy, ​​so when I saw the recruitment information, I applied and was fortunate to be accepted. In the past, I also had a long experience of activities at the French Embassy, ​​so it partly helped me get better results when applying here", Tram Anh said.
Now, Tram Anh has become the youngest member of the British Embassy in Vietnam and she is constantly trying and learning to complete the assigned tasks. She is also well studied in science and policies regarding climate change.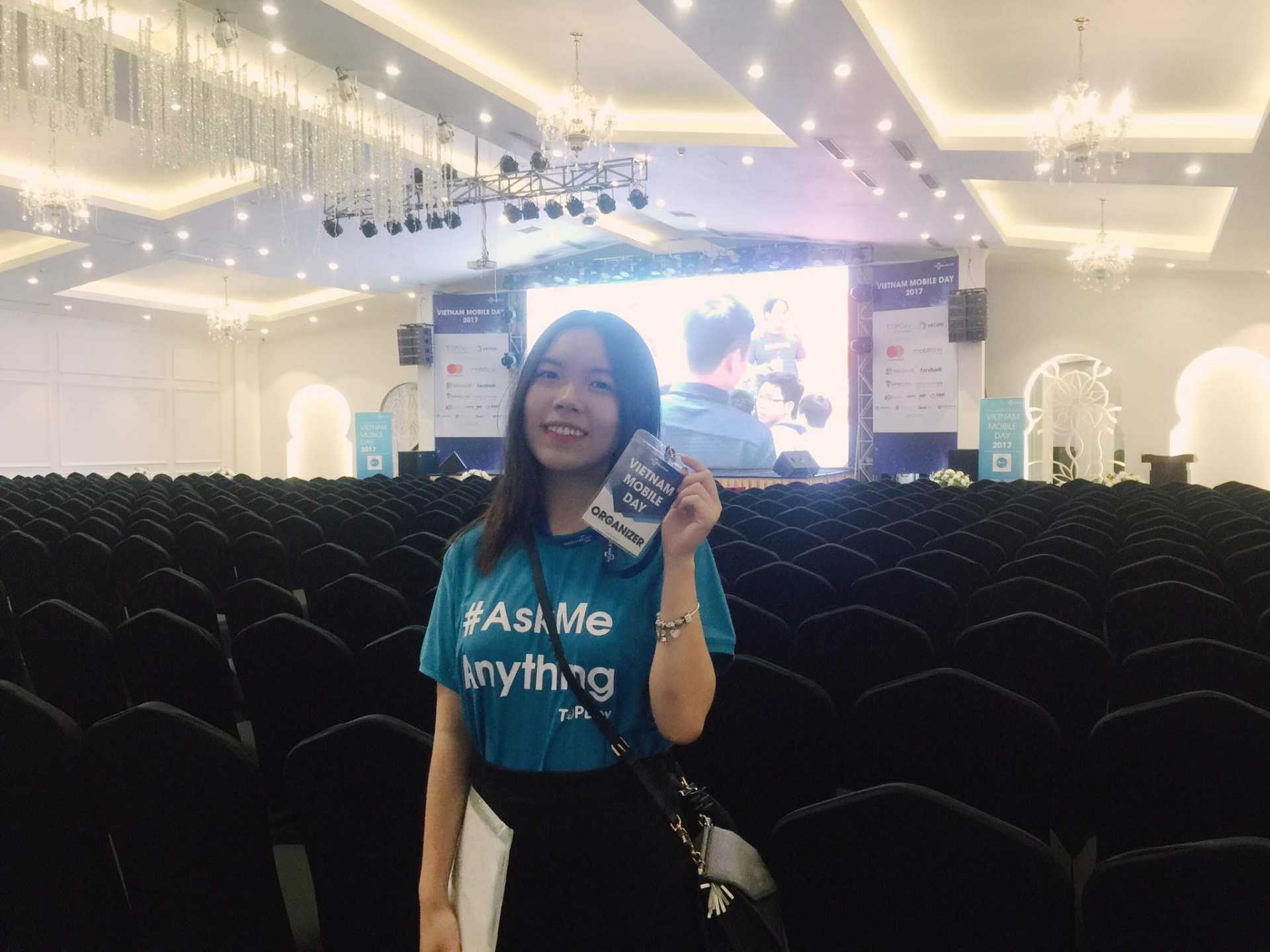 Tram Anh was an interpreter at Vietnam Mobile Day in 2017. Photo: ThanhNien
A creative, relentless spirit
Currently, not only working full-time at the Embassy, Tram Anh is still studying online for a master's program at Goldsmiths University. She is also Vice President of Communication - External Relations of the Vietnamese Student Association in the United Kingdom and Northern Ireland.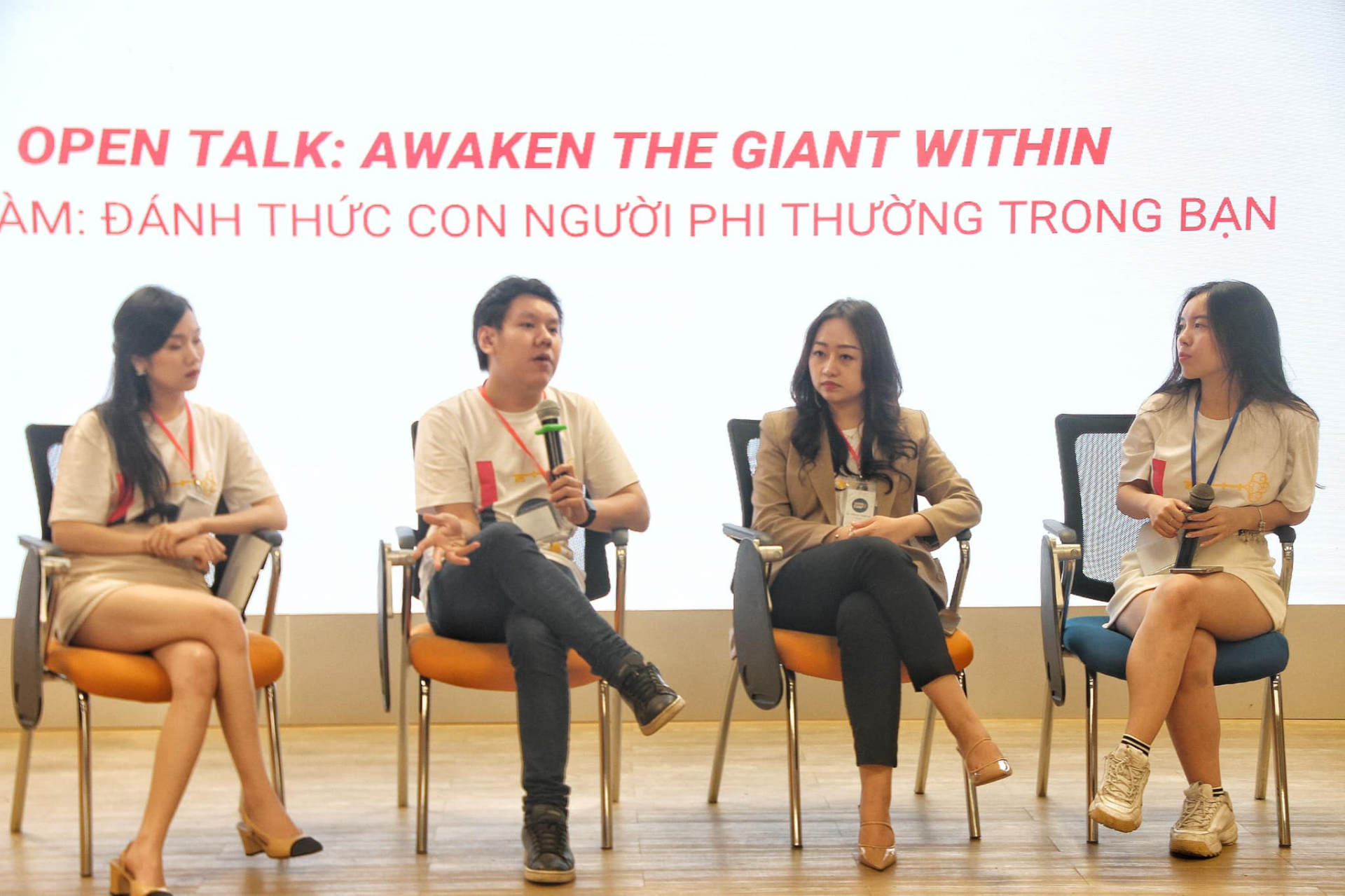 Tram Anh (right) as MC in a program. Photo: ThanhNien
"Fortunately, thanks to the time difference, my school schedule did not coincide with my work schedule. I go to work by office hours, finish at 5 p.m. and then go home for the first class of the day at around 6-7 p.m. If there are also later schedules, or there is work of the Association, I will stay up until 2-3 a.m., take a nap for a few hours, and then get up to go to work," Tram Anh said.
At this time, she finished all the subjects at school with high results. She is about to complete the project to graduate in September. Not only that, she also cleverly arranged the timetable so that she could participate in many youth activities organized by the Embassy with many different positions such as MC, coordinator, press support.
Le Thi To Uyen, president of the Vietnamese Student Association in the UK and Northern Ireland, said: "Tram Anh is a colorful person, always full of ideas and creativity in her work. She is a friend, a reliable colleague, always completes the assigned work and is ready to help everyone."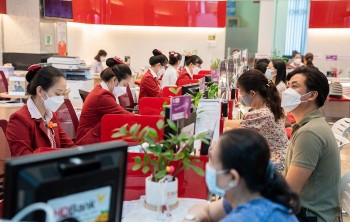 Economy
Vietnam Business & Weather Briefing (August 12): Air passengers reach a record number in July, seafood exports expected to reach 3 billion USD in Q3