Agent Orange victim: I hope that I have enough health to take care of my children
The pain caused by Agent Orange on victims and their descendants is difficult to describe in words. Instead of accepting a cruel fate, grandmothers, mothers, wives and fathers have devoted themselves to their families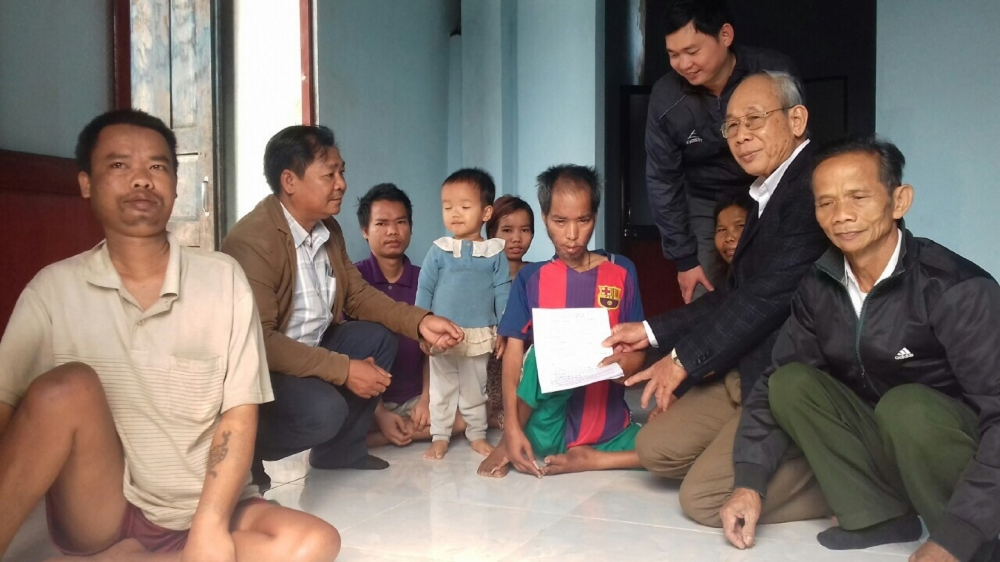 The Association of Victims of Agent Orange/Dioxin Thua Thien Hue visited and presented gifts to Tran Van Dui's family.
The war has passed but the pain left behind by Agent Orangestill persists. It is still said that "Agent Orange victims are the most miserable of the most miserable, the poorest of the poorest." The wives and mothers still silently shoulder the burden, being the fulcrum for Agent Orange victims.
In their old age, Tran Van Dui (Thuong Long commune, Nam Dong district, Thua Thien Hue province) and his wife should have enjoyed peace with their children and grandchildren, but they have not had a good night's sleep for nearly 40 years because their three children carry suffer from the effects of Agent Orange.
Tran Van Dui was infected with Agent Orange and walking is very difficult to him; he can only take care of himself. He and his wife have three children, and all three of them are deformed, their limbs cramped, stiff, and cannot move on their own. All personal activities such as eating, bathing and washing are dependent on their parents and grandparents.
For nearly 40 years, more than 14,600 days and nights, he and his wife struggled, helplessly watching their children struggle, scream and smash things. He could not remember how many times he borrowed money to send his son to the hospital for treatment bu. It is expensive and the children's illness is getting worse day by day, so the family's finances are strained.
"When my third child got sick, wandered around, forgot the way home, my wife and I went to look for him. For many days, she couldn't find him, she cried all the time," Dui said. Listening to her husband's explanation, Dui's wife turns her face away to hide the tears rolling down her cheeks.
"For many years, my wife and I, in addition to being parents, are also doctors, friends to share sorrows and joys, sometimes we have to play the role of silly people to have fun with our children," Dui said.
The family is poor, the children are sick and the man in the family is not healthy, so all the work in the family is taken care of by Dui's wife. All expenditures for his family's living only depend on the small monthly allowance that Dui receives.
Working in the fields, farming or doing other jobs to earn extra income are all done by Dui's wife. Their assets are not worth more than VND 2 million (US$ 87.14). There is no need to have a bed in the house, because no one can climb into a bed themselves. Just like that, year after year, the family's poverty, hardship, loss and pain both physically and mentally, continues..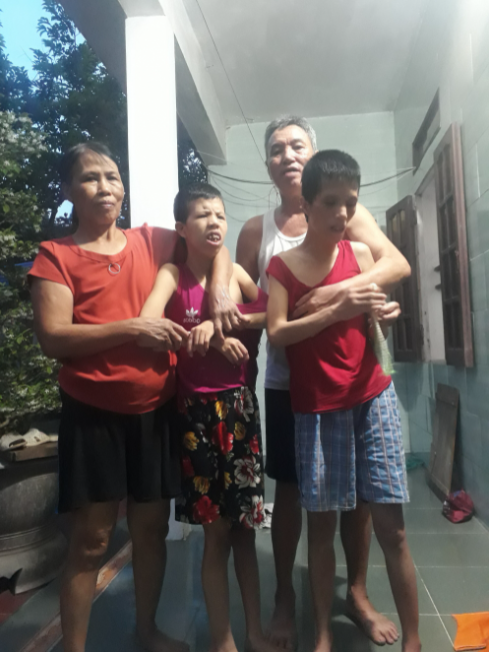 Another family suffering from Agent Orange
The above victims, children and grandchildren are just a small number compared to the millions of people exposed to Agent Orange throughout Vietnam. For those who carry Agent Orange, overcoming the misfortunes of life, they find optimism, the joy of living to forget the wounds of war.
"Thanks to the help of the Association of Victims of Agent Orange/Dioxin Thua Thien Hue, my family has a spacious house like this. For the past few decades, our life has been too difficult, everything depends on my meager allowance, the rest is all in my wife's hand," Dui said.
"I just hope that I have enough health to take care of my children. I hope that my wife is always healthy so that she can take care of the family. I hope that the mass organizations pay attention to the plight of people infected with Agent Orange like us so that everyone's life is less difficult. I don't dare to dream of anything, I just hope that I am strong enough to have the strength to take care of my children."
The silent pain of those who are grandfathers, grandmothers, fathers and mothers -- only those in the same situation can understand and sympathize with them. They themselves are also suffering from the tortures of Agent Orange, and then have to work hard over the years to raise their disabled children and grandchildren. Each family has its own pain, its own situation, but all of them have one thing in common: the burden of loss.
Nguyen Huu Quyet, vice chairman of the Association of Victims of Agent Orange/Dioxin Thua Thien Hue, said: "In order to relieve the pain of Agent Orange, there have been generous hearts and charitable deeds. The Provincial Association together with IC in Vietnam has also raised more than VND 60 million (US$ 2,614) to build a house for Tran Van Dui's family in Nam Dong district, which has been put into use since early 2020. Along with that, the locality also supports the family during Tet holidays and humanitarian aid."
Alleviating the "pain of Agent Orange" is a humanitarian act, a voice of conscience, a responsibility of of the whole of society at every level.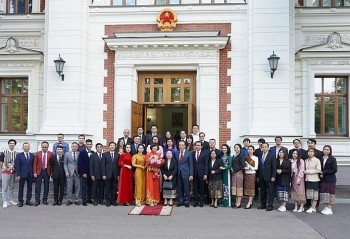 Friendship
The Vietnamese Embassy in Cuba will make efforts to consolidate and cultivate the special Vietnam-Laos relationship in the spirit of respect and support for mutual benefits.