Covid-19 patients in Vietnam receive Free Treatment
In Vietnam, Covid-19 patients will be exempted from the full treatment fee. Negative case's testing costs are paid by Health Insurance.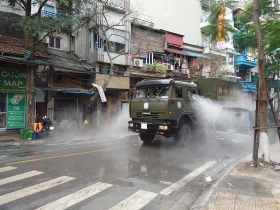 Antiseptic spray in Truc Bach street (Hanoi)
Currently, many countries have specific regulations on the treatment fee to people tested positive for Covid-19, especially foreign tourists.
In Singapore, a new regulation issued by Ministry of Health stating that the Government will pay for Covid-19 testing, but foreigners who are sick have to pay for their own medical expenses of SGD 6,000-8,000 (US $ 4,300-5,800). This regulation came into force on March 7.
Meanwhile, in the US, nearly 500 health professionals and scholars in the industry have signed a letter to the federal authorities suggesting the government to pay for medical costs related to the disease to prevent the epidemic spreading.
A woman living in Denver, US Colorado state's metropolis, had to pay a medical bill of US$4,500 for Covid-19 testing with her signs of influenza. In Singapore, foreign coronavirus patients are offered free Covid-19 testing but have to pay US$4,300-US$5,800 for the treatment.
However, in Vietnam, Covid-19 patients are still being treated freely now.
Regarding this, Mr. Nguyen Nam Lien, Director of Planning - Finance Department (Ministry of Health), said that this issue was stipulated in the Decision of epidemic announcement signed by Prime Minister Nguyen Xuan Phuc on February 1, 2020.
In particular, the Prime Minister emphasizes that this is a group A contagious disease, a global emergency risk and human-to-human transmission. If the patient is suspected of infection and tested negative, the Health Insurance will be paid as prescribed.
Mr. Le Van Phuc, Head of Health Insurance Policy Implementation Department of Vietnam Social Insurance, said that the health insurance fund will pay for patients going for examination when they have suspected symptoms such as fever, cough, shortness of breath and the negative diagnostic test for SARS-Cov-2 virus.
***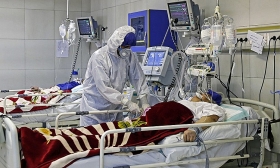 The patient was treated well and recovered from Covid-19 (Photo: vnexpress)
An American telling a truth about unknown information on COVID-19 in Vietnam
When the coronavirus disease spreading worldwide, a Twitter account named "Emerican Johnson – Cornpop Fan Account" has written the truths about Vietnam which media in some western countries may be unknown. His writing got many comments and shared widely. Hereinafter Vietnamtimes would love to share his writing from his points of view sincerely.
More details...CLICK HERE
If testers confirmed positive and need further treatment, all treatment and testing costs will also be covered by the state budget.
In Vietnam, the cost of treating Covid-19 patients in hospitals is covered by Health Insurance. To people in concentrated isolation, it is free of charge.
The state budget provides free food to blockaded areas (Hanoi) or money (40,000 VND (1.5 U.S dollars)/person/day - Vinh Phuc)
On March 10, the Hanoi Department of Health proposed food support to people with medical isolation, a stipend of not exceeding VND 80,000 (3.5 US dollars)/day/person to coercive medical isolation in quanrantined areas. Both Vietnamese and foreigners are treated that favour.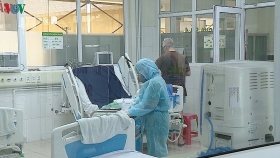 Foreigners are testing for coronavirus (Photo vov)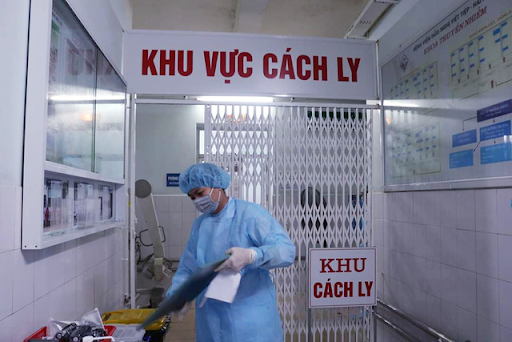 Quarantined cases in Vietnam are being given free-of-charge essential items for their daily activities in isolation wards
Circular 32/2012 of Ministry of Finance stipulates that persons subject to medical isolation at health facilities, border gates, and other locations will be exempted from medical examination and treatment fee under the professional guidance by Ministry of Health; provided with free drinking water, face towels, masks, hand sanitizers, oral antiseptic solutions, toothbrushes, shower soaps and other essentials to meet daily needs, free moving to the isolated facility.
For diets, people subject to medical isolation at medical establishments, border gates, and other places are provided meals consistent with the facility's ability to perform medical isolation. Food expenses are paid for by people subject to medical isolation. In case the isolated person is a poor household as prescribed, he/she is entitled to a meal allowance of VND 40,000/day during the isolation period.
However, in the past time, most of the localities and concentrated isolation areas such as the army, the police...used the local budget to pay for food expenses to facilitate people with medical isolation.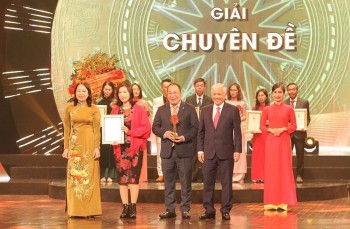 Overseas Vietnamese
VietnamTimes (Viet Nam Union of Friendship Organizations) is a reliable address for overseas Vietnamese to quickly and objectively update political, economic, cultural, and social news. The agency has created a helpful forum and connection between expatriates and the motherland.