Another flight carries citizens home from Canada, RoK; local spread widens
Amid surge in COVID-19 cases, a total of 300 Vietnamese citizens were flown home from Canada and the Republic of Korea (RoK) on Vietnam Airlines flight on August 2-3.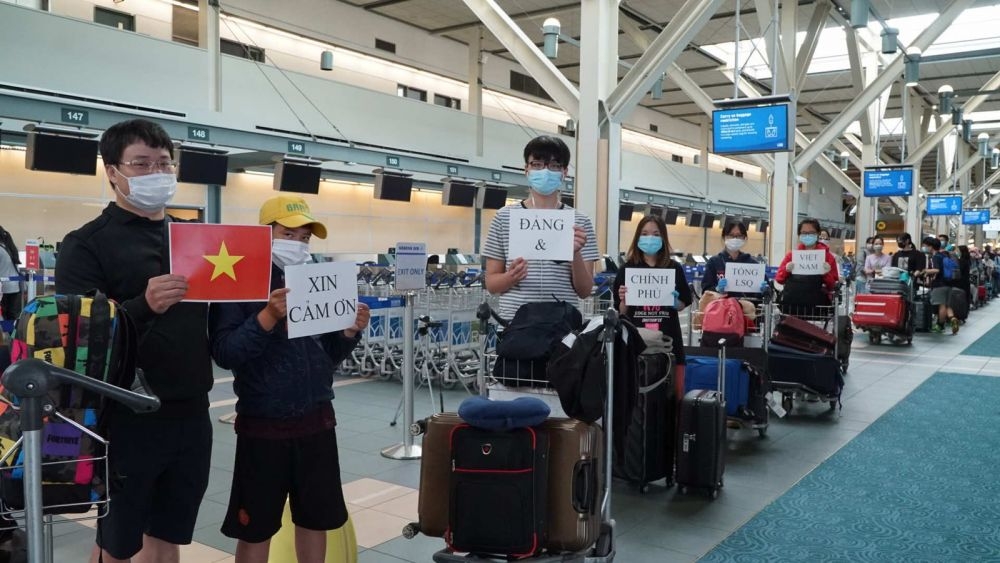 Vietnamese citizens stranded in Canada due to the impact of the COVID-19 pandemic get necessary support before boarding the plane for home. Source: baoquocte.vn
The Vietnamese General Consulate in Vancouver (Canada) and the Embassy in the RoK sent their staff to assist these people to complete all required procedures before boarding the flight.
Strict security, safety and hygiene measures were enforced by the carrier during the flight to protect the passengers' health and prevent COVID-19 transmission.
Passengers on board the repatriation flight came from various parts of Canada and the Republic of Korea, include children aged under 18, the elderly, pregnant women, those with illness, workers with expired visas and labour contracts, students without accommodations, workers with expired visa and labour contracts, stranded tourists, and those in extremely disadvantaged circumstances.
Upon arrival at Can Tho International Airport, all passengers and crew members were given health check and quarantined in line with regulations.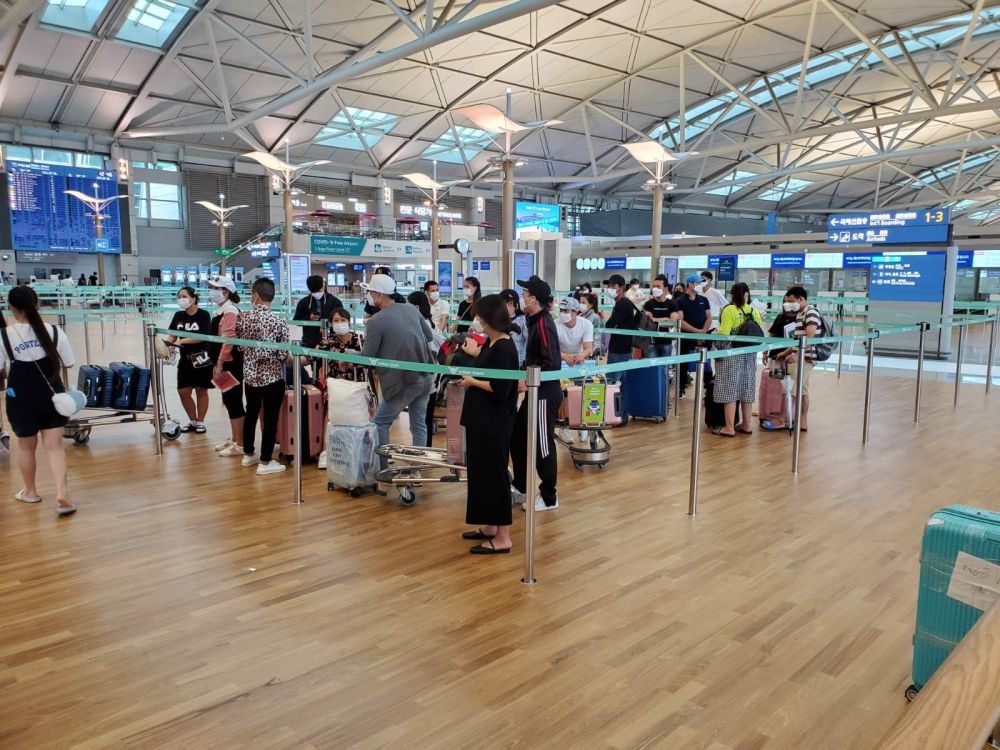 The Vietnamese Embassy in the RoK sent staff to airports to assist the citizens with necessary procedures before they boarded the plane. Source: baoquocte.vn
For more than three months until recently, all confirmed coronavirus cases in Vietnam have come from overseas. But the virus has recently resumed spreading within Vietnam, starting from a hospital in the city of Da Nang.
The outbreak began with the detection of a 57-year-old male patient on July 25, ending the streak of 99 days of no community infections in Vietnam. It has also resulted in six deaths, all of them with serious underlying health conditions.
A total of 135 linked to the city have been confirmed over the past days (out of a total of 195 fresh locally transmitted coronavirus cases), including 21 on August 3 evening, according to the National Steering Committee on COVID-19 Prevention and Control.
Da Nang is putting finishing touches to a field hospital at Tien Son sport complex, and is planning to erect another one at the municipal trade fair and exhibition centre.
A 75-year-old Japanese director of Hokkaido Lotus company based in Lac Duong district of Lam Dong province also has tested positive for the SARS-CoV-2 virus after recently returning to Japan from Vietnam.
The information was revealed by Lam Dong province's Department of Health on August 3 after being informed by the health agency in Japan about the infected case.
However, it is not clear where or when the Japanese director first became infected with the virus.
At present everyone who came into close contact with the man has been placed under strict surveillance at various concentrated quarantine facilities.
Local authorities are still attempting to trace the F1 and F2 contacts who had come into close contact with the COVID-19 patient.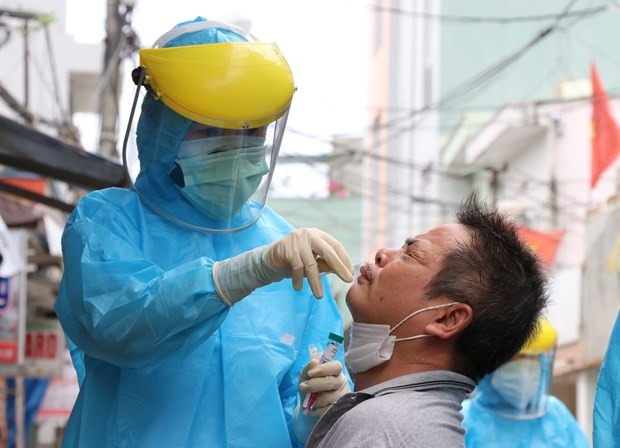 A medical worker takes a swab for COVID-19 testing from a resident in Son Tra district of Da Nang city. Photo: VNA
The national tally now stands at 642, of which 307 were imported cases and were quarantined right upon entry.
The government said it is stepping up measures against the coronavirus as the domestic outbreak widens.
Prime Minister Nguyen Xuan Phuc on August 3 asked for all-out efforts to be made nationwide to handle the fresh coronavirus outbreak in Vietnam, first and foremost in the central city of Da Nang.
Addressing a regular monthly Cabinet meeting for July, Phuc warned localities not to be complacent and not let the disease break out again on a large scale.
"Early August would be the decisive time to see if the disease spreads on a large scale or not, therefore all resources must be pooled to promptly handle the outbreak, especially one in Da Nang," he said.
As the second wave of the epidemic broke out in Vietnam, the Prime Minister reminded localities of the spirit of 'fighting against COVID-19 like fighting against the enemy' adopted several months ago, and said 'every family, village must be an anti-epidemic fortress, and every citizen must be a soldier on the front of combating the disease'.
Deputy Minister of Health Nguyen Truong Son has requested directors of Cho Ray Hospital, HCM City's Medicine and Pharmacy University Hospital and the Ho Chi Minh City Hospital for Tropical Diseases to urgently send health experts to Quang Nam General Hospital to participate in the treatment of COVID-19 patients who in a critical condition./.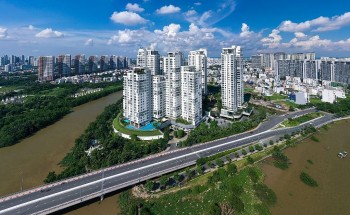 Economy
Vietnam Business & Weather Briefing (Sep 29): Vietnam among world's best performers in digital banking, Vietnam's new overseas investments surge 2.31-fold in nine months.