Aquarius Horoscope October 2021: Monthly Predictions for Love, Financial, Career and Health
Aquarius Horoscope October 2021: Neptune for long in your sign brings you to a new level of spiritual realization this October, Aquarius. The life presented to you would be quite complex and complicated these days.
Monthly Planetary Horoscope
Career will be successful this month. We have a beautiful synchronicity here. Pluto, your career planet, starts moving forward on the 6th, just before you begin your yearly career peak, from the 23rd onwards. So, there is career clarity and focus. This spells success.
Your 9th house remains powerful until the 23rd. Thus many of the trends we discussed last month are still in effect. Foreign countries call to you. The urge to travel is strong (after the 18th seems best for this). There will be religious and philosophical breakthroughs for those who want them. These are more important than most people realize, for our religious beliefs and philosophy shape the way we live our lives.
In love you are attracted to mentor types – people you can learn from. You have the aspects of someone who falls in love with their professor or worship leader. Philosophic compatibility is very important. You don't need to agree on every philosophical point, but you need to be on the same page. Most failed relationships are due to philosophical difference (though the excuses for it tend to be different, at the root of the problem is a philosophical difference – a different perspective on life).
On the 23rd your love planet the Sun crosses your Midheaven and enters the 10th career house. This gives many messages. First, it signals that love is high on your agenda – perhaps even your mission for the rest of the month. It shows focus. Secondly, it shows that you further the career by social means, by attending or hosting the right gatherings and parties. Finally, it shows a change in the love attitudes. Power and prestige now allure you. You are attracted to people who can help you careerwise – and you're meeting these kinds of people now. Singles will find romantic opportunities as they pursue their career goals. The only problem in love is you. You're not sure what you want. You seem hesitant.
Health needs watching from the 23rd onwards. The problem here is that with your 6th house empty (only the Moon moves through here on the 26th and 27th) you might be ignoring things. You have to force yourself to focus here. So, rest and relax more. Drop the trivial from your life and focus on the essentials – the really important things. Enhance the health in the ways mentioned in the yearly report.
Though your financial planet is still retrograde, finances are strong from the 23rd onwards. There can be delays and glitches, but prosperity will happen.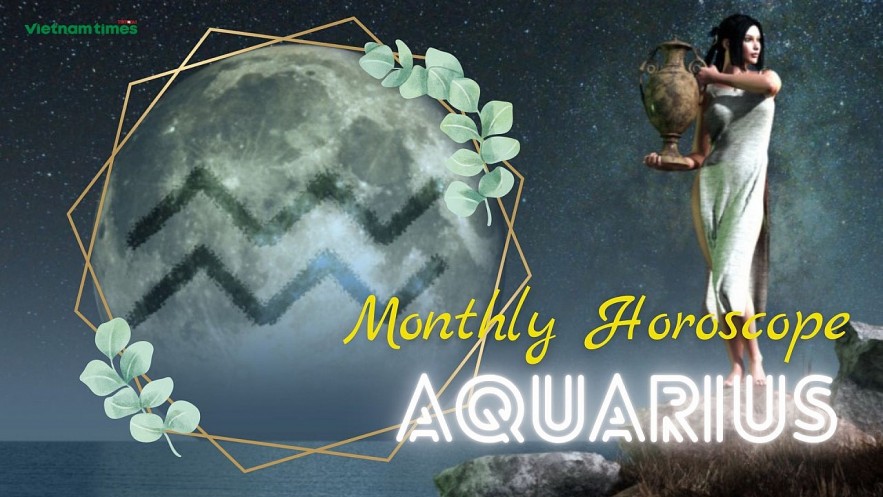 Aquarius Monthly Horoscope. Photo: vietnamtimes.
Aquarius Monthly Horoscope
Do not cringe, instead look at the brighter and broader picture at large. You would have a better vision of your future this month. Strive to be ideal, and look out how you can give in to humanity at large. Through this period, you would have the stamina and energy to take in bigger ventures that would not have been possible before. October will be an extremely active month for you. It is now that some of your character traits are apparently outlined.
The current planetary positions in your Kundli state that this month will prove to be somewhat weak for you. You will get some good results with regards to your career but they will not meet your expectations. If we talk about studies then this month will prove to be somewhat favourable. Your hard work will definitely bear the fruits of success. On the domestic front some classes can occur.
Due to being excessively busy at work you won't be able to give the necessary time to your family members. Economic difficulties will also befall on you. Health will remain in low spirits. You will be lucky in love. With regards to the conjugal life of Aquarius native then the second half of the month will turn out to be favourable and you will get the necessary courage and devotion to fight your problems.
According to the October 2021 Aquarius horoscope predictions, this month is all about a career for you. Family and emotional matters will be in the background for now. There are instances when you will have to choose career over family and outward development. The Aquarius zodiac sign is aggressive hence you are ready to face whatever challenge that comes your way. You are independent hence the ability to achieve many things on your own without the help of others. Based on the 2021 monthly predictions, you will help people who are in need where necessary. Your studies will go well this month, and you will travel a lot for business purposes.
For the opposite sex you will become a very attractive morsel and you will be able to attract a lot of people, among which there will also be a few gems of particular interest. Please pay special attention to one of these people around the second week of the month.
People born in the sign of Aquarius will be very worried about how they can achieve their goals, also doubtful that they won't get what they want. Therefore, they need to allow themselves to be introspective, to carefully analyze their need and desires so that they can know how to prioritize and how to plan for the future. During October's first 2 weeks, the situation with employment is going to be critical, as things won't happen the way they want them to, even if they put all their efforts into everything they're doing.
The job offers they're receiving need to be carefully evaluated. It goes the same with work changes. The advice of others is important, especially if they need to make some important decisions. Investments that promise large gains overnight should be avoided at any cost.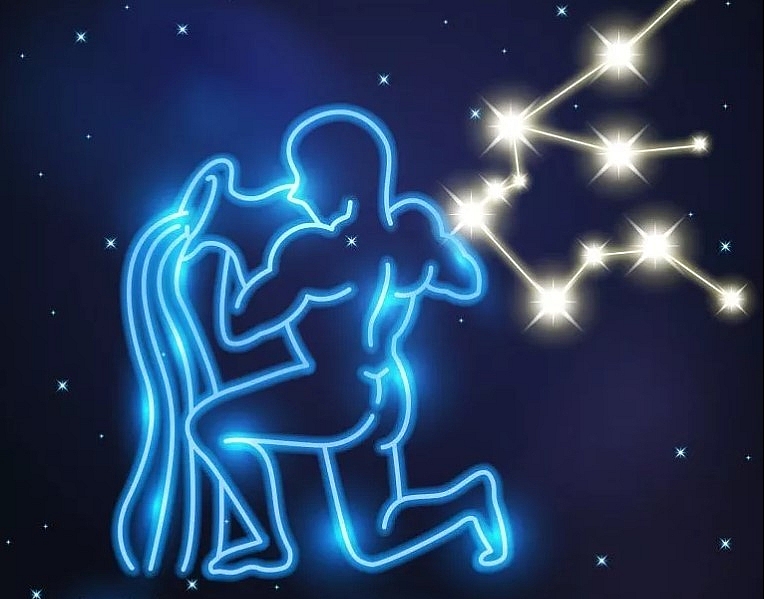 Aquarius Zodiac Sign. Photo: listland.
Aquarius Monthly Love Horoscope
The 2021 horoscope reveals that this month your relationships will be strenuous due to your focus on career and personal growth. Married couples will fight almost all the time. Singles, on the other hand, will be able to find love in foreigners or foreign jurisdictions.
Both Mercury and Venus are present in the fifth and the ninth house. This transit of both these planets will make your love life exciting and blissful. Lovers of this sign will get ample amounts of opportunities to spend time together. You can go on dates to romantic places along with your partner. The attraction towards each other will increase further. Confidence in each other will increase, which will deepen the relationship. Situations will be formed and you may hear the wedding bells ringing very soon. This is how lovers of this sign will enjoy the month of October.
Now, the month of October will not be good for married people. Month will begin on a weak note. This is because Mars and Sun are sitting in the eighth house of your Kundli. And this conjunction of both these planets is indicating deteriorating relations with in-laws. But yes, the latter half of this month will be good for married people. In the second half of the month, Mars and the Sun will enter the ninth house of your sign, which will result in a very good married life. You can go on a trip along with your life partner and spend some happy and joyous moments together.
During this month, family life will remain turbulent. On the 2nd of October Venus will move into the 10th House of your zodiac sign and from there on what it will expect your 4th house. Other result of this transit your family life will be quite prosperous and there will be harmony e prevailing over family members. The health of your family members will also remain stable. Apart from this Rahu in your Kundli is situated in the 4th house and its influence will not be quite favourable for your family life.
On October 13th, the Full Moon is going to interact with the 4th house of Capricorn, putting an end to some home changes and setting some limits so that family relations remain healthy. Aquarius couples will have a quiet October. The North Node being present in the 7th House of Capricorn is going to have them setting things right with their partner. They will focus on having balance and harmony in the couple, turning individual goals into common ones, also on collaborating. At the opposite side, single Aquarius will be frustrated because of Uranus' retrogradation into the 5th House of the Goat. This is a transit that will reduce their chances to achieve success in love. At the same time, it tells them to analyze their inner feelings.
You're the only one who can make yourself happy, so don't try to give the burden of keeping you satisfied to your partner. Make sure you also understand the inner desires of your other half. Your business will increase with regards to your professional life because of which you won't be able to devote much time to your family. Consequently your family members may remain this pleased with you. You may also have to go away from your family members. The ruling Lord of the second house of your Kundli Jupiter is situated in the 12th house who is accompanied by Saturn and both of them are expecting the second house. The positions taken by both of these planets will not be considered quite favourable for your family life. Some ups and down will prevail over your household. Internal clashes can also take place between family members.
Aquarius compatibility will be full of love and affection between couples. There will be an uninhibited display of love. Love relationships will be dynamic and demonstrative with scope for pregnancy. Marital relationships will be disturbed by family conflicts during the third week of the month. The last week of the month will see a resolution and you will have the support of your spouse. After that peace will prevail. Single persons will have the support of planetary aspects for their love affairs this month. There will be plenty of opportunities for getting into love alliances. By the 20th, you will get into a confirmed relationship.
Aquarius Monthly Money Horoscope
From an economic point of view, the month of October will turn out to be moderate for you. Planetary position and transit state that your financial life can remain somewhat traumatic. There are very less chances of you availing benefit from your regular sources of income. The outcome will not be equivalent to the hard work you have done. Consequently mental stress may surround you. Apart from this, your expenses may also keep increasing drastically.
The second half of the month will prove to be somewhat better. Economic conditions will also be better. If you have been thinking of investing your money, then make your decisions very carefully. Do not lend your money to anyone else otherwise losses may be in curd. If you do not maintain prudence with regards to economic matters then it may get out of control for your future. Your financial situation will continue to be as it was last month, so nothing major will happen with money. It would be a good idea to save a bit, if you want to feel more financially secure in the future.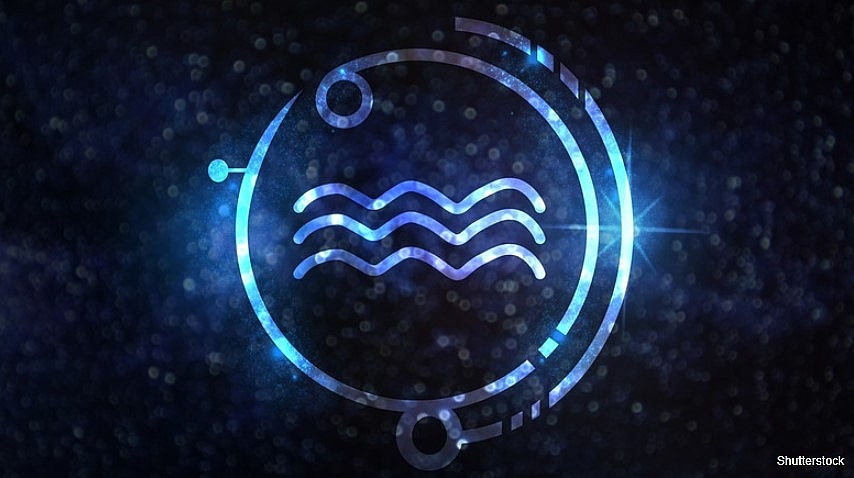 Aquarius Zodiac Sign. Photo: Shutterstock.
2021 October forecast for Aquarius zodiac is not propitious for financial prospects. Business people and traders will not be able to make reasonable profits from their activities. Exporters and fine arts dealers will end up in financial losses and may have o take money out of their savings to meet the expenses. Astral configurations are not positive and this will make speculations and investments loss making propositions. Finances will not be available for starting new business ventures.
Aquarius Monthly Career Horoscope
From the point of view of your career this month will prove to be full of ups and down. Some planetary positions may give you some good news while others May Watson things for you. The ruling Lord of the tenth house Mars will remain positive in the 8th house on 22nd October because of which you will not get the much desired results. You will work pretty hard but the result will not meet your expectations. Hindrances will keep occurring at the workplace but you should keep in mind not to lose focus and keep working hard.
However during the third week of this month situations will become better. Job holders may be able to finally avail our transfer order and this will turn out to be quite favourable. However those natives who run their own business may have to face quite a few ups and down. You may be asked to pay more than the necessary amount of taxes. After 17 october 2021 some positive changes will be seen during this time the planet sun will enter your 9th house because of which you will be eligible to undertake some Journeys which can also pave the way for benefit for you.
In October, Aquariuses are sure to have a peaceful life at work. They will be given many chances to turn their ideas into reality, not to mention they will accomplish all their goals, which will bring them recognition and an increase in salary. Those of them who are determined to get a new job will manage to fulfil their desire. To some, this may not happen that fast, which means they ned to have patience because sooner or later, they will be appreciated for what they know to do best.
2021 Aquarius horoscope for career predicts a disturbing situation for professional growth. Stars are not helpful and this will make the environment at the workplace very volatile. Relationship with juniors and seniors will be full of disharmony. It will not help in sticking to your targets. It will be all hard work and no reward. As career issues are not progressing, you can divert your attention to charitable activities and spiritual engagements to retain your mental balance.
Aquarius Monthly Health Horoscope
Your health can remain somewhat weak during this month. In the second half of the month, Mars will enter the nith house of your sign and keep aspecting the twelfth house from there which is already under the occupancy of Saturn and Jupiter. This position of these three planets in the Kundli may increase the already existing/chronic health problems. There may be a problem in your eyes.
Sleep problems may also be faced. Due to lack of sleep or interruptions in sleep, there may be some other problems related to it. There is a possibility of injury befalling you. There may be pain in the legs as well as your heel. Also, you can be troubled by joint pain. While these problems will cause physical discomfort, your mind can also become irritable. Overall speaking, you need to remain very cautious about your health this month.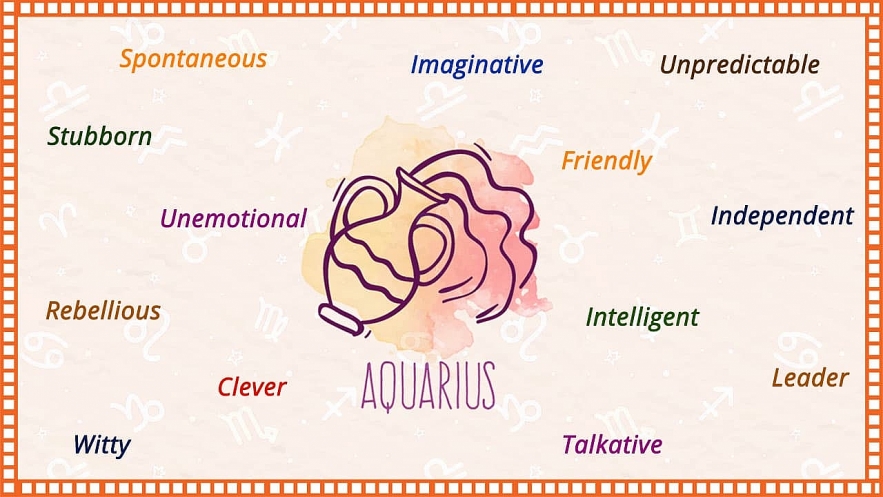 Aquarius Zodiac Sign. Photo: AstroSage Varta
In case they're affected by any health problem during the month of October, Aquariuses will have problems with their circulatory system. If they want to prevent such issues, they should be as physically active as possible. This way, they would avoid their energy stagnating. Those of them who don't like sports and prefer intellectual activities should practice yoga or oriental disciplines. The more they will do this, the more their health is going to improve. As per the horoscope Aquarius 2021, your health will be good until the 23rd of this month. You will, however, need to rest enough to regain your energy levels.
October 2021 Aquarius horoscope foretells disturbing prospects for health. There are possibilities of being afflicted by serious health disorders. Chronic ailments will require continuous medical attention in the 2021 Mercury retrograde. There will be some problem or the other. This will make you depressed and miserable. You can mitigate these health problems to some extent through good fitness and diet plans. Relaxation techniques such as meditation will help reduce anxiety. All types of excesses should be avoided.
In the late-October, you will be prone to migraines, toothaches, and overall upper body pain. Listen to your body, and try your best to prevent these health problems.
Best Days Overall:5, 6, 14, 15, 23, 24, 25
Most Stressful Days Overall: 1, 2, 8, 9, 21, 22, 28, 29, 30
Best Days for Love: 1, 2, 5, 6, 10, 14, 15, 18, 19, 26, 28, 29, 30
Best Days for Money: 6, 7, 9, 15, 16, 17, 24, 25, 27
Best Days for Career: 4, 8, 9, 13, 22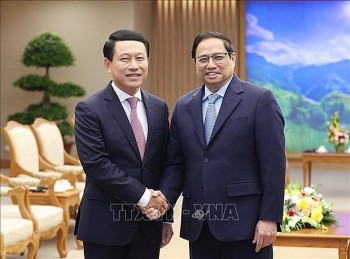 Friendship
Lao Foreign Minister Saleumxay Kommasith visited Vietnam to co-chair a conference to raise knowledge about policies and laws related to the Vietnam-Laos border, held in the central province of Nghe An from December 5 to 7.