Aquarius Horoscope September 2021: Monthly Predictions for Love, Financial, Career and Health
Aquarius Horoscope September 2021: The latter half of the month is encouraging for personal and social engagements. There will be great happiness in your relationships and you are looking for peace and harmony. End of the month promises more delight and comfort for Aquarius personality.
Monthly Planetary Horoscope
Now that retrograde activity is at its maximum for the year – 60 per cent of the planets are retrograde from the 27th onwards – it is doubtful whether you'll be able to prevent all the delays and glitches that arise this month. However, you can do your best to minimize them. Take more care with the little details of what you do. Dot the 'i's' and cross the 't's'. Take the time to be perfect in all that you do and avoid short cuts. These so-called short cuts can actually create more delays. Be patient as things slow down in the world and in your life. There's nothing wrong with you. (This is why astrology is so important, it gives us understanding of what's going on and we can be more philosophical about things.)
Health is good this month. You still have two long-term planets in stressful alignment with you, but the short-term planets are supporting you – especially after the 22nd.
Love is sexual these days. Sexual magnetism seems the primary allurement. But this will change after the 22nd as your love planet moves into romantic Libra. Then the niceties of love will become more important and you'll find yourself more attracted to highly educated and religious types. Romantic opportunities happen at university or religious functions – perhaps at your place of worship. Foreigners are alluring now as well. A romantic opportunity can happen on a foreign trip. Existing relationships can be strengthened with a foreign trip as well.
Your 9th house is very powerful from the 22nd onwards. This is great for college-level students and bodes well for success in their studies. It is a month for foreign travel too – only be sure to allow sufficient time to get to your destination and try not to schedule connecting flights too tightly. There can be many delays.
When the 9th house is powerful there is a strong interest in religion, theology and philosophy. These subjects are more interesting than a night out on the town. Even if you are not formally a student, happy educational opportunities will arise.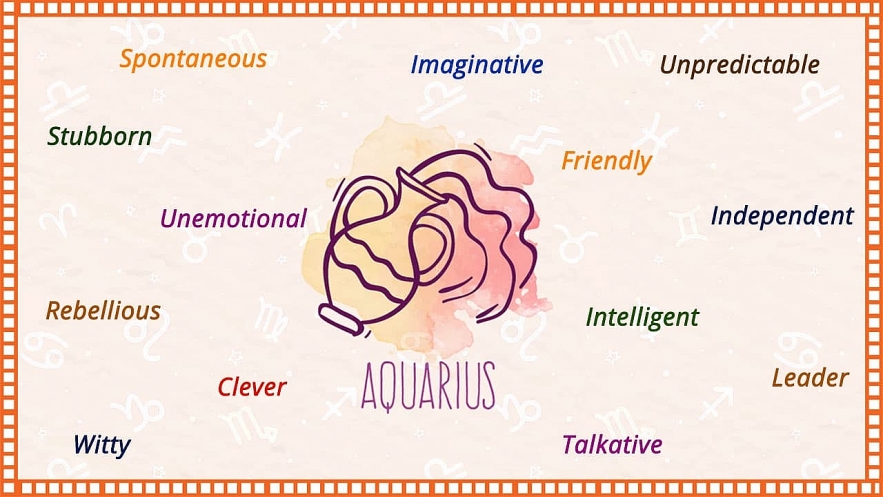 Aquarius Zodiac Sign. Photo: AstroSage Varta
The upper half of your Horoscope, the day side, is still dominant this month. So the focus should be on the career. Even the family seems to support your career activities these days. The only issue with career is the retrograde of your career planet, Pluto. So, there will be progress, but it will be slower than usual.
Finances will improve after the 22nd. The stressful aspects to Neptune will pass. However, Neptune is still travelling backwards, so still be careful in your financial decisions. Work to achieve mental clarity before jumping into anything important.
Aquarius Monthly Horoscope
Aquarians will be under the strong influence of Venus. One of your most essential needs is freedom, and maybe that's why you're unhappy in your current relationship. From a sexual point of view, you often get bored soon, which could also be a serious problem in a relationship. You should follow your instinct and leave your boring partner.
You will also be more unreliable, which could negatively affect your relationships with your family and friends. However, in September, you will enchant everyone with your charm, and they will quickly forget all the wrongs you do.
September will be a month of self-reflection - Aquarius will evaluate their life to date and analyze their mistakes, as well as the successes. Don't wallow in the past for too long though. Just objectively look at your former behaviour, as it could be very beneficial for you. You will, therefore, be able to avoid the steps that you made in a wrong way. However, nobody's perfect, so don't punish yourself too much. Also, don't forget about your health, because you could get sick from all the stress.
The month of September is going to be averagely fruitful for the people registered under the zodiac sign Aquarius.
This month can be good from the point of view of career. There will be professional success, along with which stature and respect will increase. Time will also be successful for students. From the perspective of family life, time will offer mixed fruitful results. There will be a run-off in connection with work, due to which you will not be able to enjoy fully at home.
A love affair may run smoothly. Marriage proposals will flood the screen of the unmarried ones. In married life you will need to make a lot of cohesion, otherwise things can get worse due to tensions. Talking about finances, the situation will be a little weak. Accidental expenses may increase. It would be better to avoid taking loans etc. as far as possible. If you talk about health, then it is time to be very careful. Especially for those who already have a chronic disease.
Aquarius Monthly Love Horoscope
Aquarius compatibility predicts that new relationships will take their own time to materialize. You can only wait and expect things to improve. Married relationships will be harmonious and will be long lasting. You can count on the support of your spouse in whatever you do for the relationship. Both of you are in sync and married life will be blissful. This is a good time to plan for a baby. Single persons should look for partners in their social circle. Existing relationships are likely to get confirmed. It is necessary that you take quick decisions and everything will fall in place.
Those natives who are in the love relationship at the receiving end of favourable results this month. The month will begin on a good note. Jupiter in a retrograde motion is expecting your fifth house because of which there will be some amount of blissfulness in your love relationship. Your mutual attraction towards one another will increase. Not only your compatibility, but the trust factor between you two will also increase. You may also get to hear the wedding bells very soon.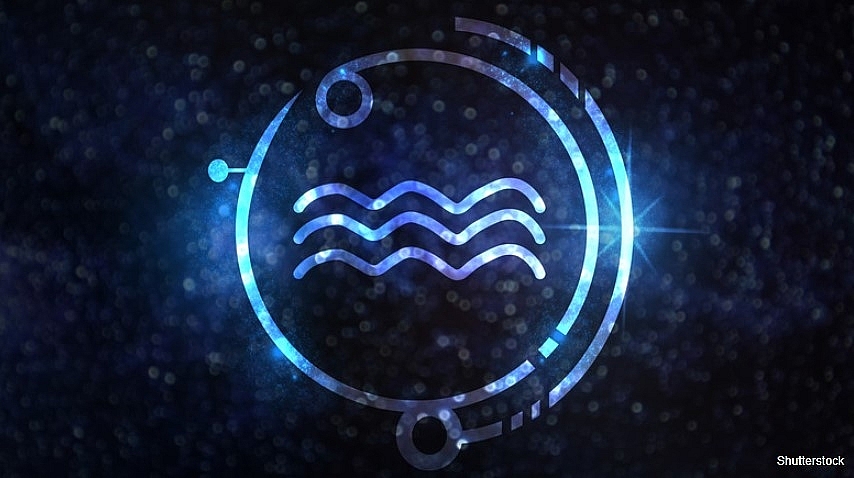 Aquarius Zodiac Sign. Photo: Shutterstock.
The second half of the month is also expected to remain problem free as your love will remain static. However, when the planet Jupiter changes zodiac signs, the romance and love may fade away. Unmarried natives have strong prospects of their marriage ceremony getting scheduled in the upcoming time. If we talk about the married date natives, then the month of September will be full of ups and downs.
Both Mars and the Sun will remain positive in your seventh house, because of which September 2021 will not turn out to be quite satisfactory for you. Trivial matters can induce five between husband and wife. Both of you may try to prevail over one another but there is also the aspection of Jupiter, because of which the situations will not get out of control. Seek the guidance of the experienced personal members of the family.
The health of your partner may also remain in low spirits. However, Jupiter will change zodiac signs during the second half of the month and by this time Mars and the Sun would have left the seventh house. Consequently, your fights and differences will cease to exist and you may enjoy a happy conjugal life once again.
For your domestic life in particular, the month of September has some mixed results in store. Your fourth house which determines this aspect is currently under the occupancy of Rahu. Because of this, you will remain overly busy at work. Consequently, you may have to stay away from your family members for a while. Health of your mother may remain weak.
On the 15th of September, Jupiter in a retrograde motion will enter your twelfth house, because of which some new kind of problems will crop up within your domestic space. A sudden expense will rise all of a sudden. A grand event may also be hosted by your family members. You may also have to spend some of your economic resources. During the first half of the month, you will avail some benefits on account of your siblings. Try to keep the right amount of balance with regard to your relationship with your siblings.
Monthly horoscopes are excellent for family issues. Planetary positions are auspicious and this will facilitate harmony and peace in a family environment. Relationship with seniors and relations will be cordial. Financially, this will be a good month and this will add to the overall happiness. Children will shine in their educational careers and sports activities. Star positions are quite favorable and children will have good relations with family members as well as outsiders. Parents should encourage their children to excel in whatever they do and guide them for a better future.
Aquarius Monthly Money Horoscope
If you talk about things from an economic perspective, then this month will be full of ups and downs. During the first half, both Venus and Mercury will remain posited in your sixth house.
Consequently, sudden expenses may increase. You should learn how to cut down on the unnecessary things and expenditures. You may also develop an inclination towards lottery and betting. This should be done in an extremely phased manner as there are chances of encouraging losses. It should be kept in mind that this is not the right time to take risks. Do not make any transactions if they are not ultimately necessary. If possible, avoid taking and receiving lo
Saturn is present in your twelfth house, which will deliberately point out an increment in expenses. On the 15th of September, Jupiter will also move into your twelfth house. Consequently, your expenses may further increase. Devise an appropriate plan to save your money.
2021 September forecast for Aquarius zodiac indicates depressing situations for financial activities. Business persons and traders will fail to make enough profits and fine arts traders will not able to sell their products. They will have to dip into their savings or take loans to make both ends meet.
Astral aspects are also not encouraging. This makes commencement of new projects by businessmen extremely tough during the 2021 Mercury retrograde. If you indulge in speculations, you will definitely lose. Fiscal agencies will not be helpful and you have to postpone your development activities to a later date.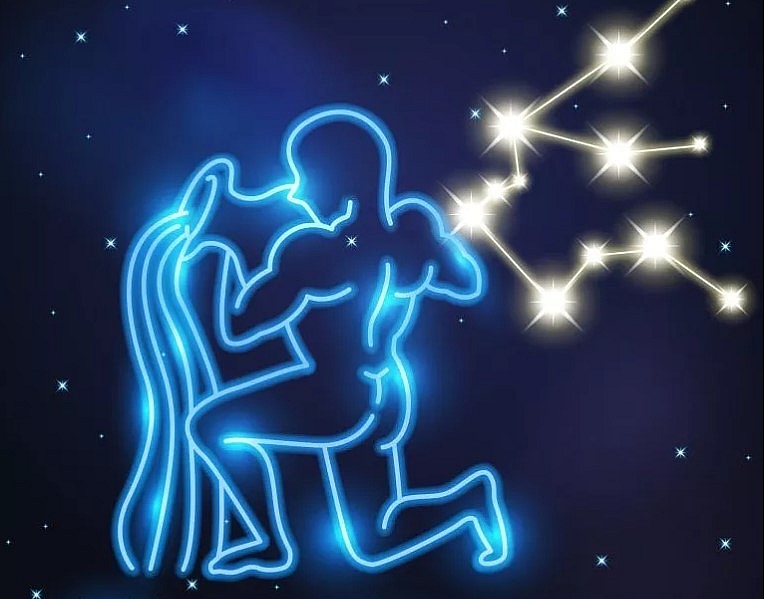 Aquarius Zodiac Sign. Photo: listland.
Aquarius Monthly Career Horoscope
With regards to the professional life of Aquarius natives, the month of September is expected to remain normal. The first half of the month will remain quite joyous. You will be seen making gradual progress within your work space. You will be praised by your peers and colleagues. Reputation and stature will also increase. There are strong chances of acquiring a promotion.
However, things may take a different turn during the second half of the month as you may have to face severe professional ups and downs. Your rivals may try to prevail over you which is why you may have to act prudently. Do not act impulsively. If we talk with regards to business then the initial half of the month will turn out to be favourable for this. Money will keep flowing into your hands from multiple sources.
However in this case, the second half of the month may turn out to be somewhat disappointing. Profits will flow into your hands but it will not be quite enough for you. After 17 September, the royal planet Sun will also move into your house because of which a legal battle can prop up. If any legal matter has already been going on, then you are advised to remain careful. Behave cautiously when people are around.
2021 Aquarius horoscope for career foretells fabulous prospects for professional growth. Astral configurations are promising and you will have a harmonious relationship with colleagues and seniors. Hence, you will have no problem in sticking to your schedules. In addition, you will have the support of your social contacts and seniors.
You will have ample time to improve your professional skills through advanced training. Indulging in humanitarian activities will enhance your mental happiness.
Aquarius Monthly Health Horoscope
This month has mixed results to offer in terms of health for Aquarius natives. The planets, Mars and the Sun are sitting in the seventh house. In the eighth house again, Venus and Mercury will be sitting in the eighth house along with the zodiac lord in the seventh house. This condition will not be considered good for your health. Problems related to health will continue to inflict you.
Though Jupiter will be in the zodiac sign in the first half, so the conditions will be under control, but you need to be careful. Avoid taking trips if they are not necessary. The latter half of the month will be a time to be especially careful, as the latter will have the Sun and Mars in the eighth house. This can cause some sudden problems regarding health. A trip to the hospital is on the cards. If Jupiter is also in twelfth house, then you may have to spend money on your treatment and well being.
September 2021 Aquarius horoscope predicts marvelous conditions for health. Star aspects are propitious and hence there is no danger of any serious afflictions during the month. Chronic ailments will be under control, while small health disorders require normal medical help. Excellent health will make our attitude very positive and delightful. It is necessary to resort to regular fitness schedules and keep away from overindulgence. You can keep your anxiety at bay with good relaxation techniques.
Best Days Overall: 8, 9, 17, 18, 26, 27
Most Stressful Days Overall: 4, 5, 10, 11, 24, 25
Best Days for Love: 4, 5, 6, 7, 9, 15, 19, 26, 29, 30
Best Days for Money: 2, 9, 11, 18, 19, 20, 27, 30
Best Days for Career: 7, 10, 11, 15, 16, 25
Important numbers: 7, 10, 12
September important dates: 3, 8, 11, 24, 29
Horoscope September special note:
"At the end of the month you will receive a message about an extraordinary situation, which you should take very seriously. Try to understand the feelings of the person who comes to you and try to put yourself in her place. Maybe then you can better understand her."