Best wishes for the "half of the world" in International Women's Day
March 8, or the International Women's Day is the opportunity for the males to celebrate and show their love, respect to their life partner, their mother, friends. This  heartfelt collection of the warmest Women's Day wishes will make "half of the world" feel how special they are.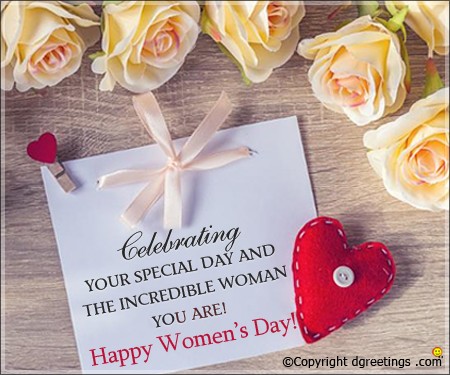 Sending wishes is one special way to celebrate Women's Day. (Photo: Dgreetings)
Happy Women's Day to all the incredible women! Shine on.... Not just today but everyday!
------------
It's Women's day! Feel special and unique on the top of the world!
Women are always a source of inspiration for the family and the society. Happy Women's Day to you!
------------
A woman like you is precious and hard to find. Wishing you a day as beautiful as you are!
------------
I treasure you close to my heart. Here's my best wishes to you on International Women's Day 2020!
------------
To the woman of my dream: you fill my days with happiness and my world with love!
------------
Congratulations, lovely woman. Today you deserve our most beautiful flowers and poetry!
------------
Your smile makes my heart sing. Thank you for being so wonderful!
------------
You just smile and the world changes. Let the harmony and colors of spring shine in your life!
------------
All best wishes on International women's day. Keep shining and smiling always!
------------
You make life worth living. Happy Women's Day to all the lovely women!
------------
Be beautiful if you can, be wise if you want to, but to be respected - that is essential!
Wishing you a very happy Women's day 2020.
--------------
Just wanted to thank you from bottom of my heart for all things you do! Wishing you a day filled with goodness and warmth.
-------------
On the occasion of March 8, I wish you happiness, health, success and prosperity in the years ahead.
------------
WISHES IN POEMS
You're my source,
You're my power.
You're my love,
You're my flower.
You always take care,
I hear your heart song.
So be happy, my dear,
As the day is long!
-------------
W-wonderful,
O-outstanding,
M-marvellous,
A-amazing,
N-nice!
Wishing you a day that's just like you - really special!
-------------
If Life is Rainbow,
You are different colors of it
If Life is Dark,
You are the hope of Light.
Happy women's Day
-------------
Every Home,
Every Heart,
Every Feeling,
Every Moment Of happiness is incomplete without you,
Only you can complete this world.
Happy Women's Day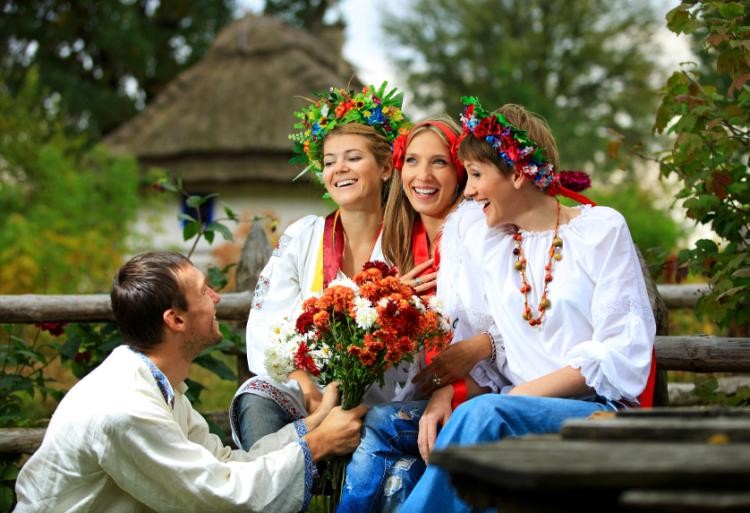 Women's Day is the chance to make women feel special and treasured. (Photo: Time and Date)
WISHES FOR MOM
Dear mother, you are my source of inspiration. You motivate me to do my best.
Thanks for being my strongest support.
Happy Women's Day!
-------------
Dear Mom, you have always been there, whenever I needed you the most.
You have always guided me and shown me the right path.
Happy Women's Day dear mother.
------------
WISHES FOR COLLEAGUES
"You are truly an inspiration for many of us to always work hard towards your goals"
Wishing a very Happy Women's Day to you.
------------
May you aim for the sky and dream big
May you get success in whatever you do
May you be the woman who inspires
A big salute to you
Happy women's day to you!
------------
Wish you a very happy women's day
Its you who's making the difference in so many lives
and I am one of them.
Have a wonderful day!
-------------
"Success doesn't come easy and women never give up"
Best wishes on International Women's Day to one strong and dedicated woman.
-------------
WISHES FOR FRIENDS
It's a blessing to have both of them in you!
A very Happy Women's day to you!
------------
The path of our friendship is sprinkled with the beautiful moments of fun and laughter,
That we have shared together thanks fo being such a wonderful friend.
Happy Women's Day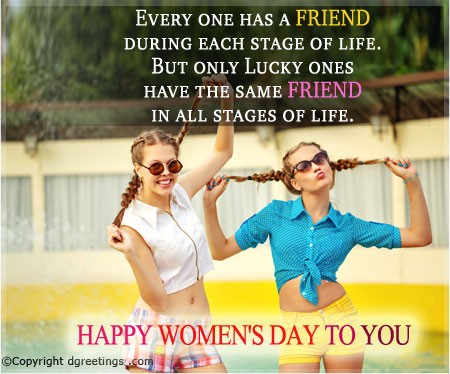 Lucky are those having the same friend in every stage of life. (Photo: DGreetings)
FUNNY WISHES
You know why women starts with 'W'... because all questions start with "W".. !
Who ? Why ? What ? When ? Which ? Whom ? Where ? & Finally Wife..!!!
Happy Women's Day
-----------
Every man needs a woman when his life is a mess,
Because just like the game of chess.
The queen protects the king.
Being a woman is surely not easy but being a man around a woman is like you is also not easy.