British Ambassador makes great groom's representative on Scottish-Vietnamese couple's marriage
The British Ambassador to Vietnam Gareth Ward was invited as the representative on behalf of the Scottish groom's parents as they couldn't travel to Vietnam due to COVID-19 travel restrictions.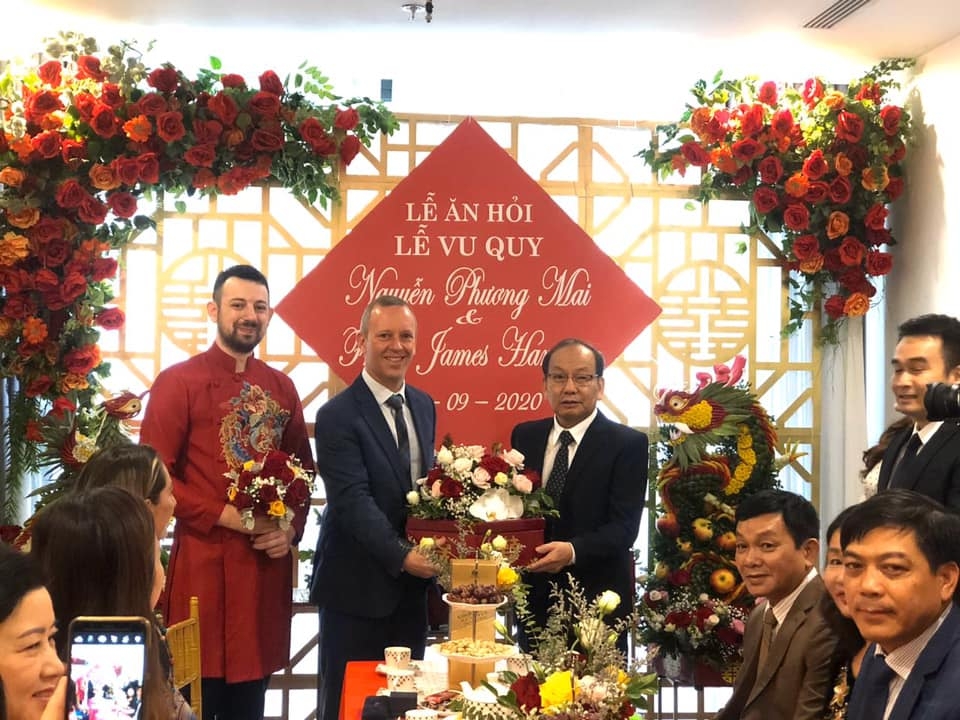 British Ambassador to Vietnam Gareth Ward giving wedding gift to the bride's family (Photo: Gareth Ward's Facebook)
The Ambassador on September 20 posted on his Facebook account photos of the couple smiling from ears to ears, both families exchanging marriage talks, and him giving speech as the groom's representative.
In the caption written in Vietnamese, he sent his congratulations and wishes to the newly-wedded couple, explaining the groom's parents couldn't attend the wedding due to the COVID-19 pandemic. With a proud voice, Ward also noted that was his first time attending a wedding as the groom's representative.
"What a happy couple – So happy for them", the only exclamation he wrote in English in the post.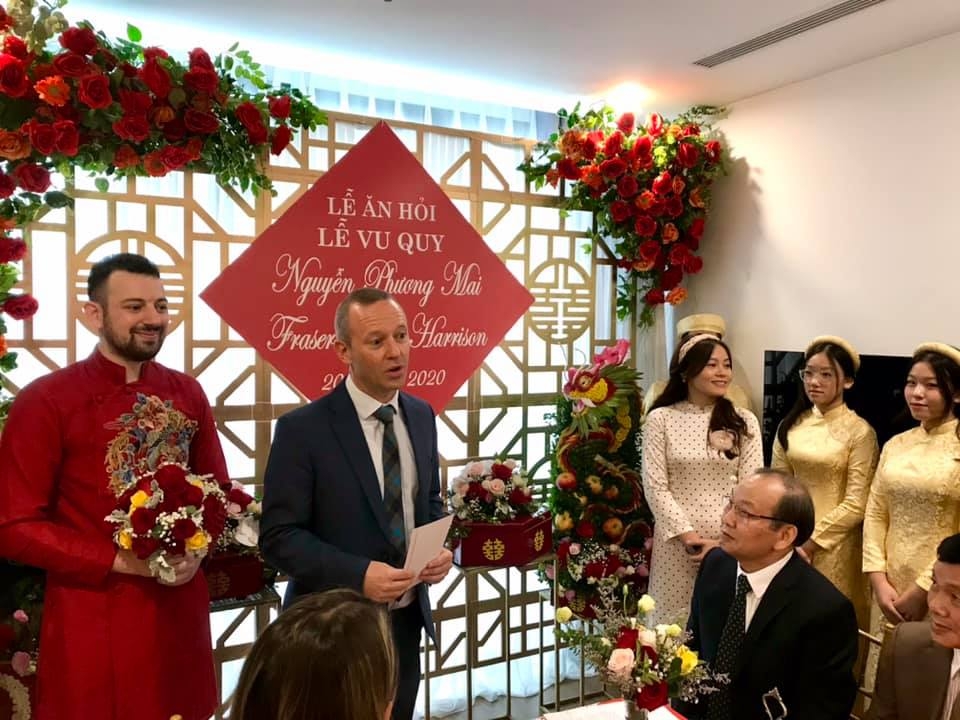 Ward giving speech at the marriage (Photo: Gareth Ward's Facebook)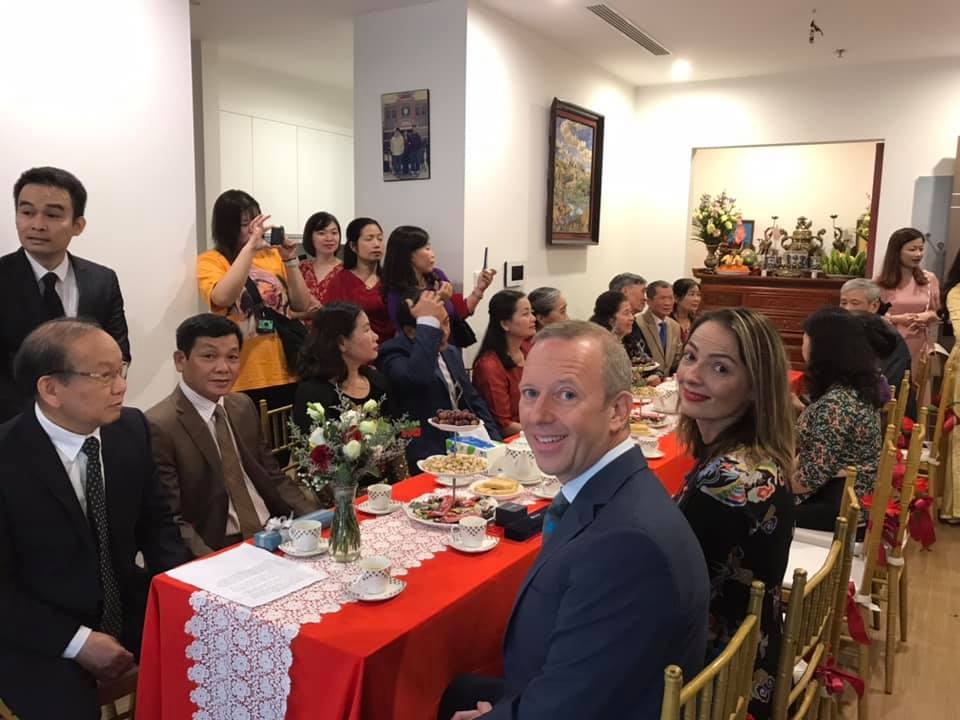 (Photo: Gareth Ward's Facebook)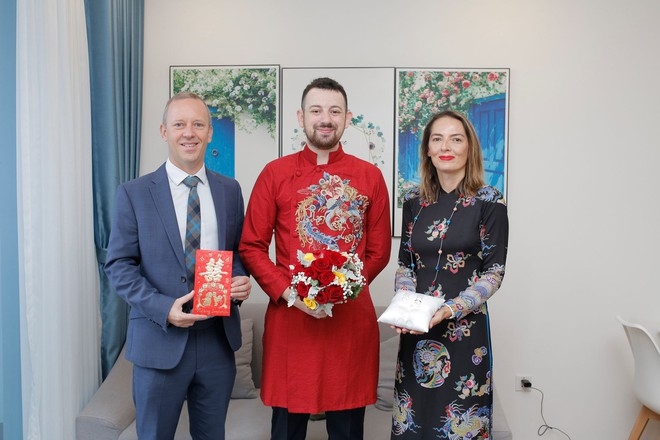 Ward and the groom Fraser Harrison (M) (Photo courtesy of Fraser Harrison)
According to Thanh Nien, the groom is Fraser Harrison, was born and raised in Scotland and is currently working at the British Embassy in Vietnam. The Vietnamese bride Nguyen Phuong Mai, is a reporter for the prestigious news outlet Reuters in Singapore.
After falling madly in love for 2 years, the couple decided to tie the knot this September, with engagement and wedding ceremonies taken place in Vietnam. Harrison's family was scheduled to fly to Vietnam to attend their son's biggest life event.
However, they couldn't. The COVID-19 made it impossible to enter Vietnam. Harrison thus invited the British Ambassador to be his representative.
"My parents were disappointed knowing that they couldn't attend my wedding, but delighted at the news Ward would take their roles. My dad, in fact, breathed sigh of relief as he wouldn't have to learn Vietnamese for the speech", Harrison said.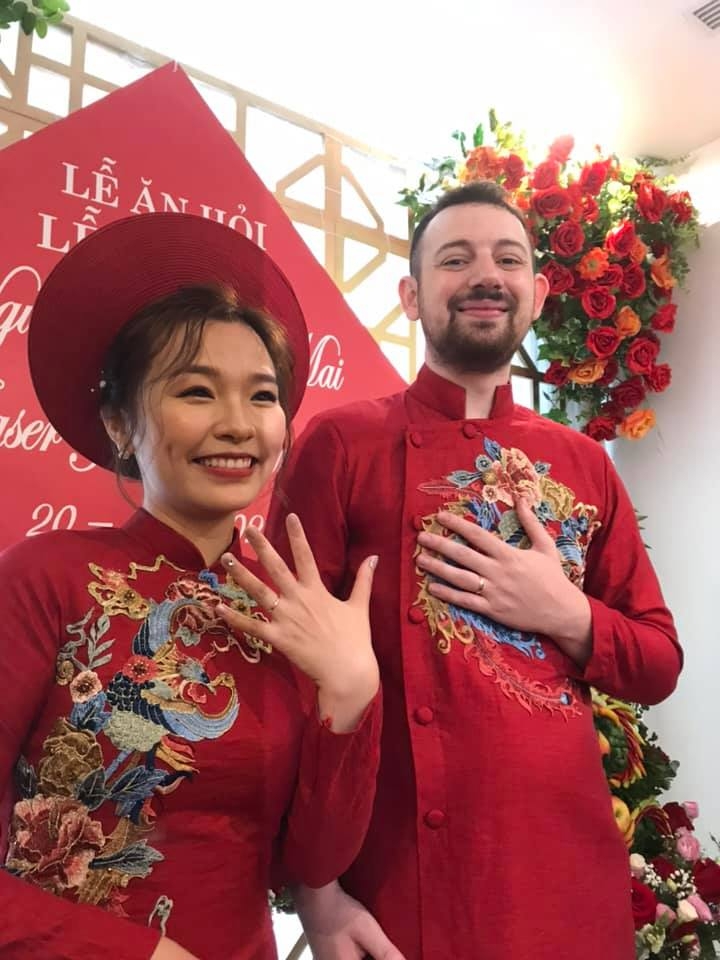 Harrison and Mai

(Photo courtesy of Fraser Harrison)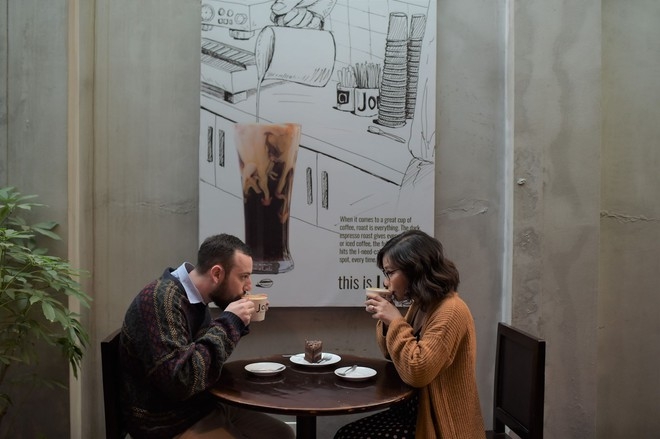 Harrison and Mai on a date

(Photo courtesy of Fraser Harrison)
In the marriage, Gareth Ward had given a heartfelt impromptu speech about Harrison's parents in both Vietnamese and English.
The groom and bride looked gorgeous in Vietnamese traditional costume. The marriage was live-streamed on Facebook so that Harrison's family from Scotland could still see his happy tears. Another marriage would soon be held in Scotland, with both dressed in Scotland traditional garments.
The newly-weds said their coming family life would be filled with sweet love and happiness and admitted that they would embrace the cultural and language differences.