British pilot makes a full motor recovery
Stephen Cameron, known as Patient 91 in Vietnam has fully recovered his motor ability after over three months of treatment for COVID-19.
Cameron saying thank to Vietnamese doctors after he regained his consciousness (Photo courtesy of Cho Ray Hospital)
Cameron is one of the most critical COVID-19 cases in Vietnam. He has, however, made a miraculous recovery after months of in coma and being put on ventilators.
By June 30, his leg muscles had fully recovered. Experts will meet for a comprehensive health assessment this week.
Currently, the British pilot is able to manipulate his hands flexibly, turn around on the bed, sit up on his own, standing with the help of a training frame, and step for a short distance.
On top of that, Cameron is able to eat by mouth and communicate clearly. His liver, kidney, cardiovascular, pancreatic functions have returned to normal. The patient's psychology in recent days is assessed to be more stable and have good night sleep.
The 42-year-old pilot from Vietnam Airlines will no longer have to take antifungal medication and only need to take Xarelto for the prevention of thromboembolic disease and will receive topical care.
In the coming day, Patient 91 will continue his physical therapy twice a day to improve his leg and respiratory muscles before repatriation at the proposal of the British Embassy.
This week, the Treatment Sub-Committee will hold a 6-day national consultation to fully assess the health of British pilots before allowing him to take a 12-hour flight home.
If he's eligible for the repatriation, he will take the flight in the accompany of Vietnamese medical doctors. On July 12, the pilot is expected to take the Vietnam Airlines aircraft that heads to the UK to bring home stranded Vietnamese citizens over coronavirus fear.
To date, Cameron has undergone 105 days of treatment at Cho Ray Hospital, Ho Chi Minh city – the longest COVID-19 treatment time in Vietnam. He had once at the death door, with only 10 percent of survival.
During his critical days, he lost 20 kilograms, suffered from fatigue and depressive episodes, and needed physiotherapy to regain his muscle strength. His friend, Craig had even planned for the worst upon knowing the survival chance. He gave up Cameron's apartment and started everything somebody would do if Cameron was coming home in a box.
Regular conference calls on his condition were held among intensive care specialists in the country. He was put in a medically-induced coma and on a ventilator following his complications, which include kidney failure. He was also on an Ecmo machine – which performs the function of the hearts and lungs, costing up to the US $10,000 a day - for life support in 8 weeks.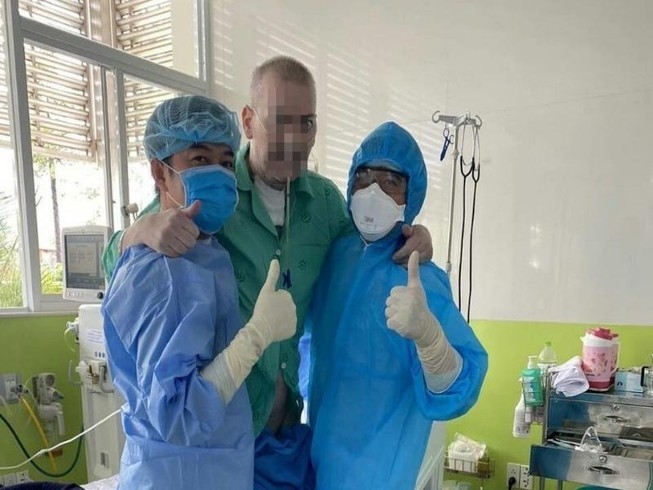 The British pilot takes a picture with two doctors at Cho Ray Hospital (Photo: VGP)
Given the severe condition he went through, Cameron's recovery is considered a miraculous one. "If I'd been almost anywhere else on the planet, I'd be dead. They would have flicked the switch after 30 days," Cameron, known as patient 91 in Vietnam, said from his hospital bed.
"I'm very humbled by how I've been taken into the hearts of the Vietnamese people," says Cameron, speaking exclusively to the BBC. "And most of all I'm grateful for the bloody-mindedness of the doctors in not wanting me to die on their watch."
Dr. Kidong Park, the World Health Organization representative to Vietnam told BBC "The very small number of critical care patients meant anyone who was severely ill got the attention of all the country's top-level clinicians".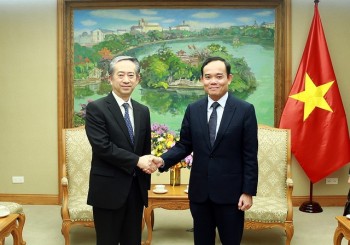 Friendship
Deputy Prime Minister Tran Luu Quang received Chinese Ambassador Xiong Bo in Hanoi on February 8, reviewing the nations' past cooperation and discussing ways to step up the comprehensive strategic cooperative partnership in the time to come.