China invites U.S. Secretary of State to visit Xinjiang after US's ban against highest-ranking officials
Foreign ministry spokeswoman Hua Chunying sent the invitation after the US imposed sanctions against several top Chinese officials involving in the policy in Xinjiang.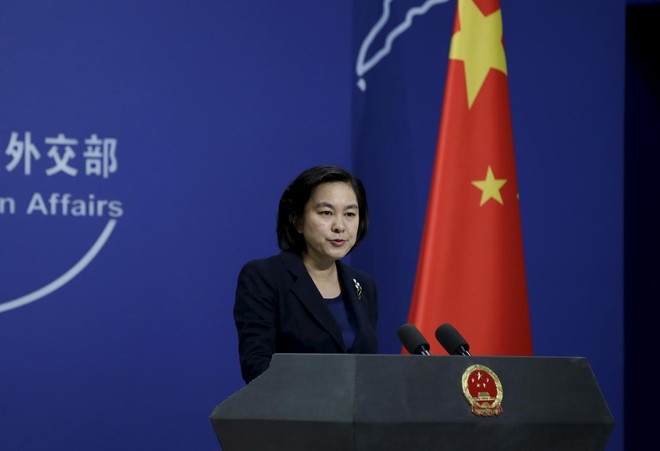 Foreign ministry spokeswoman Hua Chunying (Photo: Reuters)
Hua Chunying said on Thursday China will stick to the Phase 1 trade deal it reached with the United States earlier this year, at the same time accusing Washington of "bullying" and warning that it would respond to such "bullying" tactics the States.
"We always implement our commitments but we know that some in the U.S. are oppressing China and bullying China," she said. "As an independent sovereign state China must respond to the bullying practices by the U.S. side; we must say no, we must make responses and take reactive moves to it."
"If the U.S. thinks that everything China does is a threat, then it will be a self-fulfilling prophecy", Chunying said, adding that Washington's accusations of human rights crimes against the Uighur minorities is the "biggest lies of the century".
In addition, the Foreign Ministry spokeswoman also invited U.S. Secretary of State Mike Pompeo to come to China and visit the western Xinjiang region "to see that there was no violation of human rights". The invitation is China's response to Washington's sanctions and accusations of wrongdoing against the Uighur Muslim minorities living there.
"We welcome him (Pompeo) to travel to our country and see what the Xinjiang people's view of him is," she said. "I could introduce him to some Uighur friends."
Observers say the relations between Beijing and Washington have been at their worst in decades due to conflicts over issues such as COVID-19 containment, national security law in Hong Kong, trade, and the accusations of human rights crimes in Xinjiang.
The US government on July 9 had imposed sanctions against Xinjiang Autonomy Party Secretary Chen QuanGuo and three other officials. Chen, a member of the Chinese Communist Party's Politburo, is said to be China's highest-ranking official ever to be embargoed by the US. Special status designation for Hong Kong was also removed. Beijing condemned the moves and vowed to retaliate.
The New York Times reported that the United States is considering a travel ban against all members of China's ruling Communist Party, a move that will further strain an increasingly confrontational relationship.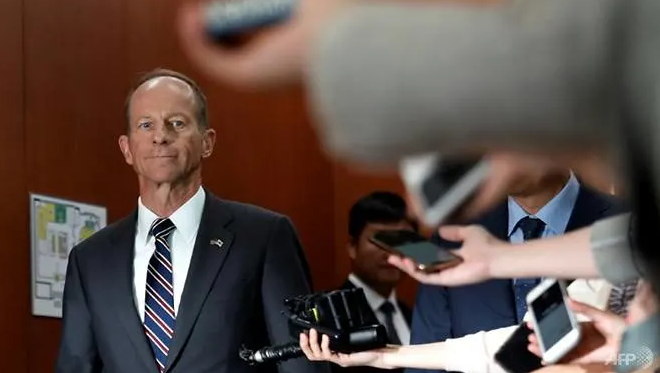 US Assistant Secretary of State for the Bureau of East Asian and Pacific Affairs David Stilwell (Photo: AFP)
US Assistant Secretary of State for the Bureau of East Asian and Pacific Affairs David Stilwell has earlier expressed Washington's support for Southeast Asian nations in their territorial disputes with China in the South China Sea (known as East Sea in Vietnam) and warned that the United States could impose sanctions on Beijing.
Stilwell told an online forum held by a US think tank on July 14 that "we are no longer going to say we're neutral" in maritime issues. He stressed that the US will stand on the side of Southeast Asian nations if China sets up equipment to drill for natural resources in the waters controlled by them.
Asked about the possibility of sanctions, he said "nothing is off the table. This is a language the Chinese understand - demonstrative and tangible action", adding that Chinese officials and state-run companies involved in the construction of manmade islands in the South China Sea could face sanctions.
The warning came after US Secretary of State Mike Pompeo asserted that "Beijing's claims to offshore resources across most of the South China Sea are completely unlawful, as is its campaign of bullying to control them."
"The world will not allow Beijing to treat the South China Sea as its maritime empire. America stands with our Southeast Asian allies and partners in protecting their sovereign rights to offshore resources, consistent with their rights and obligations under international law," Pompeo said in a lengthy statement, reported CNN.
In response, China on July 14 said the United States is a troublemaker undermining peace and stability in the South China Sea region after China's 5-day millitary exercises in other countries' waters in the area.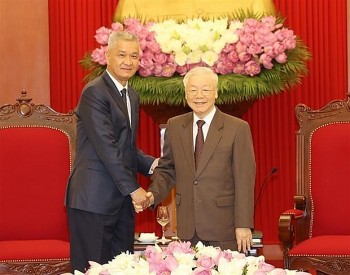 Friendship
Anouphap Tounalom, Secretary of the Lao People's Revolutionary Party (LPRP) Central Committee, and Secretary of the Party Committee and Chairman of the People's Council of Vientiane is conducting a visit to Vietnam.