Chinese media decries US's forced buy TikTok "theft"
Chinese media responded fiercely against the US move to ban TikTok and called this as a robbery.   
After TikTok struggles in its activities in the US and President Donald Trump's statement to ban this popular short-video app, Chinese media respond to call calls the United States' "nasty" treatment.
Global Times ran a headline that read: "Banning TikTok reflects Washington's cowardice," including criticism against the US moves towards TikTok as well as the Chinese technology base.
"The US' decoupling from China starts [with] killing China's most competitive companies," wrote the Global Times, a state-run tabloid, in an editorial published Monday. "In the process, Washington ignores rules and is unreasonable."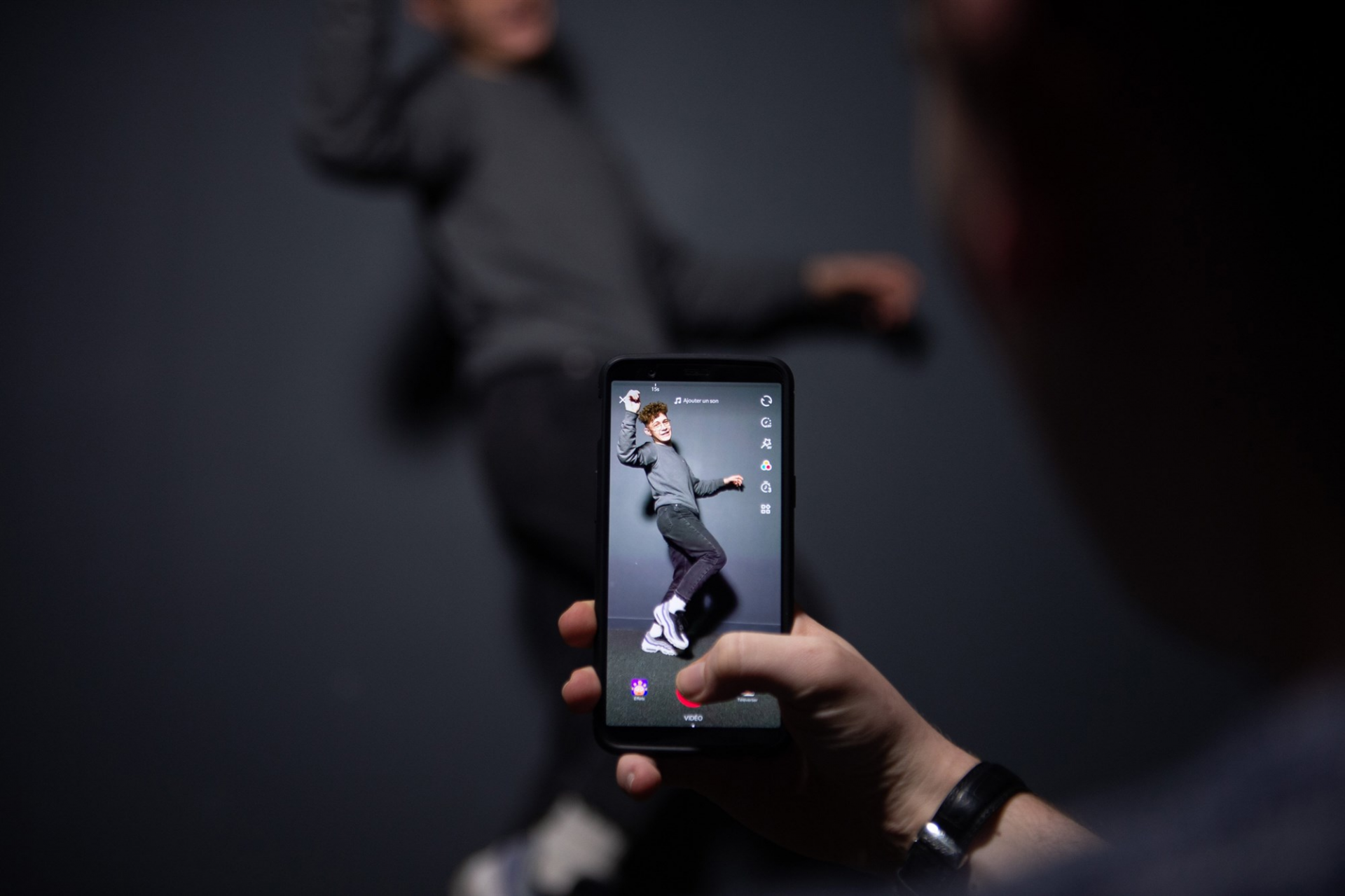 TikTok has become the latest flashpoint in the deteriorating relationship between Washington and Beijing. Photo: AFP
China Daily, another state-backed publication, highlighted these comments as being "tantamount to inviting potential US purchasers to participate in an officially sanctioned 'steal' of Chinese technology, " according to CNBC.
The newspaper also dismissed a potential sale of the app as a "smash and grab" raid orchestrated by the US government.
In an op-ed published Sunday, China Daily suggested that China could retaliate, "But China will by no means accept the 'theft' of a Chinese technology company", and dismiss a potential sale of the app "it has plenty of ways to respond if the administration carries out its planned smash and grab."
Hu Xijin, the outspoken editor-in-chief of the state-backed Global Times, called the move an "open robbery" saying "President Trump is turning the once great America into a rogue country."
Liu Hong, deputy editor-in-chief for the Globe — a magazine run by state-owned Xinhua News Agency — recently called the TikTok saga "too nasty."
"It's not just a shotgun wedding. But also a power grabs," he wrote in a post-Sunday on the social media website WeChat. The post was later promoted by the People's Daily, the official mouthpiece of the ruling Chinese Communist Party. "This is really sad for ByteDance."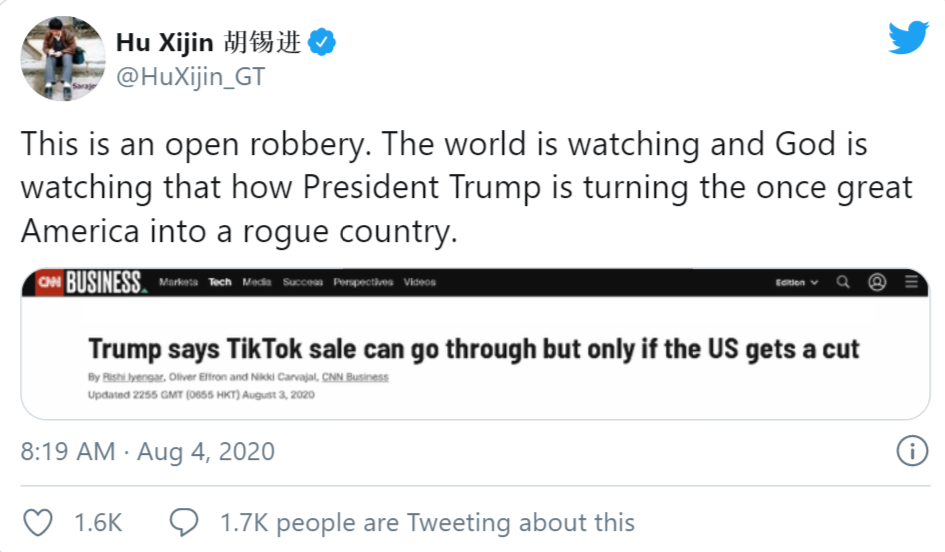 Hu Xijin's tweet about the ban of President Trump.
TikTok has been accused of collecting data on Americans and sending it to the Chinese government. although the popular video-sharing app has repeatedly denied this.
The Trump administration first threatened to ban TikTok, suspending Microsoft's deal to acquire this app.
According to CNBC, U.S. moves against Chinese technology companies are happening as tensions between world's two largest economies continue to rise. Some commentators have dubbed their relationship as the "new Cold War."
Microsoft, meanwhile, said in a blog post on Sunday that it was continuing to "explore a purchase of TikTok in the United States" before the September 15 deadline.
Should the deal go through, Microsoft would gain entry into the social media space dominated by Facebook and Google, as well as smaller services like Snapchat and Twitter. The company also plans to buy TikTok's Canada, New Zealand and Australia operations too as part of the deal, reported NBC.
According to CNN, in an internal memo sent to employees on Monday, ByteDance CEO and founder Zhang Yiming acknowledged that the "past few months have been a challenging time for us all."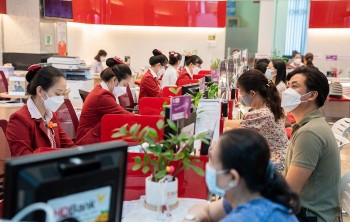 Economy
Vietnam Business & Weather Briefing (August 12): Air passengers reach a record number in July, seafood exports expected to reach 3 billion USD in Q3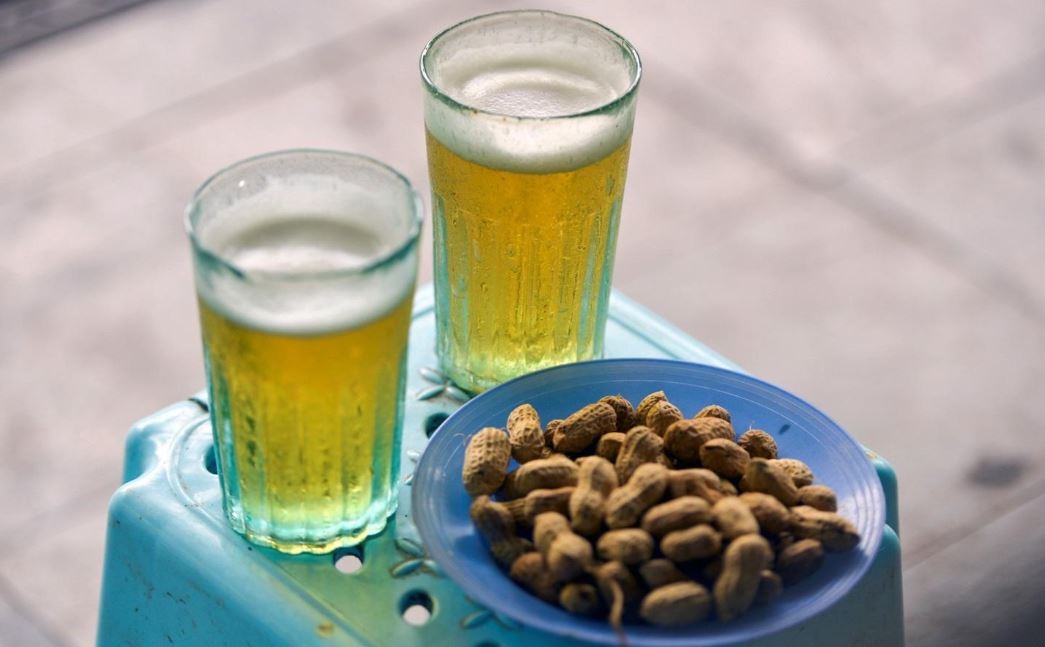 World
Among Vietnamese best beer destinations voted by foreign travelers, Hanoi is followed by Ho Chi Minh City, Hoi An, Nha Trang, and Da Nang.
August 06, 2022 | 14:54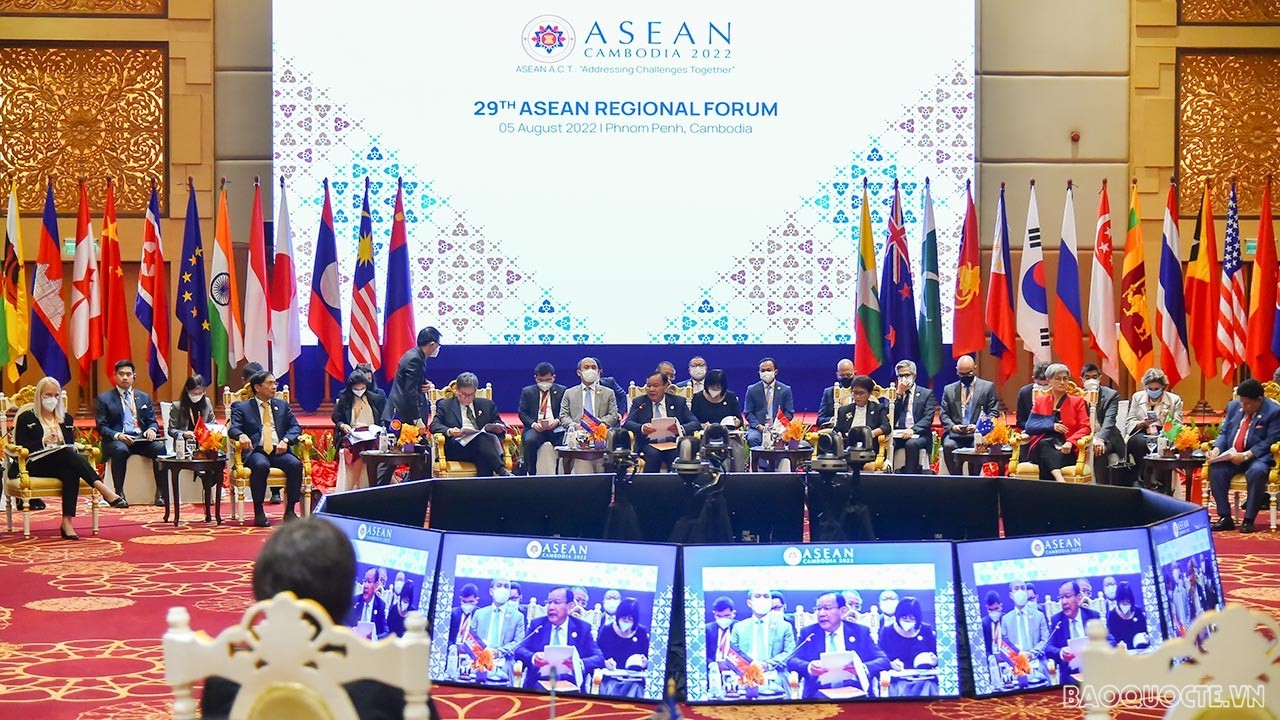 World
Foreign Minister Bui Thanh Son attended the 29th ASEAN Regional Forum (ARF) that took place in Phnom Penh, Cambodia on August 5 within the framework of the 55th ASEAN Foreign Ministers' Meeting (AMM-55), and held several bilateral meetings on the sidelines of the event.
August 06, 2022 | 09:12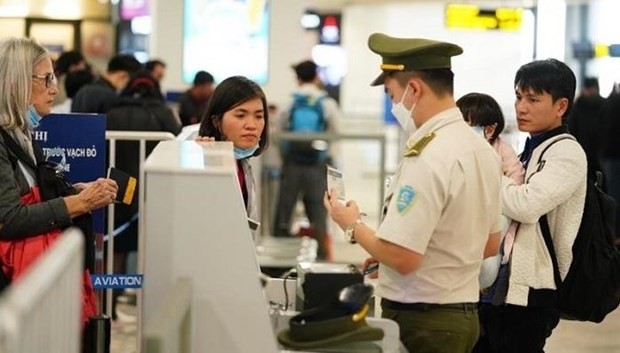 World
The Ministry of Health has asked localities nationwide to monitor foreign arrivals from countries with monkeypox as an early response after infections were spotted in the region.
August 05, 2022 | 16:11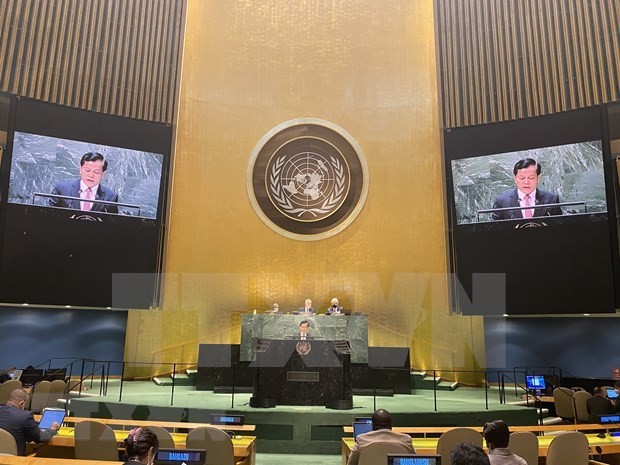 World
Deputy Foreign Minister Ha Kim Ngoc had a meeting on August 3 with United Nations (UN) Secretary-General Antonio Guterres who highly valued Vietnam's active and responsible contributions to the common work of the organisation, especially the country's strong commitments in the fight against climate change, and promised to continue supporting Vietnam in this work.
August 04, 2022 | 16:57