Recommended from a consumer organization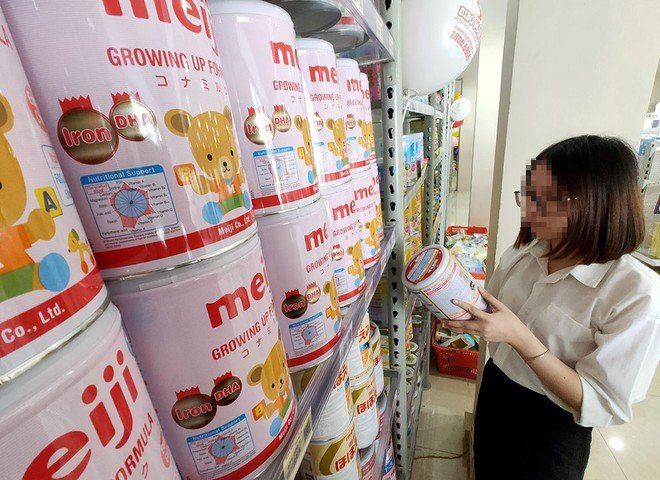 Milk products sold at a store in Binh Thanh District (Ho Chi Minh City) Photo: thanhnien
Information on the Hong Kong Consumer Council page, the organization has just tested 15 types of baby formula to find that these samples were contaminated with chloropropanediol (3-MCPD) - a chemical damage the kidney function and affect the male reproductive system and 9 samples of formula were found to contain the carcinogen glycidol. It is worth concerning that in the milk samples containing toxic substances including some famous brands such as Wyeth, Mead Johnson, Abbott, Meiji, Bellamy...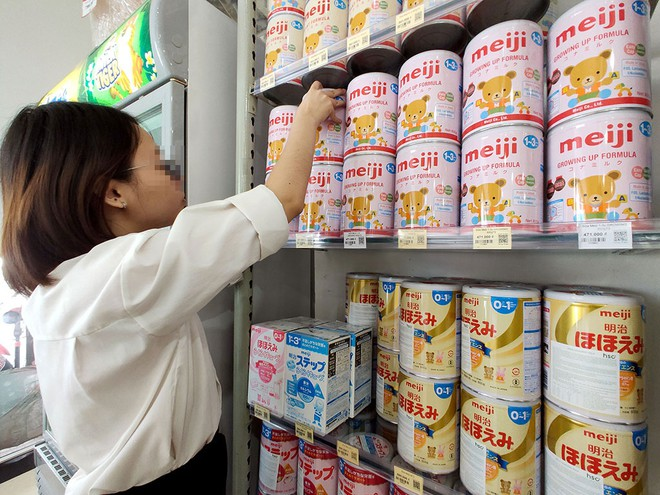 Some Japanese infant formula products are popular with consumers. Photo: thanhnien
According to this result, 15 milk samples contained 3-MCPD with content ranging from 13 - 120 micrograms / kg. The sample with the highest content is "BELLAMY'S ORGANIC", followed by "Meiji". Taking a general one-month-old baby weighing 4.3 kg as an example, the maximum allowable daily intake of the above pollutants is 17.2 micrograms. In particular, Bellamy's Organic Australian milk powder contains the highest content of 3-MCPD 120 micrograms / kg. And the carcinogen glycidol is found in the form of glycidyl ester (GE) in baby formula. Specifically, Snow Brand's Smart Baby infant formula made in Australia with GE content 29 micrograms / kg, infant formula Meiji (Japan) with 27 micrograms / kg.
Meanwhile, in the EU regulation on powdered milk, the GE limit per kg is 50 micrograms. That is, the above results are within the EU's allowable level. In addition, the organization also said that the actual vitamin B12 content of Meiji Infant Formula is 30% less than the content stated on the label, both of which exceed the specified tolerance limit ...
The results of tests for carcinogens such as GE in milk have not exceeded the EU's allowable index, but the Hong Kong Consumer Council has urged the government to consider setting safety standards and regulations related foods in this special zone. However, this information has caused confusion for many mothers who are feeding their babies with formulas.
Discontinue using the expensive milk box because of fear
On Friday's morning August 21, at the BC Dairy Shop on Au Co Street (Tan Phu District, Ho Chi Minh City), Ms. Thanh, who is nursing a 6-month-old baby, came into this store to buy milk for her baby, quite troubled when she said her daughter fed well with Japanese milk, now hearing Japanese milk in Hong Kong have carcinogen which worrying her and make her change to buy Nan milk, unfinishedly dropped the Japanese milk box buying 2 days ago.
Ms. Tran Thi Huong, an owner of a grocery store on Nguyen Quy Duc Street (Thanh Xuan District, Hanoi), also informed that the amount of milk boxes sold for each day has decreased. Previously, the store could sell 10 boxes of foreign milk a day, but now only 6 can be sold. In 3 days, when there is information that some dairy products containing carcinogens, many customers buying Meiji, Bellamy and Similac milk have turned to buy domestic powdered milk from Vinamilk or liquid milk from TH True Milk, Moc Chau. ..
Ms. Huong said: "We have not seen any information or feedback from the distributors. Because we will post a notice to make consumers feel secure if so".
That is thought the domestic Hong Kong story
However, some stores selling imported milk in Ho Chi Minh City hardly care or ignore the recommendation from the consumer organization in Hong Kong. On the morning of August 21, surveys at many stores specializing in selling imported milk for children in some districts of Ho Chi Minh City show Japanese infant formula brands accounted for the majority on the shelves, followed by types of milk from Australia, USA, France, New Zealand ...
According to the salesman, during the season, mothers choose to buy goods delivered at home more than at the store. In particular, in recent years, domestic dairy brands from Asia such as Japanese milk with brands of Morinaga, Meiji, Wakodo ...; milks imported from Australia brand S26; Physiolac milk, Aptamil (France) ... are also popular. Notably, when asked about the information that formula brands recommended by the Hong Kong Consumer Council containing cancer-causing substances, most of the sales staff at these stores shook their heads and said "not interested". , even "don't know".
The shopkeeper named T.H at the store on Au Co street said: "I have not heard from the owner about this. But I don't think it is related to the goods imported to Vietnam because these types of milk are imported directly from Japan, not from Hong Kong ".
At the store specializing in selling imported milk and formulas on Nguyen Thi Minh Khai Street (District 3, Ho Chi Minh City), Bellamys Organic milk for children aged 0-6 months in Australia - one of the "prime" products with the content of the highest 3-MCPD is sold at VND 640,000 (USD 30)/box of 900 gr.
The man named Tuan introduced for 20 years specializing in importing and distributing all kinds of milk and formulas in Ho Chi Minh City, said that infant formula products imported from Australia and Japan all have the indexes 3- MCPD within the permitted limits of the World Health Organization (WHO) and the Food and Agriculture Organization of the United Nations (FAO).
Mr. Tuan said: "All imported powdered milk products are distributed to the market, including the brands " named " in the HongKong organization's list have full import permits and meet the permitted standards of Vietnam. I think only the regulators can speak up about this case and the consumer sentiment will be fine. In the past 2 days, a dozen people asked me about this issue when knowing me work in the dairy business ".
Avoid causing panic
In Hanoi, a survey at some small supermarkets, stores specializing in selling goods for mothers and babies on Tay Son street (Dong Da district), Truong Chinh street (Thanh Xuan district), Bach Mai (Hai Ba Trung district)) ...shows some famous foreign milk products such as: Nan (Russia), Meiji (Japan), Aptamil (UK), Similac, Pediasure, Enfa (USA), Genius (New Zealand), S26 (Australia). .. are sold a lot.
A doctor who is an expert on child nutrition in Ho Chi Minh City said that the information given by the Hong Kong Consumer Council should be considered with caution, and it is important to avoid causing panic and anxiety to mothers. Because after the announcement of the Hong Kong Consumer Council, on ChinaNews, the Hong Kong Food Safety Center rejected the above information and said that the EU standards mentioned by the Consumer Association were only health reference. In other words, this is the recommended daily intake limit for infants, but "it's not the specified standard for infant formula".
Tarah Nguyen