Coronavirus latest news: US explores possible Wuhan's labs origins of nCoV, Canada tightens quarantine rules
Coronavirus live updates: US government is looking into the
possibility
that coronavirus originated in a Chinese laboratory rather than a market. Meanwhile, in Canda, the Prime Minister has warned again that the national lockdown would continue for weeks to come.
Coronavirus today updates: More than 638,000 coronavirus cases have been reported in the US
At least 638,111 cases of coronavirus have been reported in the United States, including at least 30,844 deaths, according to Johns Hopkins University's tally.
On Wednesday, Johns Hopkins recorded 28,871 new cases and 4,811 reported deaths in the US.
The totals include cases from all 50 states, the District of Columbia and other US territories, as well as all repatriated cases.
Johns Hopkins University tells CNN they are working on the "probable deaths" presently. The 4,811 deaths noted above are likely to include the probable deaths and therefore the number is likely inflated.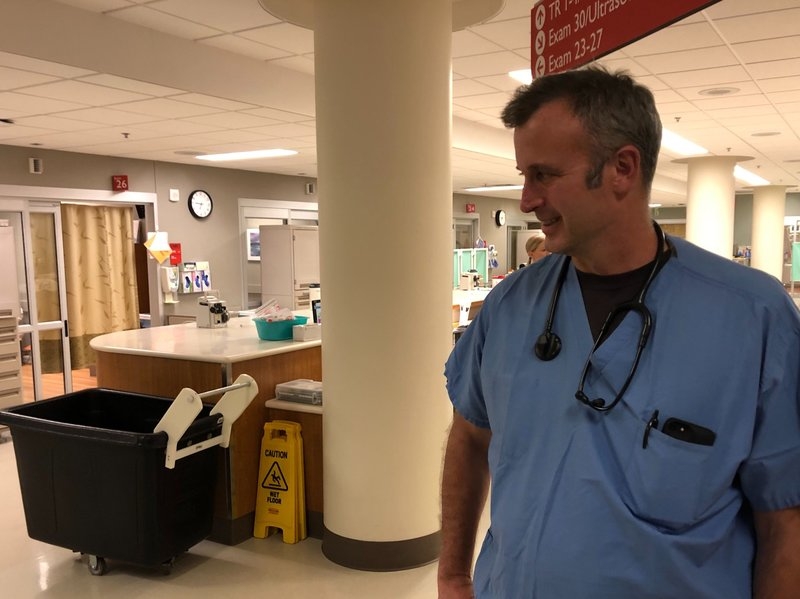 The US has the largest number of infections worldwide (Photo: NPR)
Coronavirus today updates: New York is the No.1 state with the highest number of infections, 214,698 cases in total, which has surpassed Spain, the second worst-hit country in the world and 14,064 deaths.
New Jersey comes second with 71,030 cases and 3,156 deaths. Connecticut is the third vulnerable state with 14,755 infections, 868 deaths have been reported.
At least 42 workers at this US construction site have tested positive for coronavirus
At least 42 workers have tested positive for coronavirus at a construction site in Waynesboro, Georgia, a spokesman for Georgia Power told CNN.
The company is awaiting test results for 57 workers.
The site is constructing the Plant Vogtle Units 3&4, which will be the first new nuclear units built in the United States in the past three decades, according to Georgia Power's website.
The Vogtle site will produce enough electricity to power 1 million Georgia homes and businesses once completed, CNN reported.
Georgia has reported at least 14,987 coronavirus cases, including 552 death, according to Johns Hopkins University.
Trump to discuss coronavirus with G-7 leaders
President Donald Trump is set to discuss the coronavirus pandemic with G-7 leaders in a conference call on Thursday morning.
He will be joined by the leaders of the U.K., France, Germany, Italy, Canada and Japan.
Trump last spoke with the group as a whole on a conference call on March 16. Much has changed in the world since then, when fewer than 100 people had died in the U.S.
The U.S. was set to host this year's G-7, which was to be held at Camp David in June, before Trump canceled the gathering three days after that last videoconference in March, WBAR reported.
Coronavirus today updates: U.S. Soccer Development Academy cease operations due to COVID-19 Pandemic
U.S. Soccer announced the decision Wednesday in a joint statement from the organization's CEO Will Wilson, sporting director Earnie Stewart and president Cindy Parlow Cone.
"This was an incredibly difficult decision to make," the statement said, "but the extraordinary and unanticipated circumstances around the COVID-19 pandemic have resulted in a financial situation that does not allow for the continuation of the Development Academy program into the future. We know that suddenly discontinuing a program that has been with U.S. Soccer for many years is shocking, but these unprecedented times required acting now."
As the program shutters, Major League Soccer is hoping it can help replace the infrastructure by starting its own elite youth competition platform.
Despite shuttering the academy, U.S. Soccer says it will continue its attempts to grow the game by increasing education for coaches and scouting youth players across the country for placement on national teams.
The statement by U.S. Soccer makes clear the organization's decision came down to finances. As the MLS looks to pick up where the Development Academy left off, the total investment from the league will become one of the more necessary storylines to follow, according to BI.
Washington state's governor has signed an order to release prisoners due to COVID-19 concerns
The decision was prompted by a state Supreme Court order for Washington to address hazardous health conditions after more than a half-dozen prisoners at a minimum-security facility in Monroe tested positive for COVID-19.
What the order says: Under Inslee's order, all inmates serving time for non-violent and non-sexual offenses who were scheduled to be set free by June 29 of this year are eligible for early release. The order does not say exactly how many inmates will be freed, but a court document filed Monday said the state ultimately expected to release between 600 and 950 prisoners early, according to CNN.
Washington state has reported at least 10,942 coronavirus cases, including 552 deaths, according to Johns Hopkins University.
Coronavirus today updates: US explores possibility that coronavirus started in Chinese lab, not a market
US intelligence and national security officials say the United States government is looking into the possibility that the novel coronavirus originated in a Chinese laboratory rather than a market, according to multiple sources familiar with the matter who caution it is premature to draw any conclusions.
The theory is one of multiple being pursued by investigators as they attempt to determine the origin of the coronavirus that has resulted in a pandemic and killed hundreds of thousands. The US does not believe the virus was associated with bioweapons research, and officials noted that the intelligence community is also exploring a range of other theories regarding the origination of the virus, as would typically be the case for high-profile incidents, according to an intelligence source.
The theory has been pushed by supporters of the President, including some congressional Republicans, who are eager to deflect criticisms of Trump's handling of the pandemic.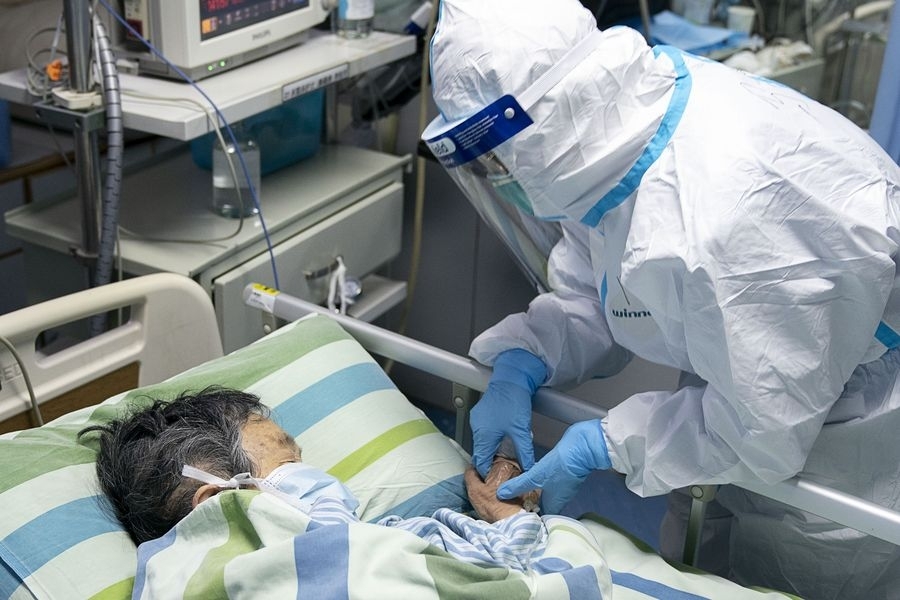 A nurse holds a patient's hand to comfort her in the ICU of Zhongnan Hospital of Wuhan University in Wuhan, central China's Hubei Province, Jan. 24, 2020. Source: Xinhua/Xiong Qi
An intelligence official familiar with the government analysis said a theory US intelligence officials are investigating is that the virus originated in a laboratory in Wuhan, China, and was accidentally released to the public. Other sources told CNN that US intelligence hasn't been able to corroborate the theory but is trying to discern whether someone was infected in the lab through an accident or poor handling of materials and may have then infected others.
US intelligence is reviewing sensitive intelligence collection aimed at the Chinese government, according to the intelligence source, as they pursue the theory. But some intelligence officials say it is possible the actual cause may never be known.
Joint Chief of Staff Chairman Mark Milley acknowledged this week that US intelligence is taking "a hard look" at the question of whether the novel coronavirus originated in a lab.
"I would just say, at this point, it's inconclusive although the weight of evidence seems to indicate natural (origin). But we don't know for certain," Milley told reporters on Tuesday.
Asked about the intelligence, which was first reported by Yahoo and Fox News, President Donald Trump said on Wednesday that the US is "doing a very thorough examination of this horrible situation that happened" but refused to discuss what he had been told about the findings.
The lab theory has been denied by the Chinese government and many outside experts have also cast doubt on the idea, CNN has previously reported.
A source close to the White House coronavirus task force also cautioned that "every time there is an outbreak someone proposes that the virus or other pathogen came out of a lab."
One official called the way China has handled dealing with the virus "completely reprehensible" -- and intelligence investigators are determined to build a fuller picture of how it originated.
The Washington Post has reported on State Department cables from 2018 demonstrating concerns about the safety and the management of the Wuhan Institute of Virology biolab. When asked about those cables, Secretary of State Mike Pompeo -- who has continued to call the coronavirus the "Wuhan virus" -- did not dismiss them, but neither did he say that they show any legitimate linkage to COVID-19.
"The Chinese Communist Party didn't give Americans access when we needed it in that most timely point at the very beginning," Pompeo said earlier this week. "Then we know they have this lab. We know about the wet (fresh food) markets. We know that the virus itself did originate in Wuhan. So all those things come together. There's still a lot we don't know, and this is what the President was talking about today. We need to know answers to these things."
Some of the officials said the US intends for China pay a price, but recognize the US has to be careful not to inflict a cost on China before the pandemic is under control and until they have more information about its creation, CNN reported.
Coronavirus today updates: Canada has 28,379 infections and 1,010 deaths.
Restrictions reviewed: Some European nations are gradually reopening after coronavirus lockdowns. But Canadian Prime Minister Justin Trudeau has warned again that the national lockdown would continue for weeks to come.
WestJet says it's laying off 1,700 pilots due to coronavirus crisis
WestJet has sent layoff notices to 1,700 of its pilots Wednesday night as the toll from worldwide travel restrictions amid the coronavirus crisis continues to worsen, the airline confirms.
An email sent to all pilots from WestJet's vice-president of flight operations John Aaron, which was obtained by Global News, says 700 pilots for WestJet, WestJet Encore and its budget subsidiary Swoop will be laid off effective May 1.
The remaining 1,000 pilots will be off the job as of June 1, Global news reported.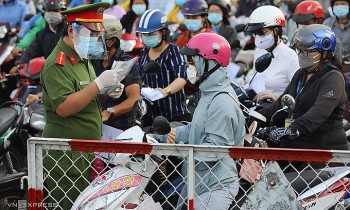 National
Vietnam News Today (September 26): Vietnam, Germany foster 10-year strategic partnership; HCM City plans to remove barriers, travel permits by end-September; 41% of Vietnamese adults vaccinated against Covid-19; Transport ministry outlines domestic flight resumption phases.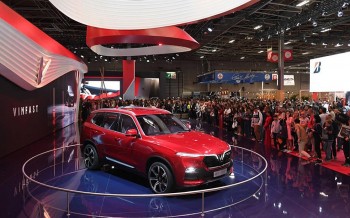 Economy
Vietnam's first homegrown car manufacturer Vinfast plans to focus on more countries to expand its European strategy.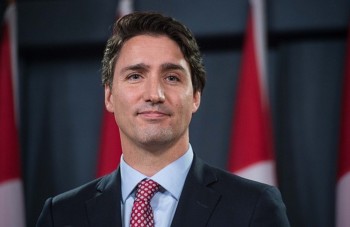 World
Justin Trudeau, the son of the late Canadian prime minister Pierre Trudeau followed in his father's famous footsteps in 2015 and became Canada's prime minister. This article will help you have a more thorough inside of him