Coronavirus live update: No fresh infection reported in Vietnam 8 days in a row
Coronavirus today update May 2 sees Vietnam's cumulative cases stay unchanged at 270 for eight consecutive days, no death reported.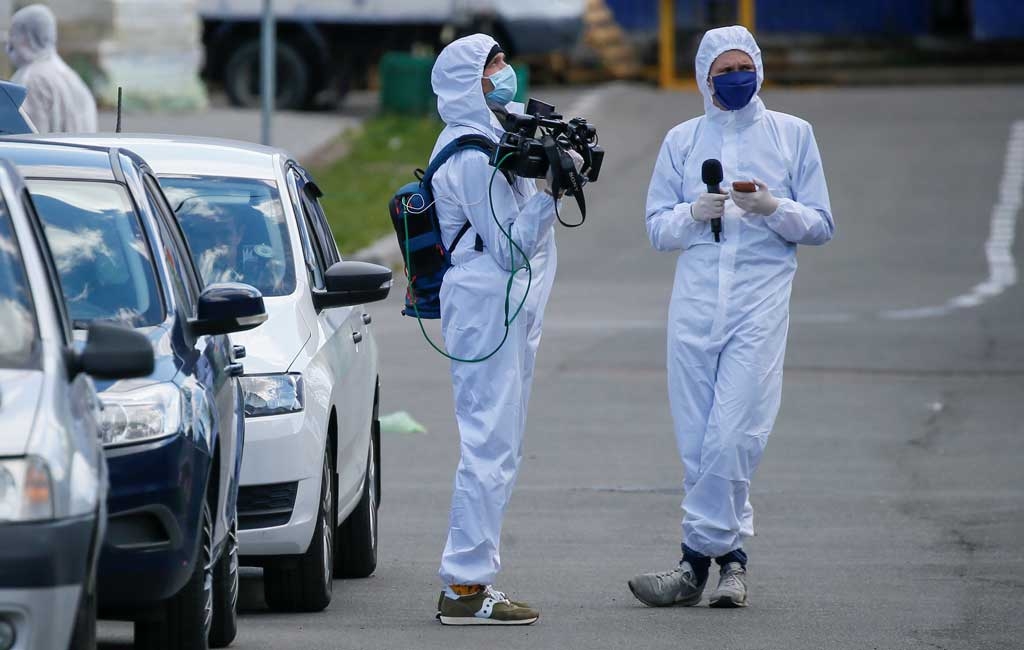 ozens of journalists die from coronavirus since March 1 (Photo: Dhaka Tribune)
Coronavirus today update: Worldwide, the number of confirmed infections stood at more than 3.26 million, with some 233,000 deaths and more than one million recoveries.
Coronavirus live update: Dozens of journalists die from coronavirus since March 1, NGO tells
Dozens of journalists have died worldwide from the novel coronavirus in the past two months, a press freedom organization said, lamenting that media workers often lack proper protection for covering the pandemic.
Ahead of World Press Freedom Day on Sunday, the Press Emblem Campaign (PEC) warned that many journalists were putting themselves in harm's way to report on the global crisis, with many falling ill from COVID-19 themselves in the process.
Since March 1, the PEC said it had recorded the deaths of 55 media workers across 23 countries from the virus, although it stressed that it remained unclear if all of them had become infected on the job, according to ARAB News.
No fresh infection reported in Vietnam 8 days in a row
The Health Ministry confirmed no fresh coronavirus cases Saturday morning, keeping the national count of active infections at 51.
The last infection was recorded seven days ago. Of the 270 Covid-19 cases to date, 51 remain active and 219 have been discharged from hospitals. The 51 active cases include 12 relapsed patients.
Vietnam has gone 15 days without community transmission.
Most of the 51 active patients are in stable health, and 16 have tested negative for the virus at least once.
Over 47,000 people are currently quarantined - 272 in hospitals, over 12,000 at quarantine facilities and the rest at home.
The Health Ministry Friday called for public caution, saying the risk of contagion still exists in factories, industrial areas and pharmaceutical establishments, VNE reported.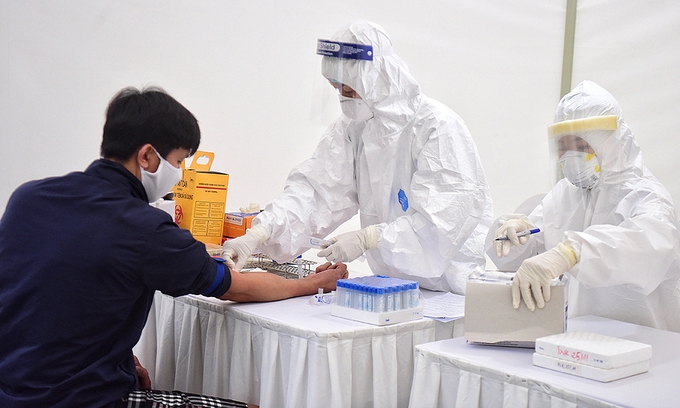 No new cases reported in Vietnam over the past week (Photo: VNE)
Coronavirus today update: The US reported over 1,100,000 COVID-19 patients in total, at least 63,972 lives have been claimed.
White House reportedly plans to punish China for coronavirus pandemic
The Trump administration is planning to punish the Chinese Communist Party for its perceived role in the coronavirus pandemic — including possible sanctions and cancellation of US debt, according to a new report.
Other potential measures to be taken against Beijing by the Trump administration include the creation of new trade policies, several sources close to the matter told CNN.
Experts predict 'significant COVID-19 activity' in US for up to 2 years
The United States should prepare for another 18 to 24 months of "significant COVID-19 activity" — which likely won't end until about 60 to 70 percent of the population has been infected, recovers and develops herd immunity, experts reveal in a new report.
The report, released Thursday by the Center for Infectious Disease Research and Policy at the University of Minnesota, warned Americans of a worst-case scenario that would involve a larger wave of COVID-19 infections coming in the fall and winter, and one or smaller waves in 2021.
Even under the best-case scenario — a "slow burn" of ongoing transmission and case occurrence, without a clear wave pattern — COVID-19 deaths will continue to occur, the researchers say.
Another possible scenario involves the current wave of the virus being followed by a series of repetitive smaller waves throughout the summer, and then consistently over a one- to two-year period, gradually diminishing sometime in 2021, according to New York Post.
Coronavirus live update: Life Won't Be Normal After May 11, Macron Tells French
President Emmanuel Macron warned on Friday that the end of the national lockdown on May 11 would only be a first step as France looks to pull out of the crisis created by the outbreak of the coronavirus, as reported by Reuters.
Traditional Labour Day protests that usually see thousands of demonstrators on streets were canceled this year due to the virus outbreak that has killed 24,000 people across France.
"May 11 will not be the passage to normal life. There will be a recovery that will need to be reorganized," Macron said in a speech at the presidential palace after a meeting with horticulturists.
"There will be several phases and May 11 will be one of them."
Coronavirus today update: Russia registered a record number of coronavirus cases for the third day in a row, as 7,933 more people tested positive for the virus, bringing total to 114,431.
Russia is now the eighth most-affected country in terms of infections, having surpassed China and Iran this week.
Russia is now the eighth most-affected country in terms of infections, having surpassed China and Iran this week.
In total, 1,169 people have been killed by the virus in Russia, The Moscow Times reported.
Coronavirus today update: Russia's prime minister self-isolates after coronavirus diagnosis
Mikhail Mishustin, the Russian prime minister, who was tasked by Vladimir Putin with leading the response to the country's coronavirus outbreak, has been diagnosed with Covid-19 and will self-isolate.
Mishustin, Russia's most-high profile Covid-19 patient so far, disclosed the diagnosis during a televised video call with President Putin on Thursday evening. It was not immediately clear how severe Mishustin's symptoms are, though one news agency reported that he had an elevated temperature of 39 degrees. Putin indicated during the call that Mishustin would be taken to hospital.
It is unlikely that Mishustin has been in direct contact with Putin in recent weeks. Putin has led semi-regular video calls with members of the government from his residence at Novo-Ogaryovo. He has not been pictured in public recently, as reported by The Guardian.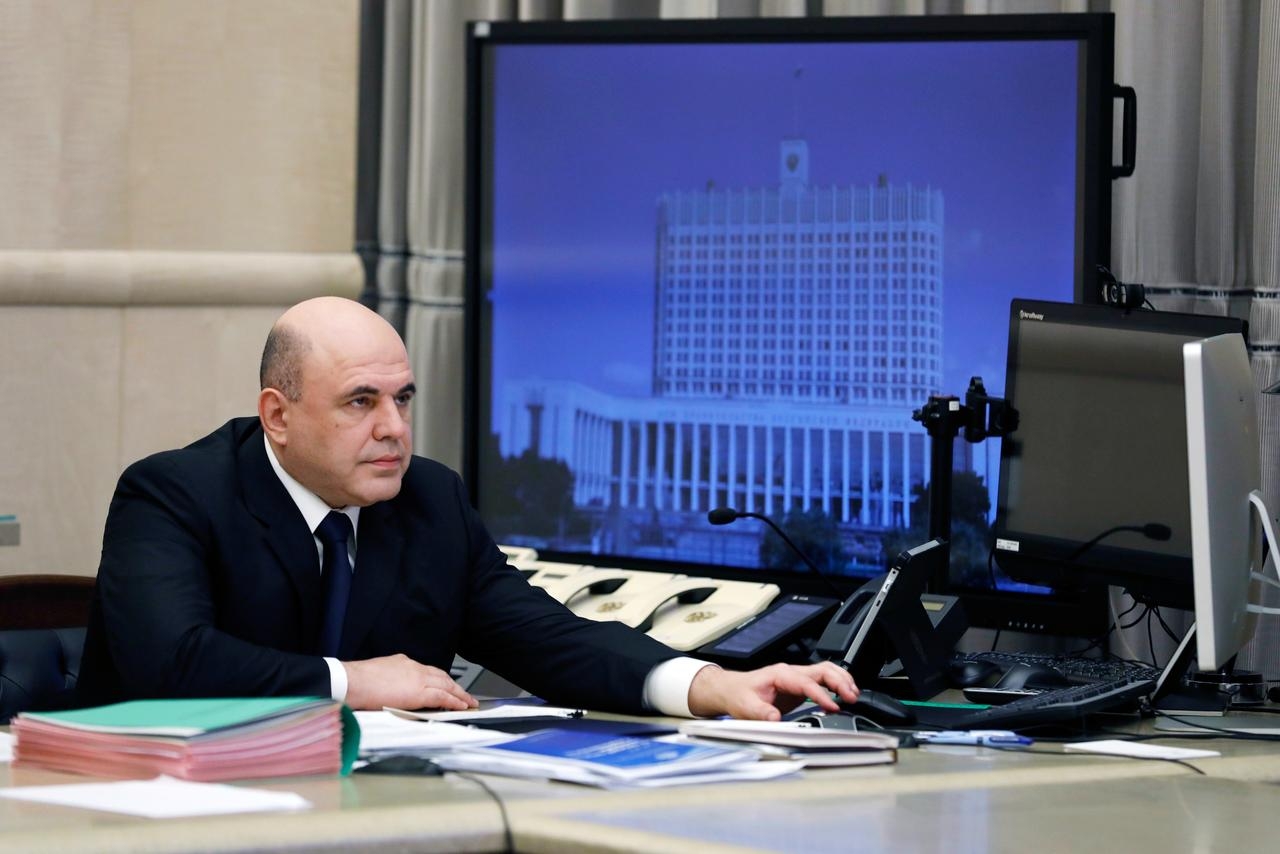 Russia's prime minister self-isolates after coronavirus diagnosis (Photo: Reuters)
Coronavirus live update: Spain's coronavirus death toll nears 25,000
Spain's coronavirus death toll rose to 24,824 as 281 more people died from causes related to the disease overnight, the health ministry said.
The ministry also reported 1,781 new coronavirus cases, bringing the total infections to 215,216.
The previous day's death toll was 268. Spain has the second-highest number of COVID-19 cases worldwide after the US.
Coronavirus today update: India extends lockdown by two weeks, but loosens measures in lower-risk areas
The Indian government has said it will extend its nationwide lockdown for another two weeks after May 4, but would allow "considerable relaxations" in lower-risk districts marked as green and orange zones under the government's plan to fight the novel coronavirus.
The restrictions have been extended until May 17.
To date, the country has confirmed 35,043 cases, in which at least 1,154 have died.
India's COVID-19 app raises surveillance fears
Indian authorities plan to make a contact-tracing mobile app mandatory for everything from taking public transit to going to work, raising concerns among digital rights experts about privacy and increased surveillance.
Aarogya Setu, the app launched by the Indian government earlier this month to stem the novel coronavirus outbreak, evaluates users' risk of infection based on location, and their medical and travel history. It uses Bluetooth and location services to trace a user's contacts.
Coronavirus today update: China's Hubei province to lower emergency response level
China's central province of Hubei, where the novel coronavirus behind the pandemic was first detected, will lower its emergency response level from the highest to the second-highest from Saturday (May 2) in the latest relaxation of lockdowns put in place to contain the virus, the province's health commission said in a post on its public WeChat account Friday.
Hubei is the last province to lower its provincial emergency response level, a major milestone in China's fight against the pandemic. The virus is believed to have originated in a wet market in the province's capital Wuhan in December.
Hubei will also adjust prevention and control measures against the epidemic following the response level downgrade, the official Xinhua news agency quoted Yang Yunyan, vice governor of Hubei, as saying. The Xinhua report did not explain what adjustments would be made.
Beijing on Thursday announced a similar easing of restrictions, saying it would mean removing 14-day quarantine requirements for people arriving from low-risk parts of the country, releasing those currently in quarantine, and ending the requirement to wear masks outdoors, according to CNA.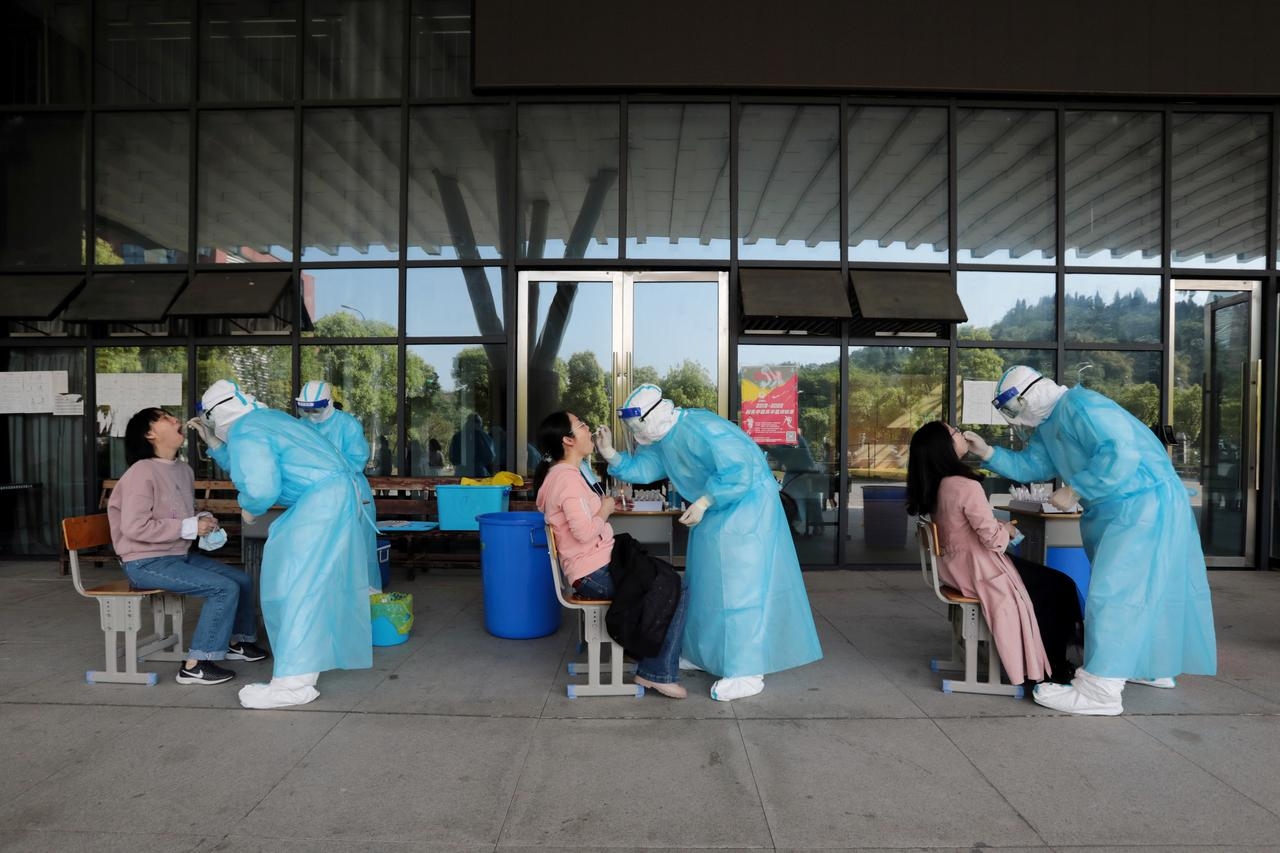 Hubei province will lower its emergency response level from the highest to the second-highest from Saturday (Photo: Reuters India)
Coronavirus today update: Japan
The Abe administration is holding discussions on extending the nation's state of emergency — currently due to expire May 6 — by about a month to curb the coronavirus pandemic, sources say, Japan Times reported.
The national government plans to offer a smartphone application from early May that will warn users if they have been in contact with someone diagnosed with the coronavirus.
Some small municipalities began distributing the money Thursday to people to help cushion them from the economic fallout from the pandemic.
Staff writer Kazuaki Nagata offers some questions and answers about the ¥117 trillion package to counter COVID-19 in the Business section.
Coronavirus today update: ASEAN countries recorded an additional 1,725 ​​nCoV infections, bringing total cumulative cases to 46,179, of which 1,558 have died.
Singapore, the region's largest epidemic region, reported an additional 932 people who were positive for nCoV, of which only 5 were Singapore citizens and permanent residents, the rest were migrant workers living in dormitories. This is the ninth consecutive day fresh infections in the country is less than 1,000 cases. Total cases stand at 17,101.
Indonesia, the nation with the highest number of nCoV deaths in Southeast Asia, today reports eight more cases, bringing the total number of deaths nationwide to 800. Total cases in the country are at 10,551, raised by 433 within 24 hours.
Experts fear the actual death toll in Indonesia, the fourth most populous country in the world, could be much higher than statistics due to testing limits. The country has tested more than 76,500 people.
The Philippines recorded an additional 284 cases and 11 deaths from nCoV, bringing the total number of cases and deaths to 8,772 and 579 respectively. The number of people recovered in the country is 1,084, an increase of 41 people compared to yesterday.
Coronavirus live update: The Philippines relaxes virus restrictions
The Philippines has begun to ease coronavirus restrictions in the country, even as the number of infections and deaths continues to rise nearly two months since a lockdown was imposed on the most populous island.
The government placed areas with few cases of COVID-19 under a more relaxed form of quarantine starting from Friday, allowing work, public transportation, and commercial establishments, including shopping malls, to resume operations at a reduced capacity.
The health ministry reported 284 new coronavirus infections and 11 more deaths, bringing its total number of cases to 8,772 and deaths to 579.
Malaysia recorded 69 more cases and one death, bringing the total number of infected and dying to 6,071 and 103.
Prime Minister Muhyiddin Yassin said Malaysia would allow the majority of businesses to continue operating from May 4, partly reducing the restrictions that were imposed to prevent Covid-19 from spreading.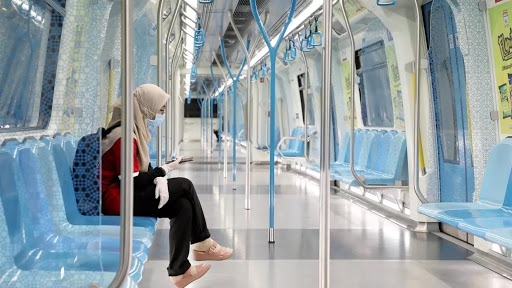 (Photo: RFI)
Thailand detected 6 more cases of nCoV, bringing the total to 2,960, marking the fifth consecutive day of new cases under 10. The country also did not register new deaths, maintaining the number of deaths caused by nCoV at 54 cases since the outbreak in January.
Vietnam, Cambodia, East Timor and Laos record no deaths since the outbreak. Cumulative infections of those countries, coupled with Brunei stay unchanged in the last 24 hours.