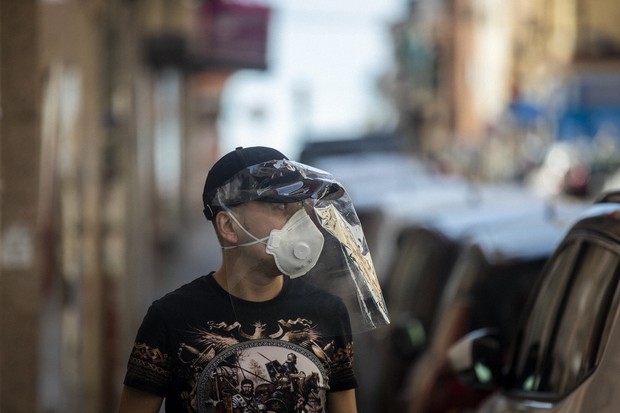 WHO warns Europe remains "very much" in grip of pandemic (Photo: The Mainichi)
Coronavirus today update: The novel coronavirus has infected more than 3.2 million people and killed at least 227,000, according to Johns Hopkins University.
Coronavirus today update: Europe remains "very much" in grip of pandemic, WHO warns
"Today the European region accounts for 46% of cases, and 63% of deaths globally," regional director Dr Hans Kluger said.
Although Europe is seeing evidence of a "plateau or a reduction" of new cases since the introduction of social distancing measures, the WHO warned against complacency.
"This virus is unforgiving. We must remain vigilant, persevere and be patient, ready to ramp up measures as and when needed," Dr Kluger said.
Cumulative cases of Covid-19 have increased by 15% over the past seven days, while deaths have risen by 17% during the same period.
Dr Kluger said: "The situation across our region is not uniform. Every country is mapping out its route to a new normal.
Thursday marks three months since WHO Director-General Tedros Adhanom Ghebreyesus declared the spread of coronavirus a public health emergency, CNN reported.
Coronavirus today update: Pfizer aims for 10-20 million vaccine doses by end of 2020
Pfizer aims to make 10-20 million doses of a coronavirus vaccine it is developing with Germany's BioNtech by the end of 2020 for possible emergency use depending on trial results, the US drugmaker's vaccines head said.
"Of course we need to see and wait to see how the vaccine's efficacy and safety is demonstrated, hopefully in the coming months," Nanette Cocero, the global head of Pfizer Vaccines, said on a conference call.
"But assuming that is demonstrated, we are looking to ramp up manufacturing rather quickly to have around 10 to 20 mln doses by the end of this year, which are expected to then of course be used in an emergency type of setting", Al Jazeera reported.
Vietnam goes 7 days straight with no new cases
The Health Ministry confirmed the nation starting Friday with no new coronavirus infections, keeping the national count at 270 for the sixth day running.
On Thursday, "Patient 92", a 21-year-old Vietnamese student from France, relapsed 15 days after he was discharged from Ho Chi Minh City's Cu Chi field hospital. The fourth relapse in HCMC took the country's total to 12.
Saigon authorities have isolated the 1A-1B apartment building on Nguyen Dinh Chieu Street, District 1, where the relapsed patient resides. The building has been blocked off for disinfection, and 36 households with more than 90 residents have been isolated and their samples taken for Covid-19 testing.
Of the 270 confirmed cases recorded in Vietnam so far, 52 remain active and 218 have been discharged.
Around 35,000 people are in quarantine and medically monitored across the country, with 316 in hospitals, 6,700 at quarantine facilities and the rest at home.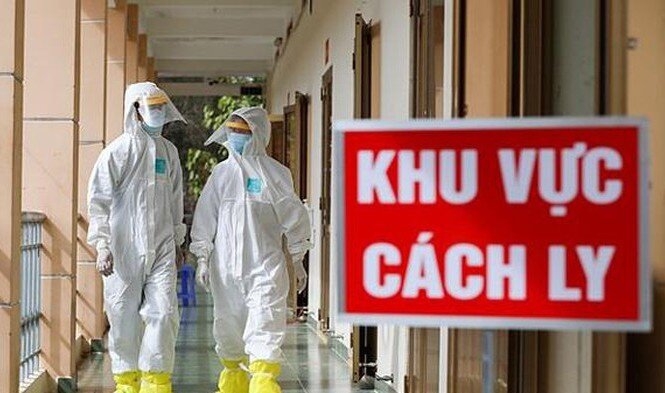 No new infection reported in Vietnam for 7 consecutive days (Photo: Bao Giao Thong)
Coronavirus live update:The US sees at least1,068,689 cumulative cases and 62,176 deaths. New York and New Jersey still the two biggest epicenters of the nation.
Coronavirus today update: European lockdowns could avert 11,300 air pollution deaths, study finds
Other avoided health impacts include 6,000 fewer new cases of asthma in childen
"You could compare it to everyone in Europe stopping smoking for a month," said Lauri Myllyvirta, lead analyst at the Helsinki-based Centre for Research on Energy and Clean Air, which conducted the study.
"Our analysis highlights the tremendous benefits for public health and quality of life that could be achieved by rapidly reducing fossil fuels in a sustained and sustainable way."
The benefits in Germany, Britain and Italy exceeded the equivalent of more than 1,500 premature deaths in each country, Irishtime reported.
Coronavirus live update: However, Eurozone economy shrinks 3.8 percent as restrictions take toll
The eurozone economy shrank by 3.8 percent in the first quarter of the year as coronavirus lockdown measures began to bite, official data has shown.
Across the EU, gross domestic product contracted by 3.5 percent in the first major indication of the economic devastation facing the bloc as a result of the pandemic.
According to Al Jazeera, the European single currency area also saw a slowdown in inflation to 0.4 percent in April, driven by a collapse in energy prices.
Italy PM Conte says to ease lockdown on basis of local conditions
Italian Prime Minister Giuseppe Conte said he will gradually relax the country's coronavirus lockdown taking into account differences in contagion levels in different parts of the country.
In a speech to parliament, Conte said a new stimulus package to support the economy, due to be presented in a few days, would include $16.3 billion for companies and 25 billion directly for payroll workers and the self-employed.
The lockdown imposed on March 9 will be gradually rolled back from May 4 and agreed with local authorities "taking account of the regions where the epidemiological situation is less severe," Al Jazeera quoted as Conte told the lower house of parliament.
However, the prime minister warned regions not to ease restrictions unilaterally, without consultations.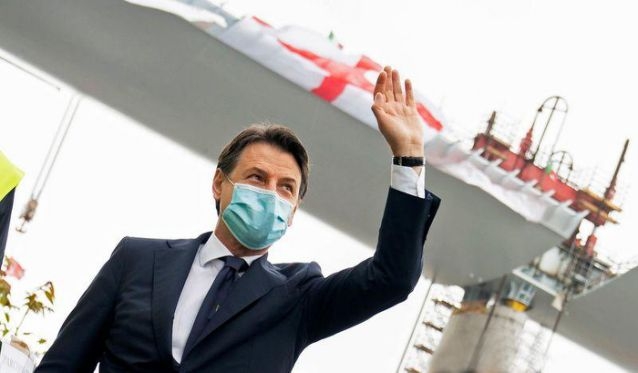 Italian Prime Minister Giuseppe Conte attends a session of the lower house of parliament on the coronavirus disease (COVID-19) in Rome (Photo: Yahoo News Singapore)
Coronavirus today update: Iran virus death toll surges past 6,000: ministry
Iran's health ministry has said that 71 new fatalities from the novel coronavirus took the country's overall death toll to 6,028, according to Al Jazeera.
"The number of deaths from this disease effectively crossed 6,000 today," ministry spokesman Kianoush Jahanpour said in televised remarks.
"Considering that we lost 71 of our countrymen in the past 24 hours, a total of 6,028 of those infected with COVID-19 have passed away to date," he added.
Coronavirus today update: Spain daily death toll falls to lowest tally in nearly six weeks
The number of fatalities related to the novel coronavirus recorded overnight in Spain fell to 268, the lowest tally in nearly six weeks, the country's health ministry has said.
The overall death toll rose to 24,543 on Thursday up from 24,275 on the previous day, the ministry said. The number of cases registered in the country rose to 213,435 from 212,917 the day before.
Meanwhile, the country's economy shrank by 4.1 percent in the first quarter compared to the same period last year, showing the impact of the coronavirus pandemic.
Official statistics released on Thursday showed that compared to the last quarter of 2019, Spain's GDP had shrunk by 5.2 per cent in the January-to-March period.
Coronavirus live update: Swedish town uses chicken manure to help stop gathering
A town in southern Sweden has turned to a traditional source to try to prevent the coronavirus spreading during an annual festive event - chicken manure.
The university town of Lund began spreading chicken droppings in its central park to put off would-be revellers who would usually come on April 30 to celebrate Walpurgis Night.
The occasion, marking the shift away from dark, chilly winter days towards brighter spring and summer days, is typically celebrated with picnics, parties and bonfires across the country, and regularly attracts thousands of students.
"This is a park where usually 30,000 people gather, but with COVID-19 this is now unthinkable," the town's mayor, Philip Sandberg, told Reuters news agency. "We don't want Lund to become an epicentre for the spread of the disease."
The country has reported a total of 21,092 infections, with 2,586 deaths.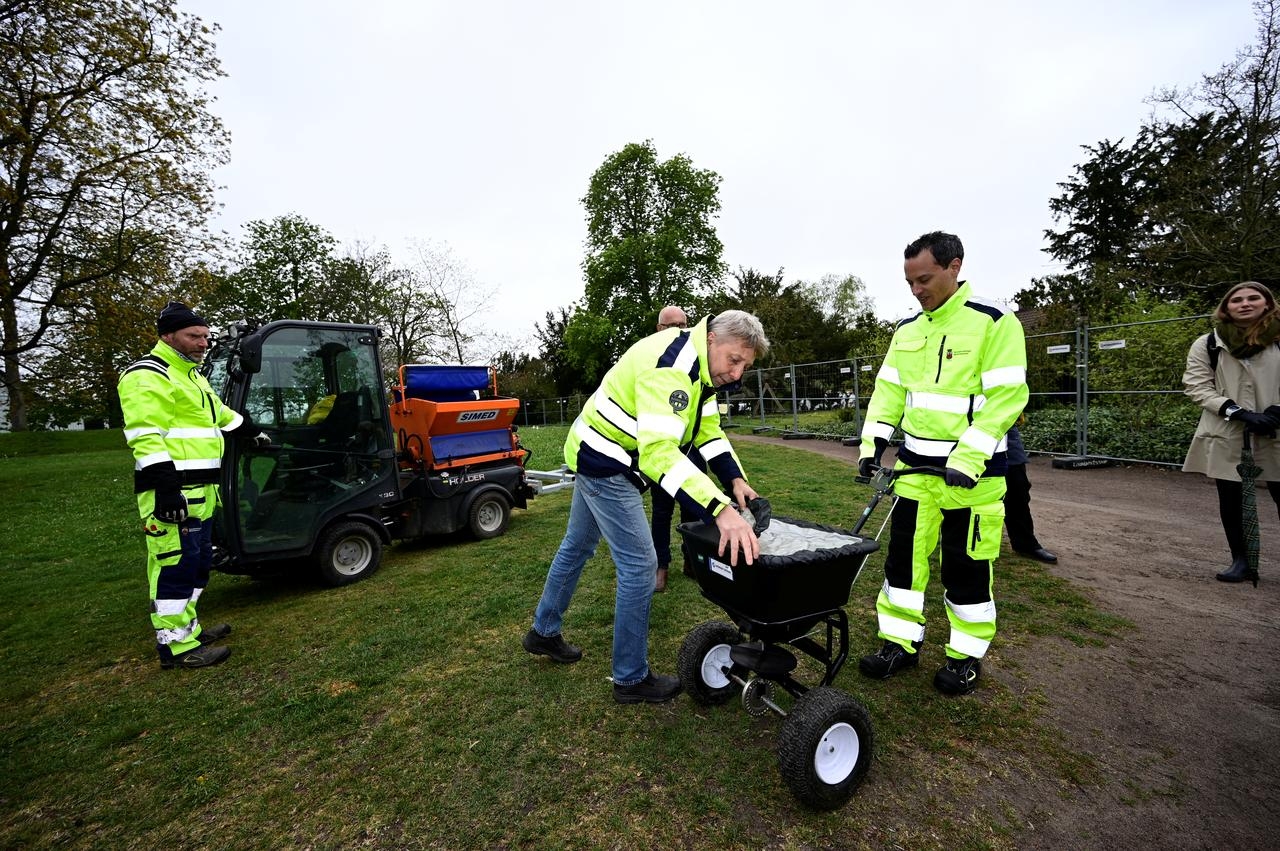 Garden workers fertilise lawns in Stadsparken in an attempt to prevent residents from gathering for the traditional celebrations to mark the Walpurgis Night amid the spread of the coronavirus disease (COVID-19), in Lund, Sweden April 30, 2020. (Photo: Reuters)
Coronavirus live update:Tajikistan Officially Confirms First Cases
Tajik authorities said they had registered 15 coronavirus cases in the country, the first such cases after weeks of mounting speculation that officials were suppressing information about the disease.
The confirmation of the cases, made April 30 by the government task force charged with fighting the coronavirus, poses a dangerous challenge for the authoritarian government.
Tajikistan's health-care system is underfunded and unequipped to deal with a widespread outbreak of cases. The government, under President Emomali Rahmon, has suppressed opposition parties, civil society groups, and independent media for years, leading to a vacuum of information.
The country's Health Ministry said five coronavirus cases had been recorded in Dushanbe and 10 in the northern city of Khujand.
The ministry did not release any further details such as when the cases were discovered or which hospitals the patients were being treated at, according to Rferl.
Coronavirus today update: Pakistan register highest single-day rise in cases for second day
Coronavirus cases in Pakistan have risen by 874, the highest single day increase, for the second consecutive day, to 15,759 cases countrywide, according to government data
New deaths from COVID-19 rose by 19 to a total 346, with 4,052 patients having recovered since the start of the country's outbreak in late February.
Coronavirus live update: Russia case tally passes 100,000 with record daily rise
Russia has reported 7,099 new cases of the novel coronavirus, a record daily rise, bringing its nationwide tally to 106,498.
The official nationwide death toll rose to 1,073 after 101 people with the virus died in the last 24 hours, Russia's coronavirus crisis response centre told Al Jazeera.
Coronavirus today update: ASEAN countries recorded an additional 1,215 nCoV infections, bringing the number of people infected in the whole region to 44,454, of which 1,537 died.
Singapore, the region's largest epidemic region, reported an additional 528 people infected, of which only 6 are Singapore citizens and permanent residents, the rest are migrant workers living in dormitories. This is the 7th consecutive day the number of daily infections in Singapore is less than 1,000, bringing the total number of nCoVs in this country to 16,169.
Indonesia is the second largest epidemic region in Southeast Asia but has recorded the most deaths in the region. The number of deaths increased to 792 with 8 new cases, while the number of infected cases increased by 347, bringing the total to 10,118.
The Philippines recorded an additional 276 cases and 10 deaths due to nCoV, bringing the total number of cases and deaths to 8,488 and 568. The number of people recovering in the country is 1,043, an increase of 20 people compared to yesterday.
Malaysia recorded 57 more cases and two deaths, bringing the total number of infected and dying to 6,002 and 102.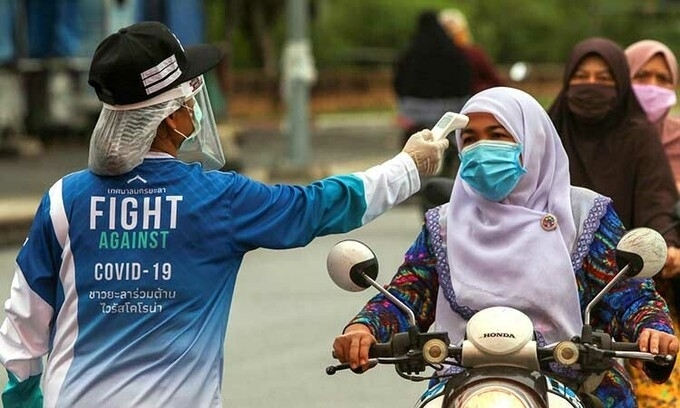 One woman get body temperature checked in Yala province, Thailand (Photo: Reuters)
Thailand detected 7 more cases of nCoV, bringing the total to 2,954, marking the fourth straight day of new cases under 10. The country also did not register new deaths, the number of deaths remained at 5, in when 2,684 people recovered.
Thailand is considering easing anti-Covid-19 measures nationwide. Officials in the capital Bangkok are planning to lift restrictions on a number of businesses over the next few days, amid a crippling economy. However, Prime Minister Prayut Chan-ocha stressed that people need to remain vigilant with Covid-19.
Vietnam, Cambodia, East Timor and Laos have not yet recorded any deaths. The number of cases in these countries, along with Brunei and Myanmar, has not changed in the past 24 hours.
Jasmine Le