Coronavirus updates in South Korea: Hundreds of schools to close again after reopening
Hundreds of schools in South Korea were forced to close just days after reopening due to an unexpected spike in coronavirus cases.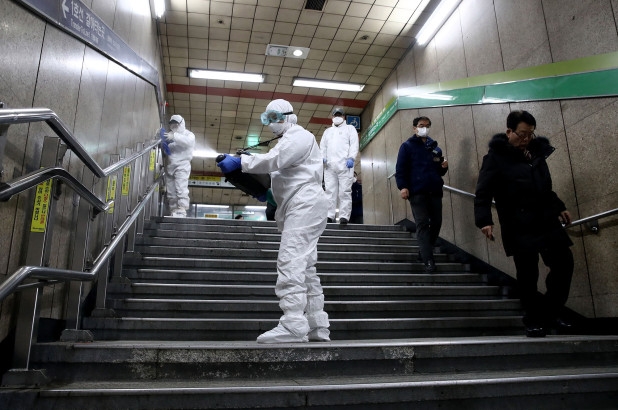 Korean health workers spray disinfectants on the street (Photo: New York Post)
According to CNN, more than 500 schools closed again Friday to students after briefly reopening, as South Korea moves to stamp out a resurgence of the coronavirus in the capital, Seoul, and its surrounding metropolitan area.
Parks, art galleries, museums and theaters operated by the government in the Seoul metropolitan area -- home to about half the country's population of nearly 52 million -- have also been closed to the public for the next two weeks.
Government hosted events in the metropolitan area will be canceled or postponed as well, Health Minister Park Neung-hoo said Thursday. The authorities have recommended that private academies and internet cafes there close too until June 14.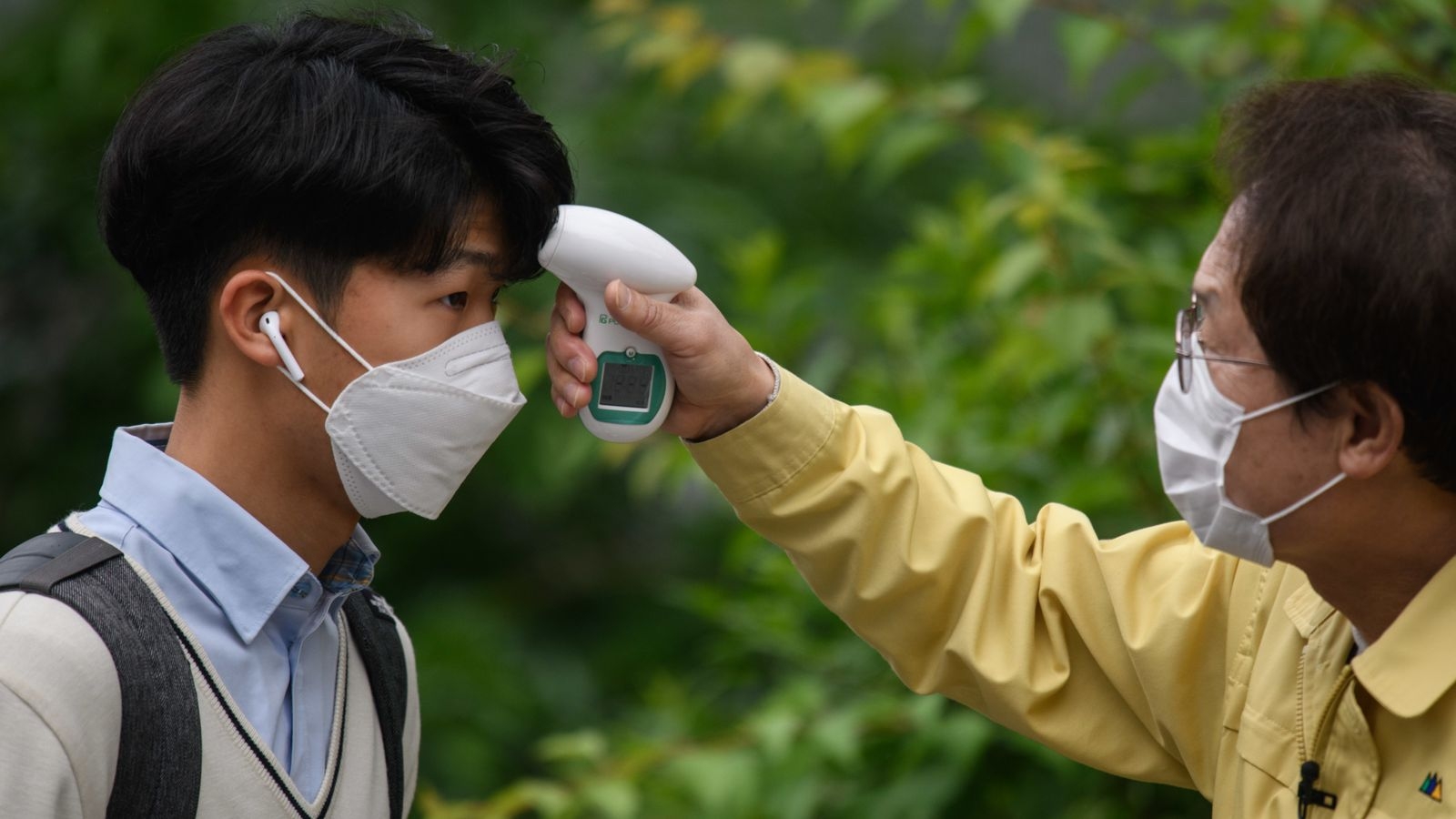 South Korea has been lauded as one of the first countries to control the coronavirus outbreak (Photo: Sky News)
Park also asked people living in the Seoul metropolitan area to refrain from going outside or holding events for the next fortnight.
The country reported 79 new Covid-19 infections on Thursday — the most in two months — shuttering at least 251 schools near the western city of Bucheon.
Students in the area were forced to resume studies online shortly after 2 million students across the nation headed back to the classroom Wednesday.
The frightening new wave of illness is linked to a major e-commerce distribution center in Bucheon that officials say was not complying with infection prevention.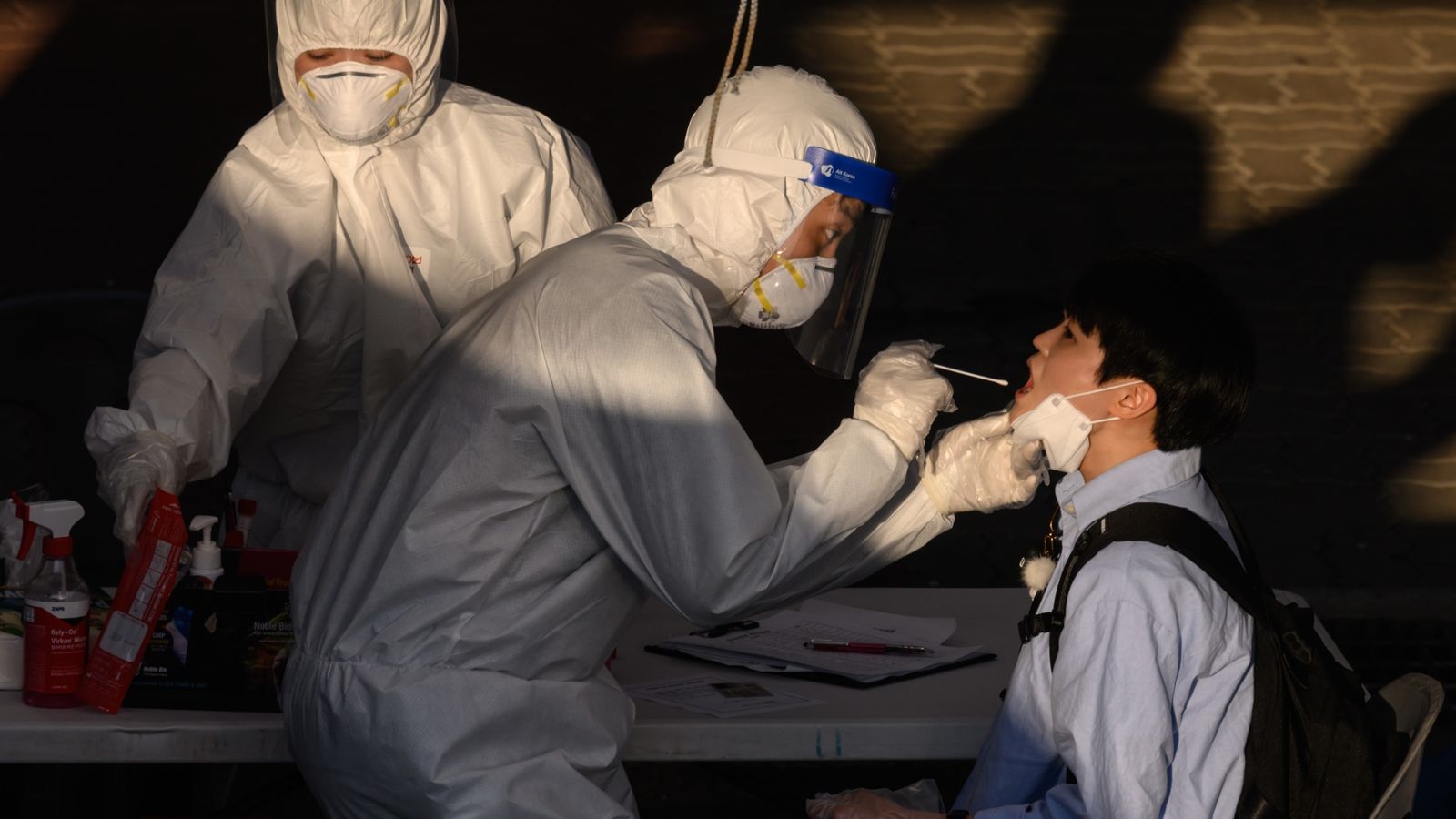 A health worker administers a swab at a temporary coronavirus testing centre in Bucheon, south of Seoul (Photo: Sky News)
Health officials reportedly discovered traces of COVID-19 on workers' shoes and clothes at the facility, which is owned by the firm Coupang. One student, whose mother worked at the warehouse, was found to have the virus, according to the New York Post.
Some of the schools which have closed again as of Friday had only reopened in the past few days. Their students will switch to remote learning, Vice Education Minister Park Baeg-beom said.
High schools in the Seoul metropolitan area can only have two-thirds of their student population at a time until June 14, Park added, and kindergartens, elementary, middle, and special education schools can only admit one-third of their students at a time.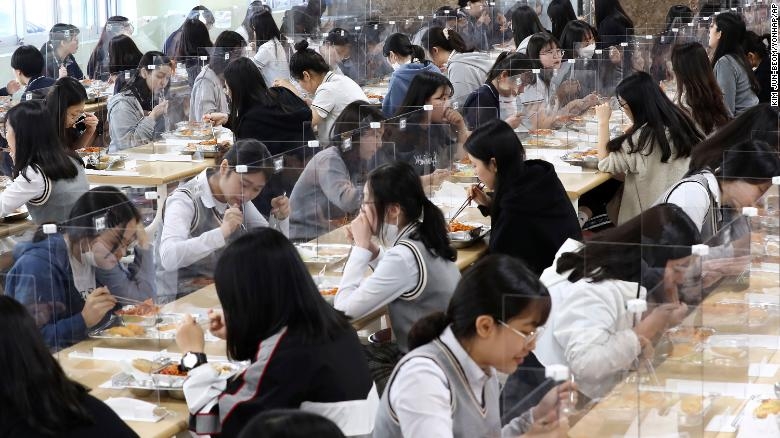 Students eat lunch at tables equipped with plastic barriers to prevent possible spread of the new coronavirus in the cafeteria at Jeonmin High School in Daejeon, South Korea, Wednesday, May 20. (Photo: CNN)
"The two weeks from now will be crucial in containing infections," said Health Minister Park Neung-hoo.
He called for residents in the metropolitan area to avoid unnecessary gatherings and urged companies to keep sick employees off work.
Prime Minister Chung Sye-kyun asked officials to examine working conditions at warehouses of online shopping companies, which have seen orders surge during the pandemic, and other congested workplaces where infection risks may be high, reported by Sky News.
As of Thursday, a total of 838 schools across the country had postponed the reopening of the schools and continued with online classes, Park said.
As of Sunday, 11,468 total cases had been reported in South Korea. There have been 270 deaths, and 770 patients are currently under isolation.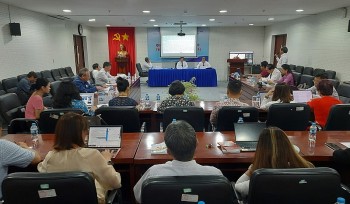 Friendship
The Vietnam - India Friendship Association's Ho Chi Minh City branch, the Ho Chi Minh City Union of Friendship Organizations (HUFO) and the Southern Institute of Social Sciences on March 21 held a scientific seminar themed "Vietnam - India relationship: tradition and present".