COVID-19 in Vietnam: Total 989 positive cases after six more confirmed; over 87,000 quarantined
The Ministry of Health on the evening of August 18 announced that six new cases were diagnosed with the novel coronavirus, including four community infections in Da Nang, the nation's latest epicentre of the coronavirus outbreak, and two returnees from Taiwan (China) and Equatorial Guinea, bringing the national infection tally to 989.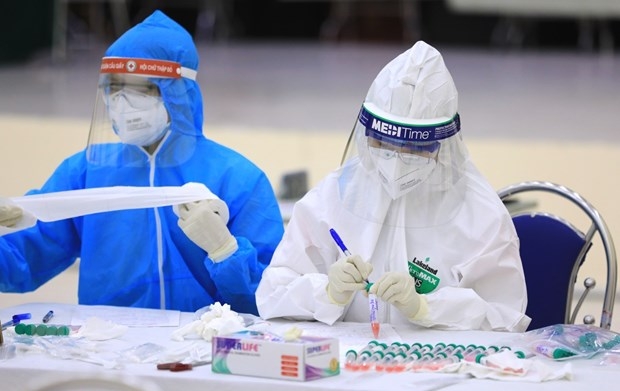 Hanoi capital continues to conduct COVID-19 tests for returnees from Da Nang hotspot. Source: VNA
Among Vietnam's total 989 patients, 649 are community transmission cases. The number of infections with links to the outbreak in Da Nang city has surged to 509 since July 25.
One day earlier, an additional 20 imported novel coronavirus cases, including 18 workers who recently arrived from Equatorial Guinea, were confirmed free of the novel coronavirus, pushing up the overall number of recoveries to 520.
Of the total infections detected in Vietnam so far, 340 are imported and quarantined immediately upon entry, and 25 died of the disease.
Currently, 87,672 people having close contact or entering from pandemic-hit areas are being quarantined at hospitals, concentrated quarantine establishments, homes and accommodations.
In the face of the growing number of community infections, the Hanoi People's Committee has ordered all restaurant, cafe and pub staff have to don facial masks and customers must sit a meter apart from each other starting 12 am on August 19.
The capital's residents have been advised to adopt a range of preventive measures such as wearing facial masks when going out and avoiding large crowds of more than 30 people in public.
Those who suffer from chronic diseases and are at high risk, in addition to the elderly, are advised to stay indoors. In addition, it is imperative to fill out medical declarations according to regulations and immediately head to medical facilities if an individual is showing signs of a cough, a fever, shortness of breath, or pneumonia.
According to the Hanoi Department of Health, there are currently 18,333 people across 14 of Hanoi's districts who returned from Da Nang between July 15 and July 29 who have not had their samples taken for RT-PCR tests aimed at minimising the risk of local transmission.
Since a new outbreak in central Vietnam was reported after 99 days of recording no community transmission, the capital has registered 35 COVID-19 cases, including 11 local infections, one secondary case and the remaining 23 are repatriated citizens who were isolated right upon arrival.
Meanwhile, Da Nang, the nation's current COVID-19 epicenter, has recorded 354 locally transmitted infections, followed by the nearby province Quang Nam with 94.
Ho Chi Minh City has not recorded any new cases of community transmission or any COVID-19 death in the last 17 days, showing that the city has initially put its outbreak under control.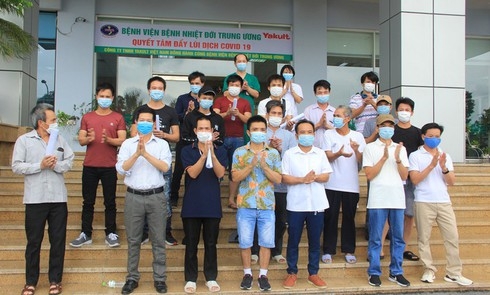 A total of 20 imported novel coronavirus cases, including 18 workers who recently arrived from Equatorial Guinea, have made a full recovery from the virus, following an announcement made on the afternoon of August 18. Source: VOV
Elsewhere, the Quang Ninh Provincial People's Committee has recently issued an urgent telegram that requests the continued implementation of urgent tasks aimed at combating COVID-19, whilst also setting up checkpoints for commuters and vehicles at a number of traffic gateways close to Hai Duong province.
Quang Ninh province has also decided to suspend the operation of massage and video game service facilities, bars, pubs, clubs, beauty salons, and physical therapy sites staring from midnight on August 19.
All local residents must don masks in public and comply with anti-epidemic regulations set out by the Ministry of Health.
COVID-19 now driven by people in 20s, 30s, 40s
A surge in new cases has prompted some countries to reimpose curbs as companies race to find a vaccine for a virus that has battered economies, killed more than 770,000 people and infected nearly 22 million, according to a Reuters tally.
Tran Dac Phu, advisor to Vietnam's public health emergency operations centre, said: If vaccines used in other countries are imported, Vietnam will not test them on animals but will do so on humans to ensure their effectiveness and safety.
This process often lasts between six months and a year or even several years before widespread vaccinations, he noted at a meeting of the national steering committee for COVID-19 prevention and control in Hanoi on August 18.
The number of new infections in Da Nang and Quang Nam has fallen in recent days, from an average of 20 cases a day from August 3 to 9 to about 10 cases from August 10 to 17, said Acting Minister of Health Nguyen Thanh Long.
August 18 confirmed 13 new cases in total.
The World Health Organization also said on August 18 that this month the proportion of younger people among those infected had risen globally, putting at risk vulnerable sectors of the population worldwide, including the elderly and sick people in densely populated areas with weak health services.
"The epidemic is changing," WHO Western Pacific regional director, Takeshi Kasai, told a virtual briefing. "People in their 20s, 30s and 40s are increasingly driving the spread. Many are unaware they are infected.
"This increases the risk of spillovers to the more vulnerable," he added./.