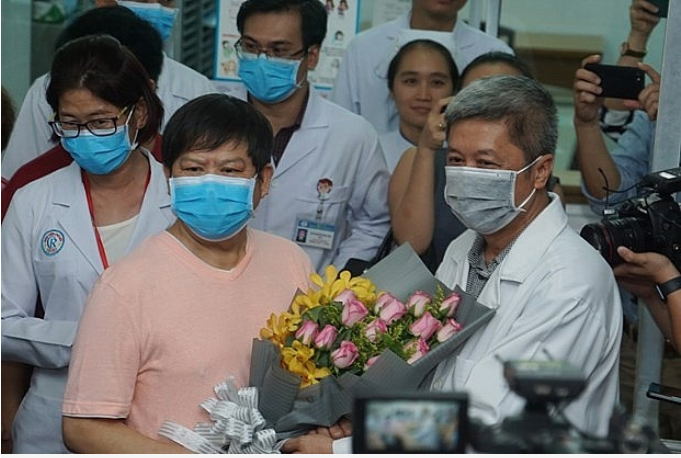 Deputy Minister of Health Nguyen Truong Son (right) gives flowers to a foreign patient who is cured of Covid-19 (Photo: TTXVN)
As of 6 am on July 10: Vietnam has a total of 229 cases of entry which are quarantined immediately. The total number of people who have are related to or come from the pandemic areas stay under isolation are currently 12,923 cases, of which:
- Hospitalized isolation: 72;
- Centralized isolation at other establishments: 12,447;
- Home isolation: 404 cases
According to the report of the National Steering Committee for Prevention and Control of Covid-19 Pandemic, among the Covid-19 cases being treated, 5 patients have been tested negative with SARS-CoV-2 at least twice.
All 50 foreign COVID-19 patients that were treated in Vietnam have been announced to be successfully cured, including the 91st patients - the British pilot, who is preparing to return home on July 12.
According to health experts, the British pilot's lungs are gradually recovering, therefore, scientists and professors have to calculate the best method to transport that patient in a 12-hour period without causing any harm.
Experts have conducted a thorough analysis in case the patient has to face overflow breathing bag, pneumothorax valve (pressure valve), and predict the risk of pulmonary infarction.
After careful calculation and anticipation of all possible situations, the Professional Council determined that the 91st patient can be transferred from Cho Ray Hospital (Ho Chi Minh City).to a hospital in England.
The Ministry of Health has carefully calculated all the possible cases with the patient no. 91 in terms of health, nutrition, culture ... to ensure that he will safely reach his country.
Following the direction of the Prime Minister, the Ministry of Foreign Affairs has actively coordinated with the relevant authorities, overseas Vietnamese representative missions, Vietnamese and international airlines to arrange flights to return Vietnamese citizens home. So far, the authorities have carried out 51 flights, repatriate more than 12,000 citizens. Those who return home are under medical supervision and quarantine in accordance with regulations.
Valerie Mai