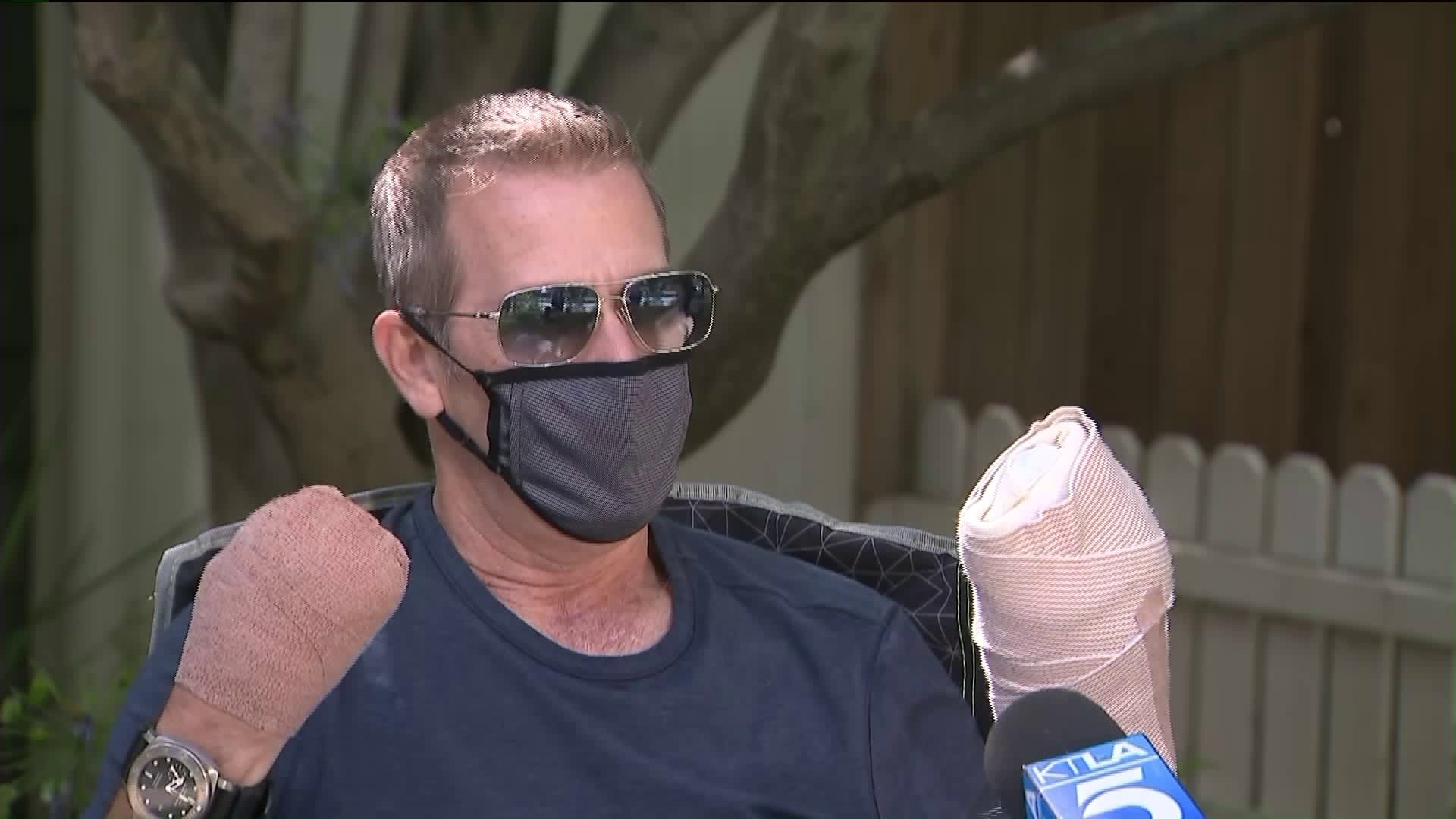 Gregg Garfield has most of his fingers amputated due to the complication (Photo: KTLA5)
Garfield contracted the novel coronavirus on a ski trip in Italy in February, before the pandemic had really taken hold in the U.S. He was the first COVID-19 patient to be treated at Providence St. Joseph Medical Center, his condition deteriorated significantly within 48 hours of his arrival and was put on a ventilator.
He ticked off a long list of complications he suffered as a consequence of the respiratory illness, from MRSA, to sepsis, to kidney failure, to liver failure, pulmonary embolisms, burst lungs.
Doctors gave him a 1% chance of survival, KTLA5 reported.
After spending a total of 64 days in the hospital, including 31 days on a ventilator, Garfield miraculously recovered and was discharged from the hospital in May 8.
"I'm here today just to stand tall," he said. "I turned around with 100% capacity on everything from my kidneys, my liver, my cognitive", Garfield said.
However, the only physical challenge the 54-year-old man faces after the recovery is he had all fingers on his right hand amputated and most of his left hand's fingers removed.
"I've survived this. I'm doing fantastic. However, take heed on this. My hands," he said, lifting the bandaged appendages, "are never going to be the same. I don't have fingers anymore. This can happen to you."
His surgeon, Dr. David Kulber of Cedars Sinai Medical Center in Los Angeles, said the amputations are a result of how the virus impacts patients' blood flow.
As the number of COVID-19 cases continues to increase in Southern California and around the U.S., Garfield and his girlfriend, A.J. Johnson, have a message for people when it comes to taking the virus seriously and wearing masks.
"It should not be political," Johnson said. "We need to come together as humans."
As of July 29 early afternoon, the coronavirus which first emerged in China's Wuhan city has spread to 213 countries and territories around the world and 2 international conveyances. Over 16.89 million people have been infected, nearly 664,000 have died. The US is still the hardest-hit country, with over 4.49 cases, almost double that of Brazil, the second stricken country worldwide.
India, Russia and South Africa are the three other countries in the top 5 countries suffered the most from the COVID-19 pandemic. Meanwhile, many European counties, including German, the UK, France are bracing for the potential second wave of the pandemic.
Jasmine Le