COVID-19 Updates (July 31): WHO: No seasonal trend for the spread of SARS-CoV 2 virus
The latest figures on the Worldometers show that, globally, there are 17,445,391 cases of Covid-19 infection, including 675,452 deaths and 10,918,302 recovered.
WHO warns Covid-19 pandemic is 'one big wave', not seasonal (Photo: AFP)
WHO warns Covid-19 pandemic is 'one big wave', not seasonal
The World Health Organization has warned against complacency about new coronavirus transmission, saying that this virus does not behave like influenza that tends to follow seasonal trends.
"People are still thinking about seasons. What we all need to get our heads around is this is a new virus and ... this one is behaving differently," Margaret Harris told a virtual briefing in Geneva.
She urged vigilance in applying measures to slow transmission that is spreading via mass gatherings.
Ms Harris also warned against thinking in terms of virus waves, saying: "It's going to be one big wave. It's going to go up and down a bit, according to AFP.
The WHO's warning comes as officials around the world reintroduced a raft of restrictions - from beach closures to quarantine measures - to try to control coronavirus hotspots as the official global death toll passed 650,000.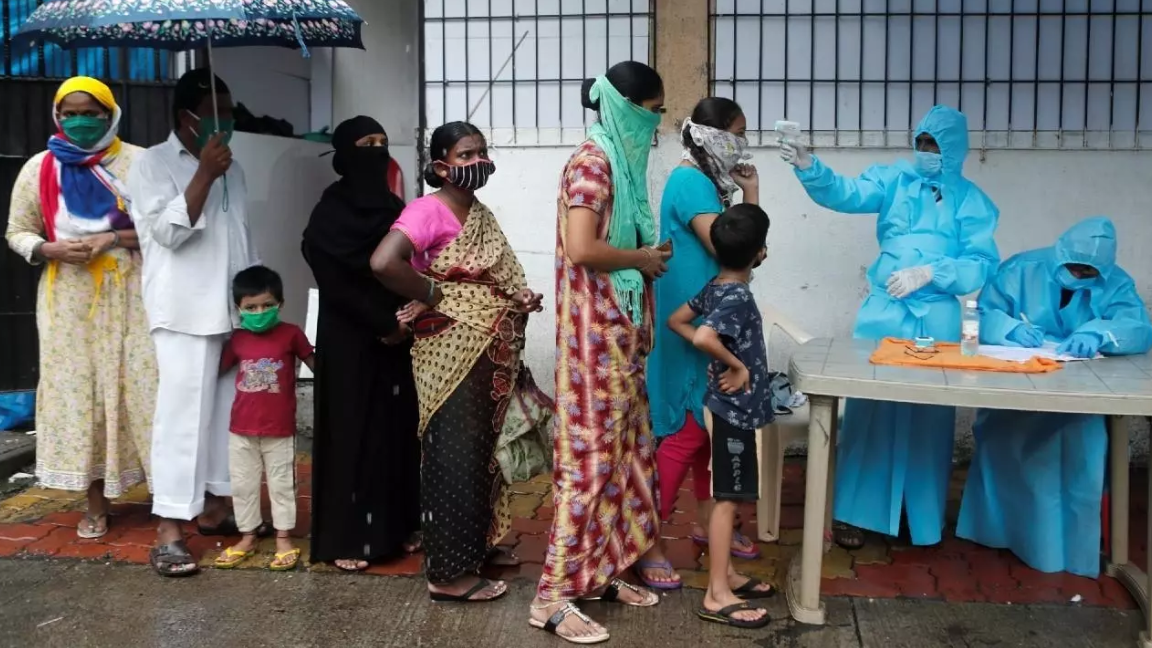 India reports biggest daily jump of 52,123 new COVID-19 cases (Photo: Reuters)
US Covid-19 deaths top 1,000 for fourth day
For the fourth straight day, the United States has witnessed more than 1,000 deaths from the novel coronavirus, with 1,249 reported Thursday. The death toll nationwide was slightly lower than Wednesday, when 1,400 coronavirus-related deaths were reported, the worst day in more than two months for deaths from the disease, cited by The Washington Post.
The United States tallied 1,249 coronavirus-related deaths on Thursday, the fourth day the country has reported a death toll in the four digits. New cases also increased Thursday to 69,312 confirmed infections, the highest count since Friday. Missouri, Mississippi, Ohio and Hawaii reported record new coronavirus cases.
Meanwhile, the illness continues to rattle the economy, which shrank a head-spinning 9.5 percent from April through June, the fastest the quarterly rate has fallen in modern record-keeping. At the same time, Congress is still clashing over a new coronavirus relief bill, with no deal reached on extending emergency unemployment benefits that expire on Friday or help for people facing evictions. Concerns are growing that the path to recovery could be delayed and more difficult.
India reports biggest daily jump of 52,123 new COVID-19 cases
India's health ministry Thursday morning said 775 new deaths due to COVID-19, besides fresh 52,123 positive cases, were reported during the past 24 hours across the country, taking the number of deaths to 34,968 and the total cases to 1,583,792.
This is the highest single day spike in terms of fresh COVID-19 cases in the country so far, according to Xinhua News Agency.
On Wednesday morning, the number of COVID-19 cases in the country was 1,531,669, and the death toll 34,193.
According to ministry officials, so far 1,020,582 people have been discharged from hospitals after showing improvement. This is the first time when the number of cured and discharged cases has crossed the one million mark.
The number of active cases in the country right now is 528,242, according to the ministry.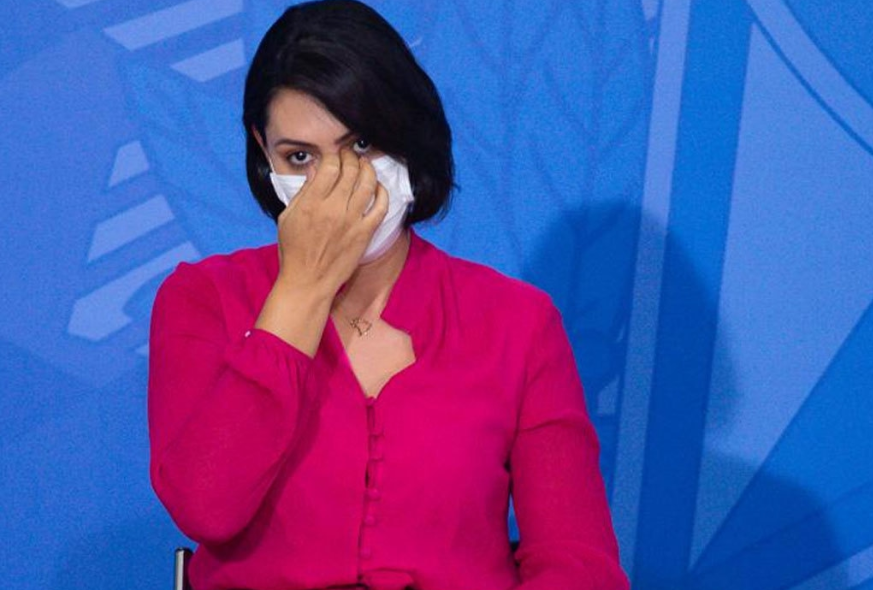 Brazil's first lady tests positive for COVID-19 (Photo: Andalou Agency)
Brazil's first lady tests positive for COVID-19
Brazil's first lady Michelle Bolsonaro tested positive for coronavirus on Thursday, President Jair Bolsonaro's press office announced in a statement.
"First lady Michelle Bolsonaro tested positive for COVID-19 on Thursday. She is in good health and will follow all established protocols," the statement said, quoted by Andalou Agency.
Bolsonaro has no symptoms, according to local media reports, and will have to be quarantined in isolation from the president inside the presidential residence, Alvorada Palace.
Michelle Bolsonaro was last seen in public 24 hours earlier, when she attended a public event in Brasilia with her husband, wearing a mask as she delivered a speech.
Her husband, Jair Bolsonaro was diagnosed with coronavirus on July 7 and had to remain isolated for almost three weeks. One week ago, he announced he had overcome the virus and continued his activities and official trips.
Earlier on Thursday, Brazil's science and technology minister, Marcos Pontes, also announced his test had come back positive, becoming the fifth minister in Jair Bolsonaro's government to have coronavirus.
Brazil reports more than 2.5 million coronavirus cases and 90,000 deaths, second only to the US, according to data compiled by Johns Hopkins University.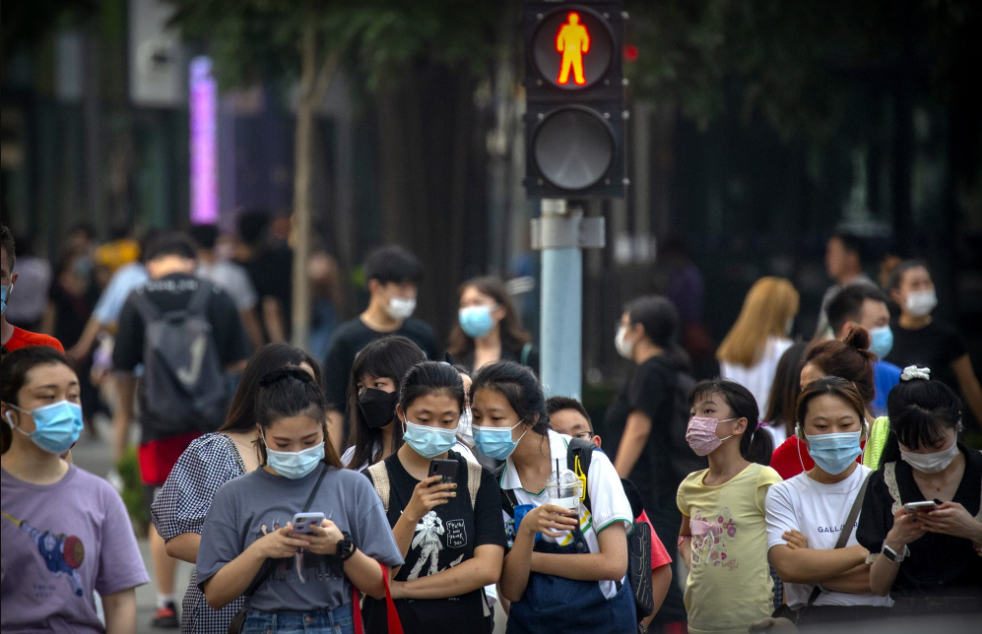 People wearing face masks to protect against the coronavirus wait to cross an intersection in Beijing, China (Photo: AP)
More than 18,000 people quarantined in China
Six months after the coronavirus was declared a global heath emergency, China on Thursday said it has more than 18,000 people in quarantine amid a spike in COVID-19 cases across the country.
More than 12,000 of those were in the western province of Xinjiang, the focal point of this latest outbreak. Officials have locked down some residential areas in the city, restricted public transit and ordered mass testing.
According to NBC, the last time China reported more than 18,000 people who have been in close contact with confirmed coronavirus cases to be "under medical observation" was on April 3. At the height of the pandemic in February, that number stood at over 189,000, according to the country's National Health Commission.
Chinese health officials reported 105 new cases on July 29. The number of new cases in mainland China is still well below the peaks seen in February, but the resurgence underscores the challenge of controlling the virus even in countries that have had some success in containing it.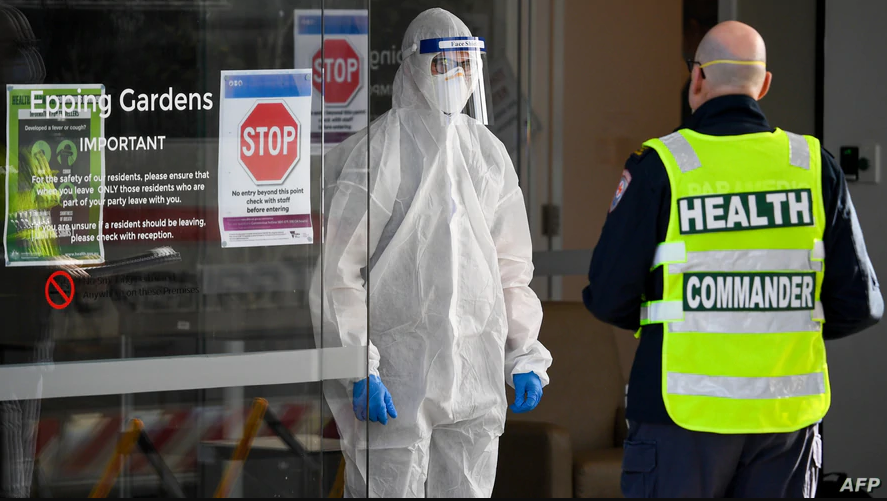 Medical worker at the entrance of an aged care facility in Melbourne (Photo: AFP)
Elsewhere, Australia recorded its deadliest day in the COVID-19 pandemic on Thursday with at least 13 deaths and more than 700 new infections mainly in the southeast state of Victoria, where the government ordered all residents to wear face-coverings outside, reported by The Guardian.
Prime Minister Scott Morrison said current restrictions are not yielding the results his government has hoped for and further measures are necessary.
"On some days the virus wins, on other days we beat it," Morrison said. "But I think we've got to be careful not to slip into some idea that there's some golden immunity that Australia has in relation to this virus."
Meanwhile, in Japan the number of new COVID-19 cases topped 1,000 on Thursday for the first time since the coronavirus outbreak began in February, albeit the Japanese government said it had no plan to declare a state of emergency.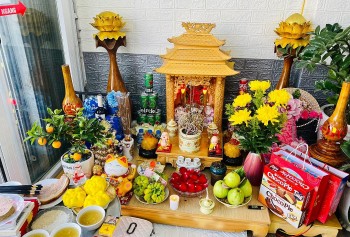 Handbook
Learn more about an ancient Vietnamese tradition that may bring you good fortune!