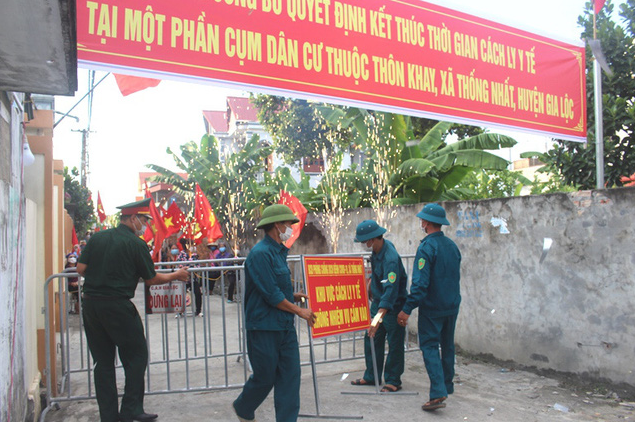 The last residential area of Hai Duong removes blockage. (Photo: MOH)
No fresh cases in the last 16 days
The 6 am news of the National Steering Committee for Disease Control COVID-19 said that Vietnam did not record new cases of COVID-19 on September 18. Thus, Vietnam has gone through 16 days without new cases in the community.
The total number of quarantined persons is currently 31,319, of which 423 stay in concentrated isolation at the hospital, 15,860 stay in concentrated isolation at another establishment, and 15.036 self-isolated.
Of all cases reported, 940 have been successfully cured. Death tool stays at 35, according to the Ministry of Health.
Vietnam shares its effective financial mechanisms in COVID-19 context
The Joint Ministers of Finance and Health Symposium on Universal Health Coverage in Asia and the Pacific, with the theme "COVID-19 and Beyond", was held online by the Asian Development Bank (ADB) in Hanoi on September 17, with the participation of various countries in the Asia-Pacific region.
In his speech at the event, which focused on the financial mechanism applied in Vietnam to respond to COVID-19 amid lower State budget revenue, Minister of Finance Dinh Tien Dung said Vietnam has prioritized budget funds for preventive medicine.
He stressed that Vietnam has persistently implemented the twin goals of preventing the spread of COVID-19 and removing difficulties for production and business, thus maintaining macro-economic stability, preventing disruption of socio-economic activities, reining in inflation, and ensuring social welfare, Vietnam Plus cited.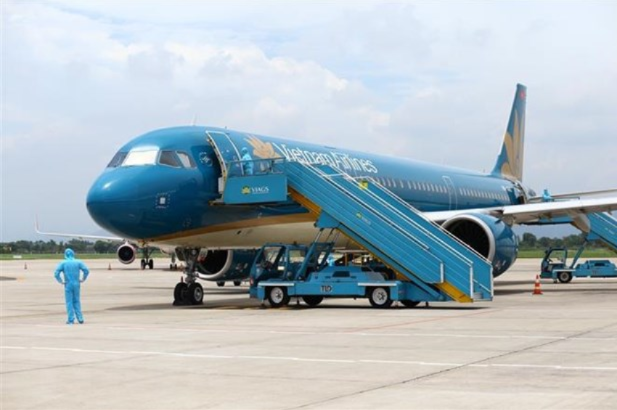 Vietnam to resume several commercial flights with high level of safety (Photo: VNA)
Vietnam to resume several commercial flights with high level of safety
During the ministry's regular press conference in Hanoi on September 17, Foreign Ministry's spokesperson Le Thi Thu Hang said that the Prime Minister and the National Steering Committee for COVID-19 Prevention and Control have decided to resume some commercial flights between Vietnam and six countries and territories - Japan, the Republic of Korea (RoK), China, Taiwan (China), Laos, and Cambodia.
Hang said passengers eligible to enter Vietnam include Vietnamese citizens, foreigners holding diplomatic and official passports, experts, investors, corporate executives, skilled workers and their relatives, foreign students, and relatives of Vietnamese citizens from abroad.
Flights linking Vietnam and Seoul, Tokyo, Taiwan (China), and Guangzhou (China) were planned to be launched on September 15, while those to and from Vientiane and Phnom Penh scheduled to start from September 22. People who enter Vietnam on commercial flights after transiting a third country must strictly follow medical quarantine regulations in the country.
The last residential area of Hai Duong removes blockage
On the morning of September 17, the Chairman of Hai Duong Provincial People's Committee issued a decision on ending the medical isolation period in residential clusters and neighborhoods in Gia Loc district, Hai Duong city. Thus, after September 17, the province of Hai Duong no longer has a blockade of residential clusters.
Previously, these areas were quarantined from 0:00 on September 3 due to their relation with case number 1045. This is a patient who had 14 tests before being announced. He has an unknown source of contagiousness.
Valerie Mai