Daily Horoscope for February 10: Astrological Prediction for Zodiac Signs
Daily Horoscope for February 10: We have to be really careful whenever the moon squares Mars, as it does this morning, because it's incredibly easy to become very aggressive. We could say and do things we later regret, but what's worse is we can lose the respect of the people we love. When people speak to you this morning, think twice before you answer. This also isn't a great time to make any important decisions, but if you must, seek outside guidance from an unbiased source.
Daily Planetary Overview
The moon conjoins Saturn this morning, which could lead to arguments in the home for other reasons. Try not to let anything get you too frustrated—this transit makes things seem worse than they really are.
When the moon squares Uranus later in morning, we could experience mood swings that are almost out of control. It would be best to just walk away from others if you feel them coming on.
These confusing and sensitive emotions go on until the moon conjoins Venus this afternoon, which provides some relief. You can feel gratitude for the blessings in your life and think lovingly about the people you hold close. You should be much more contented when the moon conjoins Jupiter as well. Satisfaction is the name of the game this evening, and not a moment too soon!
Daily Zodiac Horoscope for February 10
Aries
The first sign of the Zodiac, Aries are the trailblazers. Passionate and independent, Aries will never do something just because everyone else is doing it—a Ram needs to be 100 percent committed to the task at hand.
Feb 10, 2021 - Friends or a group with which you're affiliated could want you to help them formulate a workable plan for advancement. You're in just the right frame of mind for this, Aries, and therefore willing to roll up your sleeves and pitch in. You might be the center of attention at some point, perhaps sharing your skills with associates. Don't forget your own goals. They could be advanced today, too.
Taurus
Smart, ambitious, and trustworthy, Taurus is the anchor of the Zodiac. Amazing friends, colleagues, and partners, Taureans value honesty above all else and are proud that their personal relationships tend to be drama free.
Feb 10, 2021 - Career interests are advanced through clear, logical thinking and the sound application of good business sense. Financial interests look especially promising now, Taurus, so seize any opportunities for advancement that come your way. Working with others is likely to prove profitable, and could bring you closer to them, too. Roll up your sleeves and go to it. The results could surprise you.
Gemini
Smart, passionate, and dynamic, Gemini is characterized by the Twins, Castor and Pollux, and is known for having two different sides they can display to the world. Expert communicators, Gemini is the chameleon of the Zodiac, adept at blending into different groups based on the vibe and energy they perceive.
Feb 10, 2021 - Social events, perhaps business related, could put you in touch with people in fascinating fields or from foreign countries, Gemini. Logical thinking and a philosophical attitude enhance your communicative gifts, so people will be drawn to you to hear what you say. You could make important contacts. Take notes. This evening could be a key turning point for your future plans.
Cancer
Emotional, intuitive, and practically psychic; ruled by the moon and characterized by the crab, Cancer has so much going on in its watery depths. Cancers may seem prickly and standoffish at the first meeting, once they make the decision to become friends with someone, that person has a friend for life.
Feb 10, 2021 - Ideas and insights coming from deep within your psyche are likely to increase your effectiveness in whatever work you do today, Cancer. Your mind is particularly practical and logical. When coupled with an increased intuition, these abilities are invaluable. You might be most effective working solo, but if that isn't possible, you should still accomplish whatever you set out to do, and do it well.
Leo
Bold, intelligent, warm, and courageous, fire sign Leois a natural leader of the Zodiac, ready to blaze a trail, vanquish injustice, and make a name for themselves along the way. Blessed with high self-esteem, Lions know that they possess enviable traits—and they're proud of them.
Feb 10, 2021 - Today you could attend more than one social event, Leo. Some of your professional colleagues will probably be there. Conversations are going to focus primarily on business development and the economy in general. A lot of useful information could result from social contacts with others in your field. Write it all down. You will want to remember it so you can make use of it later.
Virgo
Smart, sophisticated, and kind, Virgo gets the job done without complaining. Virgos are amazing friends, always there to lend a hand and also lend advice. Practical Virgos are incredibly adept at big picture thinking, and planning out their life, their vacations, and what they're going to do today isn't a drag it makes them feel in control and secure.
Feb 10, 2021 - You tend to prefer intellectual and philosophical rather than practical pursuits, Virgo, but today you may feel especially practical and more inclined to want to get as many routine tasks out of the way as you can. This could involve chores around the house that you've neglected for a few days. Other members of your household could pitch in. Go to it. You will be glad you did.
Libra
Intelligent, kind, and always willing to put others before themselves, Libras value harmony in all forms. Ruled by Venus, the planet of beauty, Libra adores a life that looks good. As the master of compromise and diplomacy, Libra is adept at seeing all points of view and excels at crafting compromises and effecting mediation between others.
Feb 10, 2021 - An older person you're very fond of could visit or call and ask for your advice on practical matters. Clear and logical thinking enhances your intuition, Libra, and you might be able to put this ability to work not only for your friend but also for yourself. Your own interests will be advanced today in some way, so expect a good day.
Scorpio
Passionate, independent, and unafraid to blaze their own trail no matter what others think, Scorpios make a statement wherever they go. They love debates, aren't afraid of controversy, and won't back down from a debate.
Feb 10, 2021 - Logical and focused thinking could lead to social, career, or financial advancement. Your organizational ability and industry are keener than usual, Scorpio. You're likely to be able to make sense of murky matters that might not have been clear before. Paperwork could prove challenging, but you will be able to get through it today where yesterday you might have found it too daunting.
Sagittarius
Independent and strong-willed, Sagittarius personalities are all about going off the beaten path. Sagittarius isn't afraid to step away from the pack and is a natural-born leader who goes after what he or she wants, regardless of what other people think.
Feb 10, 2021 - You might be feeling very communicative today, Sagittarius. Concentration, logical thinking, and a heightened ability to put ideas into words enhance your own communicative abilities. Therefore, your gift of getting directly to the point in any matter is likely to clear previously clogged channels, impress others, and increase your self-confidence.
Capricorn
Smart, hardworking, and fully in control of their destiny, a Capricorn will always get what they set their mind to, in both personal and professional life—no excuses. Capricorns may get a reputation as stubborn, but they simply know what they want, and also know how they wish other people would behave.
Feb 10, 2021 - To those around you, you might appear to be your usual logical, rational self, Capricorn. Actually, you may be drawing a lot of your ideas and insights from deep within your psyche. You're probably drawing on experiences from your past, even if you aren't consciously aware of it. Even though the source is unorthodox, whatever you come up with is likely to have a lot of practical value.
Aquarius
Independent and enigmatical, Aquarians are unique. There is no one quite like an Aquarius, and because each is so incredibly individual, it can be tough to describe them as a group. Aquarians don't like labels, and may shy away from any adjective—even the good ones you might bestow upon them.
Feb 10, 2021 - To friends and colleagues, you may seem to have suddenly acquired acute business sense. Your experience has joined with knowledge acquired from others to enable you to formulate practical ideas for advancement. You may have lost faith in your goals, but now they seem more attainable. What you've wanted for a while could be within your grasp. You could make some real progress.
Pisces
Smart, creative, and deeply intuitive, Pisces can be close to psychic. Pisces feel things deeply and have incredibly strong gut reactions. A Pisces "knows" things from deep within, and can often judge whether a person or situation is good or bad.
Feb 10, 2021 - Today you're likely to experience a heightened level of intuition and how to use it, Pisces. This could mean advancing a career, furthering a personal goal, or helping a friend. Right now you may be especially good at sizing up people, and you're instinctively aware of how to deal with them. Make use of this ability while you can, because right now it could lead to success and good fortune.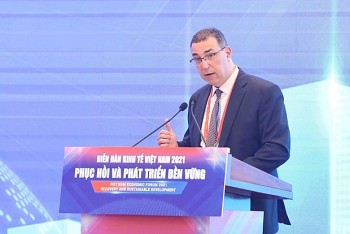 National
Vietnam News Today (December 6): Vietnam records 14,312 new Covid cases; Vietnam-Lao special relations continue to be nurtured; Vietnam's economy showing signs of recovery; Hanoi changes face-to-face learning plan at last minute.