Daily Horoscope for February 20: Astrological Prediction for Zodiac Signs
Daily Horoscope for February 20: With the moon-Saturn trine early this morning, you're likely the person everyone wants to tell their deepest, darkest secrets to, provided you stayed up that late.
Daily Planetary Overview
Hopefully, you got your beauty sleep because later in the morning, the moon trines Mercury. This means that your communication skills will feel even sharper, and you're likely to be more interested in hearing other people's personal details and better able to help them. More personal discussions can be advantageous, even with colleagues. Try to be relatable in your conversations and you can forge some special connections.
The moon trines Jupiter this afternoon, making everyone much more comfortable than usual sharing emotions with others and bringing a feeling of generosity to us all. With Mercury stationing direct this evening, we find communication coming more and more easily as the day goes on. This retrograde cycle began on January 30 and is finally bringing with its end a sense of relief, which will continue through its shadow phase over the next couple weeks.
Daily Zodiac Horoscope for February 20
Aries
The first sign of the Zodiac, Aries are the trailblazers. Passionate and independent, Aries will never do something just because everyone else is doing it—a Ram needs to be 100 percent committed to the task at hand.
Feb 20, 2021 - Today is a great day for you, Aries. Everything is flowing your way as more pieces of the puzzle fall into place. Your fluctuating emotions are grounded and calm, letting you stand back and evaluate your true inner state. Have you been giving yourself the attention you deserve? This is your day. Get things done. You can accomplish quite a bit using this astral energy, so hop to it.
Taurus
Smart, ambitious, and trustworthy, Taurus is the anchor of the Zodiac. Amazing friends, colleagues, and partners, Taureans value honesty above all else and are proud that their personal relationships tend to be drama free.
Feb 20, 2021 - Someone or something may spur you on today, Taurus. You may feel a nagging impulse to get up and do something. Follow that instinct and stop moaning about staying in bed. The practical truth may be sobering, but as you know, balance is key. Bring equilibrium to the situation by taking a good, honest look at your emotional state. Realize what you need to do to keep it running smoothly.
Gemini
Smart, passionate, and dynamic, Gemini is characterized by the Twins, Castor and Pollux, and is known for having two different sides they can display to the world. Expert communicators, Gemini is the chameleon of the Zodiac, adept at blending into different groups based on the vibe and energy they perceive.
Feb 20, 2021 - Bite the bullet and get it done, Gemini. Finish the projects and get the lingering odds and ends out of your way. There are stable energies today that will bring a practical breath of fresh air to any situation. Take a step back from the swirling winds and observe your inner self. Realize how your actions and emotions affect others and think about adjusting your habits accordingly.
Cancer
Emotional, intuitive, and practically psychic; ruled by the moon and characterized by the crab, Cancer has so much going on in its watery depths. Cancers may seem prickly and standoffish at the first meeting, once they make the decision to become friends with someone, that person has a friend for life.
Feb 20, 2021 - Today might not be as lighthearted and free-spirited as you'd like, Cancer, but don't sweat it. Work with the grounded energy of the day to complete tasks that have been wearing on you for a while. Take a step back from the drama in your life and observe your emotions from a loftier viewpoint. Realize how your actions have been affecting others. Tone things down and evaluate.
Leo
Bold, intelligent, warm, and courageous, fire sign Leois a natural leader of the Zodiac, ready to blaze a trail, vanquish injustice, and make a name for themselves along the way. Blessed with high self-esteem, Lions know that they possess enviable traits—and they're proud of them.
Feb 20, 2021 - Today is a fantastic day for you, Leo. Things are naturally flowing your way. You can accomplish a great deal. There are few hurdles in your way, perhaps none. You're well disciplined about your time and what's needed to get the job done and how to meet your goals. Your emotions are especially calm and stable, giving you the opportunity to observe and evaluate them from a neutral viewpoint.
Virgo
Smart, sophisticated, and kind, Virgo gets the job done without complaining. Virgos are amazing friends, always there to lend a hand and also lend advice. Practical Virgos are incredibly adept at big picture thinking, and planning out their life, their vacations, and what they're going to do today isn't a drag it makes them feel in control and secure.
Feb 20, 2021 - There's a conservative air today that doesn't fit well with your erratic, unconventional nature, Virgo. Things might pop up to remind you that you should be a bit more disciplined in your approach. Your thoughts and emotions are perhaps a bit less controlled than usual, so take this time to become centered and evaluate the truth. Today is a good day to focus.
Libra
Intelligent, kind, and always willing to put others before themselves, Libras value harmony in all forms. Ruled by Venus, the planet of beauty, Libra adores a life that looks good. As the master of compromise and diplomacy, Libra is adept at seeing all points of view and excels at crafting compromises and effecting mediation between others.
Feb 20, 2021 - Something is tugging you back down to reality, Libra. Your mind has tended to be in the clouds lately, but now you need to ground your emotions and realize that you operate on a physical plane, too. Your emotions are stable for now, affording you a chance to step back and evaluate how you've been treating yourself. Make sure you give yourself the attention you deserve.
Scorpio
Passionate, independent, and unafraid to blaze their own trail no matter what others think, Scorpios make a statement wherever they go. They love debates, aren't afraid of controversy, and won't back down from a debate.
Feb 20, 2021 - There's a conservative veil over your emotions, Scorpio. Issues from the past might arise and rub you the wrong way. You move onward and upward by nature, plowing ahead without thinking of the consequences. Today you might be a bit more sober than usual. Look at what's worked in the past in terms of keeping your fiery emotions intact. Try not to resent the past but learn from it.
Sagittarius
Independent and strong-willed, Sagittarius personalities are all about going off the beaten path. Sagittarius isn't afraid to step away from the pack and is a natural-born leader who goes after what he or she wants, regardless of what other people think.
Feb 20, 2021 - Today is fantastic for tuning in to your inner self, Sagittarius. You will have a level, grounded mind from which to make conscious evaluations of your emotional state. Trust your instincts and make realistic plans for the future. You're especially disciplined today, and you have a keen sense of what your goals and objectives are. Use this grounded energy to get things done.
Capricorn
Smart, hardworking, and fully in control of their destiny, a Capricorn will always get what they set their mind to, in both personal and professional life—no excuses. Capricorns may get a reputation as stubborn, but they simply know what they want, and also know how they wish other people would behave.
Feb 20, 2021 - Today is a fantastic day for you, Capricorn. Things are naturally flowing your way. You can accomplish a great deal. There are few hurdles in your way, perhaps none. You're well disciplined about your time and what's needed to get the job done and how to meet your goals. Your emotions are especially calm and stable, giving you the opportunity to observe and evaluate them from a neutral viewpoint.
Aquarius
Independent and enigmatical, Aquarians are unique. There is no one quite like an Aquarius, and because each is so incredibly individual, it can be tough to describe them as a group. Aquarians don't like labels, and may shy away from any adjective—even the good ones you might bestow upon them.
Feb 20, 2021 - Today's a good day to ground your fluctuating emotions, Aquarius. Step back from the drama you create and evaluate your inner state. Are you fooling yourself into thinking everything's OK when it really isn't? Be honest with your highest truths and ground yourself back in reality. Write down your thoughts.
Pisces
Smart, creative, and deeply intuitive, Pisces can be close to psychic. Pisces feel things deeply and have incredibly strong gut reactions. A Pisces "knows" things from deep within, and can often judge whether a person or situation is good or bad.
Feb 20, 2021 - Things may be calm today, Pisces. You might not be your boisterous self, but that could be a good thing. Use the sobering energy to evaluate your emotions and honestly look at your relationships. Are you getting the respect you deserve? Perhaps you need to tell some people that their words or actions aren't OK. Meanwhile, get things done. Take care of errands and check items off your list.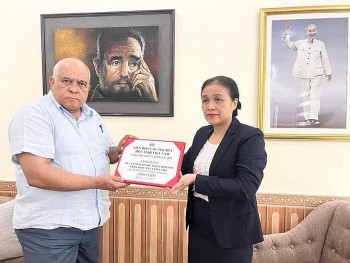 Focus
According to Cuba's News Agency Prensa Latina, on August 16, President of Vietnam Union of Friendship Organizations Nguyen Phuong Nga said that Vietnamese people will always stand by and support Cuba no matter what difficulties our friend is facing.