Daily Horoscope June 16: Astrological Prediction for Zodiac Signs with Love, Money, Career and Health
Daily Horoscope for June 16: Mercury retrograde in Gemini shares a minor connection with Venus in Cancer. This delicious cosmic energy adds a lot of positivity to the day, even bringing out our flirty hearts in the last days of spring.
Daily Planetary Overview
It's a great time to have a delicious dinner, watch a heartfelt movie, and relax. If you're feeling up for it, go out and enjoy the spring breeze with your special someone. You'll be confident in the way you feel about yourself and at peace knowing that you are loved.
But the good vibes don't stop there! Venus also shares a minor aspect with Jupiter retrograde in Pisces. This can create a lofty and optimistic vibe that fills us up with amazing emotions. It's a wonderful time to take stock of your personal finances and assess any investments you've made or will be making over the next year.
The goal is to increase your bank balance, not spend money. The urge to shop till you drop may appease your impulsive, spendthrift ways, but it can result in buyer's remorse if you don't purchase wisely. Be cognizant of the amount of money you're spending and try to live within a budget. If you don't, your financial woes could take on a larger-than-life vibe that leads to long-term monetary issues.
Daily Zodiac Horoscope for June 16
Aries
The first sign of the Zodiac, Aries are the trailblazers. Passionate and independent, Aries will never do something just because everyone else is doing it—a Ram needs to be 100 percent committed to the task at hand.
Love Horoscope - Today's celestial energy brings you one understanding that may have been hidden beneath the thoughts and general business of your daily life. It concerns your relationship with someone and the depth of feeling between you. You may not have paid much attention to what has been really going on, having so much to attend to. You become aware of hidden possibilities today, which could enrich your life.
Money Horoscope - The last seven days have made your income needs and priorities more transparent but in the process, this may have caused you to overthink what to do with that insight. The Moon's return to your work sector today will put it at a friendly aspect to both planets in your income sector, something that over the next few days will make the next steps more transparent.
Career Horoscope - You will be floating as if you are on cloud nine. Be sure to share this love and radiance with others instead of keeping it all to yourself. Remember that joy shared is joy doubled. Your co-workers will love you for it.
Health Horoscope - Knowing how to care for yourself takes preparation! Bring out the best in yourself by planning ahead. There is almost no physical activity that you wouldn't enjoy, so pick the one that is most convenient for you on a practical level. There should be little or no obstacles in the path of getting this exercise. Build up a practice around this chosen activity and use it as your support for when the going gets rough.
Taurus
Smart, ambitious, and trustworthy, Taurus is the anchor of the Zodiac. Amazing friends, colleagues, and partners, Taureans value honesty above all else and are proud that their personal relationships tend to be drama free.
Love Horoscope - Partnership affairs are very strongly highlighted, with the current planetary energy. If you have been putting any idea of another relationship on hold, then you may find that the events of today change your mind quite significantly. One person seems to have the power to melt your heart, which may have become hardened as a protection against pain and hurt. You may decide it is worth the risk.
Money Horoscope - While the Sun will keep the solar spotlight on your income situation, matters and options and on the road ahead until leaving next week, as he moves into his final seven days in retrograde motion here Mercury will keep his eyes and your mental focus on the road behind. Because Mercury is slowing down here, there is a need to avoid rushing into anything.
Career Horoscope - Don't rely on your co-workers to pick up the broken pieces that you may have left behind over the past few days. Finish what you have started instead of assuming that someone else is going to do it for you. Take responsibility for your own actions.
Health Horoscope - There are days where even you don't want adventure, and with today's planetary alignment, this is probably one of them. Your sense of humor is likely to be downright dormant. Perhaps your expansive nature has gone inward, and you feel the need to reflect on the times gone by and the times on the road ahead. There is much to be gained by going inward. Try yoga to help support the process.
Gemini
Smart, passionate, and dynamic, Gemini is characterized by the Twins, Castor and Pollux, and is known for having two different sides they can display to the world. Expert communicators, Gemini is the chameleon of the Zodiac, adept at blending into different groups based on the vibe and energy they perceive.
Love Horoscope - Today's astral alignment may make the day seem rather emotional, and you could begin to feel vulnerable by the end of it. This is no bad thing, except that you dislike feeling at such a disadvantage. If you could see that this is a blessing rather than a problem, you would not be so worried about it. Your partner now knows you are completely human after all.
Money Horoscope - With the Sun still five days away from your income sector, this is giving Venus time to herself. Mars' departure over the weekend has taken away the urgency while the Sun's return next week will usher in a more objective phase. On her own, the planet of money is more focused on wishful thinking.
Career Horoscope - You are having a hard time deciding if the work you are in gives you the satisfaction that you desire. You are caught between a rock and a hard place and the situation will only worsen the more you think about it. Trust your heart, not your head.
Health Horoscope - If you are feeling overwhelmed today, give in to your nurturing qualities in order to protect yourself from any harm. Don't push yourself. If you can get some kind of exercise in it is recommended but remember that rest is as important as activity. Treat yourself to a hot bath with drops of lavender oil and take some time by yourself to write in your journal or listen to music. The way we treat ourselves when we feel under the weather deeply affects our health.
Cancer
Emotional, intuitive, and practically psychic; ruled by the moon and characterized by the crab, Cancer has so much going on in its watery depths. Cancers may seem prickly and standoffish at the first meeting, once they make the decision to become friends with someone, that person has a friend for life.
Love Horoscope - You can let your emotions flow freely with today's astral energy. If you have felt like holding back from letting your latest lover know how you are deep inside, you will not be able to any longer. And it is probably not a good idea to continue pretending any longer. It is safe to say what you need to say, and your lover really aches to hear this.
Money Horoscope - The Moon's final hours in your income sector are always an important time for listening to your instincts and letting a nose for money take the lead. This first visit since Mars' return over the weekend makes this even more important, with the lucrative sense of direction the Moon can leave you with critical for the journey ahead.
Career Horoscope - Make sure to have plenty of snacks with you around your workspace today. When things get rough and tension arise, a sweet or an extra sandwich will mend your mood quite nicely. There is no sense in denying yourself these pleasures.
Health Horoscope - With today's planetary activity, you sense a struggle within yourself - what you want is different from what you need. If you choose to sail above the petty squabbling that occurs from time to time in your relationships, you will find it even more challenging to deal with this energy inside yourself. Do not ignore the tension that arises between your higher self and your human desires. Arm yourself to deal with it with a good dose of aerobic exercise.
Leo
Bold, intelligent, warm, and courageous, fire sign Leois a natural leader of the Zodiac, ready to blaze a trail, vanquish injustice, and make a name for themselves along the way. Blessed with high self-esteem, Lions know that they possess enviable traits—and they're proud of them.
Love Horoscope - The current aspect at play brings you into closer alignment with all your secret and hidden thoughts. It may also bring you a lot closer to the person of your dreams. Whether you are planning on doing something special, or if you are just going about your daily business, be prepared to have your heart melt. You will find that you can't help falling in love.
Money Horoscope - If the Moon's return to your income sector today and clash with Jupiter in your financial sector creates any financial tension it won't take much to turn this into motivation. While the Moon returns to sharpen your nose for money and to act as a trigger, a friendly aspect to planets on the job and career fronts will see this grow into something much bigger over the coming days.
Career Horoscope - Try not to get too emotionally caught up in your work today. Remember that it is just a job. There is no sense in tearing your own mental sanity apart for the sake of your employer. Emotionally distance yourself from the results of your work.
Health Horoscope - As you take charge of your health, you may feel at times that there is a bit too much to keep track of! Diet, routine, exercise, illness, sleep - and everything else that is involved with this thing called "self-love." This is why you have friends. Your friends can help you assess your situation and figure out the best course of action. Sometimes laughing away the tension is all you really need!
Virgo
Smart, sophisticated, and kind, Virgo gets the job done without complaining. Virgos are amazing friends, always there to lend a hand and also lend advice. Practical Virgos are incredibly adept at big picture thinking, and planning out their life, their vacations, and what they're going to do today isn't a drag it makes them feel in control and secure.
Love Horoscope - You discover a great sense of belonging, with today's celestial energy. You may have been in the process of developing ties of affection between you, but somehow you both see something in each other that really clicks, and experience the feeling of finally being where you should be, after a long time of searching. You both know that whatever happens, you are in it for the long haul.
Money Horoscope - Before leaving an intuitive and imaginative part of your chart today, the Moon will form a friendly aspect to the asteroid Eris in your financial sector, something it has done every four weeks for the last nine decades. The difference this time is that where the Moon leaves off Mars will take over, helping to keep your financial confidence, instincts and imagination fuelled.
Career Horoscope - Keeping your mind on the task at hand may be virtually impossible today. Even if you are able to mentally focus, you won't be able to engage any drive or passion into your work. Call it quits early today. There is no sense in fighting yourself.
Health Horoscope - Remember it's not the situation that matters, it's how you handle it. Continue to breathe consciously, focusing on your breath when you exercise and when you go to sleep as a way of heightening awareness. What you eat is important, but HOW you put food into your mouth is more important, today. First, make sure the food is appetizing to your body and mind. Next, arrange the food in a pleasing manner before beginning to eat. Center yourself. Eat slowly and enjoy.
Libra
Intelligent, kind, and always willing to put others before themselves, Libras value harmony in all forms. Ruled by Venus, the planet of beauty, Libra adores a life that looks good. As the master of compromise and diplomacy, Libra is adept at seeing all points of view and excels at crafting compromises and effecting mediation between others.
Love Horoscope - The current astral configuration implies that you have a chance to develop a relationship that is based on spiritual ideas and attitudes, rather than the more ego-based principles that usually dominate peoples' lives together. You may have wanted a partnership in which you felt that you were literally growing with another person, so take the opportunity whilst you can, as you are now ready for the challenge.
Money Horoscope - At the same time that a greater awareness of your financial needs and priorities is empowering it lends itself to overthinking things. The Moon's return to an intuitive and imaginative part of your chart today should help with that. Over the next few days, the Moon will form a friendly aspect to the planets in your financial sector, helping to fuel your financial confidence, instincts and imagination.
Career Horoscope - You have a unique opportunity to capitalize on the tension at hand. By seeing and understanding both sides of a difficult issue, you can invent a solution that will meet the needs of all involved. Don't give up until this idea is found.
Health Horoscope - If you can connect with the subtle process of growth, you will be able to get a lot out of each season. Begin letting go of old, unnecessary behavior patterns and feel the gentle shifting inward, which is where you will find the next step. Letting go is not an easy task, so it is important to keep your mind open to the new. You are only giving up in order to get something else, something hopefully healthier and happier for you!
Scorpio
Passionate, independent, and unafraid to blaze their own trail no matter what others think, Scorpios make a statement wherever they go. They love debates, aren't afraid of controversy, and won't back down from a debate.
Love Horoscope - You feel great and full of charisma and magic, due to the current planetary alignment, which brings a special blend of romance in your life. If you are talking to someone for the first time, then you can expect to hit it off right away. You will feel relaxed and able to talk from your heart about anything, which is a blessing that should not be taken lightly.
Money Horoscope - At the same time that the Sun continues to keep the solar spotlight on your financial situation, money matters and the path forward, Mercury moves into his final seven days in retrograde motion in your financial sector. Today, as well as keeping one eye on the rear view mirror, as Mercury slows down it becomes important not to rush into things, especially when making financial choices, decisions and plans.
Career Horoscope - You are likely to get bogged down in an emotional drama while working today that you simply have nothing to do with. Do your best to stay above this conflict by keeping your focus on your own work and your own needs. Rely on only yourself.
Health Horoscope - Keep asking yourself what health means to you, even if you've found it impossible to stick to any kind of routine lately! Asking the question an important step in doing those "healthy things," because in order to commit you need understanding. For you especially, there has got to be a connection between the heart and the mind (it beats the "running around in circles" game!). Keep investigating where the food you eat comes from.
Sagittarius
Independent and strong-willed, Sagittarius personalities are all about going off the beaten path. Sagittarius isn't afraid to step away from the pack and is a natural-born leader who goes after what he or she wants, regardless of what other people think.
Love Horoscope - The current planetary energy encourages you to consider what your motives are for wanting to get involved in one particular relationship. If you search your heart and think that you may get something quite specific out of it, then you may actually be taking the wrong attitude. Perhaps it may be more pertinent to ask yourself what it is that you have to give - then make a decision.
Money Horoscope - It was just two days ago that the Moon left your financial sector, leaving your financial instincts and imagination fuelled but also taking the pressure off Pluto in your income sector. While Venus continues to keep your financial confidence fuelled, the Moon's return to your career sector today and a friendly aspect to Pluto over the coming days is a chance to restore your confidence on the income side of the financial fence as well.
Career Horoscope - Something you said to a co-worker is likely to backfire on you today. Now this person is retaliating in a way that you never thought was possible. There is no one to blame but you. Make apologies where it is necessary to do so.
Health Horoscope - One of your great qualities is the ability to be realistic. This is good news for setting up your health practice, as it's important to set attainable goals, otherwise you're likely to slip from pressure or lack of self-confidence. The exercise you choose needs to be something you like, and something that fits in with your daily schedule. For instance, if you choose rock climbing, you need a place where you can do that on a regular basis available (unless of course you live near a natural rock face!).
Capricorn
Smart, hardworking, and fully in control of their destiny, a Capricorn will always get what they set their mind to, in both personal and professional life—no excuses. Capricorns may get a reputation as stubborn, but they simply know what they want, and also know how they wish other people would behave.
Love Horoscope - You may feel a great deal of oneness with someone, under the influence of today's celestial energy. Whatever else you may have felt between you recently, a certain conversation that you hold today will convince you that you are absolutely right for each other, and that your paths and destiny are irresistibly entwined. Expect to feel a great deal of emotion as you become aware of this.
Money Horoscope - The Moon's final hours in your financial sector are always an important time for listening to your financial instincts and imagination without overthinking things. Even more so when the Moon is wrapping up its first visit since Mars' return over the weekend and as a lot of water will pass under the bridge before they meet up again next month.
Career Horoscope - If something comes across your desk today that you don't understand, ask someone for advice. Don't pretend that you know how to handle a situation that is completely foreign to you. Most people will be speaking Greek today so ask them to explain.
Health Horoscope - Starting all over again isn't always easy. Sometimes you need plenty of reassurance and coaxing. It may be time to look into changing your health habits to make them even healthier than they are. A child does easily let go of its favorite things. Similarly, the grown-up does not appreciate new suggestions about how to behave. Without balking, try to look into what recurring themes you have about food in your life. Remember that there's really no criticism involved, just loving reassessment, and growth.
Aquarius
Independent and enigmatical, Aquarians are unique. There is no one quite like an Aquarius, and because each is so incredibly individual, it can be tough to describe them as a group. Aquarians don't like labels, and may shy away from any adjective—even the good ones you might bestow upon them.
Love Horoscope - Today's aspect at play makes you very much aware of what you have been feeling on a much subtler level for some time. A career move or perhaps a new business connection may yield far more than a new offer or deal. You could get well get more than you bargained for when someone seems irresistibly attractive to you. The stage has been set - now the drama will run.
Money Horoscope - At a time of year when all the planetary activity is on the income side of the financial fence, the Moon's return to your financial sector today is a valuable chance to check in with money matters. While the planets in your income sector will object to any competition, as well as a valuable chance to get a read on money matters this will make you more aware of a balance between money coming in and money going out.
Career Horoscope - Your flexible nature will be essential at work today. Your ability to slip in and out of situations with grace and ease will be your ticket to success. You automatically sense your position and what your role is. Trust this instinct.
Health Horoscope - There will surely be obstacles in your path as you start out on your new health regimen. The park will be too crowded, or an out-of-town friend will call, and you'll feel you need to talk on the phone instead of exercising or shopping for dinner. As you become stronger in your practices, these obstacles will miraculously disappear. The more you trust your intuition, the more it will keep you on the right path.
Pisces
Smart, creative, and deeply intuitive, Pisces can be close to psychic. Pisces feel things deeply and have incredibly strong gut reactions. A Pisces "knows" things from deep within, and can often judge whether a person or situation is good or bad.
Love Horoscope - Love is deeply private and very passionate today, with the current planetary configuration. Even if everyone knows of your relationship with a certain person, they certainly do not realize how deeply in love you actually are, and perhaps you do not either until an event that occurs today makes you realize exactly what is going on. You may choose to keep this a secret a while longer.
Money Horoscope - Before leaving your work sector and wrapping up its first visit since Mars' return over the weekend, the Moon will form a friendly aspect to the dwarf planet Eris in your income sector. This has happened every four weeks for the last nine decades and this as old as time connection between income and job matters is a chance to tap into its lucrative sense of direction.
Career Horoscope - It will be no secret to your co-workers that your emotional and personal life is negatively affecting your career world. You might as well come clean with your feelings. Spill your guts to someone you trust. Take deep breaths.
Health Horoscope - In order to be an active thinker, it helps to keep an active body. Especially for a sign which tends to get bogged down by the inequalities of everyday life. Try thinking of exercise as something the body deserves. When your mind wants to talk you out of it or wants to convince you that procrastination is OK, remember that the body can be ignored by the mind (up to a point) and you must be the champion of the silent and oppressed! It's only fair.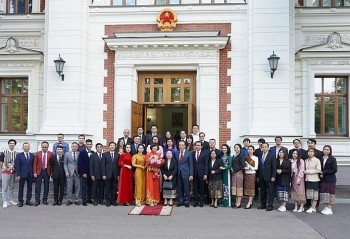 Friendship
The Vietnamese Embassy in Cuba will make efforts to consolidate and cultivate the special Vietnam-Laos relationship in the spirit of respect and support for mutual benefits.