Daily Horoscope June 14: Astrological Prediction for Zodiac Signs with Love, Money, Career and Health
Daily Horoscope for June 14: Today is the second time this transit occurs in 2021, and the third time will be on December 24. Looking back to February can help you piece together the story that has its second part today.
Daily Planetary Overview
This is one of the quintessential astrological aspects of 2021 because it sets the tone for the year. When these two planets connect, we can expect some explosive energy. Saturn is the planet of authority and Uranus is the planet of rebellion. Both are currently in fixed signs, which means that they're stubborn in their beliefs. When these two come together in a fraught aspect, there is push and pull, but mostly push. And, as you know, no one likes being told what to do.
It could be a time of intense personal shifts and growth, which you may not be ready to implement in your life. Change is hard and scary, and we are creatures of habit and comfort who don't like being told what to do. Rebelling against society can be freeing in the end, but it could also meet with tension as you disengage from what you've known your whole life and move toward a more enlightened existence.
Daily Zodiac Horoscope for June 14
Aries
The first sign of the Zodiac, Aries are the trailblazers. Passionate and independent, Aries will never do something just because everyone else is doing it—a Ram needs to be 100 percent committed to the task at hand.
Love Horoscope - The current planetary alignment makes you realize that relationships are the place where we learn the most and are also thoroughly tested in terms of our patience and generosity of heart. You may have a profound reason to believe that your partner is not being quite honest with you, but the way to solve this is through gentleness rather than anger or bitterness. Don't allow yourself to lose control.
Money Horoscope - As an alignment between Uranus and Ceres ends, this leaves you with a better read on your income needs and priorities while bringing you to the point where it is now about what you are going to do with that insight. This was always going to be the first but also the most crucial step. You don't need to overthink things, because aware of your priorities you will automatically start making the right calls at the right time.
Career Horoscope - Today won't be your finest hour when it comes to work so take the day off if you can. If you do find yourself having to work, make the most of it by tackling projects that require an extra amount of force, finesse, and power. You will have these qualities in excess.
Health Horoscope - The body's need to eliminate waste is a need you are most probably aware of. When something is over or done, you usually want to move on! The two most important dietary measures to take to aid in waste elimination are: drinking plenty of water and eating roughage. Big leafy greens like kale and hickory are wonderfully nutritious produce. There are also crisp apple varieties and dried fruits that are beneficial. Pay attention to how your body eliminates waste for information on what you need to eat.
Taurus
Smart, ambitious, and trustworthy, Taurus is the anchor of the Zodiac. Amazing friends, colleagues, and partners, Taureans value honesty above all else and are proud that their personal relationships tend to be drama free.
Love Horoscope - Sometimes it takes everything to go wrong in a relationship to begin to make it go right. The current aspect at play indicates that you may feel as though you have reached rock bottom as far as your current partner is concerned. But from there out it can only improve. By talking things through, you will see there is still a lot of hope, so forgive each other and start again.
Money Horoscope - As the Sun moves into his final week in your income sector there is a clear path forward. After two eclipses and multiple planetary clashes, this has left you more aware of a need for balance between money coming in and money going out but also of your options on both sides of the financial fence. Until leaving, the Sun will keep the solar spotlight on your income situation, matters and options.
Career Horoscope - A tremendous opportunity awaits you, but keep in mind that others have their eye on it as well. Embrace your competitive spirit and don't be afraid of others who are vying for the treasure that you have your eye on for some time. Proceed with confidence.
Health Horoscope - Think of exploring the terrain of healthy living as you would a foreign country. No matter what level you begin at, you will have new things to discover. Right now, you are especially open to the new. If you've always wanted to know the benefits of herbs and spices, a great way to start is exploring the bins at your local organic grocery store! Take a little time investigating names that look familiar and smells that completely surprise you.
Gemini
Smart, passionate, and dynamic, Gemini is characterized by the Twins, Castor and Pollux, and is known for having two different sides they can display to the world. Expert communicators, Gemini is the chameleon of the Zodiac, adept at blending into different groups based on the vibe and energy they perceive.
Love Horoscope - The current planetary alignment may bring a certain problem within your current relationship to the surface. But as you will find out, this is actually something quite positive, rather than the negative that it first appears. It means that you will have to confront certain issues that you have been sweeping under the carpet. But once they are exposed and resolved, you will feel so much better.
Money Horoscope - Two days after Mars left your income sector, the Moon leaves today leaving Venus, the planet of money on her own for the first time since her return earlier in the month. As Venus works to make her final weeks here as lucrative as possible, you are moving forward with the Moon's sharp nose for money and Mars' warrior spirit.
Career Horoscope - Your words may add fuel to a fire today that is likely to rage out of control. You may be happy to get others riled up while you sit back and enjoy the show. Just be willing to accept the full consequences of your actions. Be cautious!
Health Horoscope - You may want to purchase some sort of book to increase your knowledge on health and nutrition. It is a wise person who knows the basic herbal and holistic practices that work for them as an individual. While you're looking at various books, or talking to a knowledgeable friend, you may want to take an investigative peek at vegetarianism. It's a big subject, so just have a peek if it's new to you.
Cancer
Emotional, intuitive, and practically psychic; ruled by the moon and characterized by the crab, Cancer has so much going on in its watery depths. Cancers may seem prickly and standoffish at the first meeting, once they make the decision to become friends with someone, that person has a friend for life.
Love Horoscope - Love is a mixed bag today, with the current aspect at play. On the one hand, you are deeply and passionately attracted to someone rather gorgeous, and yet you are also being pursued by another whom you would rather keep at a distance. You need to get different messages across to each of them so that things can progress rapidly in the direction of your dreams.
Money Horoscope - Just two days after Mars' return to your income sector, he is joined by the Moon today. It has been two years since the Moon and Mars last aligned in your income sector and while returning to sharpen your nose for money and to act as a trigger, you might notice the first signs that you are now more ready to fight for what you deserve.
Career Horoscope - In order to achieve your career goals, you must realize that you need to enlist the help of others. Draw upon those who have strengths different from yours. Your abilities alone are not likely to be enough - especially on a day like today.
Health Horoscope - You may feel some pressure to have it all figured out. But remember that nobody, ever, has it all figured out! Remember the adage, "To err is human, to forgive divine." That doesn't just mean forgiving others - you must learn to appreciate your own ability to forgive yourself. Judgment will prevent you from listening to your own intuition. Your basic needs are to eat well, to get plenty of rest, and to exercise. Start with all three today!
Leo
Bold, intelligent, warm, and courageous, fire sign Leois a natural leader of the Zodiac, ready to blaze a trail, vanquish injustice, and make a name for themselves along the way. Blessed with high self-esteem, Lions know that they possess enviable traits—and they're proud of them.
Love Horoscope - The current interplay of celestial energies will help you to realize that the person who is actually being most awkward within your current relationship is not your partner, but you. You have been so busy blaming them for everything that has gone wrong that you have forgotten to look at your own part in the problem. Until you do so, you will not really make any positive changes.
Money Horoscope - As the Moon leaves an intuitive and imaginative part of your chart this not only leaves Venus, the planet of money on her own for the first time since she returned but a boost to your financial imagination over the last few days. It was the Moon's friendly aspect to both planets in your financial sector that started something that Venus can continue.
Career Horoscope - What others see as wrong or undesirable may be exactly the career opportunity that you have been looking for. You are likely to spot tremendous potential in something that others discard without a second glance. Embrace your strength today.
Health Horoscope - There is so much sensitivity in you. You may feel that peace is all you need to be happy and be heartbroken to see what is going on in the world. Try giving yourself peace as much and as often as you can: peace in the bathtub, peace at the dinner table, and peace in bed. Learn to require in your own life what you want to see in the world. Drawing that power up in yourself will give you focus and ground you. Exercise is the mainstay of this dream.
Virgo
Smart, sophisticated, and kind, Virgo gets the job done without complaining. Virgos are amazing friends, always there to lend a hand and also lend advice. Practical Virgos are incredibly adept at big picture thinking, and planning out their life, their vacations, and what they're going to do today isn't a drag it makes them feel in control and secure.
Love Horoscope - Change is very much in the air today, with the current astral configuration. You may have become very aware that you have mixed feelings toward your latest partner. What seemed to start out as very promising suddenly seems to have gone downhill at an alarming rate. You can do something positive about this if you really care, but it does mean being very honest.
Money Horoscope - While Mars will eventually form a friendly aspect to both planets in your financial sector, as the Moon joins him in an intuitive and imaginative part of your chart this will bring a taste of things to come. Over the next few days, the Moon will form a friendly aspect to those same planets, fuelling your financial confidence, instincts and imagination to just a small degree of what the warrior planet of the cosmos will do.
Career Horoscope - Explosive dialogue will escalate regarding work, and most likely, you will be a big part of it. Keep in mind that this verbal conflict may be just the thing that is needed to clear the air for better relationships all around. Don't fear it.
Health Horoscope - Your ideals will feel especially sensitive to you today. You may sympathize with others more than you normally do but be careful that you don't get caught up in the role of champion for others. That is a noble sentiment, but you need to stay focused on yourself right now, and this will take some committed effort. If possible, go for a run with a friend and discuss issues that concern you. The increased oxygen intake will settle your mind.
Libra
Intelligent, kind, and always willing to put others before themselves, Libras value harmony in all forms. Ruled by Venus, the planet of beauty, Libra adores a life that looks good. As the master of compromise and diplomacy, Libra is adept at seeing all points of view and excels at crafting compromises and effecting mediation between others.
Love Horoscope - The current astral energy may mean you are thinking of bringing one particular relationship to a close, as from your perspective it seems to have run its course. But before you have that terminal conversation, think about your motives for getting involved in the first place. If you can do so with clarity, you may realize that you have reached a plateau rather than the end.
Money Horoscope - As an alignment between Uranus and Ceres in your financial sector ends you are left with a better understanding of your financial needs and priorities. While this is the point where the focus shifts to what you are going to do with that information don't put pressure on yourself, for simply being aware will lend itself to making the right calls at the right time.
Career Horoscope - You will find yourself in the middle of a sticky situation today. Co-workers are at each other's throats and you may be asked to choose sides. Standing in the middle with a foot in both camps may do you more harm than good. Be assertive.
Health Horoscope - Give yourself plenty of room today. Your need for independence is high, as is your need to concentrate on yourself. You may worry about what others think of your behavior, but the truth is they have their own behavior to worry about. Take action for your health today - that is how you will get your space, your concentration, and feel like you are making progress. Remember, there is no step too small. Choose to have choice in what you eat: organic is worth it!
Scorpio
Passionate, independent, and unafraid to blaze their own trail no matter what others think, Scorpios make a statement wherever they go. They love debates, aren't afraid of controversy, and won't back down from a debate.
Love Horoscope - If you plan on getting to know someone better this evening, then you may feel as though you are being interrogated rather than flirted with. The current planetary alignment implies that this person will insist upon knowing every detail about you, your life, your ex-partners, your hobbies, and your lifestyle. Don't take it so personally - they are absolutely crazy about you and are cherishing every moment of your company.
Money Horoscope - As the Sun moves into his final seven days in your financial sector, there is a clear path and a smooth road ahead. After two eclipses and multiple planetary oppositions between planets on the income and financial fronts, this is now behind you. With both sides of the financial fence energised and empowered, it is now just enough to still have the solar spotlight on your financial situation and money matters.
Career Horoscope - Truth is being withheld from you and there is nothing that you hate more than not knowing the truth. Work situations could get ugly in the today so be prepared to go into battle with your head held high. A great deal is at stake so be careful.
Health Horoscope - Are you familiar with the phrase "beginner's luck?" It is typical for you to grasp very quickly the point of a given exercise - but also to tire of it just as quickly. For instance, if you have been somewhat regular about diet and exercise, you will feel the effects almost immediately. However, that positive effect will also make you feel like it's OK to slacken your routine. Resist this tendency by incorporating more elements into your healthy regimen: get to bed earlier and wake up earlier!
Sagittarius
Independent and strong-willed, Sagittarius personalities are all about going off the beaten path. Sagittarius isn't afraid to step away from the pack and is a natural-born leader who goes after what he or she wants, regardless of what other people think.
Love Horoscope - The current aspect encourages you to play for high stakes in the relationship game today. You may or may not know that the person you are interested in already has someone else in mind, although they are not yet fully committed. You walk a risky path if you decide to take fate into your own hands and intervene, so as to make them desire you instead!
Money Horoscope - Two days after Mars left your financial sector the Moon leaves today, leaving Venus, the planet of money on her own for the first time since her return earlier in the month. Together this has left you with your financial instincts, imagination, passions and fighting spirit fuelled and with the Sun still a week away, Venus will be looking for ways to use this to your advantage.
Career Horoscope - The only way you will be successful today is if you demonstrate that you can meet other people's expectations. Assert yourself more than usual. Don't sit back and wait for the perfect career opportunity to come to you. You need to move towards it.
Health Horoscope - One of the wonderful things about you is that you warm up slowly: you can really be sure about what you are doing because you don't adopt things immediately. Revel in your easy pace and continue to focus on yourself, one day at a time. If you continue drinking plenty of water and nibbling on healthy snacks, you will soon need an outlet for your copious energy! Begin to consider what exercise regimen really works for you. What do you like and what works with your schedule?
Capricorn
Smart, hardworking, and fully in control of their destiny, a Capricorn will always get what they set their mind to, in both personal and professional life—no excuses. Capricorns may get a reputation as stubborn, but they simply know what they want, and also know how they wish other people would behave.
Love Horoscope - Life is full of change and transformation today, with the current interplay of astral energies. You may find that matters between you and your beloved are more than a little intense, but don't let this worry you too much. It would do you both good to get into deep conversation and really let off some steam, rather than pretending that you both feel absolutely fine all the time.
Money Horoscope - Two days after Mars' return to your financial sector, he is joined by the Moon today and the timing couldn't be better. It has been two years since the Moon and Mars last aligned here and having had 48 hours to settle in, this can both sharpen your financial instincts and add fuel to your newly acquired financial passions and fighting spirit.
Career Horoscope - Your sensitive compassion will be balm for others when they come running from an ugly situation regarding work today. Your insight will help put out the fire that has been raging. Stand back from the flames so that you don't get hurt either.
Health Horoscope - Knowing the right thing to do for your home will be easy today. If your kitchen needs a paint job, plan it for an upcoming weekend! If your knives need to be sharpened so that you enjoy cooking more (what, knives sharpened?) - go ahead and get to it! It's important to improve the quality of kitchen life in your home. Whatever it means to you, the heart of your home is the kitchen, because without nourishment we would not be here!
Aquarius
Independent and enigmatical, Aquarians are unique. There is no one quite like an Aquarius, and because each is so incredibly individual, it can be tough to describe them as a group. Aquarians don't like labels, and may shy away from any adjective—even the good ones you might bestow upon them.
Love Horoscope - Today's aspect makes experiences this evening quite passionate and certainly very intense. You are normally genteel and sedate when it comes to matters of love. But you may not have any choice, as the fires of emotion burn between you like a bed of hot coals. You may not notice the hours pass, so absorbed you will be in each other. An enviable position indeed!
Money Horoscope - The Moon's departure from your work sector not only leaves Venus, the planet of money on her own for the first time since her return but wraps up a visit that included a friendly aspect to both planets in your income sector. With Mars and now the Moon gone, Venus can benefit from the momentum this created while turning the focus more onto where the money is.
Career Horoscope - Friction among co-workers is expected; so, don't be surprised when a huge battle arises out of what seems to be nothing. Your experience on the outside is reflective of the conflict you feel on the inside with regard to your overall career situation.
Health Horoscope - This is a great day to begin targeting what you can and can't see yourself doing at this stage in your life. Try selecting the habits you want to abide by and writing down the benefits they give to you. For example: flossing and brushing twice a day! Good oral hygiene preserves teeth, prevents gum disease, and eliminates bad breath. There is power in knowing what you want, and what you will lose if you don't give yourself what you want.
Pisces
Smart, creative, and deeply intuitive, Pisces can be close to psychic. Pisces feel things deeply and have incredibly strong gut reactions. A Pisces "knows" things from deep within, and can often judge whether a person or situation is good or bad.
Love Horoscope - There is a fair amount of passion and intensity in the air, with the current astral energy. However, what you choose to do with it is entirely up to you. You can make your partner very happy by showing your caring, sharing side and letting them know how deeply you feel about them. But you could equally get mad or jealous about certain recent incidents. The choice is yours.
Money Horoscope - Two days after Mars returned to your work sector, the Moon's return today will do more than give you a better read on his influence. A friendly aspect to the two planets in your income sector over the next few days will be an early taste of things to come while giving the new momentum building on the job front a lucrative sense of direction.
Career Horoscope - Don't let others pressure you into something that you are not ready to commit to with regard to your career. Someone you work with may use scare tactics to convince you of something that he or she thinks is right for you. Trust only yourself.
Health Horoscope - The balancing acts our bodies perform daily takes place in the kidneys, where the blood is cleansed of impurities. To give your kidneys a hand, include borage (cleanses), gravel root (clears urinary stones) and buchu (kidney stimulant) in your diet. To learn about these and other nutritious substances, begin to frequent the more "conscious" produce markets in your area. Growers often sell direct to these markets, which speaks of a relatively balanced economic and environmental structure that you may want to support.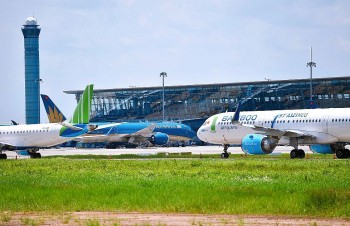 Economy
Vietnam Business & Weather Briefing (August 9): Vietnam's economic growth is expected to reach 7.5% in 2022, new securities accounts hit a near two-year low in July.