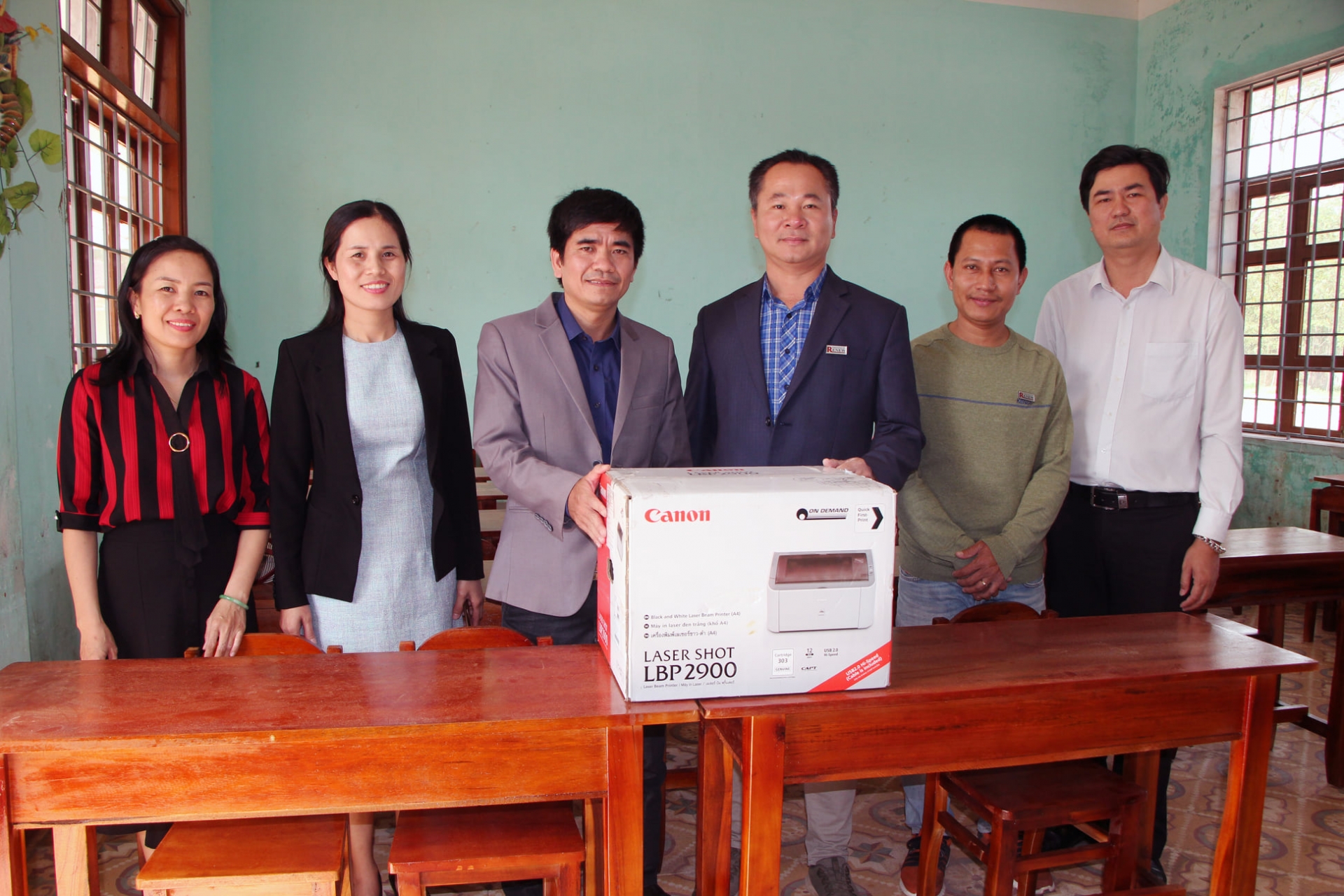 Project RENEW on February 5 handed over 20 sets of student desks and chairs and one laser printer to Gio Quang Elementary and Secondary School in Tan Ky Village of Gio Quang Commune, Gio Linh District, Quang Tri Province. Source: Project RENEW
This flood relief gift worth over VND 33 million (USD 1.442) was made possible thanks to a fundraising campaign led by Com Co Thit (Only Rice Is Not Enough) Ireland Fund under the sponsorship of Education in Ireland Vietnam.
Headmaster Truong Duc Thi on behalf of the school teachers and students thanked the members of Com Co ThitIreland Fund and Education in Ireland Vietnam for giving Gio Quang School a meaningful gift to help mitigate the flood impact and resume normal teaching and learning activities.
Com Co Thit Ireland Fund ("Com co thit Ireland") was established by Vietnamese IDEAS students. This charity fund aims at supporting Vietnamese students in difficult conditions. Through years, Com co thit Ireland has held various activities such as Vietnamses Class for Irish parents adopting Vietnamses children, Donation Fund in supermarkets, restaurants in Ireland, and Cultural Exchange Events between Ireland and Vietnam.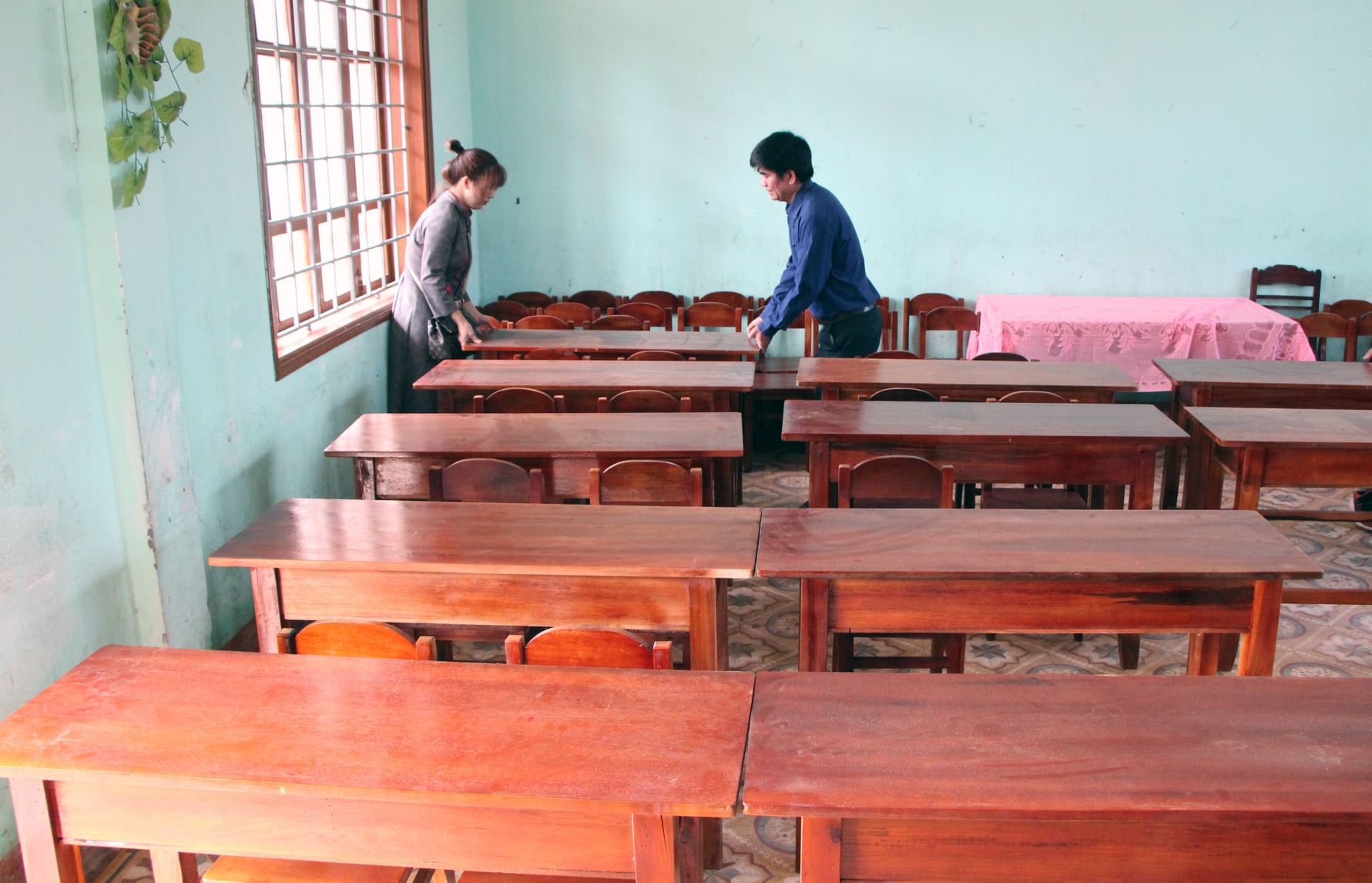 Student desks and chairs manufactured in accordance with the Ministry of Education and Training's standards. Source: Project RENEW
Quang Tri bore the brunt of six floods and two strong tropical storms in last October and November. Many schools were forced to close while hundreds of public works destroyed. Thousands of houses were submerged or collapsed.
The recent storm and flood have severely flooded Gio Quang Elementary and Secondary School with a meter of water and seriously damaged teaching and learning equipment such as chairs, desks and desktop computers. Besides, the school had been isolated for many days which led to the difficulties in rescuing and protecting the school's assets. Heavy floods also hindered students from attending classes for days.
With the purpose of supporting Vietnamese students in difficult conditions, Com Co Thit Ireland is calling for support to help improve the study environment for students at Gio Quang Elementary and Secondary School after the disaster.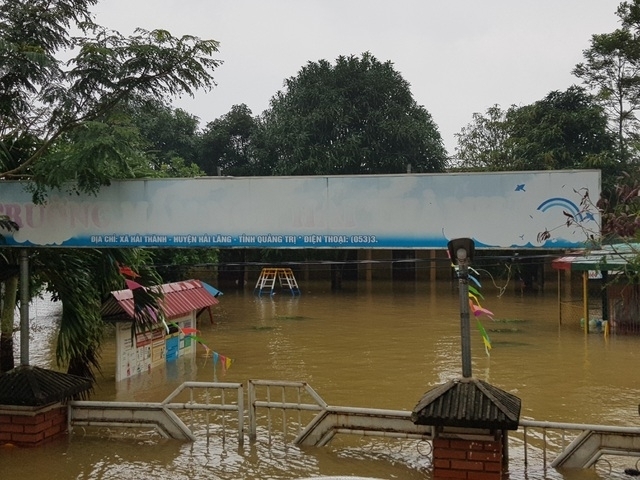 A flooded school in Hai Dinh Commune, Quang Tri province. Source: VNA
Project RENEW is a joint effort between the provincial authorities and international non-governmental organisations to reduce the number of victims of cluster bombs and other unexploded ordnances left over from the war.
Project RENEW was launched in Quang Tri in 2001 with the aim to clear UXOs and landmines, and raise donations to support people with UXO-caused disabilities, by providing modern medical equipment to local hospitals. Another objective was to improve local children's awareness of UXO and landmine risks, and train healthcare workers.
According to Chuck Searcy, an advisor for the Project RENEW, it is one of the most successful models in settling war consequences since international organisations engaged in this activity in Vietnam in 1996.
According to the State Steering Committee for the national action programme on settling post-war bomb and landmine impacts, about 800,000 tonnes of UXOs are scattered across 6.6 million hectares or 20.12 percent of Vietnam's land, mainly in the central region.
Preliminary statistics show that UXOs have claimed more than 42,000 lives and left about 62,000 injured - mostly rural people and children - in Vietnam over the last four decades./.
Hannah Nguyen