Europe adopts tougher virus restrictions as infections surge
From France to Russia, from Britain to the Czech Republic, European leaders are confronting a surge in coronavirus cases.
Medical staff takes a COVID-19 test at a coronavirus test center in Cologne, Germany. (Photo: AP)
German Chancellor warns of hard days
According to The Associated Press, Chancellor Angela Merkel urged Germans to come together like they did in the spring to slow the spread of the coronavirus as the country posted another daily record of new cases Saturday. She urged Germans to avoid unnecessary travel, cancel parties and remain at home whenever possible.
"Difficult months are ahead of us," she said in her weekly video podcast. "How winter will be, how our Christmas will be, that will all be decided in these coming days and weeks, and it will be decided by our behavior."
German President Frank-Walter Steinmeier, the country's head of state, was quarantined after a bodyguard was infected, his office said. A first test came out negative. Germany, which was widely lauded for rapidly slowing the spread of the virus when the pandemic first broke out, has seen rapidly climbing numbers in recent days.
On Saturday, the country's disease control center, the Robert Koch Institute, reported 7,830 cases overnight, a new record. Like most countries, Germany has been grappling with how to keep schools and businesses open while trying to prevent people from coming into close contact with one another.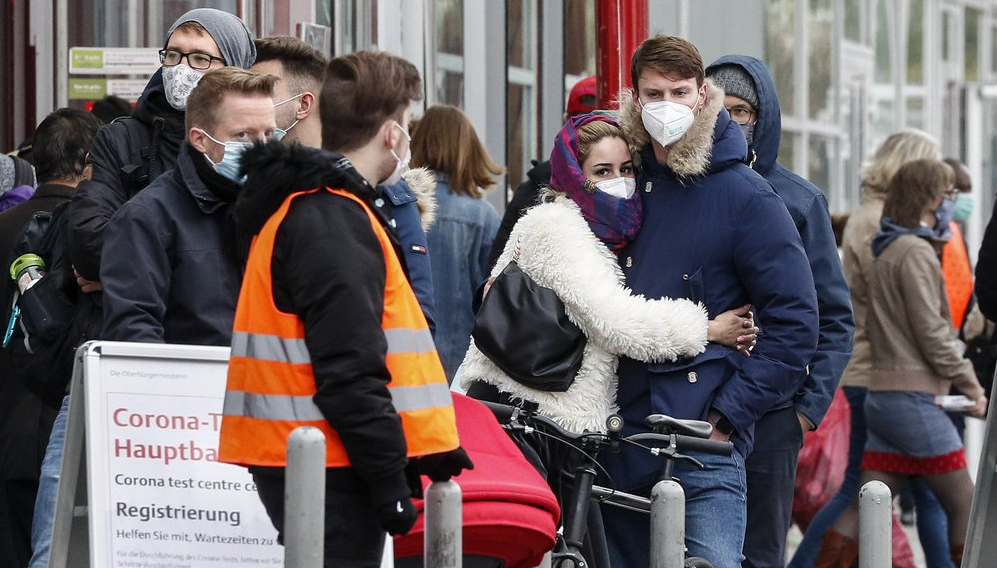 People wait in line for a COVID-19 test at a coronavirus test center in Cologne, Germany. (Photo: AP)
Paris implied curfew on services
On Saturday, Paris and other French cities will be placed under a nighttime curfew which will last for at least a month, said Al Jazeera.
About 20 million people in Paris and several other French cities were facing the start of a 9:00 pm-6:00 am (19:00-04:00 GMT) curfew after the country on Thursday saw a new high of 30,000 cases in 24 hours in one of Europe's major hot spots. The country was deploying 12,000 extra police officers to enforce the new rules.
"It's terrible. It feels to me like being back in March," Hocine Saal, head of emergency services at the hospital in the Paris suburb of Montreuil, told AFP – adding that rising numbers of non-coronavirus patients made coping "really difficult".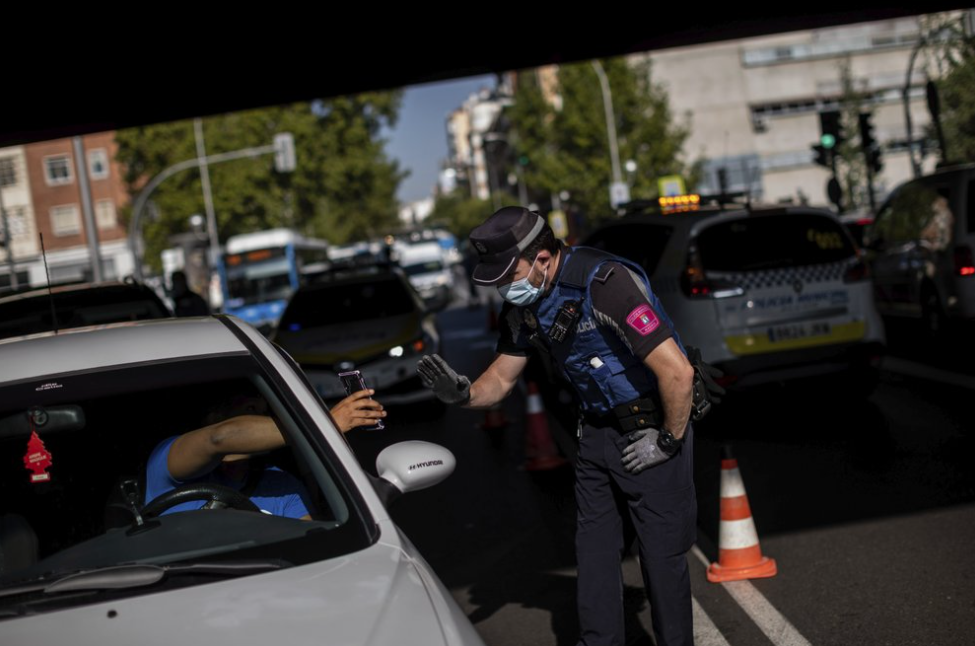 A local police stops a vehicle at a checkpoint in Madrid, Spain. (Photo: AP)
U.K. introduced a three-tier system for restriction
Forbes reported in recent days that U.K. Prime Minister Boris Johnson said that he had introduced these new measures because the constant changes in restrictions were making it difficult for people to know what they were allowed to do where and with whom.
With rising infection rates, major British cities are in flux, with London moving up in risk from a tier one (medium) to a tier two (high) category on Friday 16 October. Sadiq Khan, quoted in The Telegraph, warned Londoners that they face a "difficult winter ahead" adding that "no one wants to see restrictions, but these are necessary".
On Saturday, tier-2 cities like London and York were subject to a ban on socializing with people from other households indoors, while the county of Lancashire joined Liverpool in tier 3 with the tightest restrictions.
Among other things, that means pubs have been forced to close and socializing with others is banned even in many outdoor settings.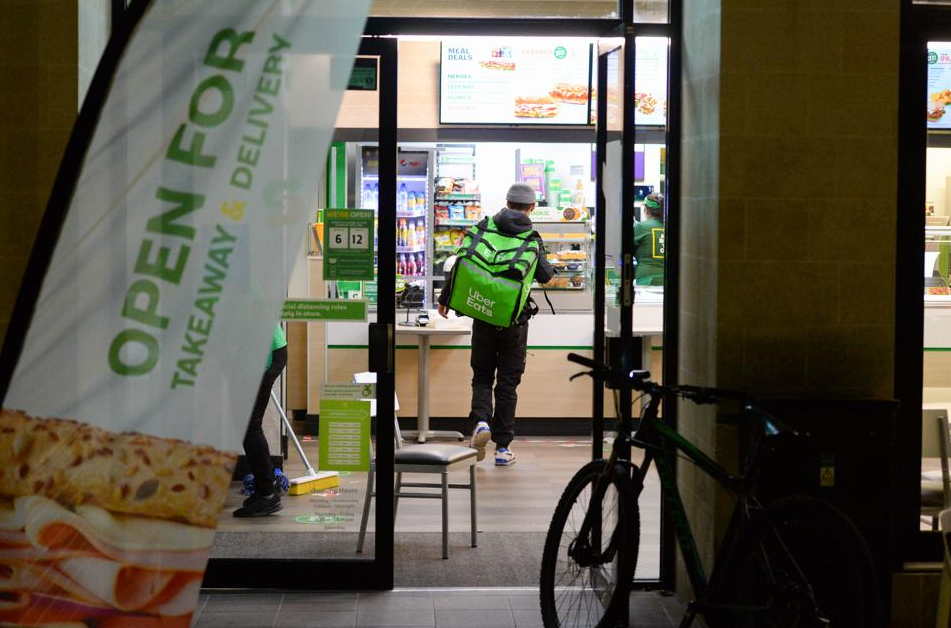 An Uber Eats delivery rider picks up an order from Subway in England. (Photo: Forbes)
Europe facing a big wave of COVID-19 as cold season strikes
New restrictions went into effect in several other European nations in an effort to staunch the resurgence of the pandemic.
Austrian Foreign Minister Alexander Schallenberg joined the list of top politicians who have tested positive for the virus, and was quarantined though he showed no symptoms, his office told Austria's APA news agency.
The Vatican, meanwhile, said someone who lives in the same hotel as Pope Francis tested positive for the virus, adding to the 11 cases of COVID-19 among the Swiss Guards who protect him.
In Czech Republic, the number of new infections surpassed 10,000 for the first time, surging to 11,105 on Friday, the Health Ministry said. The country has now registered a total of 160,112 cases, including 1,283 deaths.
Italy's northern Lombardy region, where the European outbreak began in late February, has taken new measures to contain rebounding infections, limiting bar service and alcohol sales, banning contact sports and closing bingo parlors. Italy's other hardest hit region, southern Campania, has taken similarly strict measures, including a shutdown of schools for two weeks. After parents protested, the regional governor backed off Friday and allowed daycare centers to remain open.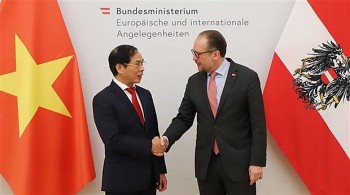 Overseas Vietnamese
Fifty years have passed since the establishment of the relationship, the two countries have enjoyed great strides in bilateral cooperation.