Expats Shun Typical New Year Revelry in Pandemic Times
Expats do not begrudge the absence of major festivities to celebrate New Year's Eve and are finding simple ways to count their blessings, starting with being alive
Unlike the end of last year, when Vietnam could enjoy a break from the Covid-19 pandemic which was raging all over the world and people poured out into the streets to watch firework displays and other entertainment programs on New Year's Eve, the public scenes this time around are much more quiet, as reported by VNE.
In Hanoi and HCMC, both considered at level 2 risk (out of 4 levels), all the usual large-scale events to celebrate the New Year have been cancelled. In the capital city, no outdoor program will be organized for New Year's Eve while HCMC will only conduct a countdown event without live spectators.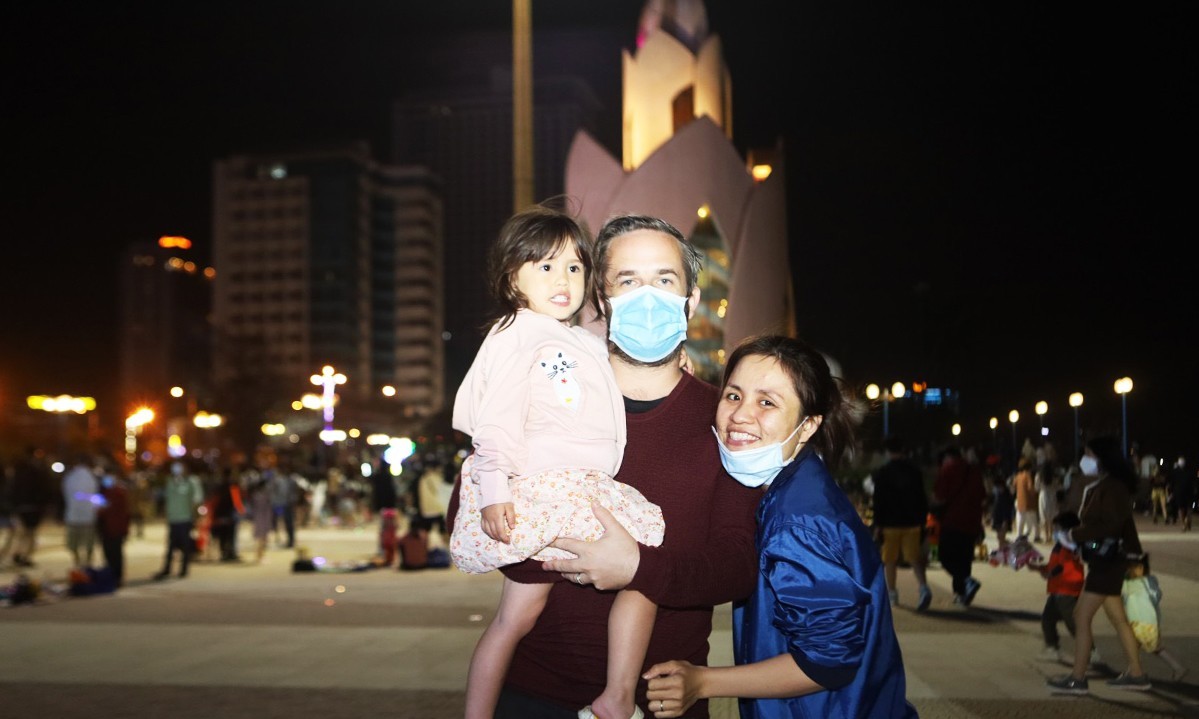 An Englishman and his wife take their daughter out to celebrate the New Year at the 2 Thang 4 Avenue, central Nha Trang Town. Photo: VNE
For many expats like Jongrak Choi, the lack of public activities is not a dampener. It can't take away the joy of having survived the pandemic that has raged for two now and being being able to spend the New Year with loved ones.
"Even though the pandemic wrecked all of my plans in 2021, I'm just grateful that I can still spend the holiday with friends and loved ones in Vietnam, my second home," said Choi, a South Korean living in HCMC.
Instead of going out or traveling, which can be a hassle these days, many foreigners are perfectly content with cozy parties indoors to mark the biggest night of the year.
CJ van Vuuren, a South African who has lived in HCMC for nine years, has had to change her tradition of visiting and celebrating her friend's birthday on New Year's Eve.
"I feel traveling during this sensitive time would be irresponsible," Vuuren said, adding that she didn't want to get stuck somewhere because of the pandemic and miss out on work.
And in HCMC, instead of heading to overpriced and crowded bars, Vuuren, who works for an animal rescue mission in Vietnam, plans to go to a house party, drink wine and play video and board games.
Even though she and her friends are fully vaccinated, Vuuren said they have taken the precaution of limiting the number of attendees to just 10 because they want to celebrate responsibly and prefer to be safe than sorry.
"Even if it's a small party, we will still have lots of fun and create good memories," she said.
For those who still have the travel itch, the southern island of Phu Quoc seems to be a particularly attractive destination.
Because she couldn't stay up late and watch New Year's Eve fireworks at the top of Landmark 81, Vietnam's tallest building, American Delaney Taryn, another HCMC resident, has headed to Phu Quoc for her holiday.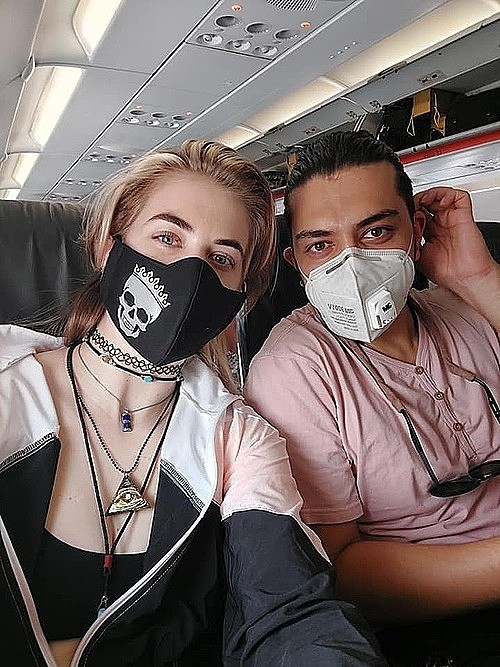 Delaney Taryn (L) and her boyfriend on a plane heading to southern Phu Quoc Island, Dec. 27, 2021. Photo courtesy of Taryn/ via VNE
Taryn, visiting the popular island for the first time in her life, said there very many local events going on with something to do for everyone.
"I feel safe since everyone must test negative for Covid before coming here. I'm also not afraid since I am vaccinated," Taryn said, adding she will be attending a music festival in a few days.
From Hanoi's Long Bien District, 32-year-old English teacher James Rusell and his wife thought hard about possible destinations for their New Year holiday and opted for Phu Quoc, where "the pandemic situation is not as complicated as in Hanoi.
"In the U.K., we watch fireworks and drink champagne in cold weather," he said, adding: "This is the first time I've celebrated New Year's Eve without cold weather."
Whether it's hot or cold, the New Year holiday is certainly a time of hope for expatriates in Vietnam. Many of them fervently hope the pandemic will soon go away so that everybody can get back to their normal life.
Choi said wished that will be able to visit his parents in South Korea when the pandemic is fully under control, while van Vuuren wanted Covid-19 to end quickly so she could continue with her much-needed environmental work and Vietnam could welcome back more international tourists.
Taryn, who has been in Vietnam for two years, said she wished for opportunities to explore more of the country, including other great tourist attractions like the Central Highlands town of Da Lat or coastal Da Nang city.
Rusell just exhorted the virus to leave: "Please, let the pandemic end in 2022. Two years is enough, Covid-19!"
On this New Year's Day holiday, workers in Vietnam are getting three days off from Jan. 1 to 3.
The Ministry of Labor, Invalids and Social Affairs has earlier proposed 22 days off for various holidays in 2022, VNE reported.
Expat workers, apart from the 22 days off, would get two days more: one for their countries' New Year holidays and the other for their National Days.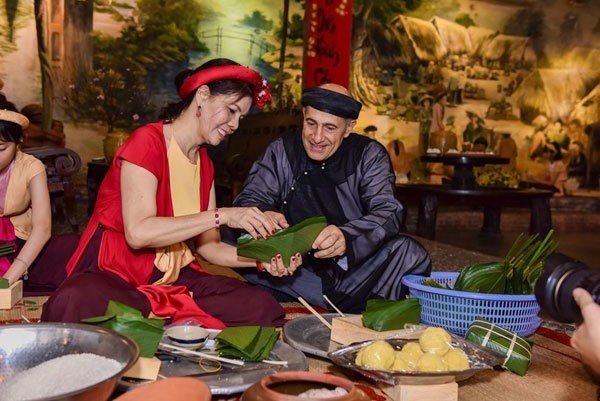 Foreigners enjoy wrapping Banh chung, traditional cake of Vietnamesee people during Tet holiday. Photo: Vietnam Plus
The ministry has proposed that the holiday to mark the Year of the Tiger runs from Jan. 29 to Feb. 6, 2022. If approved, civil servants and public employees will have a nine-day Tet holiday.
Meanwhile, the ministry has proposed two options for the next National Day (Sept. 2) celebrations.
Starting this year, the National Day holiday has been expanded to two days, the choice of the additional day being on either side of Sept. 2, depending on the calendar.
If the extra day off is Sept. 1 next year, civil servants and public employees would be entitled to four days off, Thursday to Sunday. This would allow employees to enjoy a long holiday weekend and not extend it to a normal working day, the ministry has noted.
In the second option, if the employer chooses to give the additional day off on Sept. 3, the holiday would run from Friday to Monday.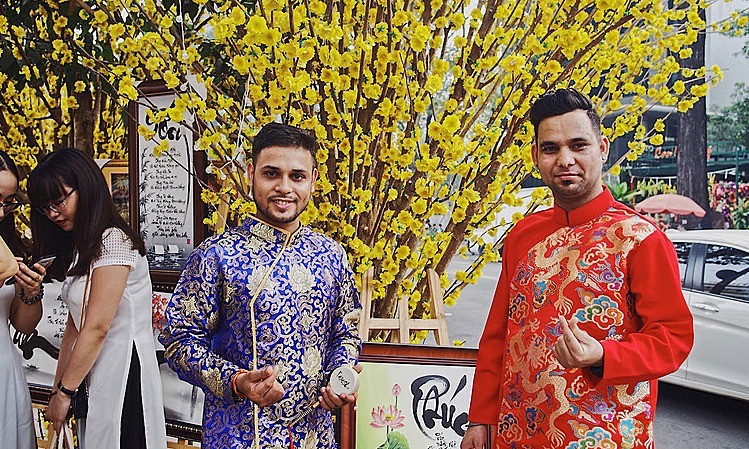 Foreigners celebrate Lunar New Year in HCMC. Photo: VNE
Agencies and units that do not have a fixed break for the two days can arrange another suitable holiday schedule for their employees.
Staff who do overtime or work night shifts during holidays would get at least 300 percent of their normal wage.
Expats Keep Guard Up Against Covid-19

Foreigners living in Vietnam, though glad that authorities and most people act carefully, remain very watchful against Covid-19 and admittedly a bit worried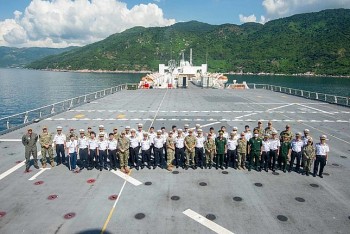 Friendship
The Pacific Partnership 2022 (PP22) concluded on July 3 on USNS Mercy, a hospital ship of the US Military Sealift Command anchored at Vung Ro Port in Dong Hoa town, the central province of Phu Yen.