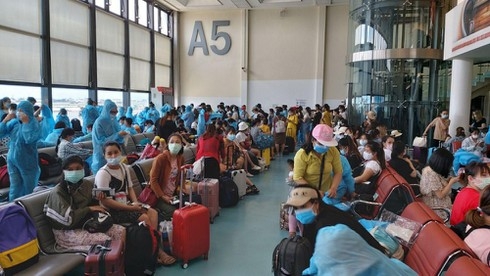 A total of 343 more Vietnamese safely repatriated from Taiwan (China). Photo: Ministry of Foreign Affairs
Under the Prime Minister's instructions, Vietnamese agencies, Vietnamese representative agencies abroad and domestic airlines will continue to conduct flights to bring overseas Vietnamese citizens back to Vietnam.
The flights each were arranged by relevant Vietnamese agencies, relevant agencies in the host country, the Vietnamese Embassy in Japan as well as the Vietnam Economic and Cultural Office in Taipei (China), according to the Ministry of Foreign Affairs.
Passengers on board the flight were the elderly, minors under 18, guestworkers whose labour contracts had terminated, pregnant women, people with underlying illnesses, students who had completed the school curriculum, and travelers left stranded as a result of theCOVID-19 pandemic.
Vietnamese officials were dispatched to the airports to assist the Vietnamese citizens with necessary procedures before they boarded the planes for home.
In order to protect the passengers' health and prevent the spread of the virus, Vietnam Airlines strictly implemented security, safety and epidemiology measures during both flights, with the flight crews were equipped with complete medical protective gear, and their communications were restricted. Passengers went through pre-boarding temperature screening and were required to wear face masks for the entirety of the flight.
The plane carrying 343 Vietnamese citizens stranded in Taiwan (China) landed at Tan Son Nhat International Airport in Ho Chi Minh City while other plane carrying 342 Vietnamese nationals returning from Japan safely landed at Da Nang International Airport.
This is Vietnam's fourth repatriation flight from Japan. On June 5, Vietnam Airlines also conducted a repatriation flight, bringing home more than 340 Vietnamese citizens stranded in Japan.
Earlier on May 29, the national flag carrier also conducted a flight, repatriating more than 340 Vietnamese citizens stranded in Taiwan, with most of them pregnant women.
More such flights will be conducted in the next time based on people's wishes, the quarantine capabilities of cities and provinces, and the pandemic's development for continuity of lights bringing Vietnamese nationals back home.
On the same day, the Ministry of Health confirmed three more Vietnamese returnees from Kuwait have been diagnosed with the SARS-CoV-2 virus, taking the total number of coronavirus cases in Vietnam to 352.
All the three cases were placed in quarantine as soon as they landed in Vietnam, thus posing no risk to the community. Therefore, Vietnam has gone through 69 days without new locally transmitted coronavirus infections as of June 24 evening.
More coronavirus cases are expected in Vietnam as more and more Vietnamese are returning to the homeland from epidemic hit countries. However, they will be placed in quarantine as soon as they land in Vietnam, posing no risk to the community.
Hannah Nguyen