Hanoi starts vaccinating over 7,000 first-responders
Hanoi Health Department kicks off its plan to innoculate over 7,200 prioritized individuals this morning. The capital's first vaccination campaign is expected to last between March 9-18.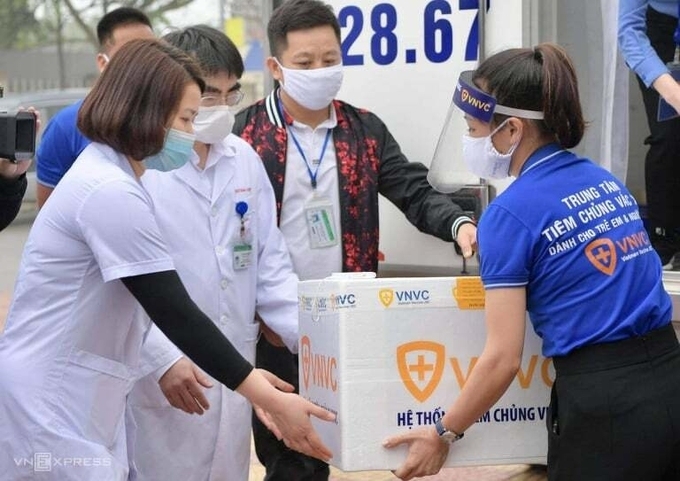 Staff bringing vaccines to National Hospital for Tropical Diseases in Hanoi (Photo: VNE)
According to VnMedia, over 95 percent of the first prioritized group are at high risk of catching the virus due to close exposure to Covid-19 patients, suspected patients, or their samples.
In hospitals affiliated with the Hanoi Department of Health: 810 people belonging to this group are expected to get the vaccine, include medical personnel who regularly directly examine or check, treat and take care of high-risk COVID-19 patients, suspected patients; medical staff who sample and test suspected patients.
Preventive medicine units expects to vaccinate 2.937 people, including mobilized personnel, epidemiology, and contact-tracing investigators, medical staff who take samples and test suspected COVID-19 specimens.
30 people under the Health Sector Steering Committee.
150 people belonging to emergency units and crew transporting COVID-19 patients and suspected patients.
2,700 people participating in the epidemic prevention, including members of the Steering Committee for Epidemic Prevention at all levels.
608 people working at the city's central quarantine zones.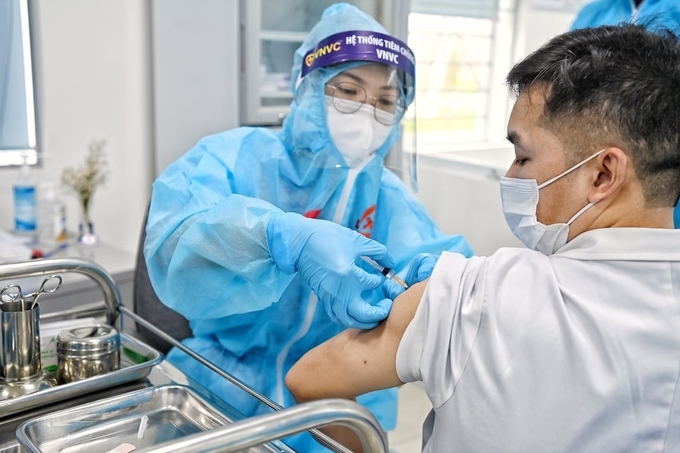 One medical staff in Hanoi get the vaccine on March 8 (Photo: VNE)
The very first jabs of AstraZeneca COVID-19 vaccine are administered to medical and other front-line workers on March 8 morning in Hanoi, Ho Chi Minh City and Hai Duong.
In Hanoi, frontline workers at National Hospital for Tropical Diseases are the first to be granted such priority.
Dr. Vu Minh Dien, deputy director of the hospital's center for pandemic prevention and vaccination, said 420 medical personnel would be immunized in the first phase.
"If possible, we will vaccinate all the hospital staff, but because the vaccine supply is limited and must be distributed to many other provinces, the highest priority is given to those who have direct contact with Covid patients and some medical staff in charge of screening patients."
Meanwhile, in Ho Chi Minh City, three boxes of vaccines (refrigerated at 2-8 degrees Celcius) were transported from the Vietnam Vaccine JSC's super-cold storage to Ho Chi Minh Tropical Hospital at 7 am. 100 doctors and nurses on the prioritized list are expected to get the jabs in the morning.
Hai Duong - the current biggest COVID-19 hotspot in the country with 707 cases registered so far, got 33,000 doses meant for medical staff and other frontline workers, as reported by VNE.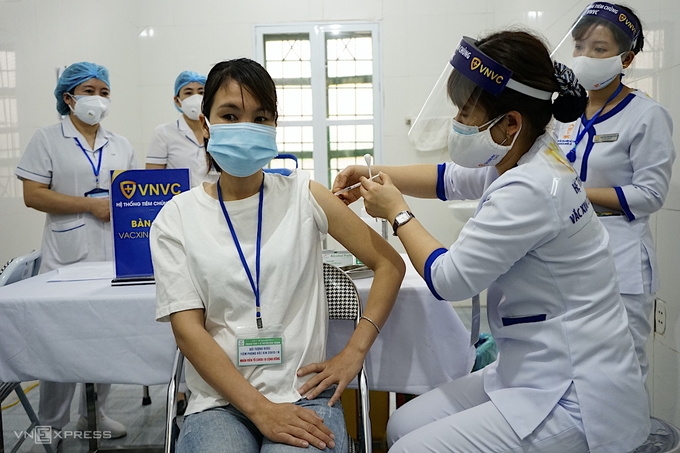 Nguyen Thi Hue, a medical worker in Hai Duong Province, is injected with AstraZeneca Covid-19 vaccine, March 8, 2021. (Photo: VNE)
The Ministry of Health on March 9 morning did not record any positive cases of COVID-19 this morning. Meanwhile, Covid-19 hotspot Hai Duong recorded one new case Monday evening, taking the community transmission tally in Vietnam's latest outbreak to 893. The new case in Hai Duong is a person who has been quarantined since Feb. 14, following contact tracing protocol. The patient is being treated at a field hospital in the northern province.
Monday evening also saw 11 new imported cases who came to Vietnam from Taiwan, South Korea, and the Philippines. They'd been quarantined upon arrival. With the latest addition, the number of community transmissions confirmed since the country's latest outbreak began on Jan. 28 is 893, led by Hai Duong with 709 cases, followed by Quang Ninh (61), Ho Chi Minh City (36), and Hanoi (35).
This Decision details the 11 groups of people prioritized to receive Covid-19 vaccine shots secured through the COVAX Facility, including:
- Medical staff.
- Disease prevention and control staff (e.g. steering committees at all levels, staff working at quarantine zones, reporters, etc.).
- Diplomatic, customs staff and immigration officers.
- Military forces.
- Police.
- Teachers.
- People aged more than 65 years.
- Group of staff providing essential services, such as aviation, transport, tourism; electricity and water supply, etc.
- People with chronic conditions.
- People wishing to take business trips, study or work abroad.
- People living in epidemic hit areas that are identified based on epidemiologic studies.
The Decision No. 1210/QD-TTg is entering into force as of the signature date.