Hanoi tightens anti-pandemic measures as infections rise
More stringent measures are in place to curb the spread of the virus in Hanoi
The city on Sunday locked down 11 locations as it recorded 18 new community infections within 24 hours. Of the new patients, 16 are reportedly close contacts of cases detected on July 16 and 17. Two others have been quarantined.
As reported by VNS, ten cases are part of the Sunshine Palace cluster, on Linh Nam Street in Hoang Mai District. Five cases are related to an earlier positive case 132 Bui Thi Xuan Street Building, Hai Ba Trung District. Two are related to a cluster that returned from HCM City and one is related to the outbreak in Tan Mai Ward, Hoang Mai District.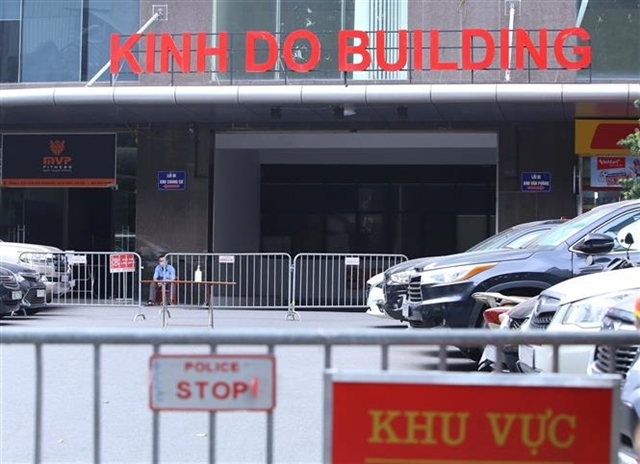 Lockdown order is imposed at 93, Lo Duc building. Photo: VNA
As a result, the city has issued lockdown orders for these locations:
• The 180/84 Alley on Nguyen Luong Bang Street, Dong Đa District
• Alley 36/93 Van Huong in Hang Bot Ward, Dong Da District.
• F3 Area, Alley 171 Thai Ha Street
• Alley 422, Truong Dinh Street, Tân Mai Ward, Hoang Mai District
• A section in N07C residentital area
• 34 households living in Đo Xuan Hop Street, My Dinh 1 Ward, Nam Tu Liem District
• Westa Building, 102 Tran Phu Street, Ha Donng District
• Ministry of Trade and Industry's office on 25 Ngo Quyen Street, Hoan Kiem District
• Three buildings next to a Vietlott branch in 58 Linh Nam Street
• Viettinbank Building, 25 Ly Thuong Kiet Street, Hoan Kiem District
• 93 Lo Duc Street, Hai Ba Trung District
There are also several cases linked to the Hanoi Transportation Company. The Centre for Diseases Control of Hanoi has recommended testing all drivers and ticket staff on buses.
Hanoi suspends public transportation to 37 localities
The southern metropolis has also stopped public transportation to 37 Covid-hit provinces and cities, most of them in the south, starting Sunday.
The Hanoi Department of Transport made the decision Saturday night after the Prime Minister decided to impose social distancing on 19 southern cities and provinces, VNE reported.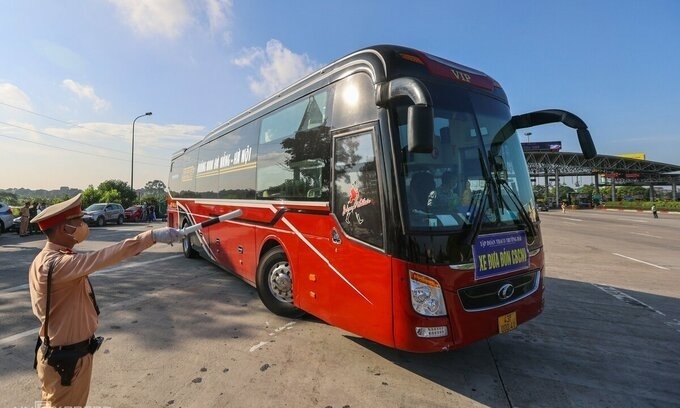 A bus is denied entry to Hanoi because the driver and assistant did not have Covid-19 certification. Photo: VNE
Buses, taxis, contract cars, tourist cars and fixed-route vehicles will have to stop operating to and from the 37 provinces and cities. The 37 cities and provinces include 14 localities to which public transportation was already stopped since July 8.
Contracted vehicles carrying experts, officials, employees and workers of agencies, industrial parks and export processing zones will be allowed to operate within these localities, the department said.
Public transportation to and from all the localities can only resume after a locality has not recorded any Covid-19 case for 14 consecutive days or until further notice.
On Wednesday, 22 checkpoints were set up to monitor people and vehicles entering the capital city as part of pandemic prevention measures.
Non-essential businesses to close, people told to stay home starting July 19
In the latest dispatch signed by Hanoi People's Chairman Chu Ngoc Anh, citing huge risks of community transmission and following the lockdown order imposed on the entire southern region to deal with severe coronavirus outbreaks, people in the city are asked to stay at home and only go outside in necessary cases like business trips, working at essential businesses (State agencies, factories, essential shops and service providers), buy food and medicines, or emergencies such as medical issues, fire incidents or natural disasters, etc.
Masks are mandatory in public. People must maintain a distance of two metres in public, and must not congregate in groups larger than five outside of hospital, workplaces, or schools, according to VNS.
Online shopping is also encouraged.
A health worker takes a swab from a baby identified as a close contact of a confirmed COVID-19 case in Hai Ba Trung district, Hanoi. Photo: VNS
Non-essential services and businesses are to be closed starting tomorrow.
People are asked to hold off from holding weddings and funeral services must not have more than 30 attendants and will face monitoring by the local health authorities.
People who visit these establishments must submit their health declaration forms using QR code via apps like Bluezone or nCOVI.
Production businesses, service establishments, and industrial zones must strictly observe COVID-19 prevention and control measures, have plans in place to respond when cases are detected at their facility, conduct COVID-19 risk assessment on a daily basis, and would be held accountable to local and municipal authorities.
For the agencies and offices of Hà Nội and the central Government based in Hà Nội, companies, enterprises and corporations (including foreign-invested companies) must develop arrangements, including working in shifts, to ensure 50 per cent of their staff working online.
Malls, supermarkets, traditional markets, wholesale markets in the city are to ensure adequate supply of daily necessities for the local population, arrange stalls and reception procedures (from parking to entry) to reduce the number of customers in the same place at the same time, minimise close contacts and encourage online shopping and delivery.
Since April 29, Hanoi has recorded 627 Covid-19 cases.