Hanoi yet to considere rcity-wide social distancing
Secretary of the Hanoi Party Committee Dinh Tien Dung on May 24 affirmed that the city have yet to consider social distancing because anti-pandemic measures have been effectively adopted.
Dung said although the Covid-19 pandemic in the city has complicatedly developed, the local authorities have effectively implemented the pandemic prevention measures such as contact tracing, zoning, and quarantining.
Dung has requested leaders of the party committees in districts and towns to raise their sense of responsibility and mobilize the whole political system and residents to join the Covid-19 battle, Hanoimoi reported.
He has also proposed to praise the localities obtaining excellent anti-pandemic achievements and strictly handle ones breaching the regulations on Covid-19 prevention and control.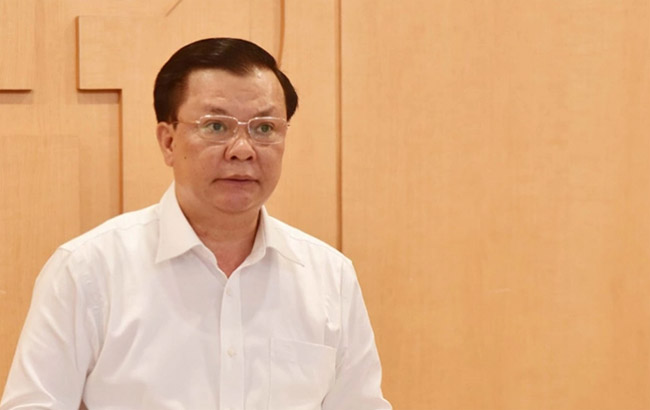 Secretary of the Hanoi Party Committee Dinh Tien Dung. Photo: Hanoimoi
Hanoi leader has directed departments and agencies to ramp up propaganda on abiding by the 5K message, especially wearing face masks and restricting gathering in public spaces.
"Awareness of each individual will contribute to the city's efforts in soon stamping out the pandemic," he stressed.
Hanoi is shutting down food and beverage establishments as well as salons and beauty parlors starting Tuesday as it fights the latest Covid-19 wave, according to VnExpress.
A document issued Monday by Hanoi's Chairman Chu Ngoc Anh says food and beverage places can only allow takeaways and residents must "absolutely stop entertainment activities, physical exercises and large gatherings in parks, gardens and public locations."
It asks the municipal tourism department to re-check all quarantine zones in hotels and residences. All facilities found unqualified to quarantine people must stop receiving new people, and existing zones in hotels and residences in downtown districts would gradually receive fewer people before stopping completely.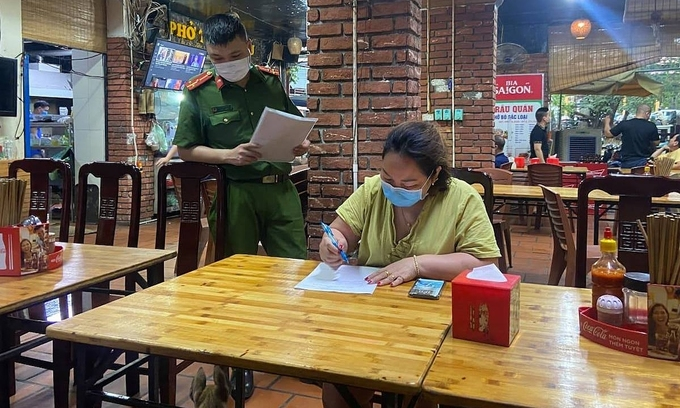 A beer shop owner signs a paper on suspending her business to help prevent Covid spread. Photo: VnExpress
People returning to Hanoi from other localities starting Tuesday must submit medical declarations within 24 hours. Those who returned to the city between May 10 and May 24 should also do so by Tuesday.
Vingroup, T&T Group and other businesses are requested to test employees and residents living on their premises for Covid-19.
The latest decision follows the formation of several Covid-19 clusters associated with either the T&T Company or buildings in Times City, which is owned by Vingroup.
In the latest wave, the capital city has recorded 122 local Covid-19 cases in 19 districts, apart from 200 cases within two locked down hospitals in the city: the National Hospital for Tropical Diseases and the K Hospital.
The administration has already shut down non-essential services like bars and dance clubs.
In the latest Covid-19 wave hitting the country on April 27, Vietnam has recorded 2,406 cases in 30 cities and provinces.