The majestic Kingdom of Caves in Vietnam
Son Doong or Thien Duong cave might have garnered international coverage, but other caves in Quang Binh are equally spectacular options.
Phong Nha-Ke Bang National Park in Quang Binh Province is frequently referred to as the "Kingdom of Caves" for the magnificent specimens it hosts.
Its profile soared worldwide when the largest and most spectacular cave of them all, the Son Doong, was covered by the likes of National Geographic, CNN, Huffington Post, and Bussiness Insider.
Since then, many famous travel magazines have used this name to refer to the central province of Quang Binh.
Le Thanh Tinh, Director of the Phong Nha-Ke Bang National Park, says more than 350 caves have been discovered in the park over the last 25 years, of which 30 have become tourist attractions. Besides Son Doong, other well-known caves include the En and Pygmy caves, which are said to be the third and fourth biggest in the world, as reported by VNE.
Son Doong Cave
Son Doong Cave is known as the world's largest natural cave, housing many limestone grottoes, stalactites and stalagmites. Set within Phong Nha-Ke Bang National Park (about 500km south of Hanoi), the cave is a must visit for adventurous travellers looking to explore one of Vietnam's natural gems during their holiday.
Son Doong cave was first discovered in 1991 by a local named Ho Khanh, followed by a team of British cavers lead by Howard Limbert in 2009. With sections reaching up to 200 metres high, Son Doong Cave also spans 9 km in length, making it about two times bigger than Malaysia's Deer Cave. The cave is also home to a variety of wildlife, including monkeys, bats and flying foxes, according to Vietnam Guide.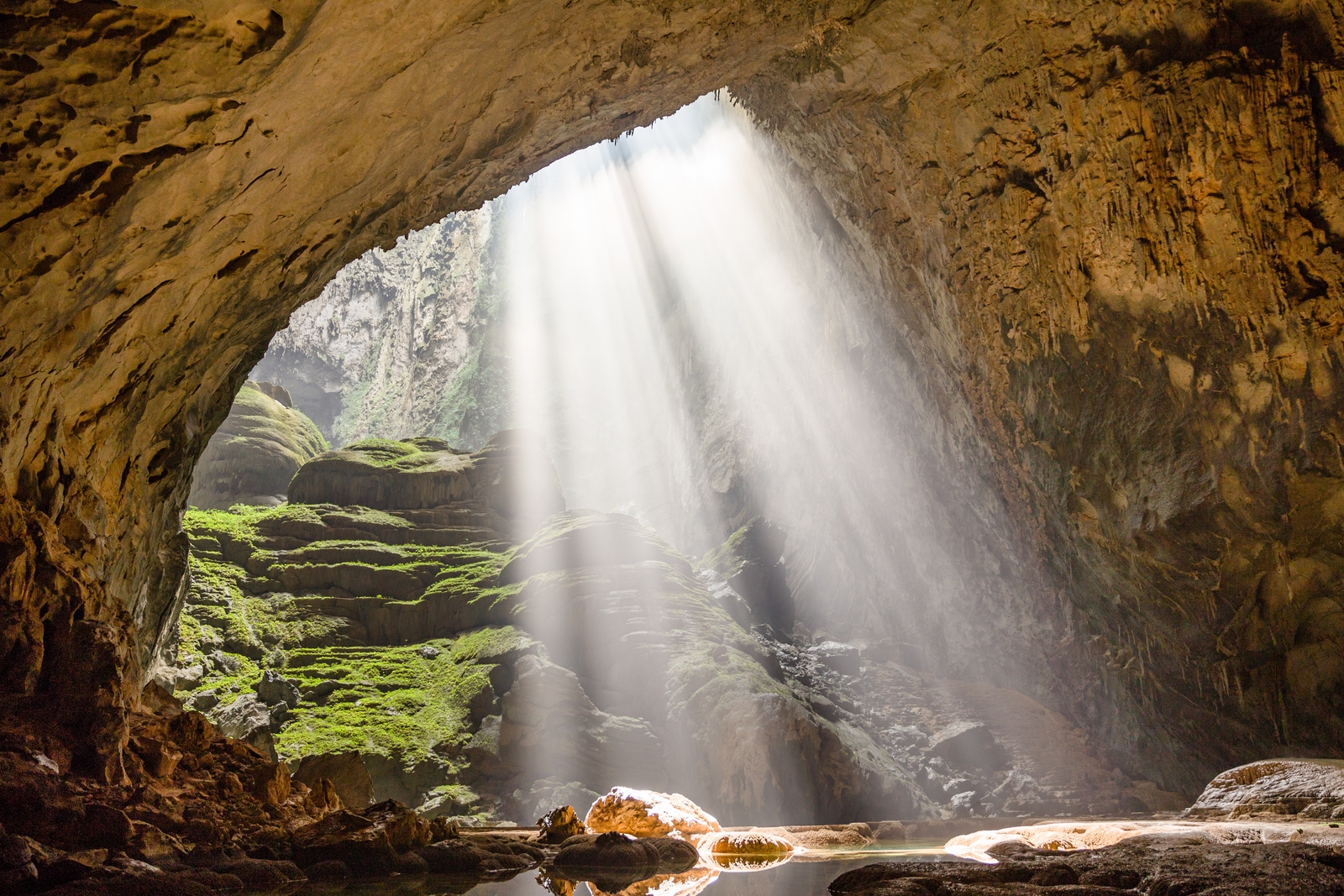 Son Doong Cave (Photo: VNE)
Son Doong Cave (Photo: VNE)
To reach Hang Son Doong, it's a six-km-long hike through the rainforest, which includes passing through a small village that's home to the Ban Doong ethnic group. Entrance to Phong Nha-Ke Bang National Park costs VND 40,000, plus additional fees (which usually range between VND 80,000 and VND 150,000) to enter the caves via a guided tour.
Oxalis Adventure Tours offer a four-day, three-night Son Doong Cave Expedition that's available between February and August. Priced at VND 68,700,000 per person, the tour is inclusive of camping equipment, safety gear and caving equipment, as well as four meals a day, bottled water, a first aid kit and medical rescue equipment. The expedition also benefits from guidance from a professional technical advisor, an English-speaking guide, five safety assistants, and a porter team to carry gear and prepare meals throughout the journey.
Pygmy Cave
The British Royal Cave Association lists the Pygmy Cave as the fourth largest in the world. The cave stands in the inner area of Phong Nha – Ke Bang National Park in Bo Trach District, Quang Binh. The mouth of the cave is 100 meters high and 845 meters long, allowing sunlight to shine into the cave and sustain the verdant vascular plants. This area is also a camping site during an expedition into the cave, VNE reported.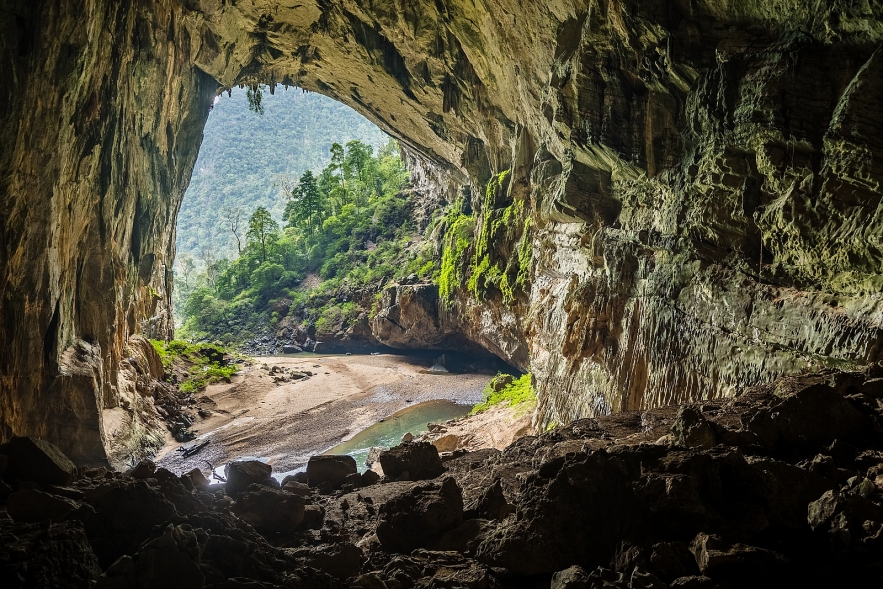 Pygmy Cave (Photo: VNE)
Pygmy Cave (Photo: VNE)
Va and Nuoc Nut Caves
Va Cave, first discovered in 2012, is connected to the Nuoc Nut, a two-kilometer wet cave. The conical stalactites are among the most unique features of Va Cave, though its origins remain unexplained. Va Cave is also home to blind white fish and green pincer shrimp who survive perfectly without light. Many small bats also nest in the cave.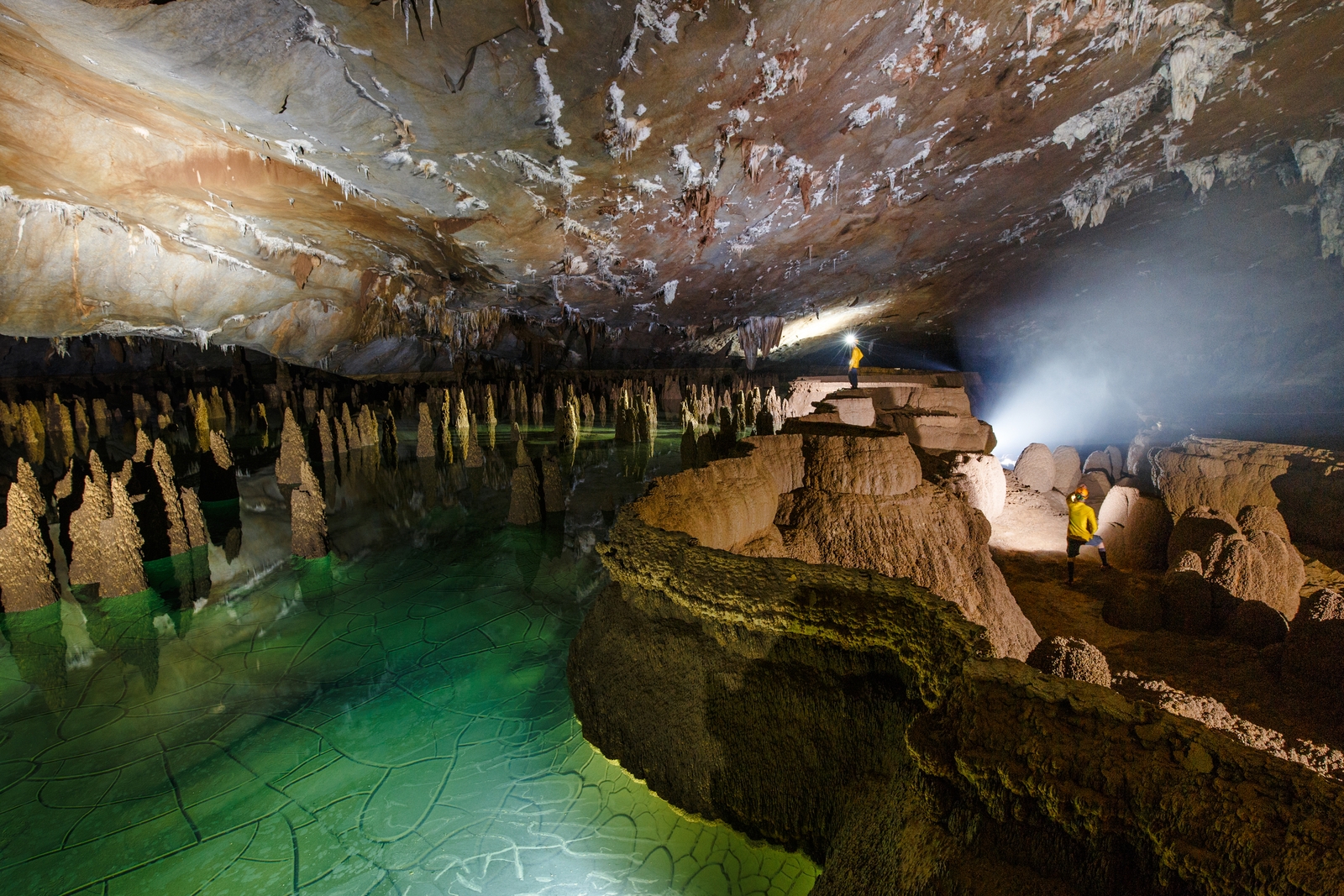 Va and Nuoc Nut Caves (Photo: VNE)
Paradise Cave
Dubbed the "underground palace", Paradise Cave is one of the most magnificent and fanciful wonders over the world. The cave deeply nests in the heart of Phong Nha – Ke Bang National Park world natural heritage. According to many experts, the cave is much more beautiful and marvelous than Phong Nha Cave, which is recognized as a World Heritage Site by UNESCO.
The cave owns a length of more than 31.4 km; the width ranging from 30m to 100m, up to 150m at its widest point; the high from the bottom up to the ceiling at about 60-80m. British Royal Cave Research Association appreciates Paradise Cave as the longest Dry Cave in Asia, one of the most spectacular caves the association surveyed over the world. Paradise Cave owns a breathtaking, magnificent and magical structure that discoverers easily think about a heaven palace on earth. In particular, the system of stalagmites and stalactites here retains a shimmering, fanciful beauty beyond the imagination of human.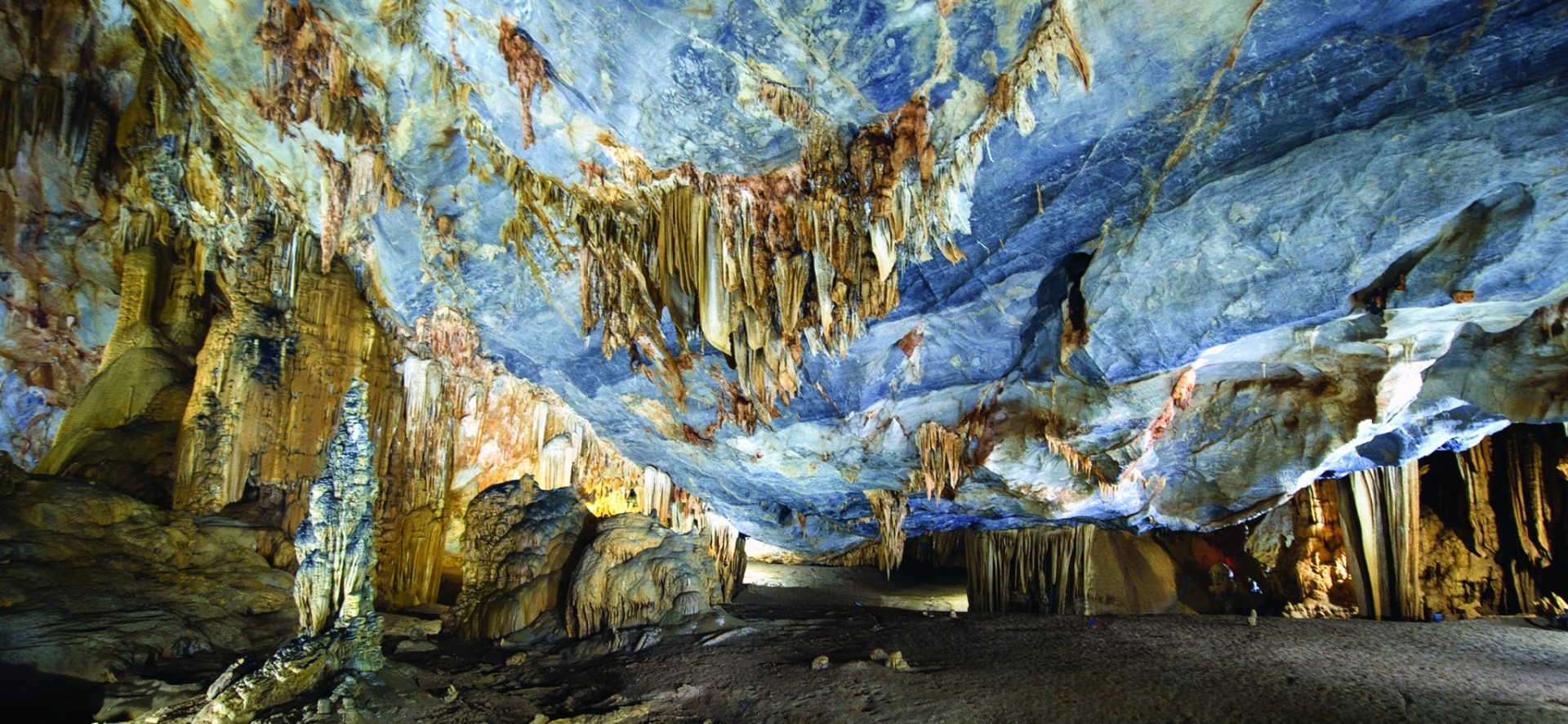 (Photo: Du Lich Quang Binh)
The cave's mouth is about 9m. Its ceiling is towering and immense. Particularly, the cave also maintains two giant stalactite columns with 5-meter diameter as the heavenly column architecture with unique multi-shapes. The cave's entrance which is relatively small, just barely for one person down, beneath stone wool of hundreds of meters has a spectacular look.
A slope leads down to the platform of 15m long. The steep is created sophisticatedly with countless big round stalactite beads. In addition, there are many collapsed remnants in both two sides of the slope, along with sprawling stalactite columns as undergoing tectonic processes. Interestingly, the subtle and magnificent beauty of the cave is gradually revealed when light shines on numerous magic stalactites. The entrance is quite narrow; however, when entering inside, tourists will actually admire the splendid space with the width of 200m, the tremendous and towering ceilings, according to Phong Nha Discovery.
Tu Lan
Tu Lan was discovered in 2010, with two entrances lasting for 2.2 kilometers. The favorable point of challenging this cave is that tourists can cross beautiful valleys that have been movie settings.
Tourists usually explore Tu Lan together with other caves in the system, namely Chuot, Hung Ton, Ken, or Kim. Ken Cave is the longest cave of the Tu Lan system, comprising one wet cave and one 3.7 kilometer cave.
The Tu Lan tour includes trekking through forest, wading through streams, exploring cave rivers and enjoying the scenery at the Tu Lan camping site.
Tu Lan was a filming site for Hollywood blockbuster Kong: Skull Island (2017), and Vietnamese film Nguoi Bat Tu (2018), which is expected to be released this fall.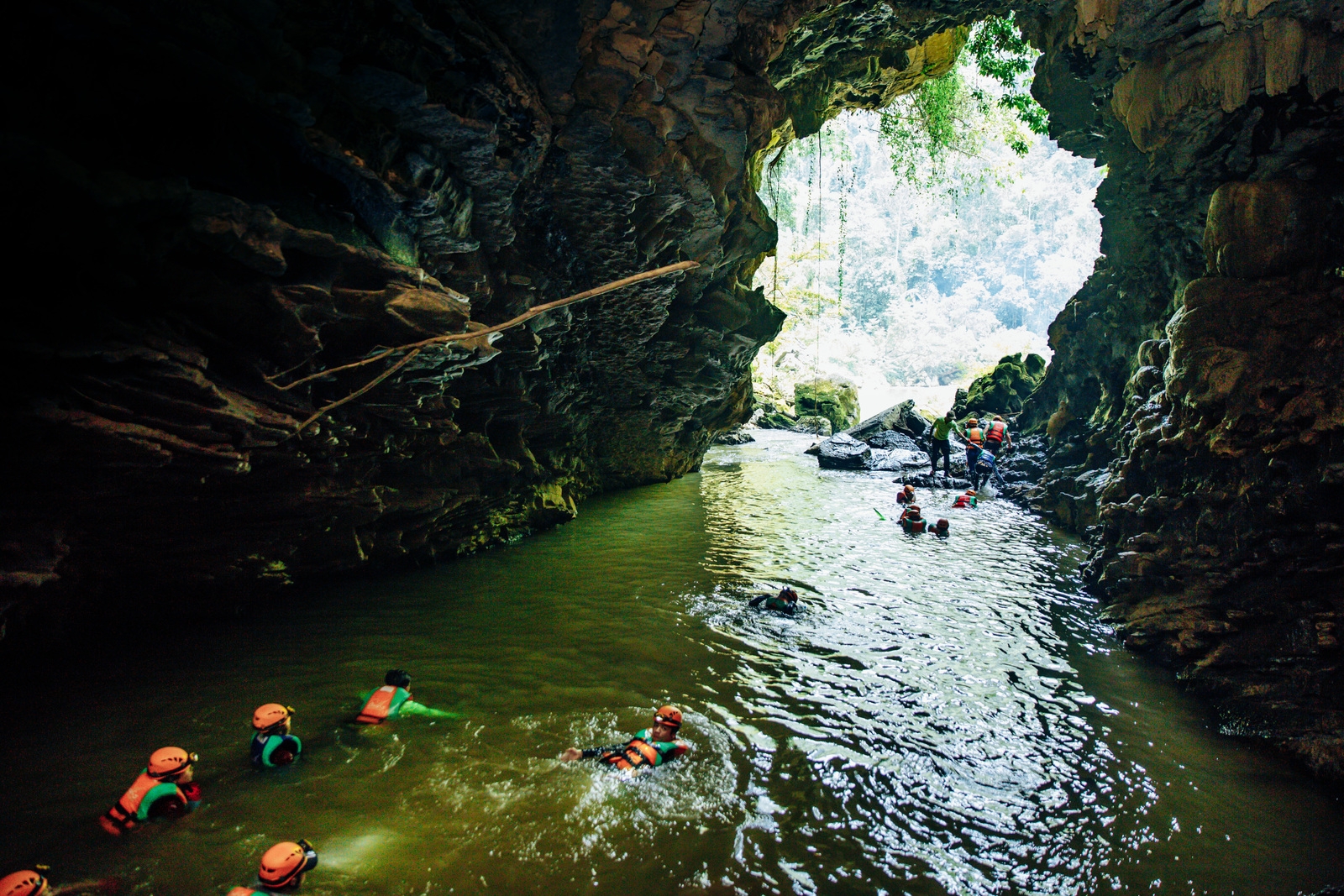 Tu Lan cave (Photo: VNE)
Tu Lan cave (Photo: VNE)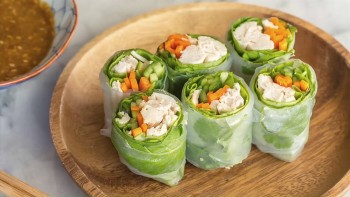 Travel
Rolls are a easy-to-make dish that is loved by many Vietnamese diners as well as Korean stars.