HopeBox Move for Hope – Raising Awareness and Inspiring Change Through Exercise
Gender based violence is a serious issue that mainly affects women, all around the world. Vietnam-based social-enterprise HopeBox is running its campaign 'Move for Hope' in November to support victims of GBV, by raising awareness and funding to empower women in need, and help them to take charge of their own lives.
Gender-based violence (GBV) is defined by the UN as "harmful acts aimed at a person based on their gender", and is a serious social issue around the world that disproportionately affects women. A WHO study conducted in 2021 found that globally, a staggering one out of every three women has experienced physical or sexual gender-based violence in their lifetime - when including psychological or economic abuse, that number more than doubles.
GBV harms not only the individuals involved but has wider, far-reaching impacts. GBV leads to debilitating mental health issues which hinder victims' ability to integrate into society, continues a cycle of 'learned violence' through children growing up in violent environments, and even directly damages a country's GDP.
In 2019, the Vietnamese government, in co-ordination with the WHO, conducted a national study which found that "63% of Vietnamese women have experienced one or more forms of physical, sexual, emotional and economic violence and controlling behaviours by their husbands in their lifetime". Notably, Vietnam is the only country in the world to have conducted a second dedicated study, with a third planned for 2029 – showing that Vietnam is committed to fighting inequality.
HopeBox women
Thousands of organizations across the world are working towards tackling GBV, supporting its victims and influencing legislative and policy frameworks that govern responses to it. One such organization is HopeBox, a Vietnam-based social enterprise founded in 2018 by Huong Dang, a driven and passionate woman who comes from a background of extreme hardship.
Huong worked her way out of homelessness and poverty from a young age, with the help of local social enterprise KOTO. Her own experiences, and the lack of Vietnamese services available to psychologically and economically help victims of GBV, galvanized her into founding HopeBox, to help other women who also suffer from a lack of opportunity. "In a community like Vietnam where people still treat GBV as family and personal issues, we need to work harder to tackle these challenges so our women and children can live a life where they feel safe at home or in their own communities" the remarkable founder says.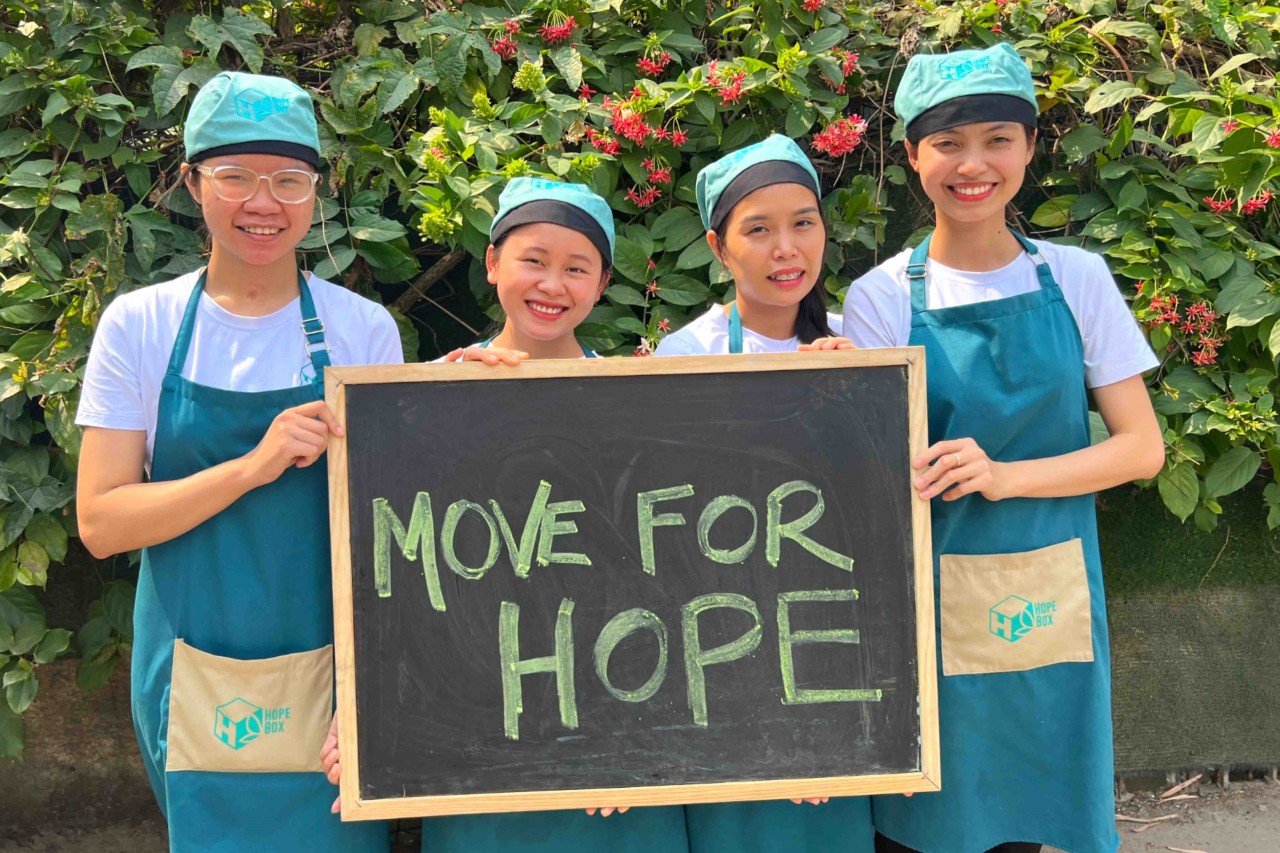 Move for Hope
As a social enterprise, HopeBox trains and employs victims of GBV to produce items like cookies or candles to sell, giving them economic empowerment so they can make it on their own. HopeBox occasionally relies on the kindness of donations, but aims to be self-sustaining - which is why they are running a fundraiser throughout November, called 'Move for Hope'.
Eleanor Sander O'Hearn is an Australian expat and official volunteer through the Australian Volunteers Program, and the Marketing and Partnerships Manager for HopeBox VN. She sat down with the Vietnam Times to explain what exactly the organisation does, and what their newest campaign is all about.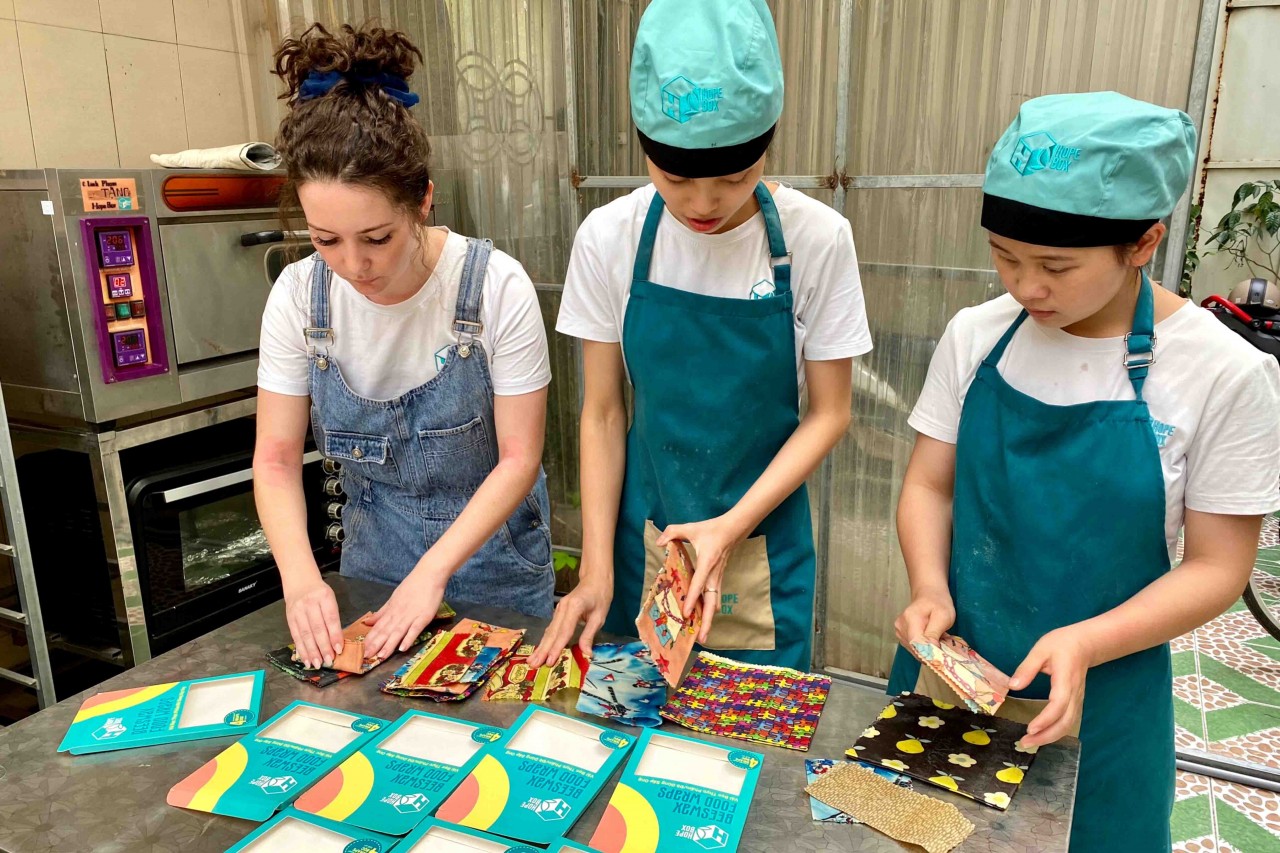 The ladies hard at work
"Prior to COVID-19, our intake included domestic violence and sex trafficking survivors, but we now include Hmong ethnic minority women who come to us due to a lack of opportunity. Many have survived bride-abductions, which is when you can be forced into marriage as early as the [illegal] age of 14." she explains.
When Eleanor speaks about the women HopeBox helps, she does so with an inextinguishable fire in her rhetoric that demonstrates her devotion to, and belief in their cause.
"Every woman deserves the right to take control of her own life and not be at-risk of abuse or being trafficked due to simply wanting a better life. We're here to support women who are in their transition phase from domestic violence and/or at-risk of being abused or trafficked. What we do at HopeBox is work with them in achieving economic empowerment, whether that be to find eligible employment or nurture their desire to one day start their own business."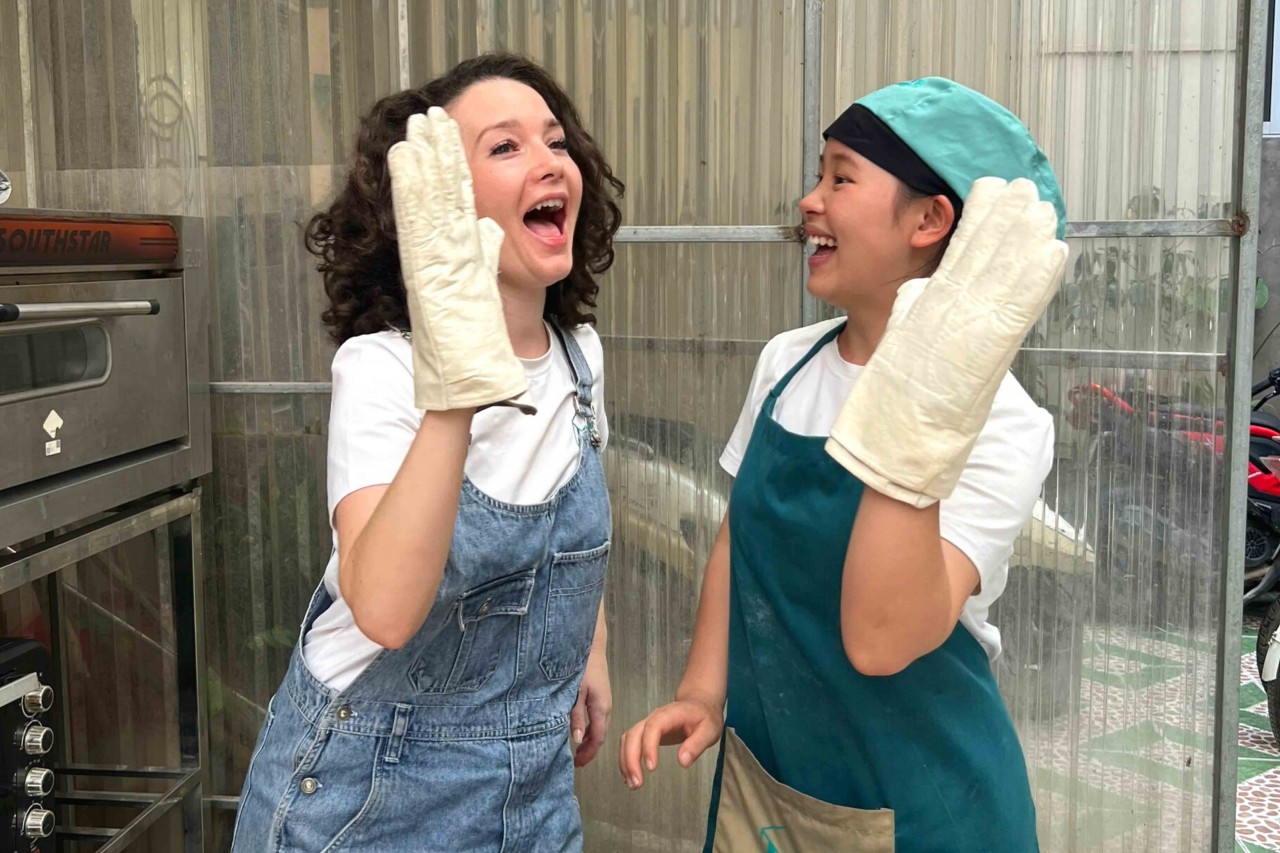 Eleanor and one of HopeBox's trainees
So far, HopeBox has supported and employed 25 women by providing each with six months of training and shelter, so that they can move on to gainful employment. The enterprise was able to stay afloat during COVID through small donations, by selling products created by the women they support, and with funding from the Netherlands Embassy, who are combating inequality as part of their Sustainable Development Goals.
Now, HopeBox, alongside co-host the non-profit AVLD (Australia-Vietnam Leadership Dialogue) is starting its first ever large-scale campaign 'Move for Hope', to raise awareness and funding that will allow them to become self-sustaining for the next few years. "The idea is to encourage people to exercise (or 'move') for 30 minutes a day in order to support the women that HopeBox employs" says Eleanor.
Move For Hope has enlisted a number of prominent businesses and figures within the Hanoi fitness and sports community, designating each of them an ambassadorial role for Move for Hope. Each is tasked with raising awareness about GBV, and funding, by engaging in their own individual campaigns using whichever marketing tactics they see fit.
Amongst the high-profile ambassadors are; Dung Nguyen, a coach at CrossFit Tay Ho; Mai Ngoc Phu, Co-Founder & Head Trainer at Star Kickboxing; and even the Vietnamese Women's AFL team, The Vietnam Swans.
Dee CrossFit
A primary contributor to the fundraising campaign is CrossFit Tay Ho. CrossFit's brand is all about pushing one's body to the limit and accomplishing any goal that one sets for themselves, which makes them a perfect representative for Move for Hope. Their ambassador for this particular bout of fundraising is coach Dung Nguyen (or 'Dee' as he's more commonly known), the handsome face of their campaign.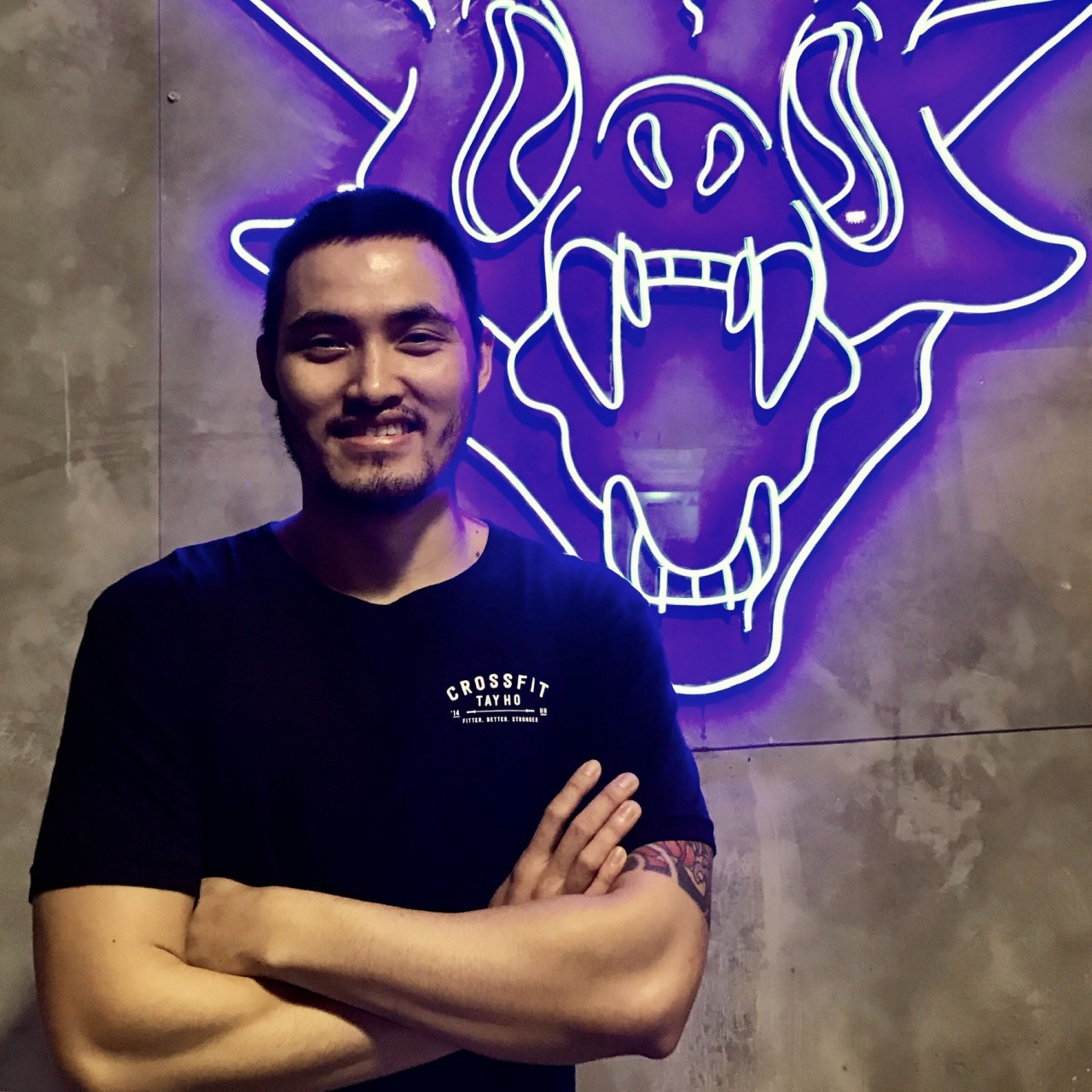 Dung Nguyen, or 'Dee'
Dee is one of those people that within seconds of meeting gives off a calming and spiritual energy, which goes hand in hand with his slender and chic yogi appearance.
"I don't have any personal experience with fundraising or gender-based violence" he admits. "But I hope that I can learn more about the experience of women, and really feel what Move for Hope is about. The more attention it gets, the more people will naturally contribute their time and funding".
Eleanor hopes that having male ambassadors and "involving them in the conversation", will get things going, but Dee expressed some worries about his role. "I feel like I don't deserve the title, because I have not experienced violence. I hope that the campaign is about really listening to women, rather than just men like me talking about women."
Though Dee wants the spotlight to be on women, he did elaborate on the importance of raising awareness amongst men. "[Violence is] not an efficient way to handle things. For example, if a dad tries to manage the family, he tries to 'educate' his wife, and the children, sometimes he doesn't know there is a much better option - communication." He believes that norms are changing and GBV is less common today, but there is still a lot of work to be done.
When he speaks, he seems pensive, considering the issues he's speaking about from a wider social lens. He describes the societal norms that need to be challenged, and the continued cycle of learned violence.
"Sometimes we're born as farmers and we die as farmers. For women in the village, they have no way to escape that life, because of the fear of the culture and the pressure of family. But if they feel 'I want my voice, I want my life, I want my freedom', and are aware of the different options, rather than just what society has designed for them, then there won't be more violence. That's why I want to raise awareness for HopeBox."
His spirituality and empathy shine through when he talks about the psychological aspects of GBV. "I think in a relationship, when the man abuses the woman, they both lose" he said ponderously. "They've been influenced, educated by their ancestors. So their grandparents teach them - it's for life. We are adapting to modern culture and the younger generation are becoming more aware of their freedoms".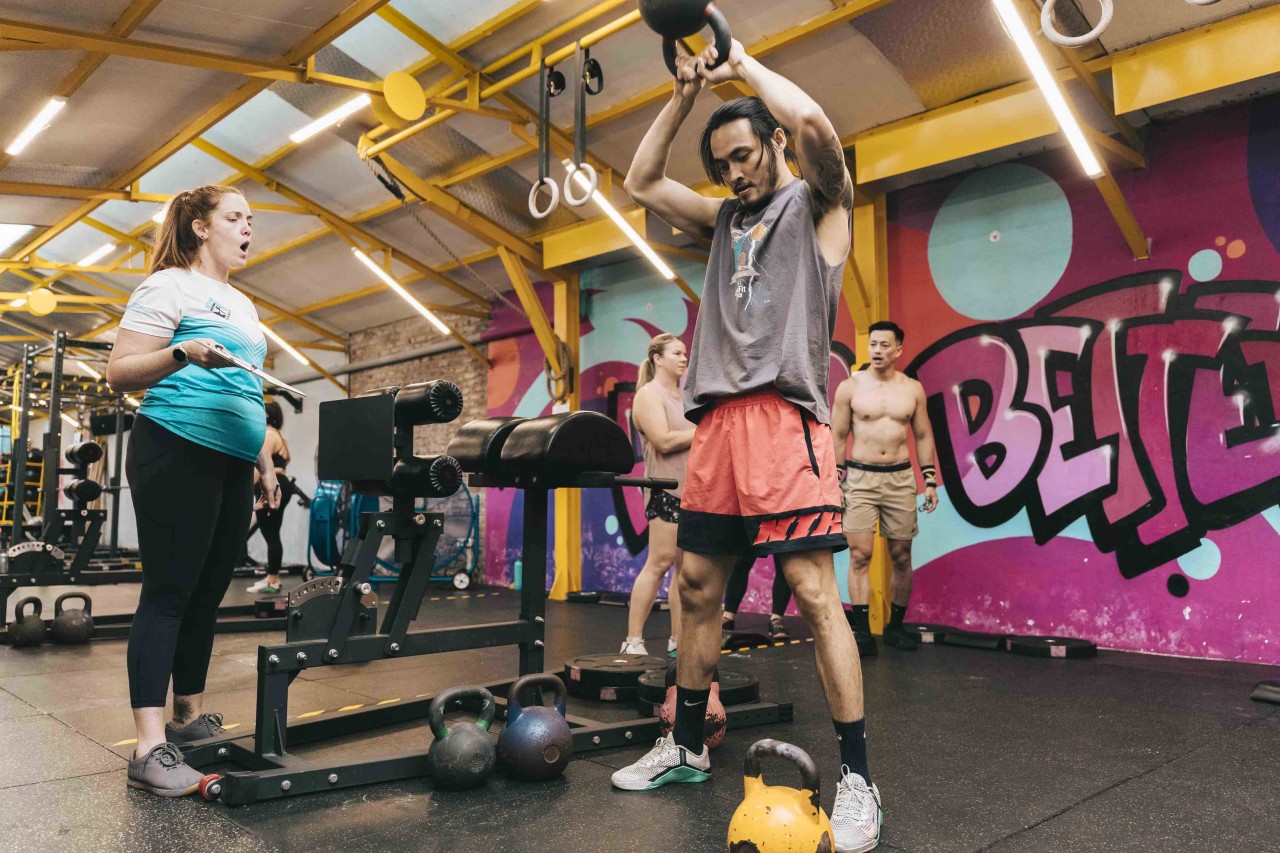 Dee gets it done
As the majority of CrossFit's members are expat women, Dee firmly believes they'll be eager to donate to the cause. "Mostly when they come here it's not about a love for fitness, but because they've abused their physicality, and reach a point where they want to take action and make changes", he says. "I think it's similar with violence victims – rather than thinking 'this is my life, my responsibility and duty as a woman' - they can actively change their life."
The way he frames fitness and health as a manifestation of bodily autonomy resonates harmoniously with the heart of HopeBox's cause. When a person decides they want to improve their personal health, there are countless options available for them to achieve that. When it comes to victims of GBV (particularly in developing countries), they usually aren't fortunate enough to have many options to change their lives - and that's exactly what HopeBox wants to change.
Phu and Gemma Star Kickboxing
Another local gym that has been inspired to sign up for HopeBox's mission is Star Kickboxing in Tay Ho. Star co-founders Gemma Dunne, from England, and Mai Ngọc Phú from Vietnam, are a madly in love couple who teach members martial arts and self-defence. Gemma handles the administrative side of business, while Phu is the Head Trainer, and the ambassador for their intriguing strategy to draw attention to Move for Hope.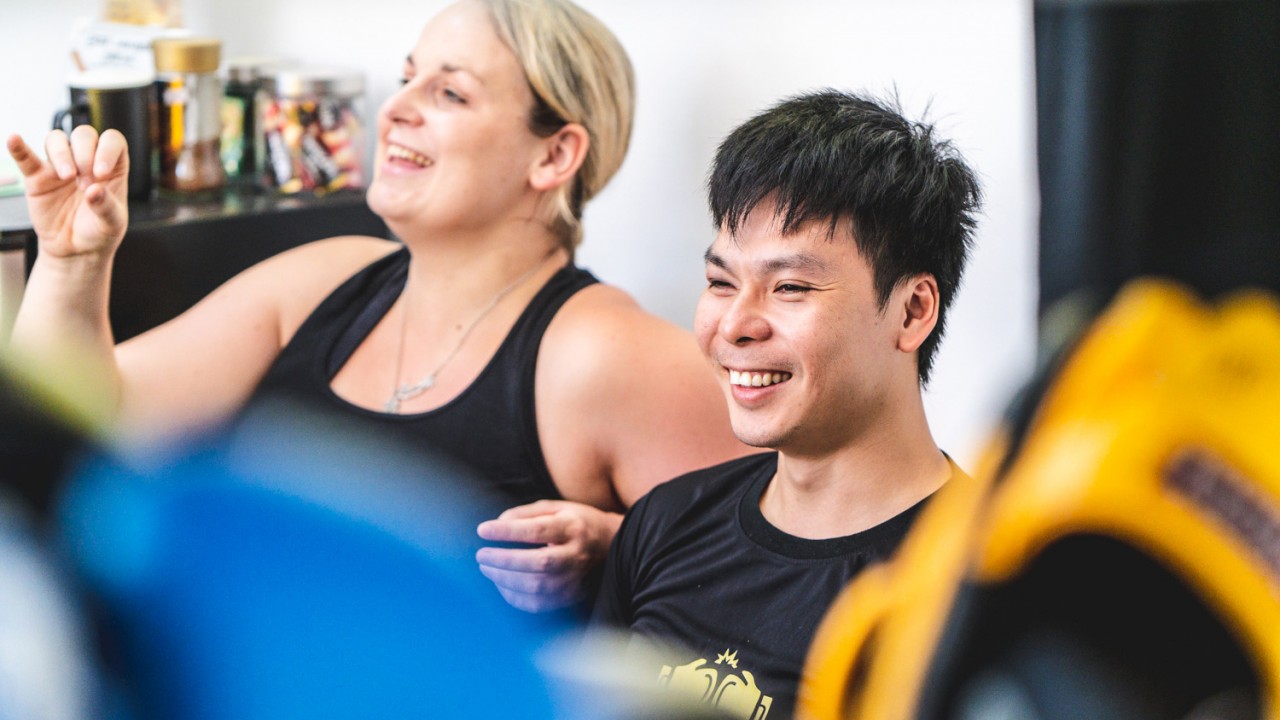 The happy co-owners of Star Kickboxing, Phu and Gemma
Phu is an interesting combination of typically masculine and deeply sensitive - two traits that shouldn't necessarily contradict one another. Speaking about his younger years, he said "When I moved to Hanoi to be a student, I saw a lot of things. I saw men, maybe husbands, hitting girls who would run away scared, and I thought 'wow, that is so horrible. I must help with this'".
Unfortunately, he didn't have the time or money - he taught Kung-Fu for free at temples in the day, and spent nights giving food, clothes and duvets to people in need. He went on to serve as a presidential bodyguard, and worked at various fitness centers in Hanoi before starting up Star Kickboxing with the love of his life, Gemma.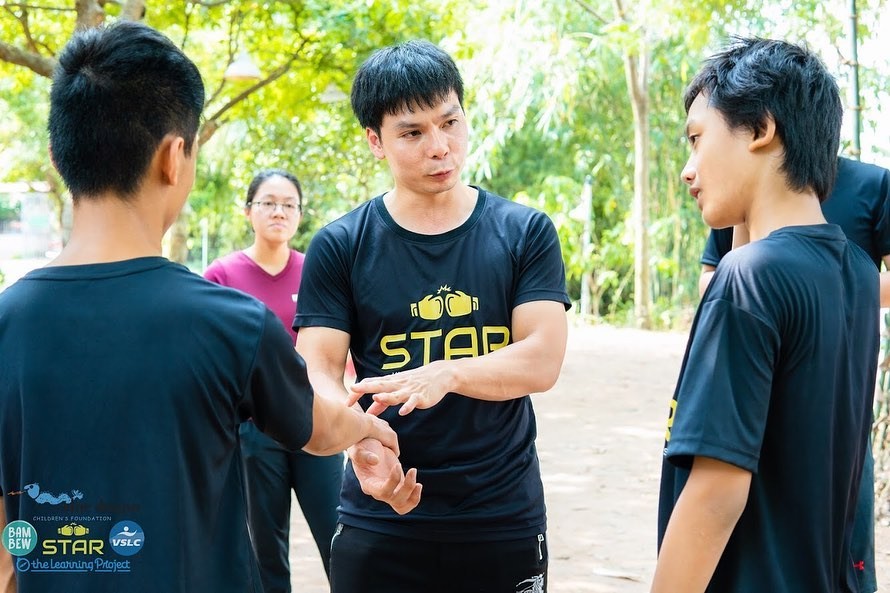 Phu trains kids
He had long had a burning desire to devote himself to helping others, so once Star Kickboxing was up and running, he finally had the power to do just that. His life resembles that of a real-life action hero - a former bodyguard to the president who sees injustice and vows to work his way up to a position where he can make a difference.
Phu described the connection between his professional work and philanthropic work, saying "Learning self-defense or martial arts isn't about going out to fight. It's about learning how to be calm, to help people, about self-control. In Vietnam we have a word for this - "Dao", the muscly martial-arts expert says.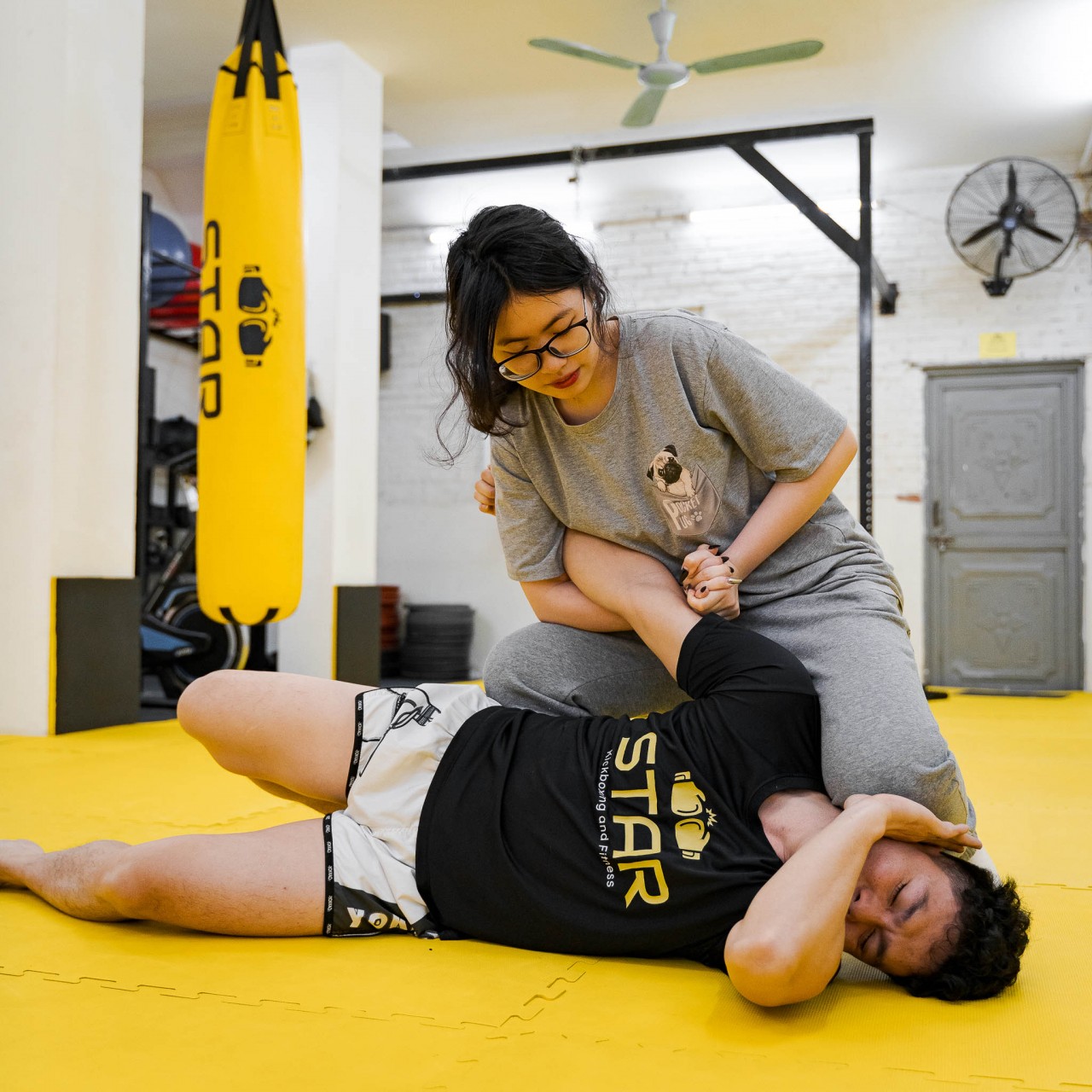 Phu meets his match!
As Gemma gives more background about Phu's past, she looks at him with a seemingly deep admiration in her eyes. "Phu specializes in self-defense, and he wanted to be able to use this to help other people in a positive way, for the likes of HopeBox. That's why he's involved in all of this. He's worked with other charities like Blue Dragon and the Children's Foundation" she says.
The couple's familiarity with charity work shows as Gemma describes their compelling plans for the November fundraiser. "The plan is to have our members and trainers collectively complete a challenge each day, for example, 30 minutes total of non-stop high kicks" she explains, adding with excitement, "we're hoping to do a 24-hour 'box-a-thon' near the end of the month! It would coincide with the International Day for the Elimination of Violence against Women on the 25th."
Gemma is still figuring out the kinks of how to manage and potentially livestream the whole box-a-thon, while seeking sponsorships and coming up with prizes. During the 24 hour event, Star members will box continuously and in the Vietnamese late-night hours, former members from around the world would join via video – hopefully adding more international attention.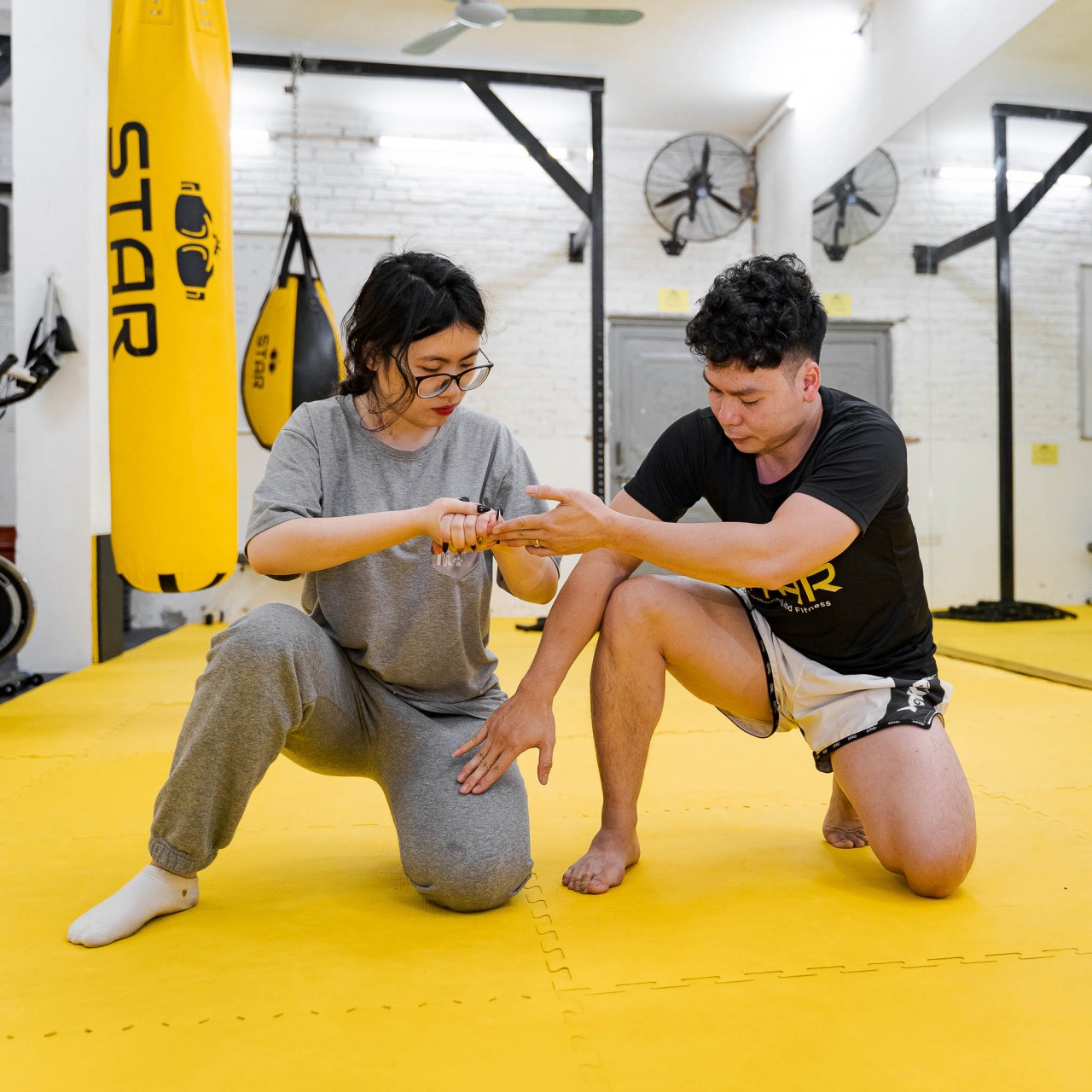 Phu and one of his students
Their tactics for the fundraiser are certainly ambitious, and they aim to beat their funding targets as the cause is so important to them. "It's about making people believe in themselves, to not be scared, and being more confident," Phu says. "That's why we have to meet the money-raising targets, to make sure everybody has a better mindset about the situation".
The Vietnam Swans
The Move for Hope Campaign has also brought onboard the Vietnamese Women's Australian Football Team, The Vietnam Swans. As a football team, they share an unbreakable bond and love of sport - and as women they understand the importance of supporting victims of GBV.
Phuong, a member of the Swans, believes it is important for the team to join Move for Hope. "As a woman, I stand for any initiatives that promote social values, especially protecting women's rights. I also love exercising. It is good to see how my hobby and fundraising can bring such social benefits to other women" she says.
Bao Ngoc, or Alice, has been a member of the Swans for a year, and speaks about the importance of having a support network. "Being a part of the team gives me a sense of community. Sport and physical activity with teammates and friends gives me positivity and energy, it's built my confidence" she says. She hopes that the team's participation in the campaign can highlight the importance of having a support network to elevate women out of dire circumstances, just as being part of a team helped her through difficult times during COVID.
Founder Huong Dang says "The aim of the Move for Hope campaign is not only to raise funds for our program but awareness from our community", and it appears that with the help of not just the fitness community in Hanoi, but with international attention, they could achieve those goals. The campaign has a target of $30,000 USD – which is no easy feat, yet Huong dreams big.
Eleanor is more optimistic about the campaign's potential to raise awareness, saying "Having people with an already well-established network and presence on social media, who are all tied to fitness in some way, was a great incentive and really helped us to get the campaign off the ground".
With the concerted efforts of the women that make up HopeBox, the representatives of 'Move for Hope', and the compassion of people drawn to the campaign, the organization is making a tangible and positive difference to the lives of many, and should continue to do so in a meaningful way for many years to come.
Move for Hope is running through the whole of November and collecting funds using charity platform 'Raisely'. If you'd like to support victims of GBV, you can help by donating here.