India daily weather forecast latest, January 19: Northwestern states witness cold conditions despite a relief
Cold weather is forecasted to return to northwestern states despite a relief recognized before.
According to Skymet Weather, there is a cyclonic circulation near the equator over the southern central parts of the Arabian Sea and the adjacent Indian Ocean. A trough is formed from this system up to the Comorin area. A cyclonic system is over the southwestern parts of the Bay of Bengal and adjoining Sri Lanka coasts.
A new cyclonic circulation has developed over southern Rajasthan. At the same time, a trough has formed from the northern parts of Punjab to the northeast Arabian Sea through Rajasthan and Gujarat.
During the next 24 hours, the weather will remain mostly clear and dry in almost all the regions of the country, although light to moderate rainfall activity may occur at one or two places in Arunachal Pradesh.
Cold day conditions will prevail at one or two places in eastern Uttar Pradesh, Bihar and West Bengal. There is a possibility of dense fog in the Gangetic plains during the next 24 hours, which will affect normal life.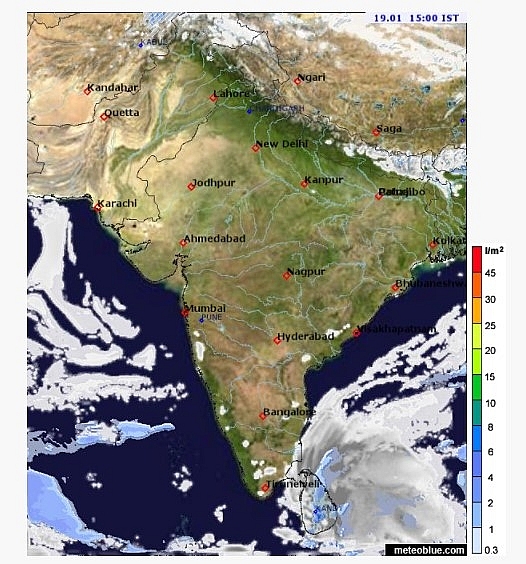 Photo: Meteoblue
From Wednesday to Friday, the winds are forecast to reverse to westerly or northwesterly direction. As a result, the nighttime temperatures are likely to fall by 2-4°C across the northern plains. Even over the central and eastern states, temperatures are likely to fall by 3-5°C after Wednesday.
As per climatological records, Delhi witnessed a 1.2°C lower-than-normal minimum temperature in December. In January, however, the minimum temperatures in the capital have remained an average of around 8°C as against the normal 7.2°C. The month has so far seen the highest nighttime temperature of 14.4°C on January 7 to a lowest of 2°C on January 14.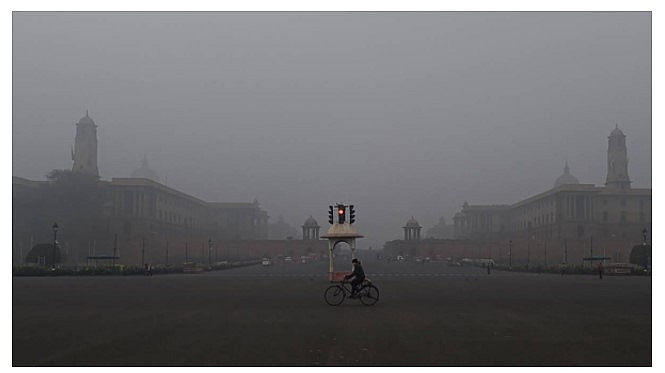 Delhi's overall air quality index (AQI) remained in the severe category for three days on the trot till Saturday. (PTI File Photo)
5-Day Nationwide Weather Forecast
According to Weather.com, parts of south India are likely to witness thunderstorms due to the presence of a feeble cyclonic circulation around Sri Lanka. Thunderstorms have been in the forecast only for some parts of the southern end of the subcontinent.
As per the India Meteorological Department (IMD), the current spell of dense to very dense fog across Indo-Gangetic plains is likely to reduce in the next two days. The dense to very dense fog is expected over some isolated pockets of Punjab, Haryana, Chandigarh, Delhi, Uttar Pradesh, north Rajasthan, Bihar, Sub-Himalayan West Bengal, Sikkim, Odisha, Assam, Meghalaya, Nagaland, Manipur, Mizoram, and Tripura during the same period. Moreover, cold day conditions are expected over isolated pockets of Uttar Pradesh, Bihar and West Bengal during the next 24 hours.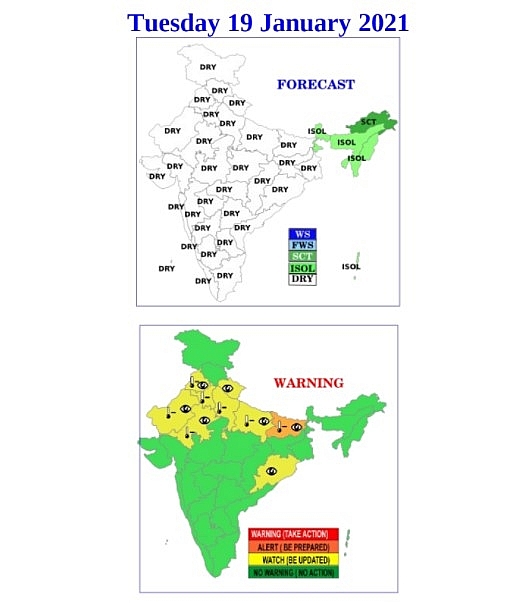 Photo: IMD
It will snow from Friday afternoon in the high altitude areas of Jammu & Kashmir due to a western disturbance. The met department forecast adds that currently, easterly winds are prevailing at lower levels over plains of north India. This is likely to increase the minimum temperatures by 2-4°C over most parts of northwest India during the next 24 hours (till January 19).
Furthermore, the reversal of winds to westerly/northwesterly is possible from the night of January 20. This is likely to decrease in minimum temperatures by 2-4°C during subsequent 2-3 days over the region.
No large change in minimum temperatures is noted over most parts of central India during the next 2 days and gradual fall by 3-5°C thereafter. Minimum temperatures are expected to rise by 2-3°C over most parts of east India till January 21 and a gradual fall is expected 3-5°C thereafter.
Regional Forecast
In the morning, dense fog is possible over northeast Rajasthan, some areas of south NCR, west Uttar Pradesh, south Chhattisgarh and central part of Andhra Pradesh. Owing to conditions of dense fog, the IMD has issued an orange alert of Rajasthan for this day.
Hot and dry day conditions, cloudy skies during afternoon hours and the complete absence of winter chill will continue for the next three days over Pune and districts along southern Madhya Maharashtra and Konkan. However, the India Meteorological Department (IMD) has predicted return of cold conditions in state later this week.
Photo: Weather Online
In this winter season, the state has not experienced a cold wave so far. This year, January has remained a month with mixed weather – from rain in the first week to the prevailing hot conditions for Pune, but largely without cold conditions, reported Indian Express.
Vidarbha and parts of Marathwada, normally, experience cold conditions due to cold wave in December and January, but this season, it has not been realised. The minimum temperatures have remained mostly over 15 degrees Celsius, making it an unlikely January for Pune and many places in the state, the IMD said.
However, with most of North and Northwest parts of the country continuing to reel under cold wave, the northern parts of Maharashtra too shall come under its influence this week. As a result, cold conditions could make a come back over Maharashtra later this week, an IMD official said.