India weather forecast latest, January 18: Severe cold and dense fog to cover cross Indo-Gangetic plains
India is forecasted to cope with severe cold, dense fog across Indo-Gangetic plains. Besides, scattered rains is likely to cover south and northeast areas.
According to Skymet Weather, a cyclonic circulation is near the equator in the southern Arabian Sea and the adjacent Indian Ocean. A trough is also extending from this seasonal system to the Comorin region.
Another cyclonic circulation is seen over the states of eastern India and adjoining areas of Bangladesh. There has been some slowdown in the speed of northwest winds, especially in parts of northwest India, due to the decrease in wind speed, the minimum temperature has increased.
During the next 24 hours, rain activities in Kerala and Tamil Nadu will reduce considerably. Light to moderate rains are likely to continue in some parts of Lakshadweep for the next 24 to 48 hours.
Cold-day conditions are expected at many places in Punjab, Haryana, Delhi, Uttar Pradesh, Bihar and parts of northern Rajasthan during the next 24 hours. After 24 hours, there will be a slight rise in the day temperature, which will provide some relief from the severe cold.
INSAT 3DR image from IMD of fog layer at 5.45 am on Sunday(Photo courtesy-IMD)
There is a possibility of a slight drop in the minimum temperature in North West and Central India. Moderate to dense fog is likely to prevail on 17 January in many places of Punjab, Haryana, Delhi, Uttar Pradesh, Bihar and Northeast India.
According to IMD, a cold day or a severe cold day is classified as such based on two parameters—a minimum temperature of under 10 degrees C and maximum temperature of 4.5 degree C or 6.4 degree C below normal, respectively.
A cold wave occurs in the plains when the minimum temperature is 10 degrees Celsius or below and/or is 4.5 notches lower than the season's normal for two consecutive days. A cold wave is also declared when the minimum temperature is less than 4 degree C in the plains.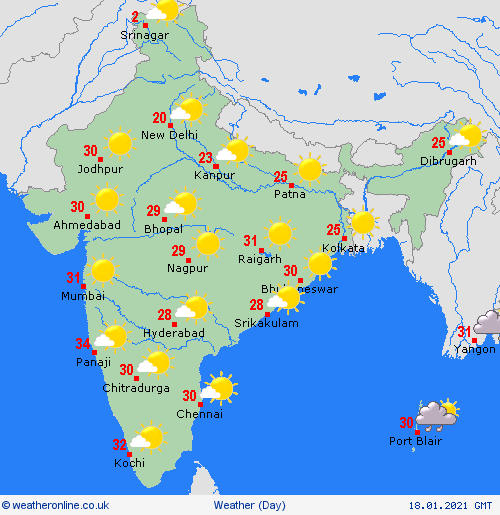 Photo: Weather Online
5-Day Nationwide Weather Forecast
According to Weather.com, northeasterly wind from the Bay of Bengal produces isolated to scattered rain and thunderstorm over southern India on Sunday. A cyclonic circulation is likely to form over Northeast India on Monday. Isolated to scattered snow or rain is likely in the region from Monday to Thursday. Dry weather is likely over other parts of the country in this forecast period.
Low temperature conditions are likely to continue over northern, north-central and northeastern India on Sunday and could ease from Monday to Wednesday. Cold day to severe cold day conditions will prevail over isolated pockets of Punjab, Haryana and Delhi on Sunday. Cold Day conditions are likely over isolated pockets of Uttar Pradesh and Bihar on Sunday.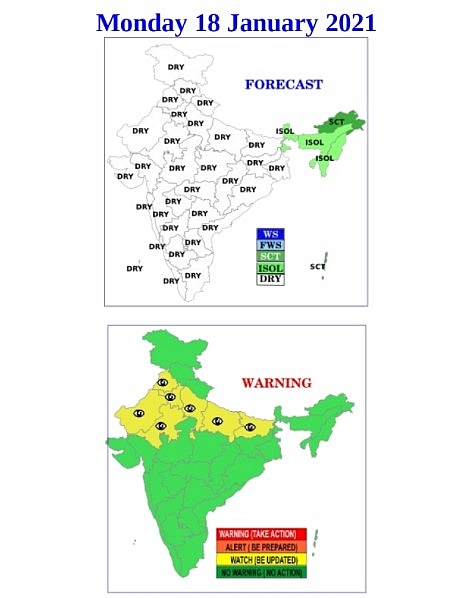 Photo: IMD
Dense to very dense fog is likely over some places of northern, north-central and northeastern India on Sunday. Accordingly, the India Meteorological Department (IMD) has placed all subdivisions across Indo-Gangetic Plains, from Rajasthan to North Bengal, under an orange alert for Sunday to be prepared for very dense fog and severe cold day conditions.
Maximum temperatures are lower, below or slightly below normal, over northern, north-central, northeastern and south-southern India for the next several days. Maximum temperatures are near normal or slightly higher over western, north-southern, southeastern and northeastern India in this period. Minimum temperatures are near normal or higher than average across India from Sunday onward. The air quality will remain very poor over northern, central and eastern India and poor over western and northeastern India for the next few days.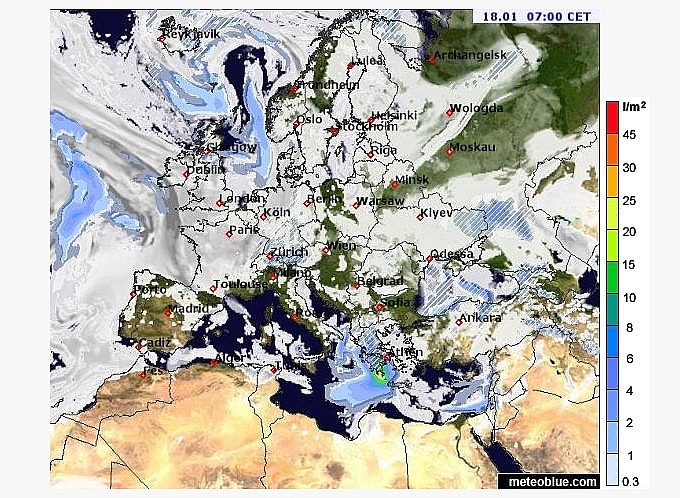 Photo: meteoblue
2-Day Regional Forecast
Scattered rain/snow and thunderstorm are forecast over Arunachal Pradesh. Scattered rain and thunderstorm are likely over Andaman & Nicobar Islands.
Besides, isolated rain/snow is possible over Sikkim. Isolated rain is likely over Assam, Meghalaya, Nagaland, Manipur, Mizoram and Tripura. Dense fog is likely over isolated pockets of Punjab, Haryana, Delhi, Uttar Pradesh, Bihar and north Rajasthan.