According to Hindustan Times, Bihar is likely to experience a hotter summer with maximum and minimum temperatures hovering above the season's normal, warned officials of India Meteorological Department (IMD) while presenting the seasonal weather outlook on Tuesday.
Based on the initial conditions in February, there is 60% probability of a rise in maximum temperatures by an average of 0.38°C and 0.12°C in minimum temperatures in Bihar during March to May.
According to Patna Meteorological Centre (PMC), maximum temperature in the state hovered between 30°C to 33°C across the state on Tuesday while the minimum temperature ranged between 17°C to 18°C.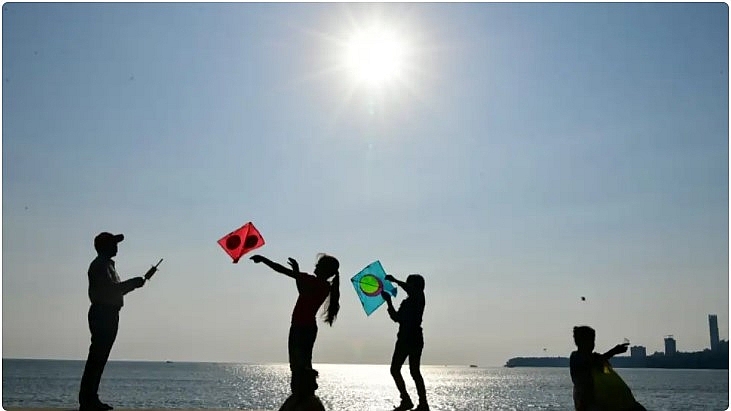 The Sun shines bright over Marine Drive in Mumbai, Maharashtra. (SL Shanth Kumar/BCCL Mumbai)
As per the daily weather bulletin, Bhagalpur remained the hottest city in the state with the maximum temperature reaching 34°C, two notches above the normal. Patna recorded a maximum temperature of 33.2°C, Gaya 32.6°C, Buxar 33.3°C, Jamui 32.6°C and Sabour 32.2°C.
Weatherman at PMC said that there will be no respite from soaring heat as there is no change in temperature likely till March 15.
According to the IMD's latest long-term season outlook for the period of March to May 2021, parts of West India are likely to experience above-normal seasonal maximum as well as minimum temperatures over this year's summer season. In fact, the IMD is very highly confident that the Konkan and Goa region will witness warmer-than-normal summer with a 70 to 100% probability forecast.
As per the forecast, Konkan and Goa region — which houses Maharashtra's capital, Mumbai — is set to witness 0.25°C warmer daytime temperatures from March to May, while nighttime temperatures would be 0.48°C warmer. For the city which routinely witnesses mercury levels beyond 40°C, such an increase in average temperature could mean warmth inching closer to 45°C on particularly hot days, especially in May.
Moreover, as the coastal city witnesses high humidity levels, feel-like temperatures could be off the charts this summer, Weather.com reported.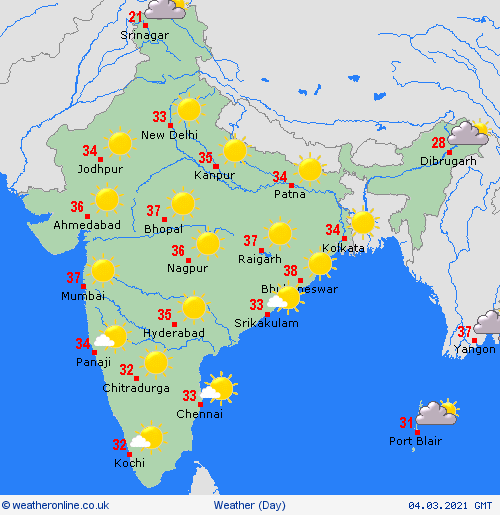 Photo: Weather Online
This unwelcoming forecast arrives just at the back of a warmer-than-usual start to March 2021 for Mumbai. The metropolitan city recorded a maximum temperature of 35.4°C, which marks a 3°C rise from the norm. Further, it also registered a 20.6°C minimum temperature during the early hours of Tuesday, March 2—which also marks a 1°C departure from normal.
As for the rest of the week, Mumbai's maximum temperatures are expected to hover around 35°C, while the minimum will remain close to 22°C, the IMD predicts. Moreover, The Weather Channel's 10-day forecast has indicated the high possibility of sunny skies over the city, with humidity levels of around 44% until the upcoming weekend.
The forecast predicts that the daytime temperatures across West and Central India, where the enormous state of Maharashtra is situated, are likely to be above the long-term average. The story remains the same as far as the nighttime mercury levels are concerned as well, with parts of both Western and Central India set to endure above-normal minimum temperatures, too.
As for the rest of the country, the maximum mercury levels are likely to be above the seasonal normal for most subdivisions in North, Northwest and Northeast India; and a few subdivisions from East, West and Central India as well as some coastal subdivisions of North Peninsular India. But on the flip side, below-normal seasonal maximums are on the cards for most subdivisions across South Peninsular and adjoining Central India.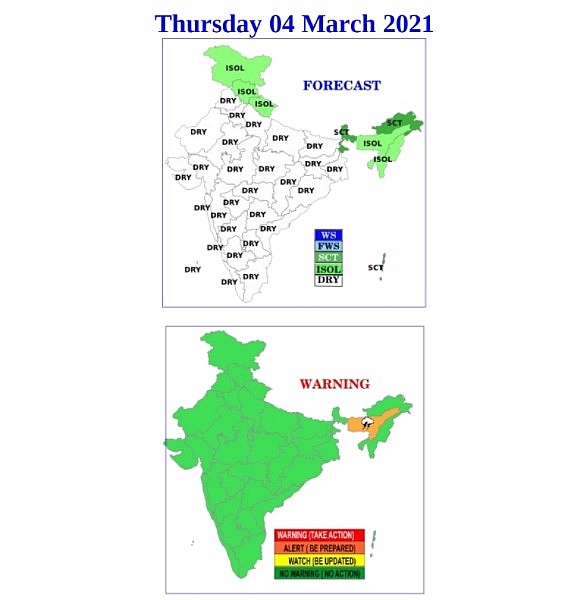 Photo: IMD
5-Day Nationwide Weather Forecast
According to Weather.com, the parts of the Western Himalayan Region are likely to receive isolated snow due to the presence of feeble western disturbance. Moreover, the next western disturbance is expected to impact the region from March 5. Under the influence of this system, scattered to fairly widespread rainfall or snowfall is likely over the region during March 6-8 with maximum intensity on March 7.
The best falls are expected across the northern half of Himachal Pradesh with 100 cm of snow possible for the next 5 days.
A cyclonic circulation produces isolated rain or snow over Arunachal Pradesh and the adjoining area. This will show an increase in its intensity toward the weekend. Much of the precipitation will fall as rain, but northern-most parts of Arunachal Pradesh and Sikkim may receive over 50 cm of snow for the next 5 days. Other areas are expected to record 50-70 mm of rain for the same duration.
The India Meteorological Department (IMD) forecast states scattered to fairly widespread rainfall is likely over Arunachal Pradesh and isolated rainfall over Assam, Meghalaya, Nagaland, Manipur, Mizoram and Tripura, along with thunderstorm or lightning during the next 2-3 days. In addition, thunder squalls are expected over Assam & Meghalaya on March 4.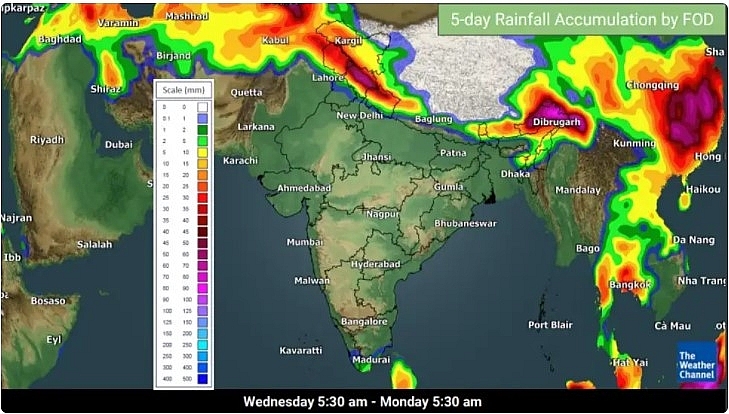 Rainfall accumulation: Wednesday 5:30 am to Monday 5:30 am (TWC Met Team)
Furthermore, in terms of mercury levels, the maximum temperatures are currently 3-6°C above normal over north, west, central and east India. These regions include Rajasthan, Punjab, Haryana, Chandigarh, Delhi, Uttar Pradesh, Saurashtra, Kutch, Vidarbha, Madhya Pradesh, Chhattisgarh, Odisha, Bihar, Jharkhand and Gangetic West Bengal. No significant changes in maximum temperatures are expected over the country during the next 4-5 days.
As per IMD, strong surface winds blowing at the speed of 20-30 kmph are expected to prevail over Punjab, Haryana, Chandigarh, Delhi and Uttar Pradesh during the next 24 hours.
Regional Forecast
Scattered snow or rain and thunderstorms are likely over Arunachal Pradesh. Isolated snow or rain and thunderstorms are possible over Ladakh, Jammu & Kashmir, Himachal Pradesh, Uttarakhand, and Sikkim. Isolated rain and thunderstorms are expected over Assam, Nagaland, and Sub-Himalayan West Bengal.
Ruby Lee