India pledges to protect overseas Vietnamese during second Covid-19 wave
Indian Ambassador to Vietnam affirmed that New Delhi will do its utmost to support and protect Vietnamese Indians against the complicated pandemic that is devastating the country.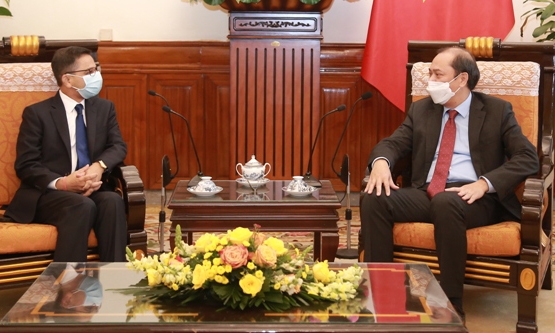 Deputy Foreign Minister Nguyen Quoc Dung (L) and Indian ambassador to Vietnam Pranay Kumar Verma (Photo: Foreign Minsitry)
The Covid-19 situation in India was the highlight of the meeting between Deputy Foreign Minister Nguyen Quoc Dung and the Indian ambassador to Vietnam Pranay Kumar Verma at the headquarters of the Ministry of Foreign Affairs Tuesday afternoon.
At the meeting, Dung expressed his sympathy for the difficulties and damages India is shouldering. He sent the greetings of Vietnamese leaders and residents to Indians, wishing India to soon overcome the challenging period. The Deputy Minister also affirmed the bilateral solidarity and Vietnam's willingness to support India in the anti-pandemic fight.
On his part, Ambassador Pranay Kumar Verma informed of the current Covid-19 situation in India, pledging to create favorable conditions and make all efforts to support Vietnamese Indians during such an unprecedented time, VNE reported.
Earlier on April 26, Foreign Ministry's Spokesperson Le Thi Thu Hang said Vietnam kept a close watch on the COVID-19 situation in India and was willing to support the Government and people of India in this hard time.
"We believe that with efforts by the Indian Government, the situation will soon be controlled and become stable," Hang stated.
In reply to reporters' query on the COVID-19 situation in India and citizen protection measures of Vietnam, Hang said that the Vietnamese Embassy in India had reported that the pandemic is developing complicatedly and causing negative impacts to locals' living conditions.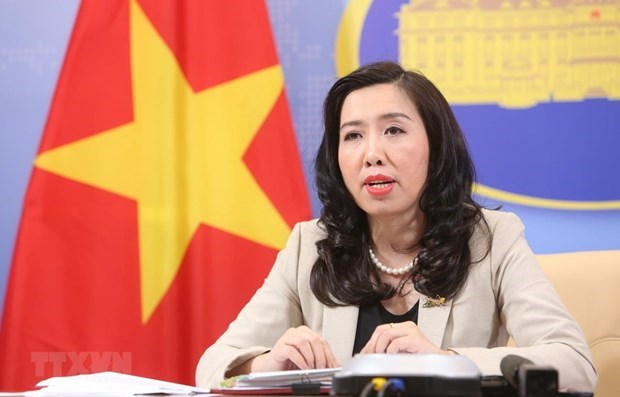 Foreign Ministry's Spokesperson Le Thi Thu Hang. Photo: VNA
The Government of India is mobilizing resources and rolling out measures to respond to the pandemic such as increasing medical equipment and medicine and speeding up COVID-19 vaccination, she said.
Regarding the protection of Vietnamese citizens living, studying, and working in India, Hang said that Vietnam's Foreign Ministry and representative agencies in India have worked closely with authorized agencies at home and in the host country as well as airlines to organize flights to bring nearly 1,000 Vietnamese citizens home safely.
Currently, there are about 100 Vietnamese citizens in India, she said, adding that Vietnamese representative agencies in India are coordinating closely with authorized agencies at home and in India to keep a close watch on the pandemic, maintain a contact channel with the Vietnamese citizens, and to be ready to conduct necessary citizen protection measures.
To date, most of around 1,000 Vietnamese expats in India, which has been battling a world-record Covid-19 spike, have been sent home, an embassy official says.
The Vietnamese living and working in India have been brought back home in six rescue flights, said Do Thanh Hai, Counselor and Deputy Chief of Mission at the Embassy of Vietnam in India.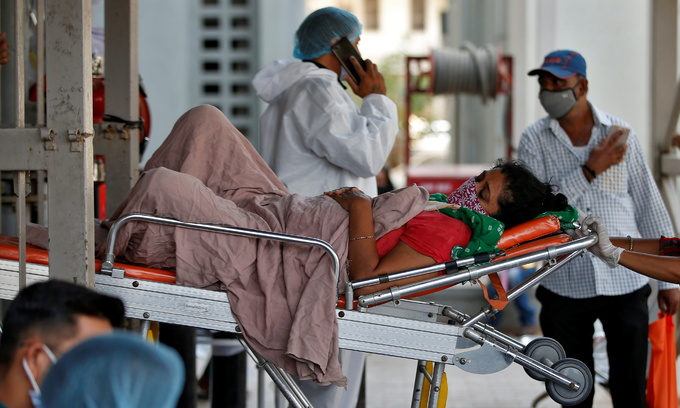 A patient is wheeled inside a Covid-19 hospital for treatment, amidst the spread of the disease in Ahmedabad, India, April 19, 2021. Photo by Reuters/Amit Dave.
The 100 or so who still remain life in different parts of India and the embassy is keeping in touch with them to provide timely help when needed, he said.
"We are working on preparing another flight to send them home soon because the more they stay back in India, the higher the risk they would face," Hai told VnExpress.
"We have been preparing and making ourselves ready to deal with any development with the ongoing outbreak here."
Hai noted that the Vietnamese people left in India were facing many difficulties apart from the very high risk of contracting the dreaded Covid-19 disease.
If they get infected, the risk of serious illness or death is very high because the health system of India is overwhelmed already. Traveling and getting access to essentials have also become difficult these days, and the psychological stress they are experiencing is high, he said.