India weather forecast latest, January 3: Temperatures rise and rainfall expected in some parts of Delhi
A western disturbance leads to the spike in the temperature in Delhi with rainfall expected in some parts.
According to Skymet Weather, a Western Disturbance is seen over Jammu and Kashmir and adjoining areas. However, this system is not very active. While a new western disturbance will arrive in North India around January 3, it will be very active and can give widespread rain and snowfall over the mountains of North India.
In the plains, there is a cyclonic area over Southwest Rajasthan. An anti-cyclonic circulation is seen over Chhattisgarh and adjoining areas.
The weather will change in the states of North India during the next 24 hours. There may also be some increase in temperature due to the change in the attitude of winds. However, in most places in Punjab, Haryana, Delhi, Rajasthan, Uttar Pradesh and Bihar, the minimum temperature will remain below normal, due to which cold wave outbreak and frost will be expected for the next 24 hours.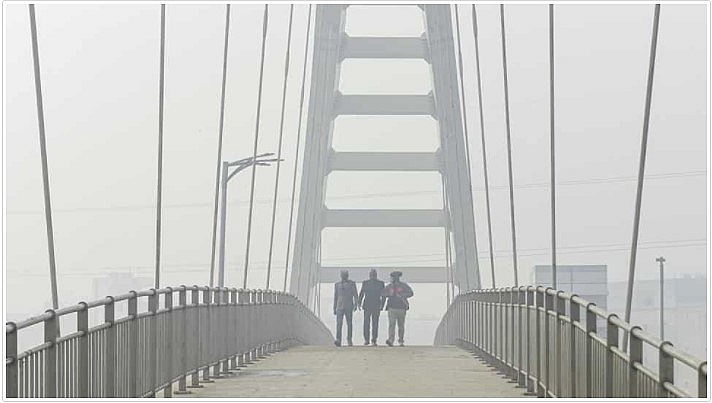 Weather department scientist says the improvement in air quality in Delhi will be visible from Saturday morning.(PTI)
From the plains of northwestern India to the plains of the Ganges, there will be thick fog covering the plains. There is a possibility of dense fog in the northeastern states.
Meanwhile, due to the change in the trend of winds, rain activities can also start at some places in North India. Parts of Delhi-NCR, Rajasthan, Western Uttar Pradesh, Haryana and Punjab will receive partly cloudy weather which can cause drizzle in these parts. The rain will increase from January 3.
Light rains are expected over coastal parts of Maharashtra including Mumbai and some places in central Maharashtra.
On the other hand, a new spell of rain is going to start over Tamil Nadu in South India. Light to moderate rains may occur at some places in coastal Tamil Nadu including Puducherry. Light rain will occur at some places in interior parts of Tamil Nadu. Rain activities in inner cities, as well as Kerala, will increase from January 3.
A day after the city recorded the second coldest morning in the last 14 years, Delhi's minimum temperature rose to 7 degrees Celsius on Saturday, according to the India Meteorological Department's recordings.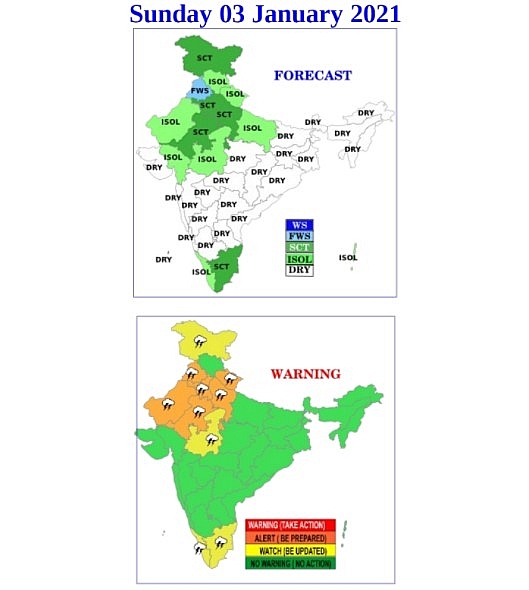 Photo: IMD
IMD forecast said a western disturbance was the reason behind the spike in the temperature in Delhi. There is a possibility of trace rainfall in some parts of Delhi on Saturday and this will intensify from Sunday. There is also a possibility of a hailstorm in the NCR region on Monday.
Parts of Haryana, Uttar Pradesh and Delhi received rain during the early hours of Saturday as North India continued to battle bone-chilling temperatures. The India Meteorological Department (IMD) said on Saturday that light to moderate rains along with thunderstorms will occur in the northern region during the next few hours.
"Thunderstorm with rain would occur over and adjoining areas of Rewari, Bhiwadi, Manesar, Gurugram, Farukhnagar, Sonipat, Gannaur, Deeg, Mathura, Hathras, Bharatpur, Hansi, Tosham, Jind, Safodon, Panipat, Karnal, Shamli, Kaithal, Narwana, Narnaul and Isolated places of South, South- West Delhi during next 2 hours," the weather bureau said on its Twitter handle.
IMD pointed out that dense to very dense fog was observed in isolated pockets over Punjab, Haryana and West Uttar Pradesh and dense fog was seen in isolated pockets over northwest Rajasthan, northwest Madhya Pradesh and Bihar. "Visibility recorded (during 1730 hrs IST of yesterday to 0530 hrs IST of today) (200 metre or less): Amritsar, Bareilly, Patiala and Ambala-25 each; Gaya and Karnal-50 each; Ganganagar, Hissar, Aligarh and Gwalior-200 each," it added.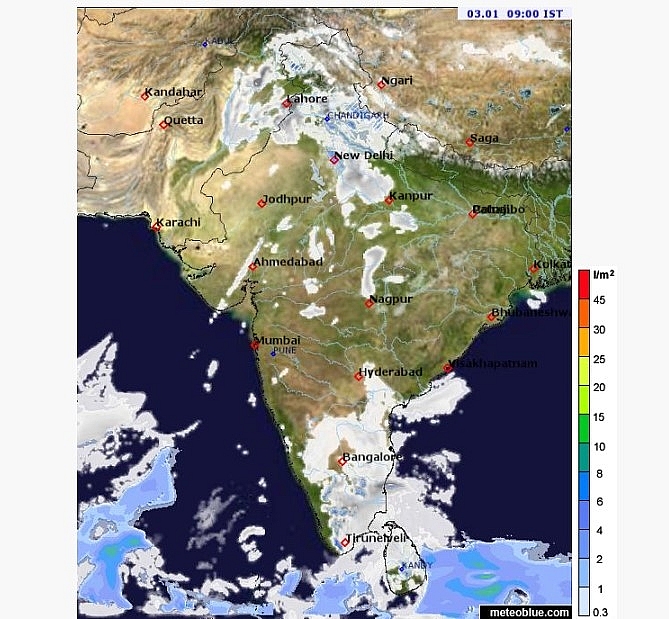 Photo: Meteoblue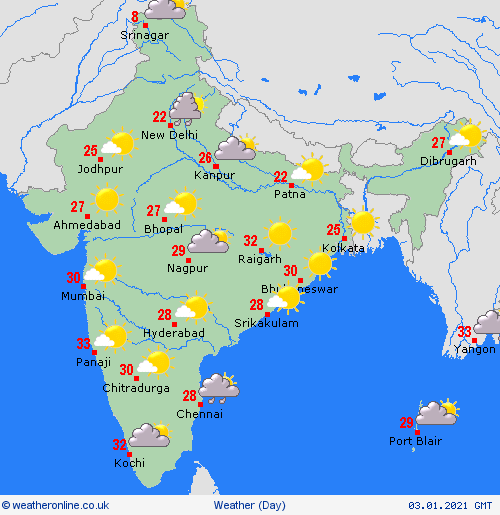 Photo: Weather Online
The national capital of Delhi, which recorded the season's lowest temperature of 1.1°C on New Year, also saw very dense fog in Palam with zero visibility till 7am on Saturday after which it improved to approximately 150 metres, Hindustan Times reported.
The Indian Meteorological Department (IMD) has also forecasted a western disturbance to impact the city from Saturday, which will also lead to rainfall activities in some parts of Delhi, bringing further relief from pollutants.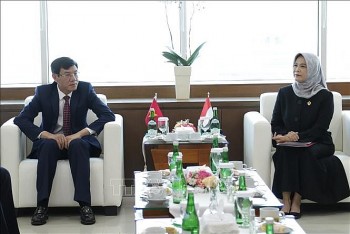 Friendship
At a recent working session with the Audit Board of the Republic of Indonesia (BPK), Deputy Auditor General of the State Audit Office of Vietnam (SAV) Doan Anh Tho suggested cooperation between the two institutions through the exchange of ideas and experiences in anti-corruption.