Indonesia's powerful earthquake Sulawesi kills at least 34, injures hundreds
The 6.2-magnitude earthquake, Indonesia's third deadly disaster in a week, struck Sulawesi island, flattening a hospital, destroying homes and setting off landslides. At least 34 people were killed and hundreds more injured, the country's disaster mitigation agency said.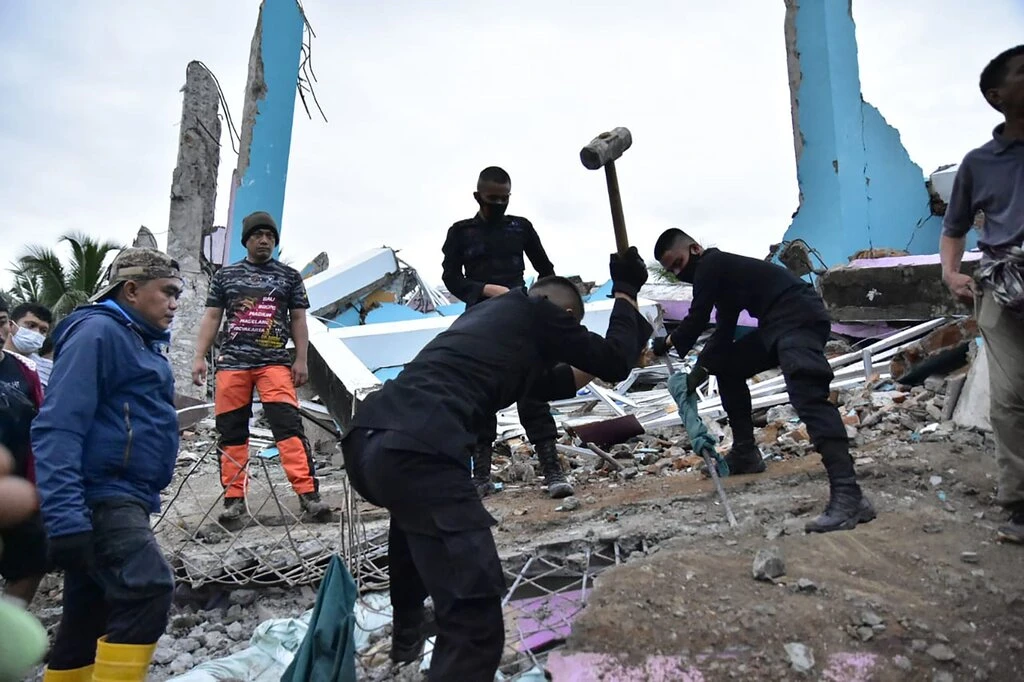 Rescuers looked for survivors of the quake in the Indonesian city of Mamuju on Friday. Photo: AFP
A 6.2-magnitude earthquake struck the northwestern coast of Sulawesi island in Indonesia early Friday, killing at least 35 people, destroying houses, flattening a hospital and setting off landslides, disaster officials said.
Rescuers were searching for people trapped in the rubble. More than 600 people were reported to have been injured in the quake, which struck inland between the coastal cities of Mamuju and Majene. No tsunami warning was issued.
"I'm afraid to say how many fatalities," said Ardiansyah, an emergency response official for West Sulawesi Province, who like many Indonesians uses one name. "We are still evacuating and erecting shelters. Many people are buried under the ruins.", according to the NYT.
Darno Majid, head of the West Sulawesi Province disaster mitigation agency, reported Friday afternoon that at least 35 people had died in the quake. Local disaster officials said that most of the fatalities occurred in Mamuju, the larger of the two coastal cities.
The epicenter of the quake, which struck at 1.28 a.m. Jakartatime, was six kilometers (3.7 miles) northeast of Majene city at a depth of 10 kilometers (6.2 miles), according to Indonesia's Meteorology, Climatology and Geophysics Agency.
In Majene, at least eight people died, 637 were injured and 15,000 residents have been displaced, according to the country's National Board for Disaster Management (BNPB). In the neighboring Mamuju area, an additional 26 deaths were reported, BNPB said.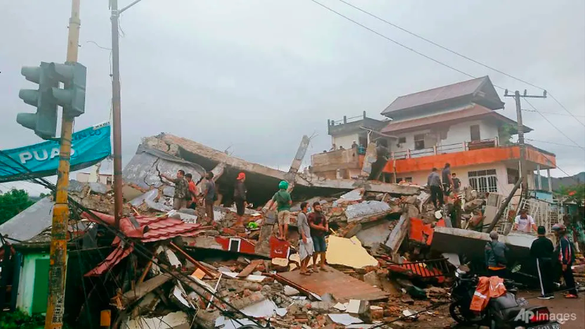 Residents inspect earthquake-damaged buildings in Mamuju, West Sulawesi. Photo: Associated Press
Thousands of residents fled their homes to seek safety following the quake, which could be felt strongly for five to seven seconds and damaged at least 300 houses in Majene, BNPB said.
Other buildings have also been badly damaged, including a military command office in Majene, and the Mitra Manakara private hospital, hotels and government buildings in the neighboring Mamuju area.
Many people are still trapped under collapsed buildings, according to local search and rescue teams.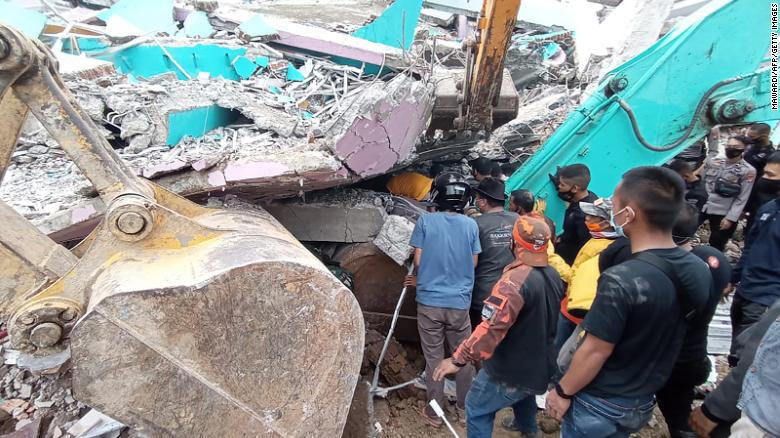 Rescuers search for survivors at a collapsed building in Mamuju city in Indonesia. Photo: CNN
The country's Meteorology, Climatology and Geophysics Agency said the earthquake did not trigger a tsunami based on meteorology and climatology agency modeling.
The earthquake also triggered a power outage and caused three landslides along the main road connecting Majene and Mamuju.
Hours earlier on Thursday, a 5.9-magnitude earthquake struck in the same district damaging several houses.
Disaster officials said they expected the number of deaths and injuries from the earthquake on Friday to grow as they received information from areas that had been cut off. At least one bridge was destroyed, roads were damaged and communications were limited. The provincial governor's office in Mamuju was also damaged.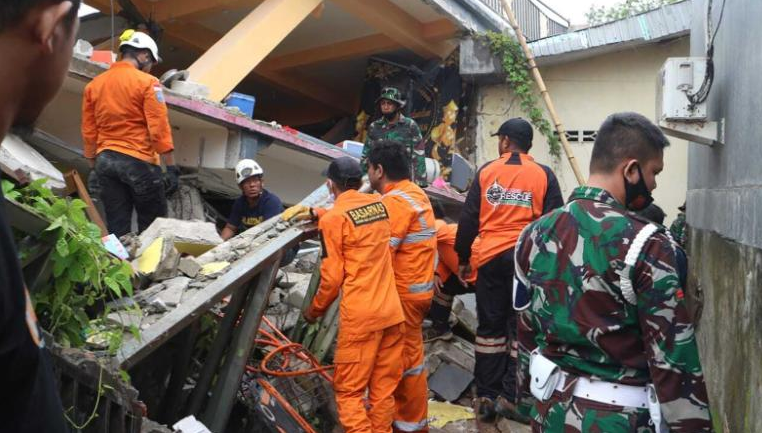 Search and rescue operations are underway after a 6.2-magnitude earthquake hit Indonesia's West Sulawesi on Friday. Photo Getty image
The flight control tower at Mamuju's commercial airport was damaged in the quake, and flight control duties were taken over by the air navigation office in Makassar, south of Mamuju.
The authorities warned the public to avoid buildings because of the possibility of another strong earthquake. Thousands of people took refuge in shelters.
Six temblors of magnitude 2.9 and above were recorded in the 12 hours before the major quake struck at 2:28 a.m. local time. Nine aftershocks were recorded in the hours that followed.
Indonesia sits on the so-called Ring of Fire, a line of seismic and volcanic activity that circles much of the Pacific Ocean and is highly susceptible to earthquakes and tsunamis. In 2018, an earthquake on Lombok island killed hundreds, and a quake and tsunami caused by the eruption of the Anak Krakatau volcano killed hundreds more on Java and Sumatra islands.
In 2018, a devastating 6.2-magnitude quake and subsequent tsunami struck the city of Palu, in Sulawesi, killing thousands of people.